Floating is my most recent project published by the publishing company Journal, Gösta Flemming, at Polycopiés in Paris this year.
The whole thing started in the beginning of the 90s when I photographed a man at a local swimming facility with my newly purchased Nikon AW. The man was posing stiffly as I was taking my pictures, until suddenly a fountain shot through the water and completely changed the shot I had planned.
Since then I have been fascinated by the element of spontaneity and unpredictability that water-photography creates. This is ultimately what led me to create "Floating", where I have photographed individuals at different vacation resorts around the Mediterranean.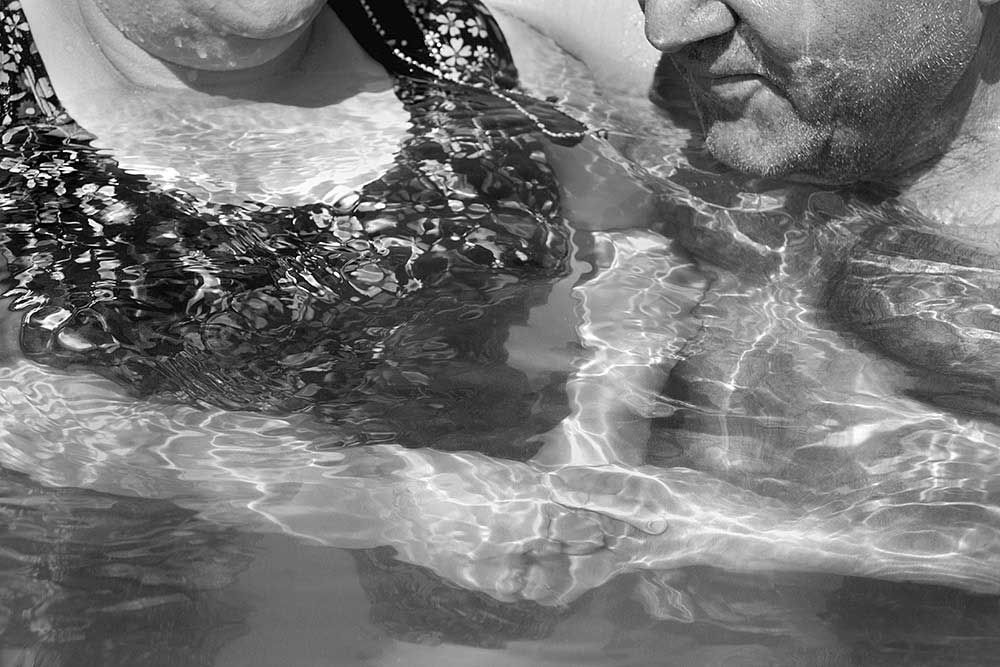 The elements of nature have inspired my new book Floating, which portrays the relationship between humans and water. The idea behind it was to capture ordinary people with ordinary bodies, and their relationship to the water. In my youth, the water was a place where I felt comfortable and where I could hide away my teen-age complexes. Still today, submerging myself in water gives me the feeling of blending together with nature. In my photography, I try to capture this feeling, as a as the merging of a balding man with the waves of the sea can create beauty in its symbiosis. I also try to capture the liberating effect water can have, and its ability to make adults loosen up and play.
Nature is a common theme in my photography. In my earlier project "Where the time has stood still – pictures from Kurdistan" I photographed people from small villages in the Turkish part of Kurdistan. My most memorable experience was when I wandered in the mountains with the women of one of those villages. As we got tired and needed to rest we laid down on the ground. With the sun on my back and my nose filled with the smell of oregano and thyme, I was hit by the sense of coming back to nature, which has since inspired my work. Floating is derived from a similar inspiration. I try to combine the different elements in my portraits, where the earth or the flowing waves create a place of rest and peace of mind for the individual. My continual strive is to create a sense of merging between nature and the individual.
In "Floating" the people I have photographed have generously displayed their bodies as if they were freed from the age and beauty-complexes which permeate our society.
About Kicki Lundgren
I was born 1961 in the northern Sweden. I started to photograph in my late 20th and was educated 1989-92 at the Nordic Photo School in Stockholm, Sweden.
I am interested in the different aspects of what it is like to be a human being and all my work involves people.During my time at the Nordic Photo School I started to travel to the eastern parts of Turkey to photograph people in small villages in Kurdistan. It all started when an elder Kurdish woman was taking to me about her life in her homeland. I was fascinated about the similarities she had to my own grandparents who worked as farmers in a small village in the northern Sweden. Kurdistan is also very similar to what the Swedish countryside looked like 50 years ago.
The pictures from eastern Turkey was published in a book "Were the time has stood still – pictures from Kurdistan" in 2002 by the publishing company Apec, Stockholm. It has also been shown as an exhibition at different galleries in Sweden.
Another project with the theme of being human being is about three teenage girls with severe disabilities. I was fascinated by their uneven brilliance. The girls were playing with dolls at the same time as having boyfriends. This was a cooperation with FUB, the Swedish National Association for Persons with Intellectual Disability, and was an exhibition displayed in different places in Sweden.
My ongoing project is about a woman, Sara, who 20 years ago, was involved in a motorbike accident. At the time of the accident Sara lived in Florida with her husband and worked as a commercial pilot. She´s now suffering from a traumatic brain injury, living in Uppsala in Sweden, no longer married and is supported by assistant most of her awaken time. The project is about this woman's unique way to handle the situation. [Official Website]