Can you tell us a little about yourself?
I am Henriëtte van Gasteren (Sevenum, 1964), using the artist name Lilith. Besides being a mother of three children I am a storyteller with a passion for photography. Since 2006 my self-portraits have been telling my stories. My recurring themes have been women, vulnerability, identity, female archetypes, gender bending and of course life itself. But above all freedom and equality.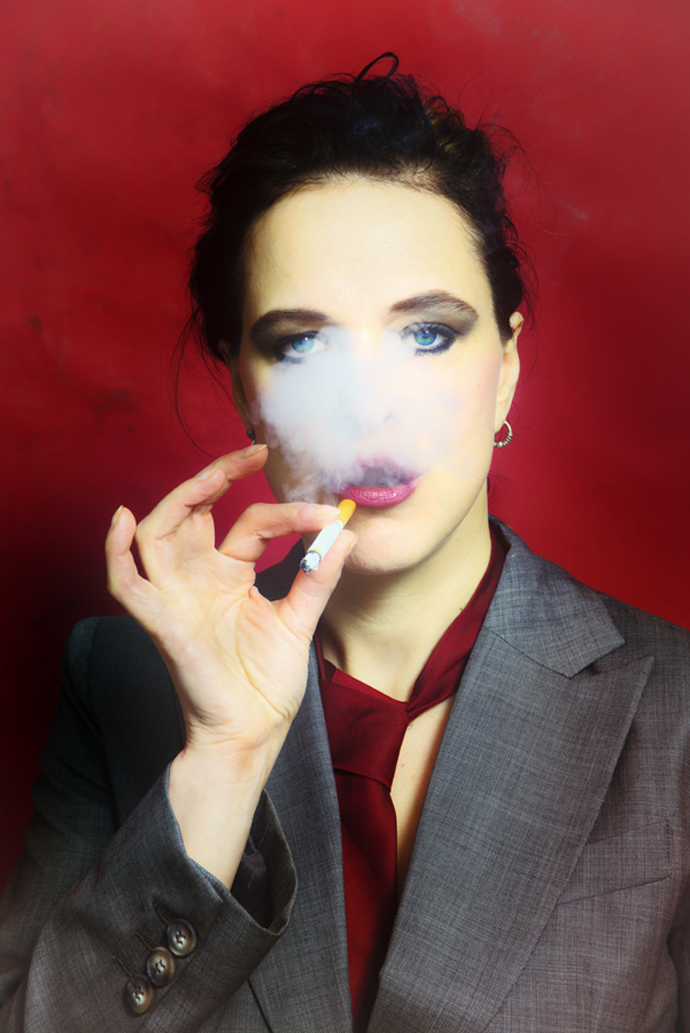 How did you get interested in photography?
As a child I dreamt about becoming a dancer: show ballet, classical ballet. I've been brought up in a very strict religious way and my parents wouldn't let me. They were convinced the world of dance, of arts, is a dangerous one. It was hard for me to deal with, because I was told I was talented and I loved to dance. As I grew older I managed to live with this tough decision, because I understood my parents loved me that much and therefore tried to protect me for all possible dangers.  I also was fond of writing and drawing, an alternative way to express myself.
In 2005 I started writing stories, which I published on internet. A good friend of mine gave me a 2nd hand webcam. Then I found out I could tell stories with my face and body as well. I never knew that before. I started creating illustrations (self-portraits) for my stories using that webcam. From then on slowly my way of story-telling changed. Body language suits me better than written words and nowadays my self-portraits are telling my stories. Sometimes I write a little poem to illustrate a self-portrait, but it's the opposite now.
Thanks to photography I feel I've become a dancer after all, since I am telling stories using body language like a dancer does.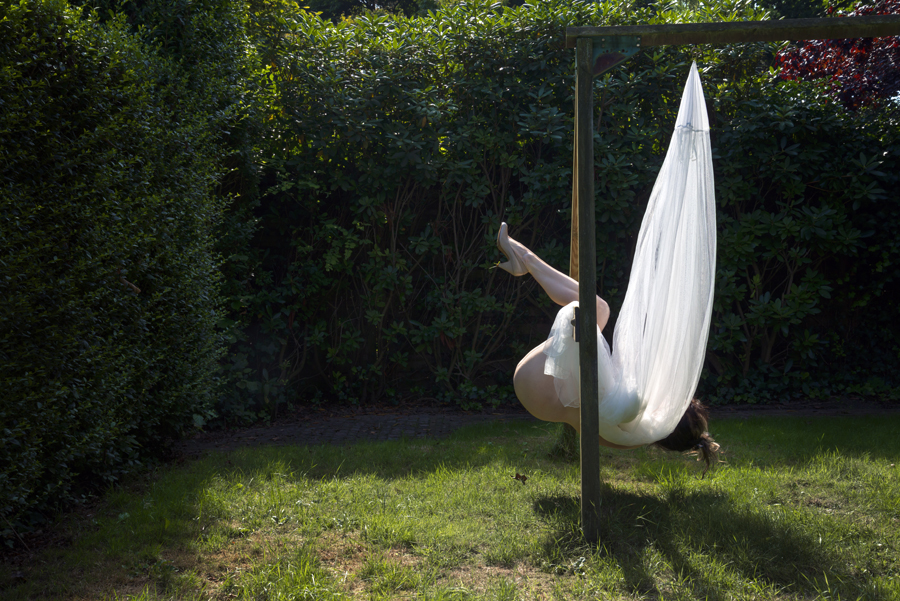 Have any artist/photographer inspired your art?
'Life' is my inspiration. My work is from a 1st person perspective but my story is not only about me. It's about women. It's about people fighting for their identity. Being a woman is not always easy in a world dominated by men. Being gay neither is, despite being a man. Being black in a world dominated by white people isn't easy as well. And so on. I recognize the struggle. It's also my intention to support  the underdog  with "performances" falling somewhere between the real and apparent, my alter egos holding up a dead sharp mirror in front of women and men – calling out society's ancient convictions.
I do admire Anton Corbijn, Guy Bourdin, Ellen von Unwerth, Helmut Newton for example.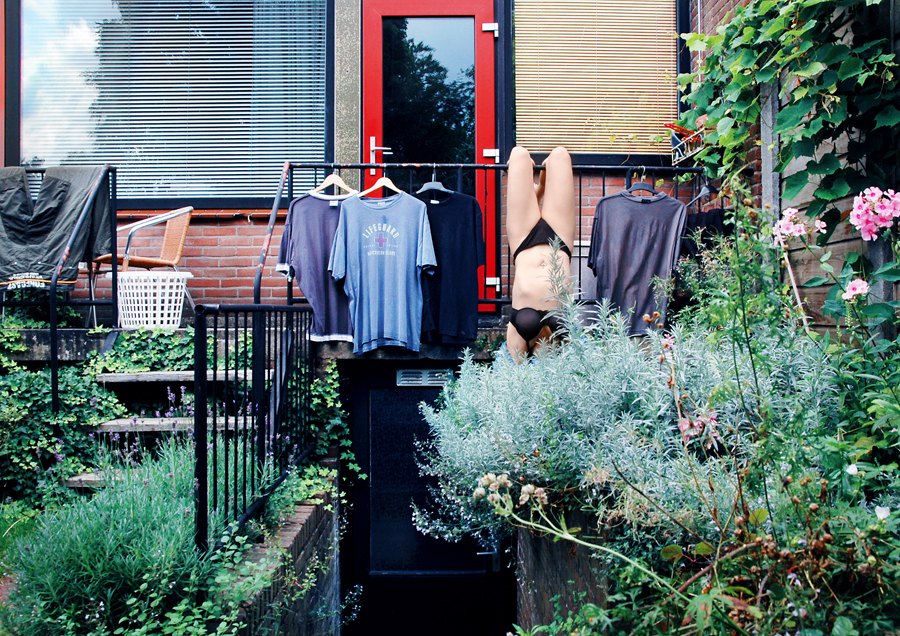 Could you please tell us anything about your technique and creating process?
I photograph using a Nikon D800 or D700, a tripod, Hähnel remote control. Sometimes I use one studio light but prefer natural light.
I've created humorous, ironic self-portraits around my own home. A house shows who we are and over 5 years I shared my home with my audience. Every corner of the room appears in my photography. In 2012 the time for change had come. For my latest series of self-portraits home owners unknown to me have offered their houses as sets. After I contacted the newspapers dozens of house owners offered their homes for my new self-portraits. I visited the houses, often without the presence of the owner, their faith in me shown by giving me their house keys and carte blanche to use the rooms as I wished. This series is called 'A house is not a home'.
In both my life and my work I communicate with the things discovered around me so in these new and strange sites the artistic possibilities explode with sometimes surprising results. My photography changed but still remained unmistakably 'Lilith'
Describe your ideal photographic situation
I have to be alone.
How much preparation do you put into taking a photography?
Since I am telling my story through my self-portraits I photograph myself how I feel that day. It all has to do with emotions. I cannot make plans days in advance. When I enter those strangers' houses with a small basket filled with random props I am completely blanc. I start to communicate with the environment, with the people who aren't present at that very moment. The thing that really surprised me is that even though  those house owners aren't present, they still influence my work by the first impression I got from them. (Most of the time I paid one visit to  them to introduce myself.) That fact made me wonder about freedom. Are we ever completely free or are we always taking account of others, of society and its rules, (un)knowingly?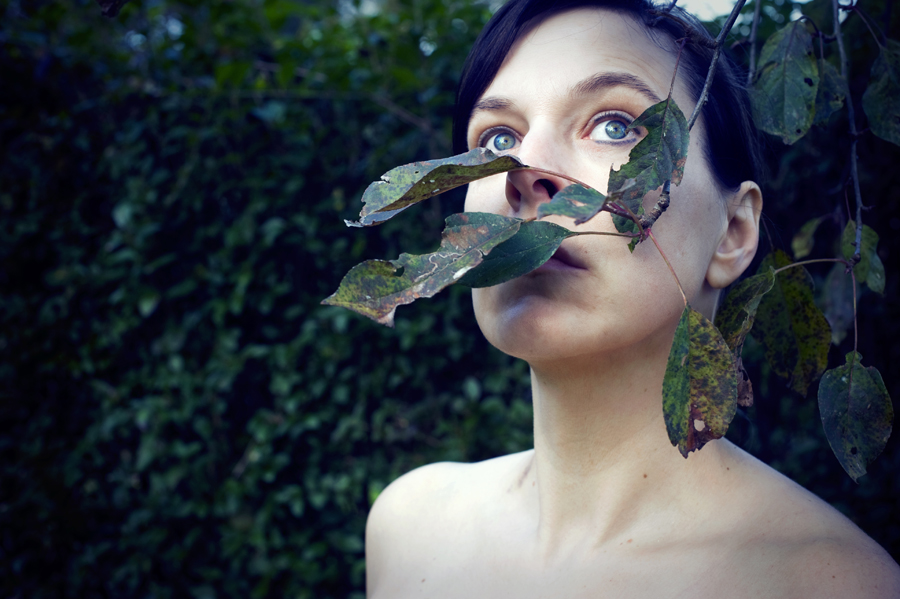 What's your useable-to-unusable ratio when you review images from a shoot?
That varies a lot. Sometimes the first shot during light measuring is usable and sometimes I need 30 or even 200 photos. It depends on what I am doing. I always need just one photo of a certain situation.
What quick advice do you have for someone who wants to improve his or her photography skills?
Just follow your intuition, listen to your heart and be sincere in what you intend to show the world. Stick to yourself. Being faithful to oneself makes you stronger and is a guarantee for honest work. It's all about emotions, the photography itself comes secondly.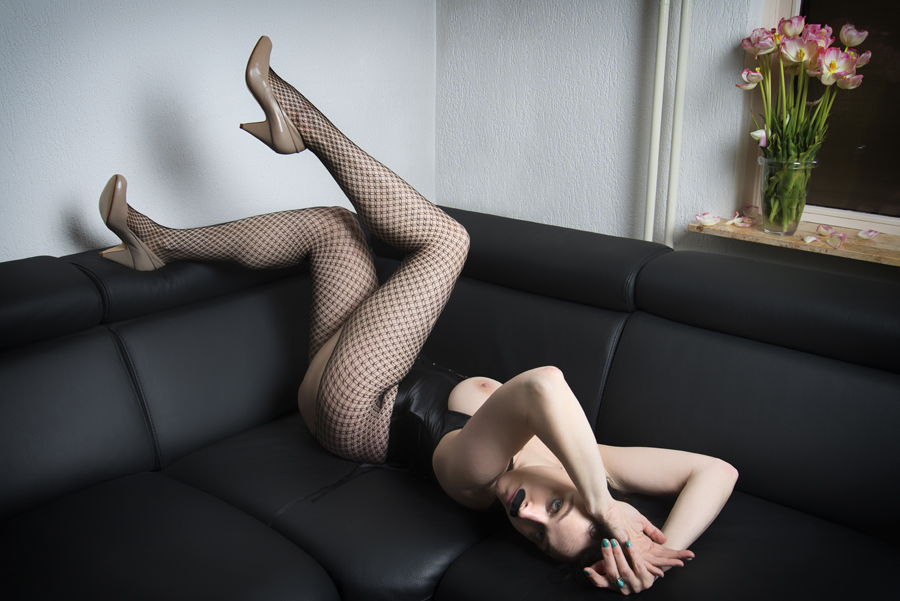 From time to time many photographers find themselves in a creative rut or uninspired to shoot. Does this ever happen to you and if so how do you overcome these phases?
Since I am a mother of three children there's never enough time to photograph. That keeps me eager. So when I have a little time on my own I just start photographing. Luckily I am always inspired. There is so much going on in this world, in my life.
What future plans do you have? What projects would you like to accomplish?
• I am still working on my project 'A house is not a home'- self-portraits in strangers' houses.
• A house shows who we are. But so does a circle of acquaintances, family members and good friends. That's why I recently started shooting self-portraits together with all those people in my life. One or two persons in a self-portrait with me. They are the most important person in every single picture and I am the bit player.
• I am also working on a series called 'Intrauterine'. Self-portraits with my Nokia cell phone in the tub. I like to take a bath, back to the womb that encircled me. Back to the fetal stage where I could completely be myself. It was safe. [Official Website]