This photo was captured at my very first fashion photography workshop in Orlando, Fl. I spent almost three months planning it out and tried to make sure nothing was overlooked.
All of my workshops are styled by me (I am also a stylist) so I styled the look for this specific lighting and theme.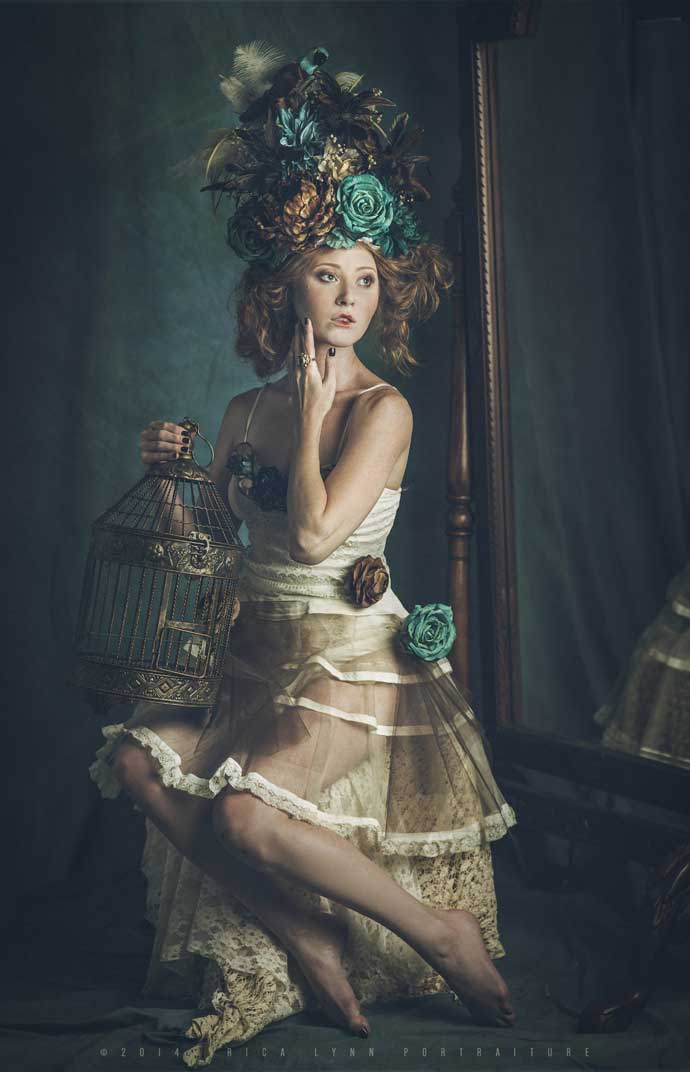 The concept behind this was is Marie Antoinette were Alice in Wonderland, that's what it might look like. All of my shoots have themes, characters and stories behind them and I try to bring them to life in my work. The skirt she is wearing is a vintage hoop skirt from the 1950's that I found at an estate sale and the headdress was designed and made by me. If you notice there is a bird at the top of the headdress and she is holding a cage, the concept behind that was that her bird escaped from the cage and she was panicking trying to find it. The backdrop was custom made by me to match the exact colors of her headdress so that the colors would all pull and pop in post processing. This set is lit with just one strobe that is set up on her left side and there are two black V-flats on her right side. I wanted to keep the lighting simple so that anyone attending my workshop could easily duplicate this lighting themselves and achieve the same look. I shoot almost all of my work with only one or two lights.
70% of the time I shoot with natural light and if I use any other light it's a simple strobe. I sometimes will even diffuse my strobe to soften the light coming from it. I do not like harsh lighting at all. I prefer to light all my subjects with as soft as light as possible to achieve an ethereal style look. I do this both outdoors and indoors.
My work is always about the story behind the photo and the fashion, not necessarily the subject. While I always look for the right model for my specific themed shoots, the model is a mere extension of the story and I try to cast the right model for each look so that they can portray the emotion behind it. My goal has always been to make people feel something when they look at my art, not just see something. I want people to ask, "what is this photo about?".
I don't have any formal training in photography. I have taught myself what I know so far however, I do have one friend who believed in my work so much that he graciously helped me as much as he could. He let me borrow his lighting and backdrops and taught me what he knew about lighting. Some of it stuck with me, some of it didn't. I used to hate working with shadows when I first started out. I didn't think women should have shadows cast on them in photos, I didn't feel it was feminine. While I still feel that way for headshot portraiture of women, I have done a complete 180 with my fashion work. I love shadow play so much. There is something so mysterious about a portrait of a woman with a dark shadow cast on her. It creates a mood and a feeling of mystery and for me personally, it draws me in. It makes me want to know more about the character, who she is and what she is all about.
As far as my equipment goes I am super simple with that also. I shoot with a Canon 5D Mark III and most of the time my Sigma 85mm prime lens and a couple of vflats (or a reflector outdoors). If I am in a tight space I will shoot with my 50MM (also Sigma). I like to shoot wide open at 2.8 most of the time and tend to under expose my photos so that when I work on them in post I can give it a moodier feel. A lot of people think that most of what I do is in post processing. While some of it is, I will say this, I have to light and shoot my photos a very specific way in camera in order to achieve that look in post. If my photos are not lit a certain way I already know that the look I am going for will not be able to be obtained in post. It's not the editing, it's the mood. The mood has to be captured correctly in camera.
So in summary I guess I would say most of what I do is very moody and tells a story, I keep it super simple with camera and lighting. I style all of my own shoots so that I can really say that everything I am shooting is something I created from start to finish and I am always trying to learn new techniques, especially lighting techniques. Simple but moody lighting goes a long way for me as a photographic artist.