As a born and bred Londoner and regular theatre goer, Dazeley had been intrigued to investigate and learn more about the history and what goes on behind the scenes in London's amazing theatre buildings.
His project is about recording London Theatres as they stand in the 21st Century, offering a unique front-of-house and behind-the-scenes overview of the capital's world-class theatrical spaces.
So, over a period of several years he gained permission and photographed 47 London Theatres, from the Grandes Dames of the West End, to some of London's smaller gems, the most famous and the least well-known, for his project London Theatres.
Peter did quite a bit of research before he went to each theatre, but in essence he went with an open mind to try to discover all the areas we never appreciate as we sit in the dark watching a show, the hidden behind the scene areas that the public don't normally see. Such as flyfloors, grids, dressing rooms, trapdoors, thunder runs, orchestra pits, above the stage and under stage, technical areas, inside the Royal Boxes etc.
All of Dazeley's images were shot digitally, using available light, with long exposures where necessary, such as at the extremely beautiful, candlelit Sam Wanamaker Playhouse. There is no electricity in this theatre and all performances are totally candlelit, so it took Dazeley a long time to shoot as they had to light over 100 candles.  The images are stunning.  Interestingly when the theatre opened, the use of candles had to be auditioned by the Theatre's insurance brokers and the London Fire Brigade.
Peter found shooting the locations an absolute joy, visiting the wonderful theatres and making friends with some amazing people, along the way.  The result is a glorious collection of images celebrating theatre in London and the beautiful buildings that house it.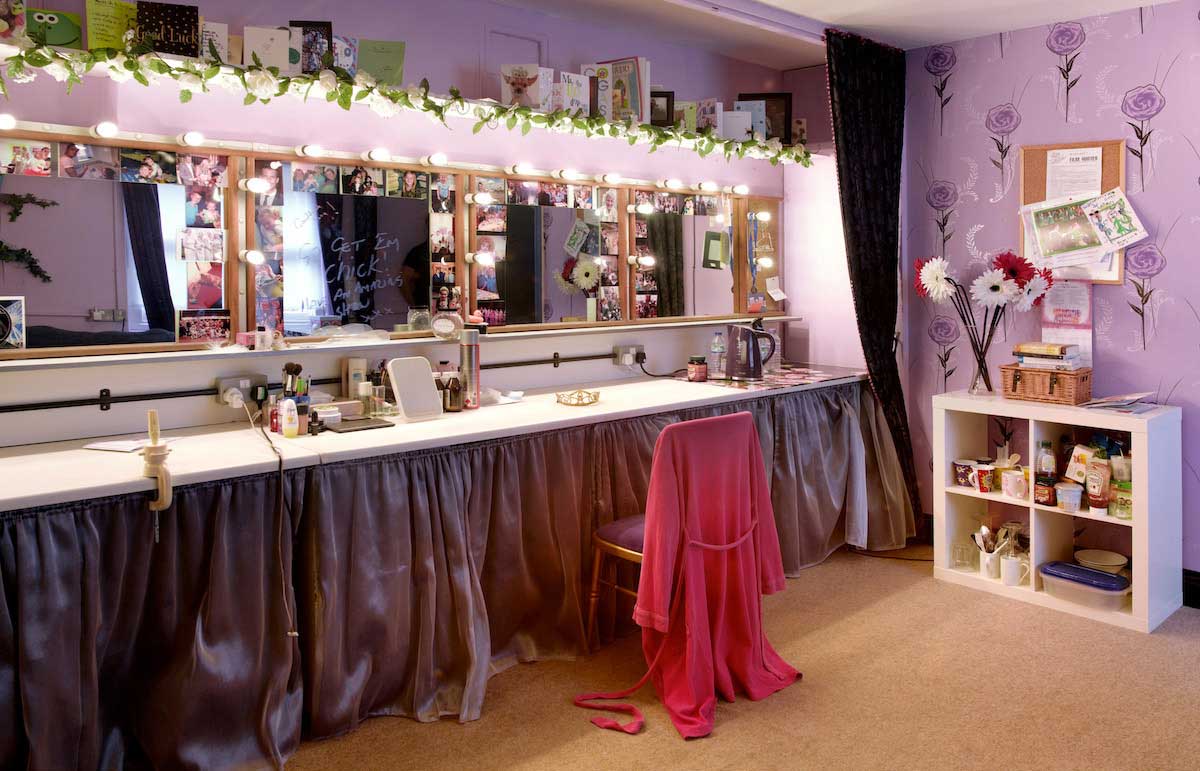 About Peter Dazeley
Peter Dazeley BEM FRPS, known as Dazeley, is a London based award-winning fine art and advertising photographer, writer and collector. Born in West Kensington, he studied photography at Holland Park Comprehensive (known as the Socialist Eton).
In the Queen's 2017 New Year's Honours list he was recognised for his services to photography and charity.  He is a life member of the Association of Photographers and in 2013 he was awarded a Fellowship from The Royal Photographic Society, which is the highest distinction of the RPS and recognises original work and outstanding ability. He has produced four books: 21st Century Platinum 2003, Unseen London 2014, London Uncovered 2016 and London Theatres 2017. A Second Edition of his highly successful book Unseen London was published in Oct 2017.
Dazeley's personal work is an on-going journey of discovery never without a camera, he is constantly active promoting his passion for the photographic image to inspire and excite a new younger audience.  He is a meticulous planner and imaginative problem solver and has pioneered many photographic techniques that have become the norm. "Making the ordinary look extraordinary is Dazeley's gift" says Sarah Ryder Richardson, who represents Dazeley in the UK. [Official Website]