Culture of confrontation speaks to the turning point in the history of Ukraine, that touched the whole world, the Ukrainian revolution of 2013-14.
It started as a completely peaceful demonstration on Kyiv's Independence Square (in Ukrainian 'Maidan Nezalezhnosti') against the decision of the former President of Ukraine to suspend an integration deal with the European Union. The events that supposed to be over in a day, turned into a three months of bloody clashes, tears, Molotov cocktails, burning car tires and deaths.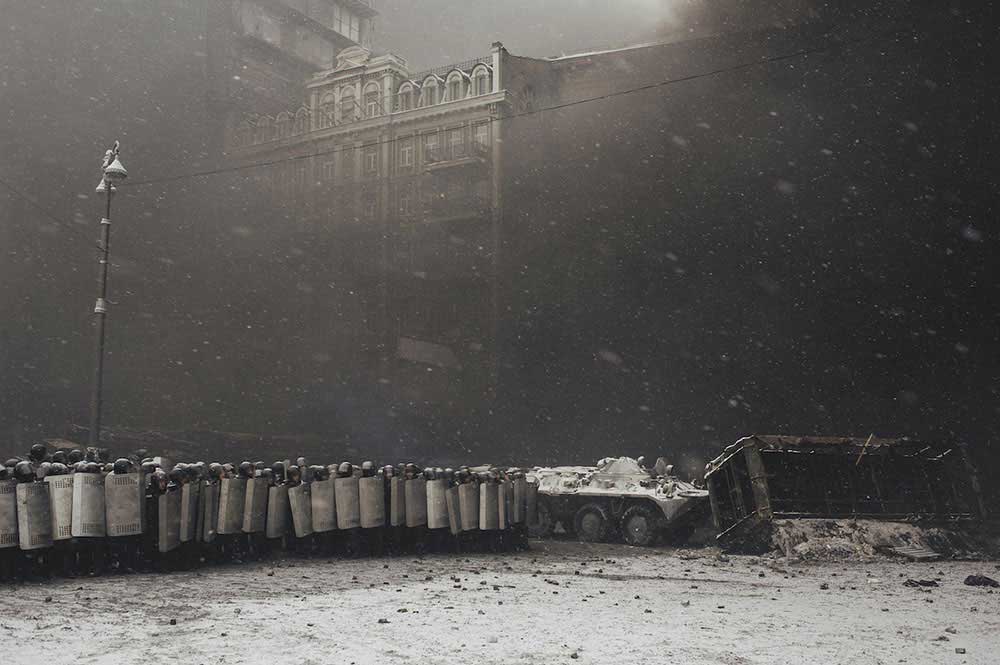 On the Maidan, at some point, the emotions for me took on an abstract, or universal character. The battles on the streets appeared almost unreal, as though occurring in some medieval fable or legend. Visually my photos broke away from the specific context that this was all happening in Ukraine, in my hometown. What I tried to capture was the more abstract, universal conflict that was playing out, between light and shadow, between the thick black smoke and whiteness of the February snow, and in some sense between good and evil, though it was often impossible to tell which side was which.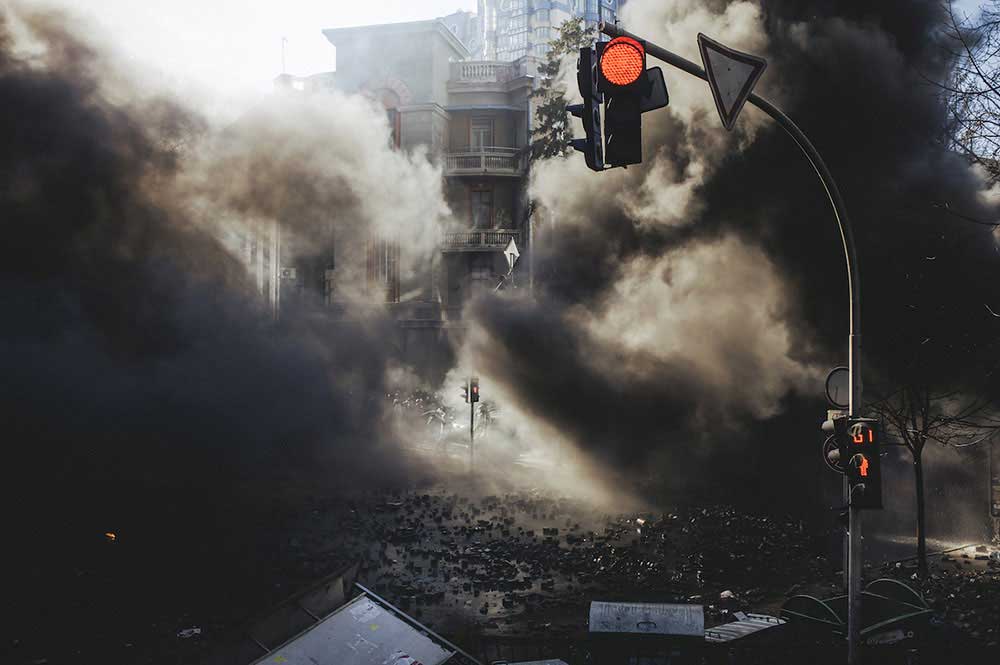 From the beginning the revolution felt like a performance, with scenes of carnage interweaving with incredible beauty. In the process the line between reality and fiction sometimes became blurred. I would forget the place, time and the cause of what was happening, and felt transported to some phantasmagoric place that resembled the awful battles of past wars. In that sense, what happened on the Maidan became a symbol to me of opposites colliding.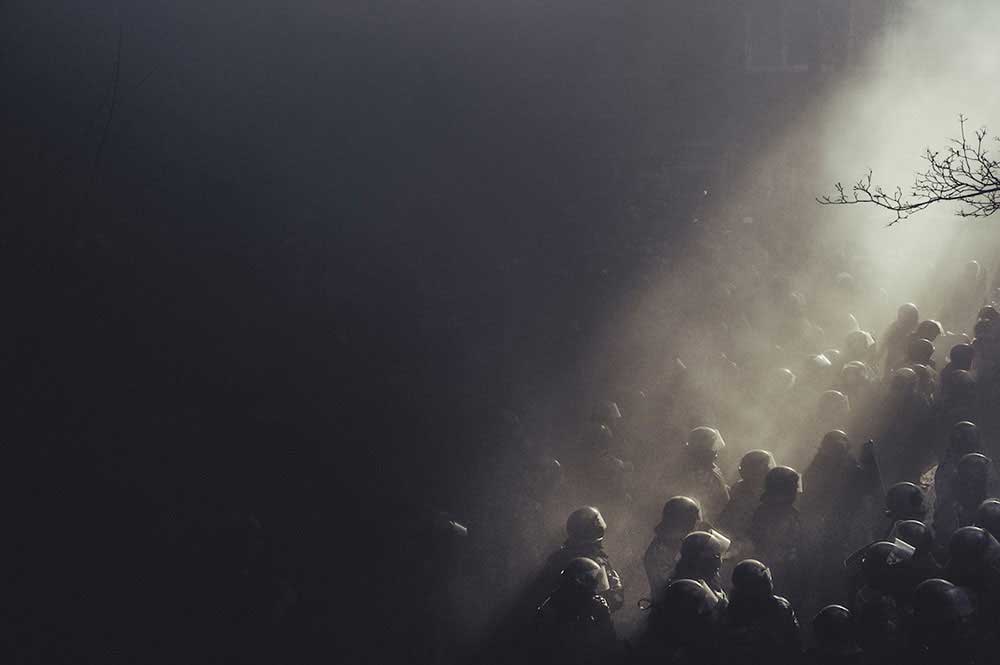 The title Culture of confrontation shouldn't be taken too literally. Everything that happened in Ukraine, beginning with the Maidan, is a confrontation of two different cultures. One culture tried to cling to old times, old ways of living. They were nostalgic for a past that meant a lot to them, to their parents and grandparents. Yet there was another culture that felt completely differently. They looked ahead to forging something new, a different country. By the word 'culture', I mean worldview, a term that encompasses a state of mind. On the Maidan there wasn't merely a clash of two different generations. There were two layers of culture colliding on the territory of a single country. This confrontation is eternal. It transcends Ukraine, and it definitely transcends that city square where the revolution took place in the winter of 2013-2014.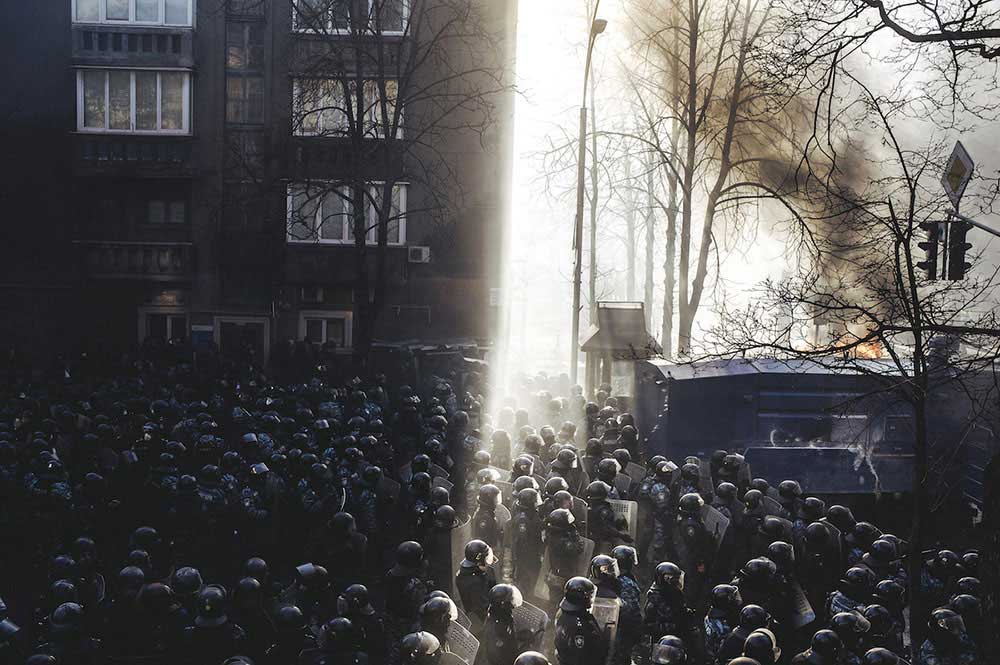 About Maxim Dondyuk
Maxim Dondyuk is a research-based artist working with photography, text, video and sound. His first projects were made out of a long-term immersion into the social and historical reality of his country. Among the issues Maxim raised were the problem of tuberculosis in Ukraine; the military upbringing of children in the secret camp in the Crimea Mountains; the Ukrainian revolution. The project "Culture of Confrontation" became a turning point in Maxim's artistic work. He moved away from classical documentary narrative form and rather plunged into emotions, reflection, and more universal terms. The subsequent projects become the author's experimentation with themes, meanings and forms.
Starting from 2016 Maxim works on a long-term photographic research project "Untitled Project", where he starts combining his photographs with archival materials found in the Chernobyl restricted areas. Working as a photographer and some kind of an archeologist, Maxim puts together the images of Past and Present. Landscapes of the territories devastated by nuclear energy, intertwined with the found films and photographs, which show people, who inhabited these territories, in their everyday life.
Maxim has been widely awarded and nominated for numerous international recognitions including International Photographer of the Year in Lucie Awards, finalist of the Prix Pictet Photography Prize, a Magnum Photos competition '30 under 30' for emerging documentary photographers, finalist of the W. Eugene Smith Grant in Humanistic Photography. His works have been exhibited internationally, at the Musée d'Art Moderne in Paris, Somerset House in London, MAXXI National Museum of XXI Century Arts in Rome, International Red Cross and Red Crescent Museum in Geneva, the Biennale of Photography in Bogota in Colombia, among others. He also was awarded an artist residency Cité Internationale des Arts in Paris. Maxim's works are held in private and museum collections, including the National Museum of Photography in Colombia, the Benaki Museum in Greece, the National Museum of The History of Ukraine in WWII. [Official Website]
Culture of Confrontation Book
Limited Edition Signed Print
Self-publish in 2019
Hardcover with cloth spine
Supplemented with a map and timeline
292 pages, 18×24 cm, text in English
Special edition: Book signed and numbered (500 books printed in total)
with limited edition signed print 23×16 cm (100 copies in total)
Price: 200 euro + shipping
Legal Note: The photographer attest that have full authorization to give consent to the publication of these photos or project and have the authorization and permissions of third parties. Guarantees that you have all the necessary communications of property and you have obtained all the necessary authorizations for any property, buildings, architecture, structures or sculptures appearing in your photographs.