Covid had struck planet earth and I was literally lost in all of my thoughts. I had these visions of the world ending and I felt like I was in a prison in my mind with all of this.
Like an artist I felt extremely sensitive to my surroundings. I felt uninspired and struggled with all of my collective thoughts swimming in my mind all day.  The more I sat with this, the more I realized that for the first time in such a very long time, the world actually had something in common..  I feel like it usually takes some type of disaster to bring people together and unite us in a cause we can all celebrate together so here we are.. I love humans uniting together.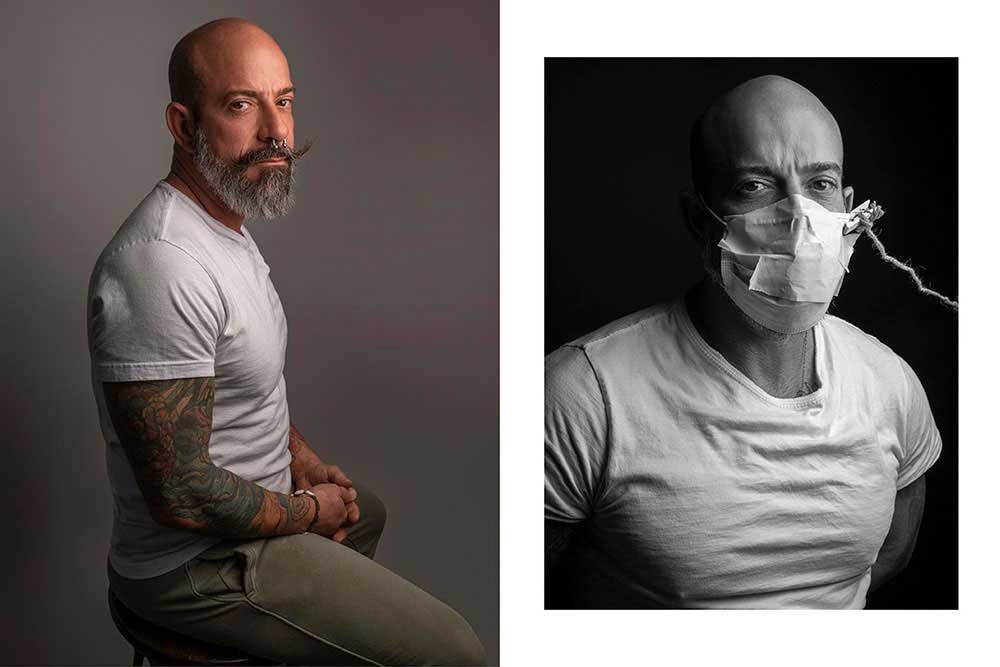 I felt this struggle was so real for so many people and it caused us to dive so deeply into ourselves and most of us suffered from mental health fatigue.. I think that mental health will be the next pandemic. I look and listen all around me and I think it already is.  It's the first time I've ever actually included myself in one of my series. My partner suggested I start the series with myself and so I did .. So many new issues were raised for me to learn about or to be more aware of.  I had read things like abuse in women and children rising 30 percent, the levels of alcoholism increasing,  The rate for divorce has never been higher, homeless people were overdosing in hotel rooms, threats of medications not being available because components were made in China and India and abroad and they were also locked down.  I had learned the term anti maskers and discovered people fighting for their rights to not vaccinate…. And watched many protests worldwide for a various list of reasons…..and this list goes on and on.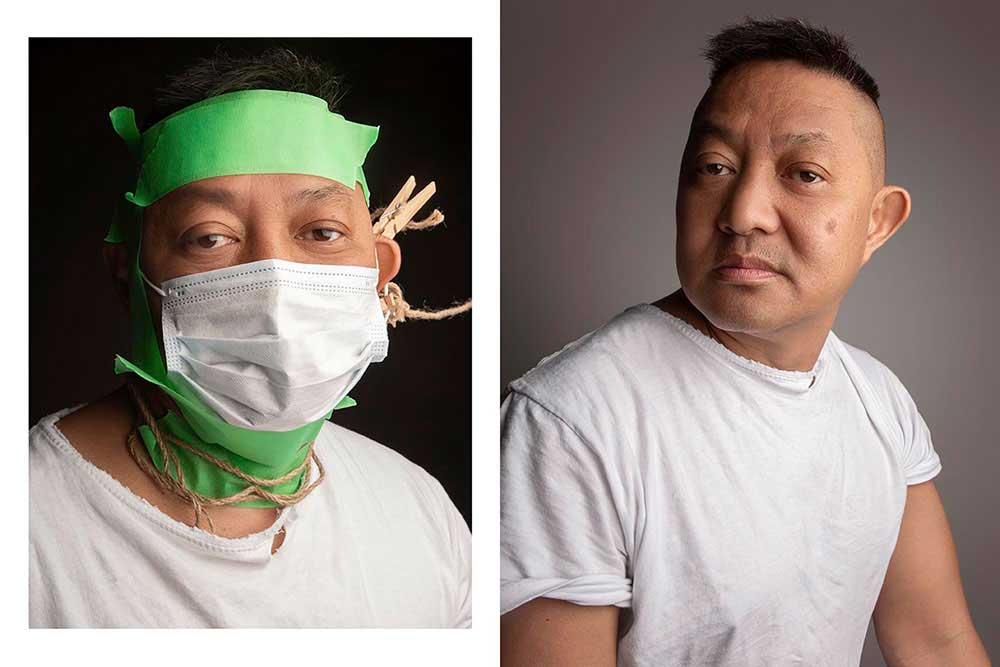 All of this being said, I realized that I wanted to photograph a portrait series of my experiences and involvement with Covid.  So I went on an emotional journey and I photographed a portrait series called Covid 19!!  Who would have every thought?  I may and hope not to ever experience a pandemic again.  I wanted to celebrate the fact that we were all in this together.  I was deeply committed to this project and I took this task on for over 8 months.  Most of the subjects were new to me and people I had never met and I wanted to hear about everyone's personal experiences. It was beautiful to share everyone's own experience to know I wasn't alone in all of my thoughts and feelings..  and to listen to their stories.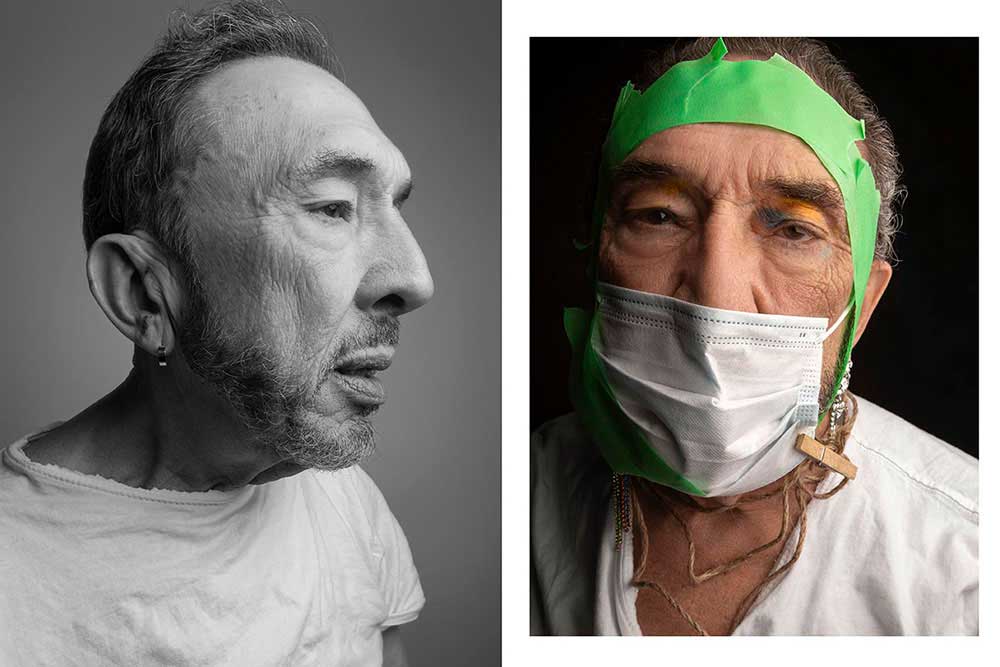 All of the models asked me, "Why the tape and clothes pins and chord etc"?? Isn't the mask enough?  I really wanted to show the chaos, the restraint, the fear, the panic, the storm, and the general feelings we have or got of the masks … juxtaposed with … life and being limited to what you could do at the time. I felt for so long we read bullshit news on social media and everything seemed to make us suffer more in general and even information did not bring us calm or peace. Everything seemed heightened somehow or elevated to a point that was a past a 10 on any scale.  We learned a lot about friends and loved ones and their personal views on all of this.  Now add anti maskers and anti vaccinators and conspiracy theories.. IT'S A LOT OF (FUCKING) INFORMATION and we are already struggling with the little we knew.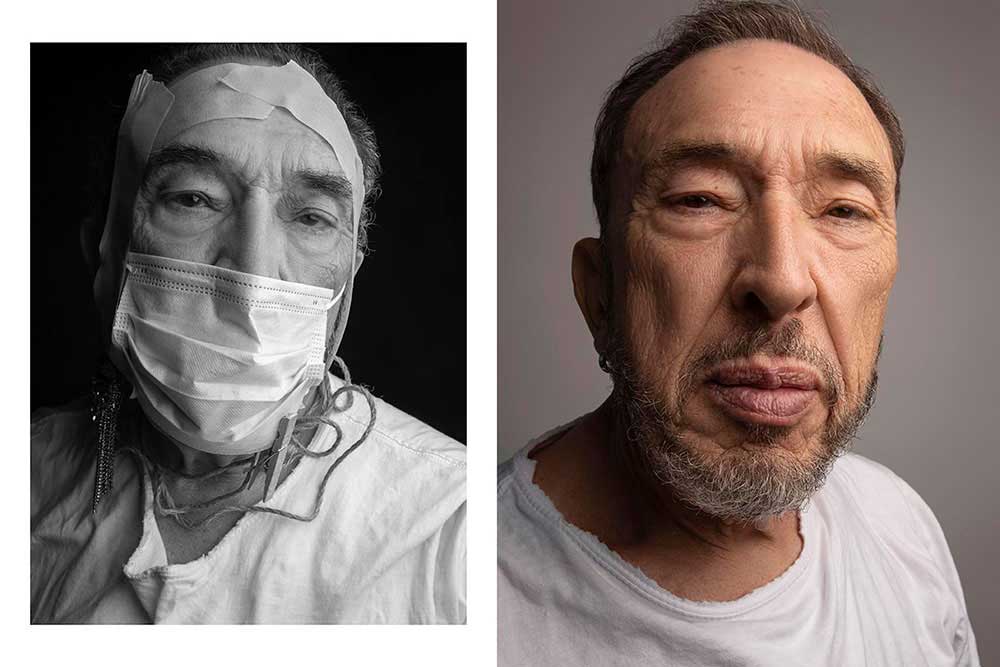 I truly wanted to just show chaos and struggle and light and dark and the busier I made the portraits, the sadder and more reflective people's eyes looked to me peering out from their masks.  It was like looking into a mirror or it was like looking at the truth. They say, and I believe, that art reflects or mirrors life. Looking at my masked subjects, I felt more and stories took a different mood.  It's one of those times where you truly truly can feel empathetic. I hope all of this makes sense.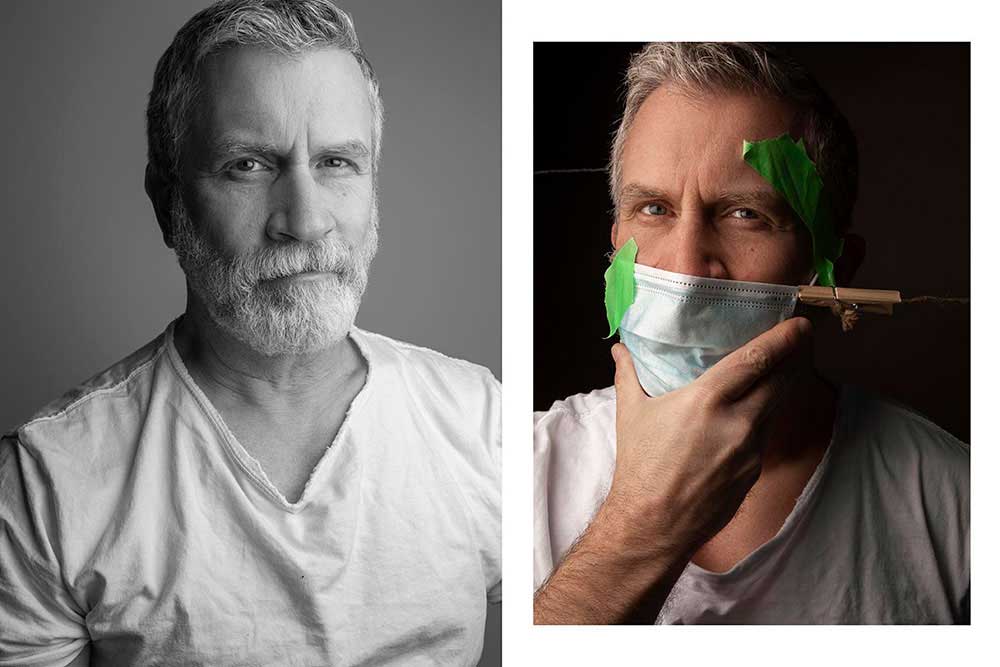 I wanted to capture how disheveled and frantic and chaotic I thought that people felt.  My initial feeling after photographing this was calm….and after listening to all of these beautiful human's stories, I realize that we are "little children lost in a storm" sometimes.  We are all hurt inner children somehow. This just brought us back .. It was a very rewarding experience for me to to this projects on so many levels and I feel such a deep gratitude for all of these beautiful people who allowed me in.  Thank you Paul for pushing me to do this.
…….And at the end of a cocoon is a butterfly. I told everyone to hold on to this thought.
About Alkan Emin
Born in Canada and raised in Cyprus, Australia and Canada, Alkan Emin studied English, Art History and Theatre before becoming a fashion photographer 15 years ago. Alkan lived in Beijing and Hong Kong before settling back in Toronto, where he keeps a busy schedule shooting for his North American, European and Asian editorial and advertising clients. Alkan has been nominated for a National Magazine Award in Canada for Cover of the Year. He has also received a National Magazine nomination for portrait series of the year where he received an honorable mention. [Official Website]