I was born in a little village at the North Sea coast in the southwestern of The Netherlands. The seaside is my natural habitat, and ever since my youth my cultural inspiration.
I am not interested in describing and copying what I see. What I want in my photography is creating my own interpretation of reality, not a reflection of that reality. Most of the color photographs I see don't appeal to me. Many of the great black and white (or toned) pictures do. Monochrome feels like the only natural way for me. I discovered that a photograph in black and white takes you in an otherworldly atmosphere. I am interested in and basically inspired by literature (poetry), other art, minimalism and history. In my photography I look for smooth compositions, clean lines and strong but simple shapes. I try to create a mood, an interpretation of reality in which the light and the shapes become the sole components. For me, photograpy is poetry. Minimalistic poetry. I am influenced by many great masters, but at this very time mostly by Todd Hido, Toshio Shibata and Michael Kenna.
My subject matters are traces of what humans left behind in natural landscapes, in the water or along shorelines. The memories of the presence of people. A good scenery has an air of expectation. People can return any moment to the structures they left behind. They can dock a boat on that jetty, or empty the fishing net in that lake. But at the very moment I am there, it is quiet and silent. And I am alone here, as an observer, not a participant. I'm collaborating with the subject matter, or so it feels. I try to create moods in my images such as serenity, solitude, melancholy, hope, wonder, or a combination of these, whilst still retaining an earthy and organic feel.The camera is just a tool in this proces. As the other technical things.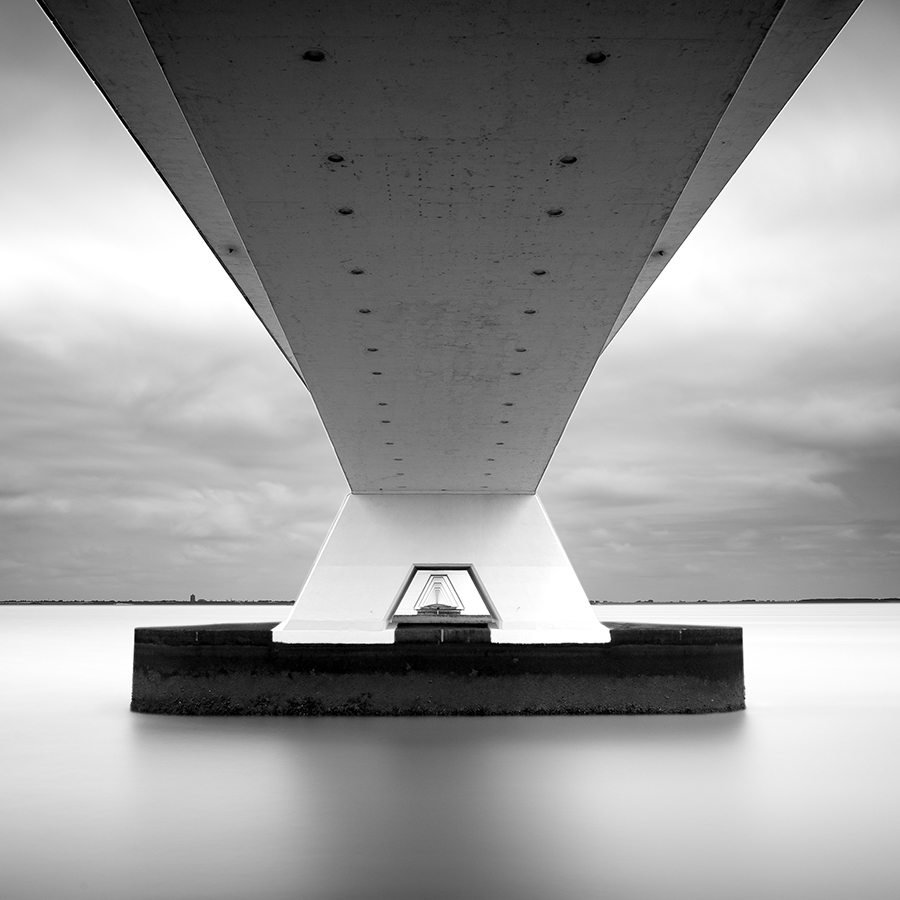 I specialized in long exposure photography to smoothen out disturbing elements in the composition, like waves, and creating a kind of timeless, surrealistic atmosphere. Very often I work in harsh weather, strong winds, rain and spraying salt water.And for photographing with exposures from one to six minutes, you need all the stability you can get. So a very sturdy tripod is perhaps my most important piece of equipment.
Post processing is a very important proces in my workflow. I use Photoshop, Lightroom and NIK's Silver Efex Pro on a callibrated Eizo screen. Finding good locations is something I spent a lot of time on. With help from Google Earth I spent hours and hours at my desktop in exploring a coastal area. I study the weather forecasts and the tidal plannings and quite often I visit the spots without a camera, just for the look and the feel. Exploring  the silence and the sublimity of the place. Or, and that happens too, I pack my gear in my old car and go driving around without a specific destination and let the trip surprise me. I live in an area with 650 km shoreline so there's always a lot to find. The hunt for good loactions and subject matters is an exiting journey.
The workflow of the mental proces is: finding a good location and getting an idea. Not the other way around. The idea can change in the post processing phase, but that seldom happens. While at the location, photograping the scenery, and making the composition, is more like a meditative phase of contemplating. There has to be some kind of magic in the air. I visit some locations several times in a year, even after having processed and published the photo. For the future I'm working on a book and some exhibitions. I plan to go to other countries with stunning coasts, such as Ireland, French and Norway. And I keep on trying to improve myself and evolve my creativity. This journey never ends. [Official Website]