Three years ago, I started my journey traveling through towns and cities across the state of Pennsylvania to make photographs for my project America in a Trance.
Three years later, I am happy to announce that my project found a publisher and my first monograph is published by Damiani, Bologna, Italy.
Niko J. Kallianiotis first monograph, "America in a Trance" dives into the heart and soul of the Pennsylvania industrial regions, where the notion of small-town values and sustainable small businesses thrived under the sheltered wings of American Industry. A mode to promote American values, industrialism provided a place where immigrants from tattered European countries crossed the Atlantic for a better future. The project isn't just about the flushing out of industry and the towns suffering, but something more. Something poetic. Something as deep-rooted as these values and traditions of hard work, family, faith, and an attitude of trying to make the best out of a little less as much of the world passes by or looks in with a skew.
Kallianiotis, born in Greece but seemingly Northeastern Pennsylvania bred, has called this place home for roughly twenty years. He believes in this place with a whole heart and it's the element of the experience that drives his concept. Most importantly it's the ideal of building a bond. Although the sway and beliefs from both sides of the fence in the current political climate have a direct effect and interest in these towns, Kallianiotis achieves a certain level of neutrality within the work. Conceptually, he incorporates and invites the viewer to make their own narrative and draw conclusions for themselves. Whether it is the hard Pennsylvania coal towns to the East, the shadows of looming steel stacks to the West or every faded American dream in between. Through the use of light and color, an illumination of hope he explores his own relationship with the land, as well as capturing his chemistry with these individual moments. It is not about how things look, but about how things feel.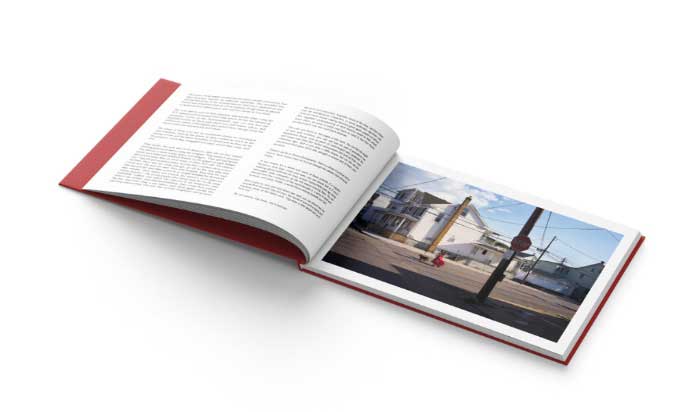 Damiani
30,5 x 21,6 cm | 12 x 8 1⁄2 inches
136 pages, 95 color, hardbound
ISBN 978-88-6208-595-3