Paul Roustan is an award-winning artist based in Los Angeles, known for his work in body painting, photography, and conceptual performance. Roustan is recognized as one of the world's leading body painters, whose style combines traditional fine art, pop culture, and reflections of the contemporary world to create conceptually-based body painting.
These intricate, ephemeral body paintings are experienced through live performance, video, and still photography. Roustan's photographs, elaborately crafted images, often use the decorated body as one element in a larger construction to achieve a narrative, expressive goal. Telling stories about people, places, and ideas, his work explores the multiple layers of meaning expressed by the juxtaposition of the human figure with different elements. The fine balance between vulnerability and strength, image and concept, is captured in vibrant, evocative photographs that have been exhibited in galleries on the East and West coast.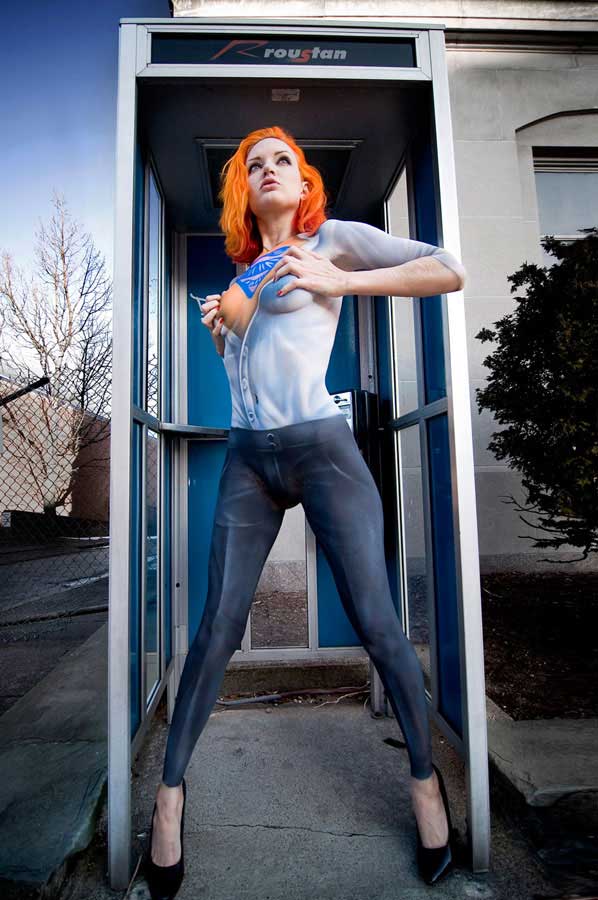 "Most body paintings treat the model like runway models, i.e. walking coat hangers for the artworks on display. I like to tell a little narrative of who the person is. I want to celebrate his/her distinct uniqueness and give the viewer a little insight into this person's mind."
This is quickly evident after flipping through just the first several pages of his newly released book containing hundreds of photographs and 5 full step-by-step tutorials. He continues to elaborate on why his preferred canvas is skin,
"The advantage of the model is that once he/she moves, the artwork is reborn. It evolves. It becomes a work of its own. And I get to appreciate it as if I'm viewing it for the first time. Artists almost never really get to appreciate their own work like the rest of the world can. They are just too familiar with it."
His photoshoots have taken him all over public and abandoned locations including a phone booth near a police station, an abandoned amusement park, in front of lifeguards at the beach, on Ivy League University property, a retired armory in NYC, and HASBRO Corporate Headquarters to name a few.
Roustan's career spans both the fine art and commercial worlds, as his work has been commissioned for corporate, private, television and nightclub events worldwide, including work for Playboy, Bacardi, Tupperware and Absolut. His body painting has garnered numerous awards, including being named the 1st Place North American Body Paint Champion at the North American Body Paint Championships. It has also been featured in a wide variety of fashion shows, community events, parades and workshops. His work has been covered by media including, Spike TV, Sabado Gigante, the Chicago Sun-Times, the Providence Journal, Playboy Magazine, Airbrush Action Magazine, Univision, DIG Boston, and more.
His work has graced the walls of numerous galleries including Arch Enemy Arts in Philadelphia, the Fountain Art Fair in NYC, and Arts Undressed: Miami. His totals exceed 30 galleries nationwide with limited edition prints acquired in nearly 200 private collections.
Roustan earned a Master's Degree from Rhode Island School of Design and a Bachelor of Fine Arts from the School of the Art Institute of Chicago. In addition to being a student he was also faculty at both schools. His lessons extended outside with teaching workshops at a wide variety of national locations.
Several of Roustan's images have gone viral on the internet. The first major success, an extremely difficult to find camouflage body painting of a "Pandora Sphinx Moth" generated over 70,000 hits to his website in one day. Roustan has definitely had his share of navigating the taboo water of nudity. [Official Website]
"When viewers are able to transcend their initial "shock" of the nude, they are often presented with work that offers narrative, meaning, and concept. I believe the "shock" is due to inexperience around nudity. I've been around nude people for over 18 years now starting back in the early days of art school. Nude people are as sexual to me as brushing my teeth. That is to say, not much. But if these models bump and grind, or act all sexy like, that's a different story. It's all about the intent. Ultimately, when fresh viewers are able to partake in the world of artists, some manage to adapt easily to the tameness of the non-sexual nude figure, while others can't."