He became an atypical reporter character in the international press a long time ago. Since 2007, he has been going back and forth to the corners of the planet or areas of anarchy, to observe social changes and upheavals with the agility of an acrobat, without a plan, without a guide, without orders, without formal training as we say in the profession.
From Soviet communism in many African countries to guerrilla warfare in South America, through post-conflict Somalia, Quranic schools in Guinea Conakry in 2014, Mali, and other places. François Maurel is an image activist, a speaker at the UN, invited to COP 22 and 23, street exhibitions in art galleries from London to the Carrousel du Louvre in Paris, a jury member at the Cannes Film Festival, co-author of a geopolitical work on Africa, and tries to spread a message: to transform experience into awareness. An intense life, for which he uses the weapon of the image as a universal language to bear witness to our changing world. From the favelas of Rio in Brazil, where I met him, showing the effects of pacification, to adventures in deltas and other rivers to discover isolated villages, to observe acculturation in progress in a crazy globalization. Problems in Palestine, the Untouchables in Kerala, Soweto in South Africa. François the Photographer, in February 2012, had landed a few weeks earlier, without warning at three in the morning, in one of those favelas that scrutinize the center of a city that was preparing to become the football capital again, in these alleys where for less than a dollar and a few crumbs of husband, a child with shiny muscles can cut your throat without warning.
A vague address written on a crumpled piece of paper at the bottom of his pocket… And in a few hours, François had become friends with all the neighborhood moms, the moms, the local musicians. Although everyone told him he was a little crazy wandering around a place like this without protection at such an hour.
The Madman or the Magician, had become his nickname in Rio. However, two months later, his photos were exhibited in the favela. Snapshots that ooze love, filth, joy, or despair. Life, the real one. Because photography is like cooking. Fast food or lamb at seven hours. Click-clack, thank you Kodak, three short walks and then leave or dive for days into a bleeding ignored by tourists, but within stone's throw of the safe circuits.
Night work, when gringos are prohibited from circulating, because the brigades of the "NIGHT" are lurking… François, with his seductive smile, casts a fierce or tender glance on this world that has lost its mind. His goal is resolutely on the side of those who fight for a piece of bread. Ultimately, for those who have the courage to live. With his boxes and a few dollars, he zigzags around the planet without goal or trophy, because he is with the photographers in the sacred fire.
I haven't seen François since that night in Rio. With the magic of the internet, we are always close, thanks to these messages that are exchanged like so many bottles in the sea, I often look at his images and accompany him as when I was a mom and dreamed of leafing through Match or Tintin albums.
Silhouette of the driver of a taxi-brousse, group of girls laughing in the tropical rain, repairman of old appliances playing on the sidewalk, untouchable dignified like a god… Each time, a climate, an atmosphere, an emotion, a story captured in an instant, in a click. François loves people, rain and good weather, virgin nature as well as sordid walls of megacities that he imprisons in his film.
He doesn't deceive, it is body and soul that he delves into these subjects. But more than facts, François Maurel, known as Francisco in South America, where he has worked regularly since 2012, testifies above all to the social imaginary of his time, his convictions, his projections as well as his conservatisms, his myths, his dreams. Concerned about areas of no rights and migratory movements.
Anticipating ten years to a reality such as the transformation of our societies that he denounced in 2011 in video documentaries (Utopia Favelas project in Rio de Janeiro), or on internal migratory movements in neighboring countries, countries based on a fatal outcome of xenophobia, with his work in South Africa in Soweto in 2014 with the late Mr. Santu Mofokeng (Legend of Post-Apartheid Photography).
Francisco is not visionary in his photographic work, but intelligently updates an old aspiration of humanity that is becoming credible by crossing a background of popular culture with the latest scientific dissemination or press. In the era of artificial intelligence programs, he came to know the first peoples of Colombia, since 2017 in a long-term project on the Arhuaco indigenous people.
In this 4th stay, a serious misfortune worthy of his work must be emphasized. The Chocó region, classified as a red zone by embassies, active armed groups, drug traffickers, and other paramilitaries cross the area. An incongruous situation that goes beyond the limits of realism because it is also a high place of ethnic and indigenous diversity. Here is his unfinished work because he suffered an attack and kidnapping this month of March 2023.[Text by : Claude Lesaulnier, Journalism professor at Sorbonne, University of Paris 8 Vincennes-Saint-Denis – France.]
COCA MAÏS NO COLA
Crimes and trafficking – The paradox of our societies Supply and demand
The gang war and drug trafficking continue to be our own global curse. Europe and the United States are the main consumers. In recent years, West Africa and New Caledonia have become part of the new drug route to send drugs to Australia and Japan.
The lost war against drug trafficking is being publicly admitted by leaders in Latin America, who have implemented policies to combat cocaine trafficking for decades on the continent. Some are considering the path of decriminalization to change things. (LesEchos)
Breaking the monopoly
Elite corruption also obstructs the fight against drugs. Juan Orlando Hernández, the former president of Honduras, was extradited to the United States last April for participating in a huge cocaine trafficking operation between 2004 and 2022. (LesEchos) Meanwhile, daily violence, organized crime continues to grow, and situations in South America become unmanageable. Colombia and these indigenous communities are forced to flee their habitat, Venezuela, passing through Colombia to escape a catastrophic situation, and Peru and Bolivia, world-leading producers with Colombia, Brazil, a neighboring country, trying to take a part of the cartel market through Guyana, which is a necessity. Added to this are the Mexican gangs that are descending more and more to take control of the production cartels. Despite peace agreements with the FARC, Colombia is becoming ultra-violent again with more than 15 registered armed groups and other gangs. The paradox of a country rich in resources becoming an extremely violent conflict zone. Coca cultivation increased by 35% from 2020 to 2021, reaching a historic high, according to a UN report released on Thursday, March 16. In 2020, cocaine production increased to over 2,000 tons: unprecedented, according to the report.
Increase in demand
The UN body has observed "a steady increase" in demand for white powder during the last decade, as evidenced by an unprecedented volume of seizures (around 300 tons in 2021). Two-thirds of seizures take place in Latin America and the Caribbean, and one-third of seizures occur in the United States or Europe. (LaCroix) Once outside ports and cut, the merchandise is sold to the customer at around €70 per gram. The demand continues to be concentrated among wealthy populations in the United States and parts of Europe. While crack cocaine, a highly addictive derivative of cocaine that is smokable and known as the "drug of the poor," is already well-served in Great Britain, statistics show "sharp increases" in admissions to abstinence centers in Belgium, France, and Spain.
300,000 hectares
In Colombia, Peru, and Bolivia, the three countries where the fields are concentrated, there are more than 300,000 hectares of plantations, including 200,000 for Colombia alone, the main supplier to the United States.
New paths
Like 90% of world trade, most of the "white powder" crosses the Atlantic in transport containers, hidden in perfectly legal shipments of bananas, powdered sugar, or canned goods.
The report, however, points to the emergence of new drug centers in southeastern Europe and Africa. Central and West Africa, in particular Guinea-Bissau and Nigeria, are playing an increasingly important role as a transit zone for the supply of Europe.
An unusual country continues to appear in press reports on drug trafficking: Guinea-Bissau. This West African country with a population of 1.5 million is one of the poorest in the world. Its main exports? Cashews, shrimp, and cocaine. Cocaine, in a country where coca does not grow and there is no tourism? Yes, indeed!
More than four tons of cocaine have already been seized in West Africa this year, a 35% increase compared to the total seizures in 2016. Drugs are also seized in international waters off the Gulf of Guinea.
The geographical location of this region partly explains why it is on its way to becoming a major platform for drug trafficking. West Africa is ideally located between South America and European cocaine markets. Large shipments are hidden aboard fishing boats and cargo ships, and then divided into smaller loads aboard fast boats bound for Spanish or Moroccan shores.
Under the auspices of new organizations created on the Sahel roads and the former Paris-Dakar. Turkey and Greece also see more and more cocaine passing through their territory, without competing, however, with the Netherlands, whose ports receive much of the traffic passing through containers. In 2022, 162 tons were seized only in the ports of Antwerp (Belgium) and Rotterdam (Netherlands), according to customs in both countries.
Colombia: Youth in crisis in isolated areas.
Since there are no formal job sources in the municipality nor many educational opportunities, what many young people do is engage in drug trafficking," says Marcela, a teacher in Jurado, as reported by El Colombiano.
THE COCAINE FISHERS
(source: El colombiano Javier Alexander Macías & François Maurel)
"Fishing" with cocaine is a practice that young people from Nuquí, Bahía Solano, and Jurado in northern Chocó, have been doing for just over ten years to make money. In 2009, fishermen were the ones who recovered the cocaine thrown into the sea by drug traffickers when they were being pursued by the Navy. But after a decade, armed with easy money, the youngest ventured out to sea in search of "panelas" (common word).
When they find the cocaine in the sea, they hide it in their homes until they sell it or until the owner arrives and offers them a reward for recovering "this merchandise." According to police investigators, sometimes they are paid up to 1,500,000 pesos (about 300 euros) per kilo recovered, provided it is dry. The wet one costs half as much. That's why it's common to see these households buying microwave ovens that have increased, all to dry out cocaine.
In Jurado, Marcela is a teacher who gives hope to her students in her classes. She says that the lack of opportunities led Mr. X and his classmates to spend days at sea, dreaming of stumbling upon a load of cocaine that "would fix their lives."
Quibdó (Chocó)
"There is no area off-limits to Force Publique. Every night we provide security, and the goal is to reduce crime in Quibdó," said General Coy, who acknowledged that extortion is one of the gangs' financing routes.
But the cruelty of violence is not exclusive to Quibdó. The "Los Chacales" gang in Bahía Solano intimidated the population of this municipality with an old paramilitary practice: they killed a man, beheaded him, and placed him on the street to indicate that the murdered did not follow orders.
The war and cocaine are due to the scourge of the Chocó Eden. The former withdrew from the named territory after years because the confrontation between the self-defense groups and the FARC left scars impossible to erase, such as the Bojayá massacre. The latter is a mirage to attract easy money that has brought blood, pain, and death to the streets of Chocó.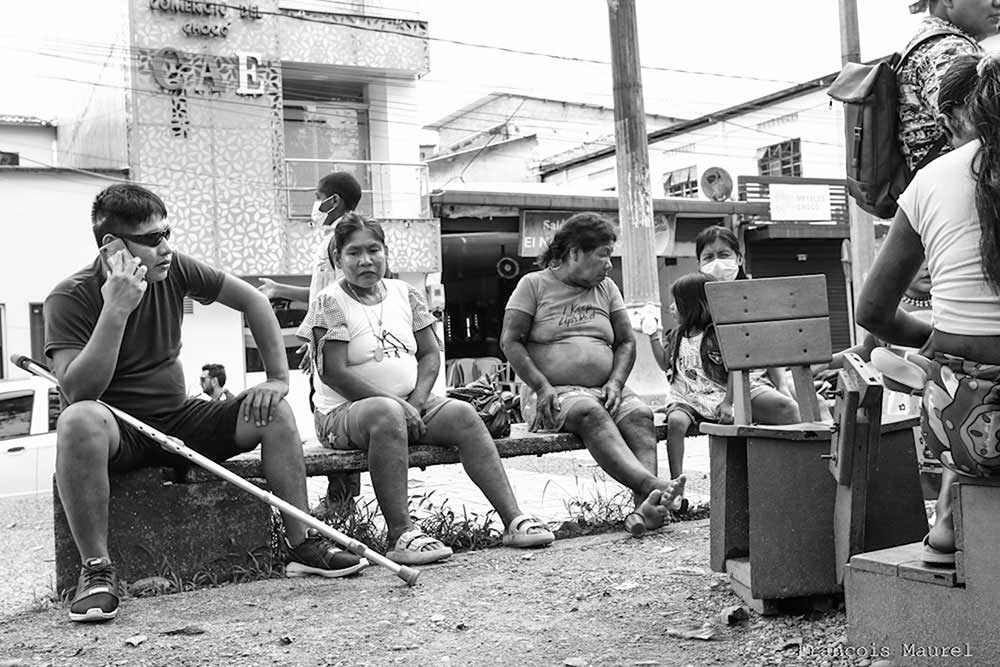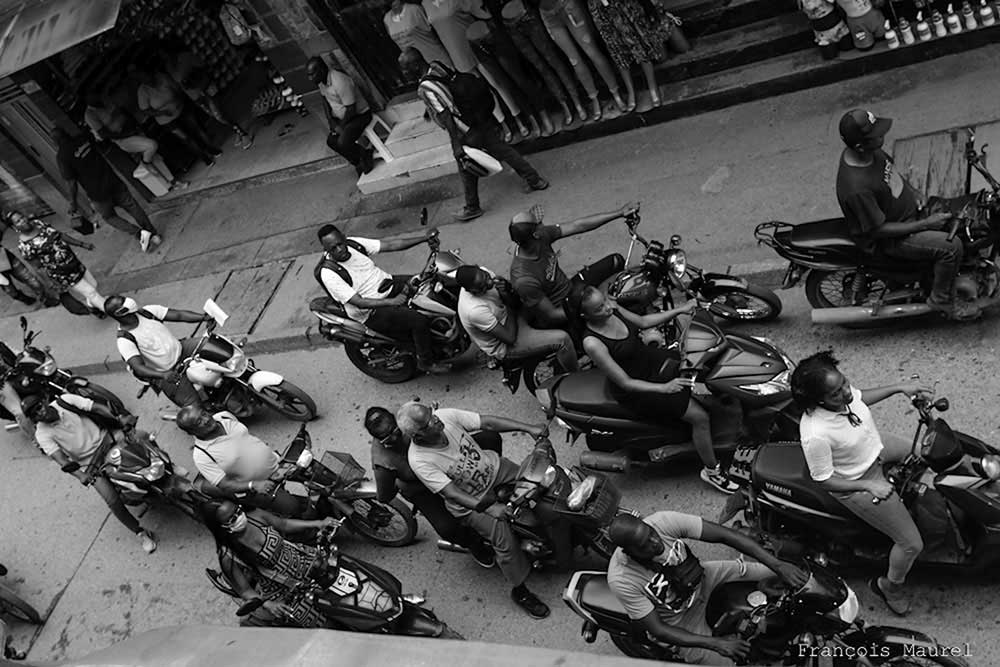 THE CHOCO REGION, THE CITY OF QUIBDO, AND SURROUNDINGS
Drugs: the fuel of the confrontation
The Choco region, especially the coastal areas and the jungle, have become roads through which drug traffickers extract cocaine. The vastness of the sea and the complicity that comes with the density of the jungle allow them to transport tons of cocaine by water or mountain.
"We know that drug trafficking is the engine of crime, and the ELN and the Clan del Golfo use it as an economic means of subsistence," says the military high command. (El Colombiano)
The National Liberation Army (ELN) is the second largest rebel group involved in the Colombian armed conflict after the FARC-EP. It had 4,000 fighters in 2016, according to authorities, along with 7,500 "militants" (civil activists). The organization is included on the list of terrorist organizations of the United States, Canada, and the European Union.
This dispute for drug trafficking routes has plunged the north of Chocó into a relentless war. It began when the FARC abandoned this territory after signing the peace agreement and then the ELN and the Gulf Clan arrived in their expansion efforts. This confrontation between both groups generated a humanitarian crisis with displacements, confinement of indigenous communities, recruitment of minors, and the placement of landmines.
The mayor of Jurado, Jenny Lucía Rivas, says that agricultural production has decreased in rural areas. "We have a problem that today leads us to serious difficulties of food security because our farmers can no longer go to their farms, their sites, or their crops due to the existence of landmines. There have been cases that have affected people in the area.
ADVENTURE AND MISFORTUNE
Armed robbery, kidnapping, and escape
Unfortunately or fortunately, we have to share stories and this one has to be told, even if it's one of the few golden rules of the profession: "Journalists' stories are only of interest to journalists." Let's make an exception for François Maurel, who is not a journalist or a photojournalist, but rather considers himself an adventurous photographer and rejects labels.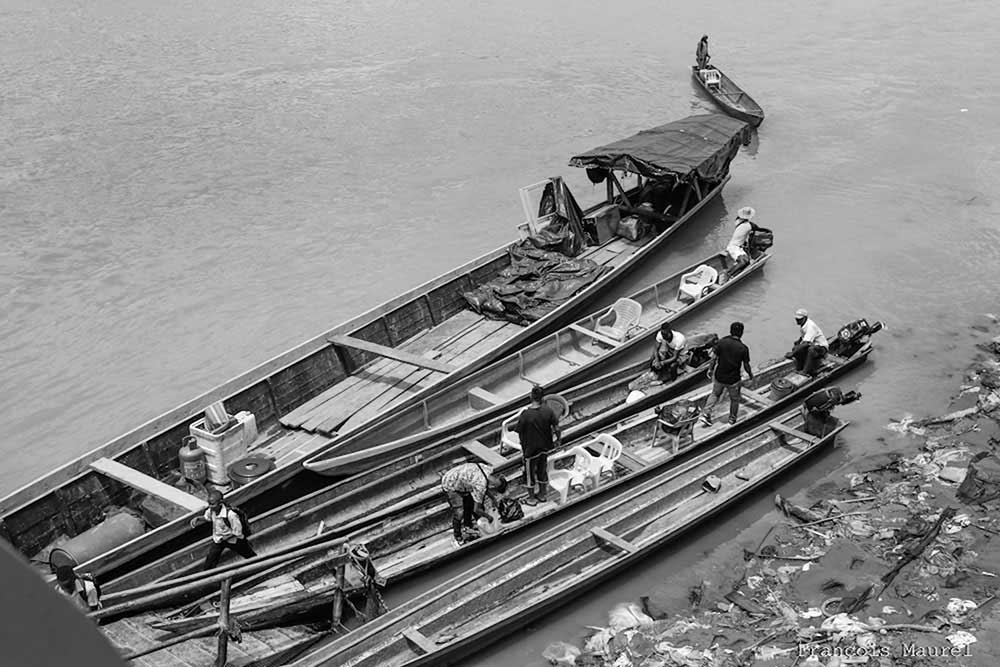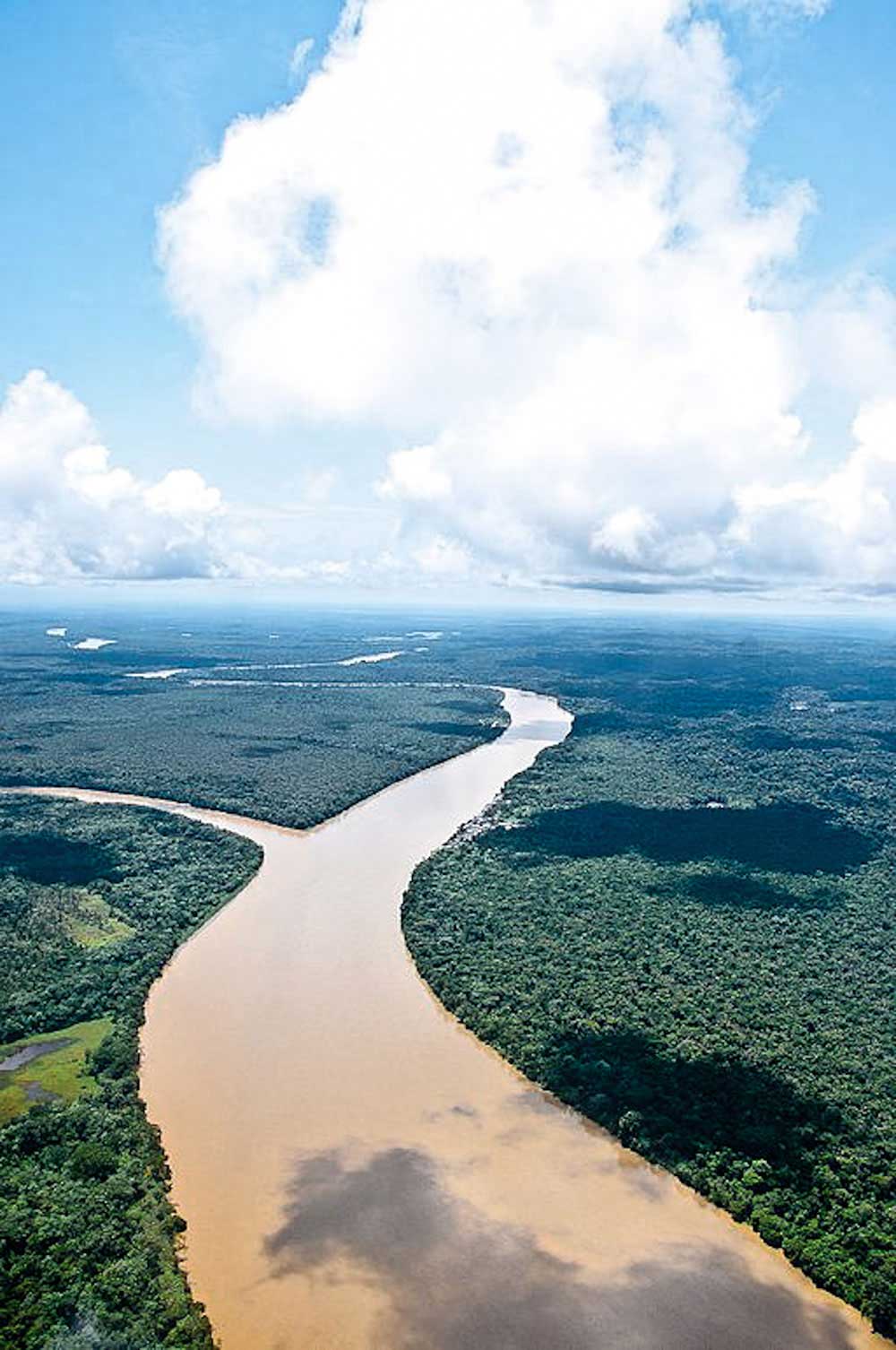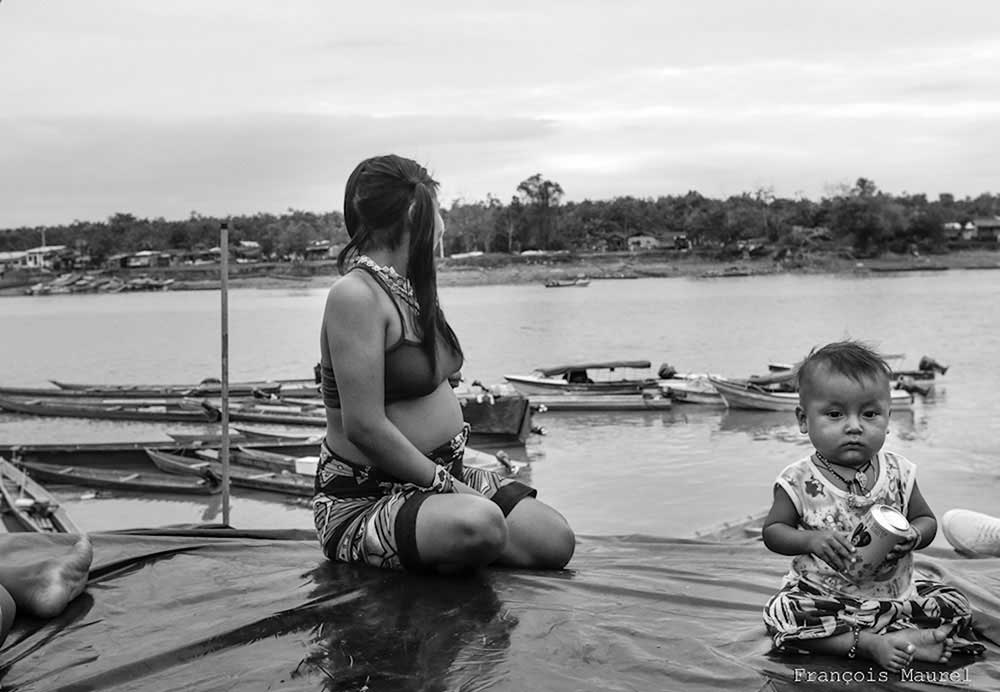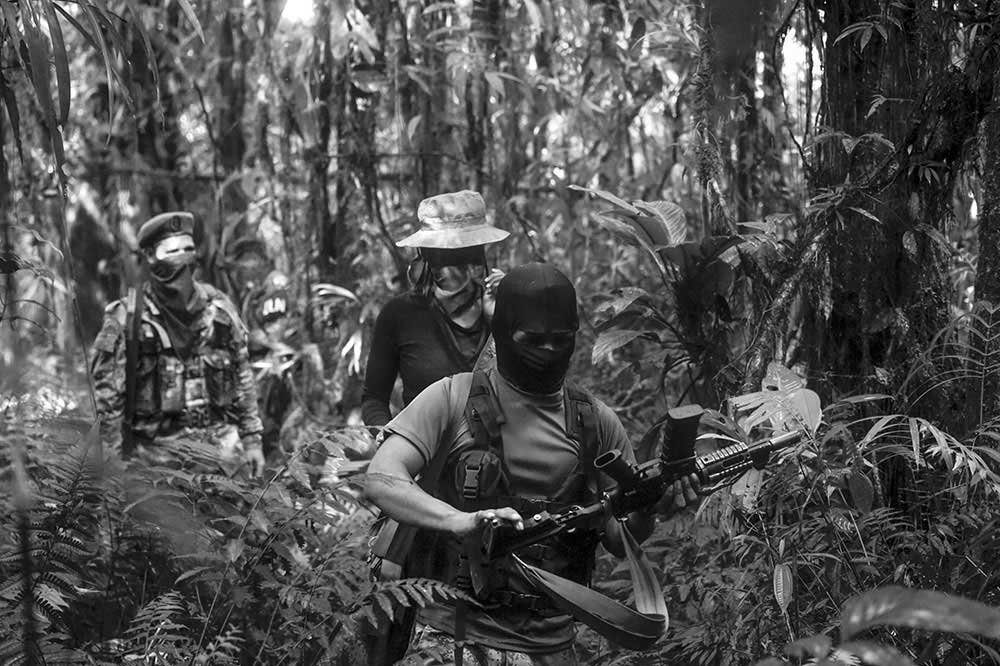 We affirm on our side: a talented reporter, because his story resonates particularly in Colombia on March 2, 2023, where his work is known and respected worldwide. At 3:00 p.m. on March 2, 2023, Maurel François traveled by canoe with a local guide on the Atrato River to the town of Quibdó, a red zone formally prohibited by the French Embassy. A simple 6-meter-long boat that allows neighbors to cross directly to reach villages a few hundred meters away. That day he embarked on the "boat," with a language teacher from Nord Pas de Calais – France, Ms. M.D, who was staying there for a few days for an ethical project. There are three people in total with the pilot and himself. He is in a second location, having descended the river the day before in a nearby village, on the Tutunendo River.
The idea is to contact the CIP of the region (indigenous pastoral center). A crossing that seems banal, one he has been practicing on rivers for fifteen years. At 4:00 p.m. in broad daylight, after a 45-minute loop, on the way back, a "boat" of three armed men without hoods moors from behind on the right side, right in the middle of the river. The first question is eloquent, weapons at the ready, an individual boards, sticks to him and asks him where he comes from. Experience is required and no papers on him, he answers without hesitation, from the African continent, I am Malagasy with an approximate Spanish to try not to talk too much with the authors. The idea is, of course, not to draw attention to a European nationality, François explains. – In the practice of kidnapping, we observe two main categories: sometimes it is a political weapon, a means of action that aims to obtain an immediate response from the state; sometimes it is an economic resource, a means to finance the struggle with the ransoms obtained from the families of the hostages. It is the guerrillas who determine whether the hostage will be political or economic.
The differences between the two are the conditions required for their freedom: political concession in one case, ransom payment in the other. – Everything happens very quickly, the entire team, bags, and personal belongings are forcefully taken, intense raid, touching of the young woman, first attempted kidnapping of the person on board and then François Maurel, who comes out as a safety and protection measure. He does not want to explain how they manage with the guide to get out of it and escape unharmed. Shots are fired and exchanged, residents and nearby villages escape at full speed. First kidnapping attempt narrowly avoided but aggravated by theft, trauma, and emotional shock. The beginning of a rock'n'roll escape. Deprived of everything but safe and sound, heading towards the police in the enclave zone of Quibdó.
Report filed and registered with the federal police: NATIONAL GENERAL ATTORNEY'S OFFICE / UNIQUE FORMAT OF INITIAL CRIMINAL REPORT: 2700 1600 1099202310656. Department: 27 Choco on March 2, 2023, by Officer Juan Munos…
After four hours of hearing, the police decided to put him under surveillance and security nearby. The area is no longer safe, with the only Frenchman (foreigner) 300 km away. Probable target of gangs including a known gang in the city that cuts in half. The "Mexicans." A group of 70 people who have attacked the streets and traders in recent months. In the first point of the February 2023 statement, it was reported that meetings were held with representatives of the three armed groups in Quibdó on February 9th and 10th, who expressed their desire for peace. During the meeting with Los Mexicanos, RPS, and Locos Yam, who were accompanied by the Catholic Church and MAPP/OEA, whose commitment was "to reduce violence in the municipality." The process has been endorsed, said the national entity.
Here is the context of the situation. There are no tourists here. The authorities are a bit perplexed because they also have to cooperate with armed gangs, paramilitary groups, and drug traffickers. At the same time, François Maurel calls the consulate and the French Embassy in Bogotá. The national security cell acted quickly on the morning of March 3rd. François is in direct contact with the internal agent (Secret Service) based in Bogotá, Mr. N.B. On the morning of March 3, 2023, at 6 a.m., two men dressed in civilian clothes knock on the door, posing as police officers, on the 5th floor of the hotel, asking him to follow them to the headquarters. He saves time and takes 30 minutes to prepare. Walking down the hallway, more people, and five minutes later, four uniformed police officers arrive, who do not know the previous two. Doubt arises, and the hotel staff is concerned. -" Follow us, we'll accompany you. » Direction the official center of the senior police officer in Quibdó, to study the files and refine the communication of March 2. After six hours at the Criminal Police facilities, the chief explains that he is no longer safe and that he absolutely must leave the hotel. They will accompany him and then bring him to a known place within the police force at the end of the afternoon. At the same time, the French internal security services offered him not to make this decision and to leave the place as soon as possible without giving any clue to the police. Taken by speed and anxiety, solutions are scarce. You have to react quickly and make the right decision. Bogotá is 600 km away.
The first city outside the area of armed groups – Pereira is 300 kilometers. The city of Quibdó is an isolated area with no access to the sea: impossible by bus, already left, no exit at night, no flight possible from this place. The only solution is by road: 292 kilometers to reach Pereira. Quibdó is surrounded by mountains, and rebel armed groups control the entire sector and are extremely active. – About fifteen armed groups officially registered.
A decision had to be made, it was made in a few minutes with discreet support from a few people in the shadows and the help of the hotel guard and receptionist. The countryside trick saved a few hundred euros hidden under the soles of their shoes, which would serve to pay a young private driver who dared to take them on the road without saying a word. Here they go, in emergency mode, at night, on the most dangerous stretch of Colombia.
After four bombings and checkpoints supported by the armed forces, including the terrorist group ELN, with a visual armband on their uniform, François is safe. He even argued with them, believing it was an exercise with the word "armies" written on the uniform. It was only the terrorist armed group "ELN", the National Liberation Armies who practice kidnapping, extortion, and bombing. Incredibly lucky, he was saved after minutes of searches and interrogations about his presence in this area. He arrives in Pereira eight hours later, around 2 a.m., without explaining how he was able to pass and get through four roadblocks and single-lane checkpoints. It's simply down to the driver being good and lucky on the date.
He stayed in a stopover hotel to avoid any passport declaration, anxiety, and current paranoia. In close collaboration with the interior security service of the Consulate of France, who for reasons of discretion will not give their identity. He will arrive in Bogotá after 9 days hidden in the mountains of Manizales. This is worthy of a polar scenario. Both services have opened an investigation. The Colombian police do not understand why he suddenly left the place without informing the authorities, and the embassy about his presence in red zones. There are also injured or dead from the river attack, and investigations are ongoing. [Text by François Maurel]