Nikhail Asnani is a British queer director/writer and light painter from Hong Kong, mainly known from inspiring big hits from a young age, but as his own director his films Flu, Something Round, Playback, The Foal and his one man shows such as My Boyfriend the Boogeyman, and The Check In about gaslighting that Hollywood constantly does to him.
He attended Tufts University and Chapman University. His accomplishments range from festivals screenings all around the world to placing in top screenplay competitions, winning the Big Apple Film Festival one year. Nikhail worked for Valdoro Entertainment where he developed the feature script Boogeyman:The Crossing. His work has also screened in galleries in Europe as well as being nominated for best art photography at the Paris Art and Movie Awards. His recent one man show The Larvae played at Outfest Fusion and his film Seed is on Indieflix. [Official Website]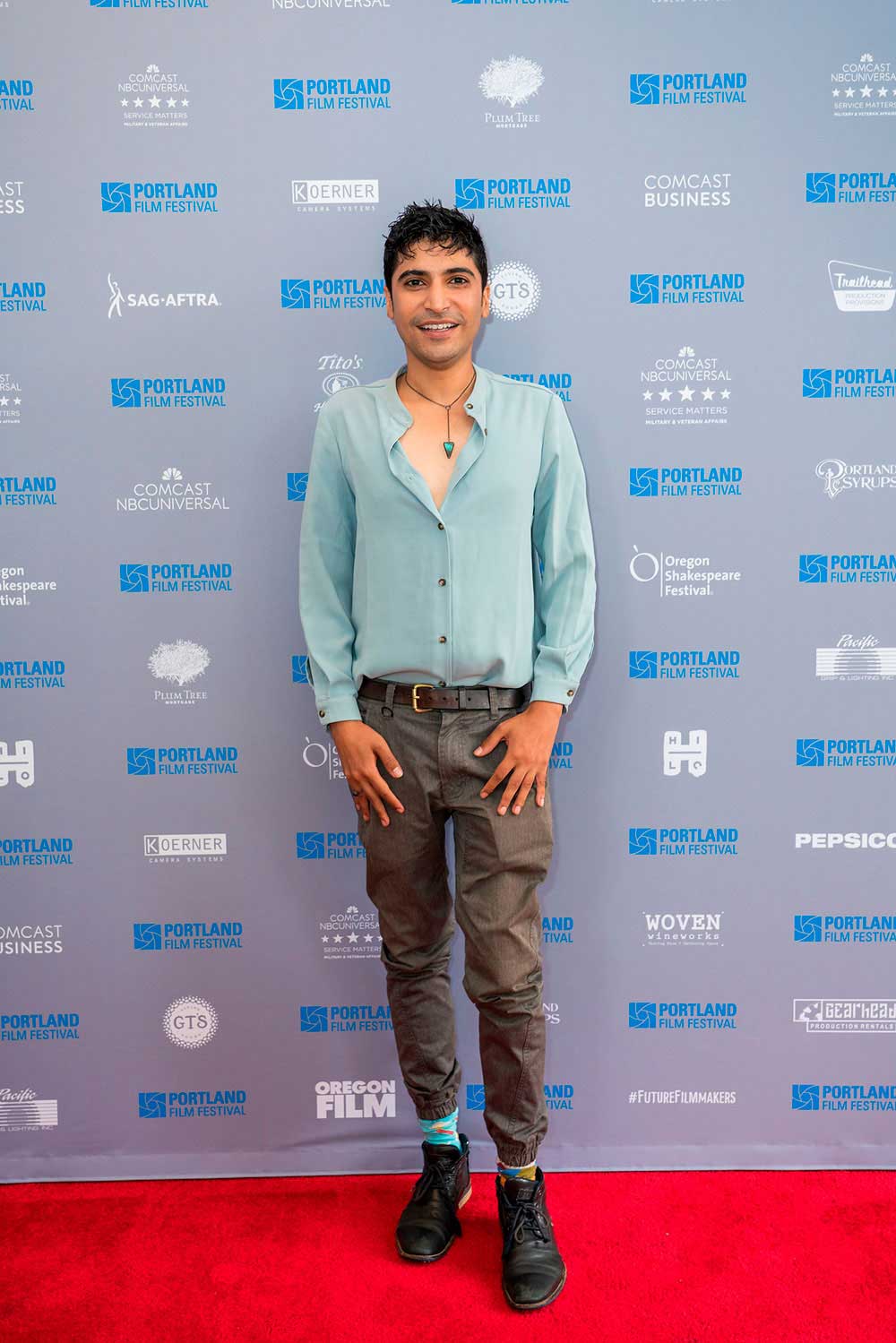 Can you explain us the idea or the story behind this image?
This image came from the collection 'Feelings will hurt me'. When I was living in LA – I felt like I couldn't get close to anyone intimately. I live a life where sometimes people don't believe what I do, and at the time I was feeling very much in pain, after a sexual experience resulted in being backstabbed and emotionally beat up. This was a picture of rebellion, a mixture of kiss my ass along with internal struggle I feel a lot of my time not being able or allowed to explore my identity without repercussions. I felt angry at how my LGBTQ identity feels suppressed at times, and I felt covered up from who I was and just wanted to be naked in the truth and honesty about my life and the people around. I wanted to feel sexy, in a way no one has ever made me feel and I wanted to give attitude because I do not conform to the norms.
Can you explain us what equipment you used for its realization?
I used a Sony a7sii camera with a Sony FE lens and a flashlight, and my body as a tool for dance and a canvas to paint the light on.
Tell us how it is taken from the most technical aspect.
So the camera is put on a long exposure, then I would pose and highlight the parts of my body I wanted to show with the flashlight. When I'm done with my body, I paint my face by changing the light, then I paint in the air using my arm as a canvas or at times just the flashlight towards the camera. Creating lines, shapes, textures. I twirl the flashlight over my head, to create that look of suffocation and also flash blink the camera with the light to dramatize the photo.
What problems and challenges did you face when you took the shot of this image.
The first challenge for me was the nudity. I don't do much nude photography so I was definitely nervous about how it was going to be perceived. If people were going to make fun or not take me seriously as my other artistic professions go. I also had the challenge of highlighting my back, as it meant reaching around with the flashlight but not being too close or too far from the body so that it is highlighted beautifully. Twisting your body back and forth can be hard and doing it all within a quick timeframe before the camera clicks is also challenging. There's lots to capture and draw and you can't be too slow or spend too much time painting just one bit of the body. Knowing what you want to appear in the photo is vital as everything you highlight with the flashlight will be part of the photo, then dramatizing the photo with lines to the camera needs to be fast but also not too much as you don't want to cover the body drawing with the lines all the time.