Roy Hessing is a Dutch photographer, based in Munich. He made a photo series of plant seeds in motion, combining steady light with flash light. The result is a very fine and exclusive series of about 30 photographs.
The Natural History Museum in London bought some limited fine art prints for their collection in 2013. But mostly he sells his – limited and unlimited – fine art prints to private collectors.
Roy studied biology, didactics and multimedia in Amsterdam. He works as a full time photographer at a museum in Munich and is teaching photography and digital image processing at the University of Munich and as a freelance teacher in practical workshops. As a fine art photographer he publishes books, organizes exhibitions and became an expert in printing fine art prints.
Roy is a member of the German Photographic Association and a member of the German Society for Humanistic Photography.
The following text is from Roy's book "Light Beams and Time Streams":
Why photograph dry plant seeds? Bone dry. Lifeless. Dead. The scheduled cellular necrosis of windborne seeds is the beginning of a wonderful journey that comprises new life. Just after their 'release' the windborne seeds start to turn themselves, to glide, to float in the air and to spiral to win some time. For windborne seeds the journey to earth must take as long as possible, whereby the wind or a fixed turning on the plant seeds' own axis gives a lateral direction of movement. This kind of propagation optimised itself in evolutionary history and has made possible the dispersal of many different plant species over great distances.
Plant seeds grow in the earth up to their full magnificence. However for us as observers, they have already unfolded their beauty during their flight to earth. Here also the movements are too quick for us to see them as a single picture. The brain forms a blurred image, a kind of fluid picture. I have tried to document photographically this moment of perception.
The plant seeds, all photographed in a studio, where extremely difficult to photograph. In macro photography it is well known that the depth of field (DOF) is very small. Moving objects like plant seeds in motion are moving in all possible directions. Especially the seed of the Tree of heaven was rolling over his own x-axis and once thereby moving towards the camera and another time moving away from the camera… Climbing the ladder many times for each plant seed for getting the best photograph, was a great sportive challenge ending up in many days with muscle soreness.
Roy used the same photographic technique with feathers. In combination with his passion in writing poems, he wrote the following lines…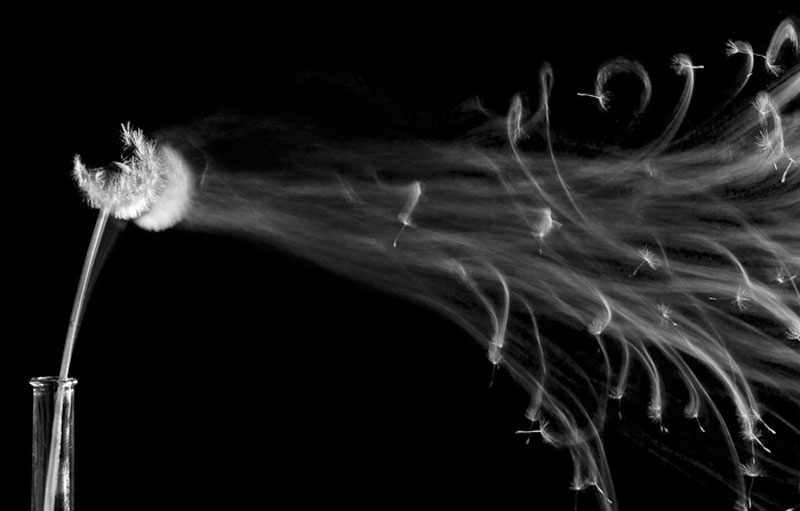 Feather
A feather
 Glides softly
 Elegantly and quietly
Through the air
Turns
 In the light
Set free
From time
Turns itself
And lands
  Noiselessly
In the year 2012 Roy published the book "Light Beams and Time Streams", with the great support of Carmen Härdle (Munich) who helped by writing the text and Erwin van der Kreeft (Amsterdam) who did the layout and typesetting. It became a wonderful hardcover book about motion photography. The first and limited edition, of about 1000 copies, shows Roy Hessing's exclusive photographs on the theme of Movement. With his aesthetic and creative  photography he illustrates flowing movement in individual magical pictures. The photographs depict athletes, artists, dancers, dervishes and unique pictures of plant seeds.
Roy organized the exhibition "Fluxlux" together with sculptor Christoph Bergmann in 2013 and 2014 in Munich about visualizing motion in photographs and in sculptures. [Official website]