This portfolio is about how I find ways to recover from my PTSD; a fire demolished most of my art photography archive – my entire house and all my belongings in New Jersey went up in flames and my left hand badly burned. But after destruction, a birth took place.
On the morning after the fire I immediately called my husband who was in NYC to bring with him a camera as mine burned. He arrived in the morning and took me to buy jeans and a blouse as I was still in my pj's as nothing was left to wear.  It was drizzling, but we could collect charred papers and other remains. We would need a storage space.
I was still in shock as I had just finished preparing my slides, negatives, diaries to be mailed to my Syracuse University Bird Library archive. It was devastating to know it had mostly burned. I quickly became a researcher. Instead looking for ancient finds, I was frantically digging my own life story out of smoldering ashes – I had to. The storage space became my art studio, as I learned archival techniques to dry and blot with paper towels everything in hopes to save the fragile paper and celluloid relics. The fire and powerful water hoses rearranged my things into clumped pieces that no longer had their linear direction. Memory was layered in abstract and uncanny ways. Since my friend and colleague Christine regularly composed images in her digital processing, we discussed how she might guide me to bring some of the history together in a way that pleased me, and created visuals in an elegiac way, rather than the chaos. Over our time together, Christine shared her spirituality with me, being also a Yoga teacher, and ways of meditation and relaxation.  Christine was the first friend I called after the fire knowing she had empathy, and could identify with my trauma and smooth out the first strike of shock.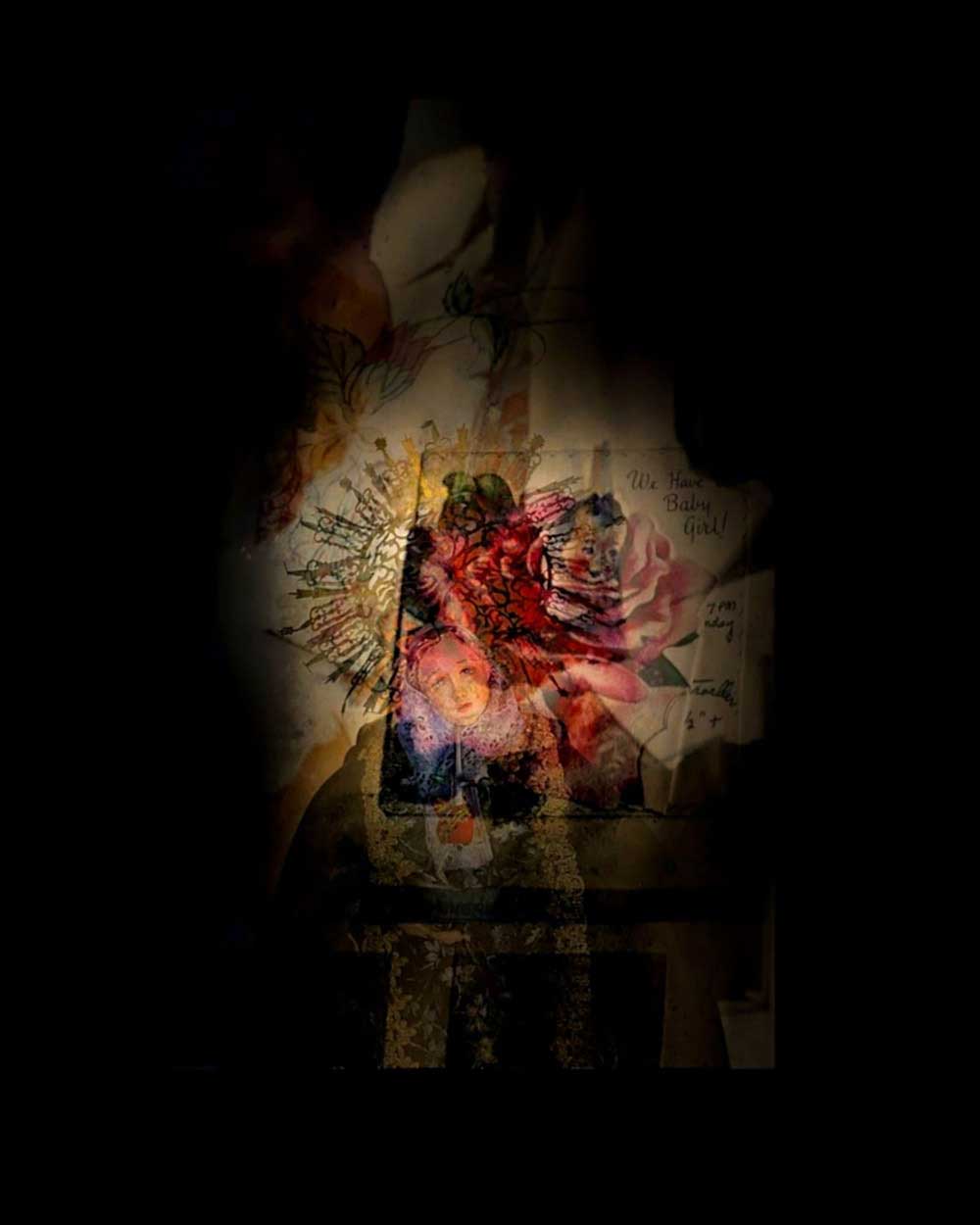 I had my own material salvaged, and Christine proposed to put together my art's remains into a new optimistic direction as a therapeutic process. Over this time-frame we unearthed ideas buried in some of the pictures I chose, and she suggested I look further into the selections.I trusted her ability to combine color and various images and backgrounds into vibrant photographic new collages, as I admired her portraits of New Orleans street scenes, portraits of her husband and self-portraits that have received extraordinary social media reviews.  In her own life she has also faced challenges and went through periods of grief.  She is Greek with a European cultural background, who had free-lanced as a make-up artist, stylist and photographer for stage, musical groups and actors, while also getting a degree in Fine Art, Croydon College in UK. I have become ready during the recovery from such a trauma to dream forward rather than re-see the past. Sometimes, sitting at the computer, deciding the layering of the photos, we both felt how our psyches had arrived at a final choice at the same time.
Water is a carrier of the sensation of pleasure, and water also absorbs many pollutants from the dark side.  In my photography career I often looked for ways to emerge out of my little hells, addictions, low points. This is probably why I explored the theme of hot springs and spas, as it opened me to a world where imagination, adoration, cleansing and enjoyable abandon lingers.In the rubble I found the scorched contact sheet of Anne Wilkes Tucker, who I photographed when her book, "Women Photograph Women," was published in 1974.  She worked at the Houston Fine Arts Museum, and later told me in a portfolio review, "Why do I want to keep looking at this photo? The 'insistence' of your photograph to be remembered helps me as a curator to determine whether I want to acquire it for the museum." She did acquire one.  Images of "insistence" remain important for me. The present moment is a transition from past to future. This collaboration with Christine brought us from a dark time into the lightness. She found that her own work was getting less gruesome and haunting as a result of a resurrection being an important part of our collaborative process. We both evolved onward. [Official Website]