A Space Odyssey-style evolution, is Alchemy (2021), a collection of 14 vibrant chromogenic prints. Each one reiterates the same basic composition and design, with Ilana's avatar recurring indomitably across two orderly rows.
Altered, however, are their colour palette, contrast, brightness and tone, so that every individual image bestows a radically different impression. They're thrillingly reminiscent of Andy Warhol's 1967 Marilyn Monroe Portfolio, but without sacrificing anything of Payes's elemental aesthetic. Superimposing the organic pattern of an ice floe over the opaque, angular features of the digital avatar, their qualities combine to create a perceptible landscape. The electric array of colour employed – fiery red magmas, mud-rust browns, and radioactive yellows and greens – result in 14 unique, palpably dystopian visions of Earth as prophesied by an omnipotent divinity.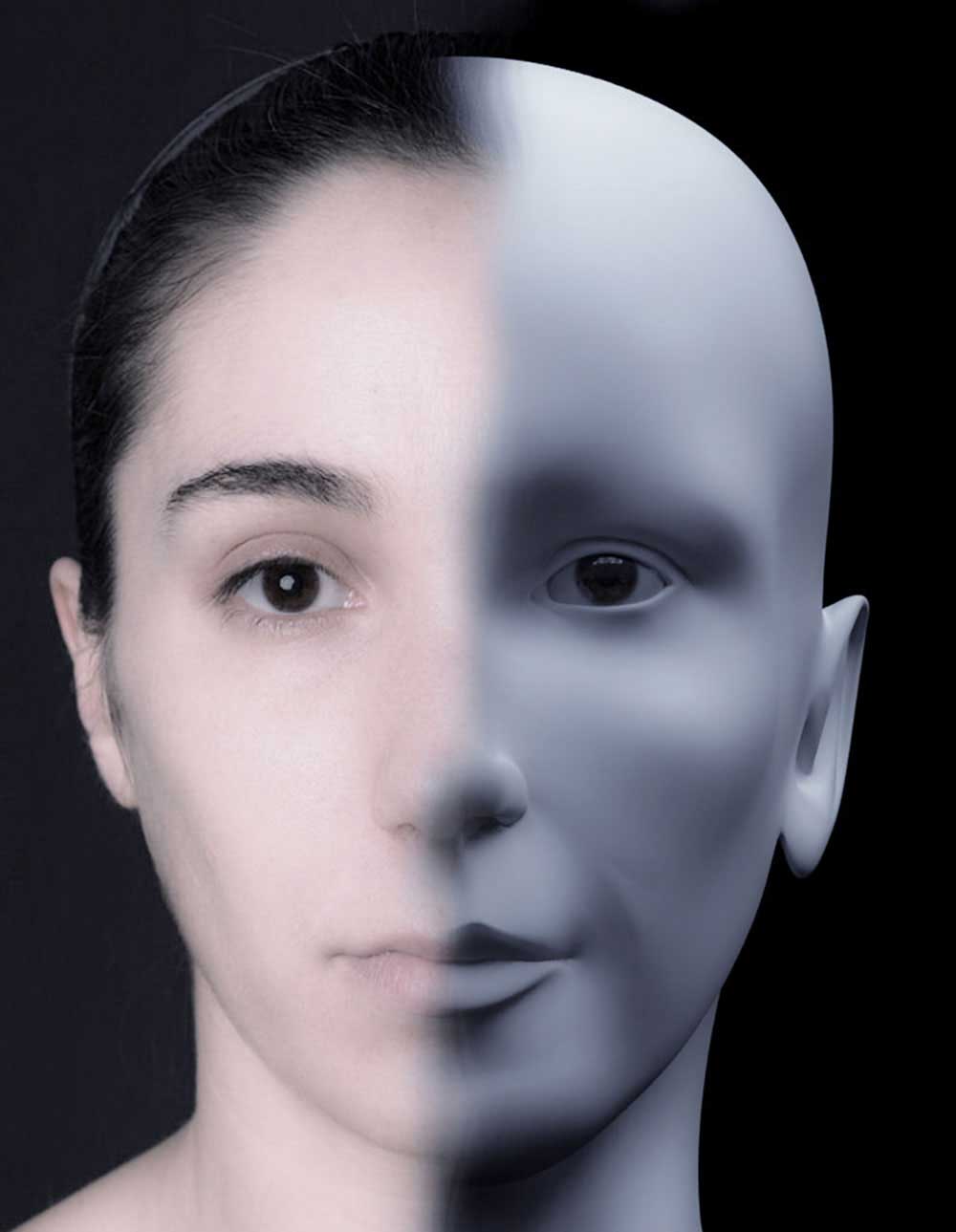 'Yet, what is really significant here – and in Payes's artistic output generally – is the unrelenting optimism conveyed by the eternally recurring emblem derived from Ilana's image. Whether emerging in sculpture, video or photography, it signifies an emphatic and impassioned proclamation that, despite the current apocalyptic prognosis for life on our planet, the vital phenomenon that drives all of creation is endlessly adaptable, and utterly indestructible'  Dan Pateman.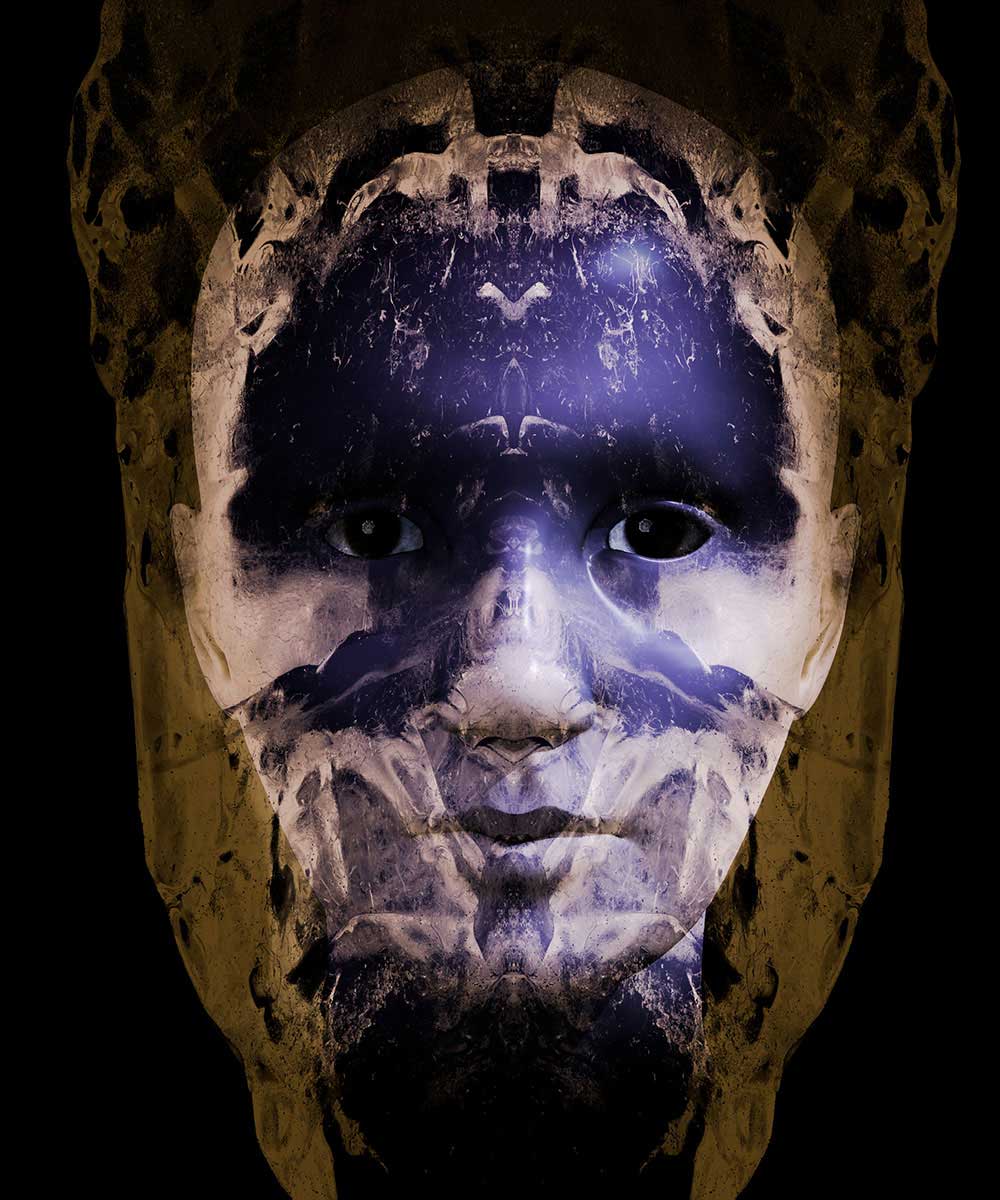 'Like much of Payes's work, it is personal, deeply personal, involving family and rooted in direct experience, but as with all significant art, the series transcends its origins to address universal concerns. In this current exhibition, Payes embraces technology and the opportunities it presents to extend her work and its emotional potential and to stretch it quite literally into the third dimension. The image of the daughter and muse materialises in different guises to articulate her vision for humanity. Sonia Payes has captured and then manipulated images of the environment to illustrate and reflect upon the resilience of humanity and its opportunity at this time to redress the iniquities of the past. Throughout her practice she has continued to explore the most apposite means to communicate those images and ideas to a wider audience and the result is an extraordinary body of artworks that elucidate her confidence in our ability as a species to adapt and endure. Hers is an art of faith and aspiration. Filtered by a veil of memory and awareness, she constructs images that work on a slow fuse to document the cycle of transformation, charting humanity's capacity to continually adjust to changes in the earth's mutable environment.' – Professor Ted Snell 
About Sonia Payes
Sonia Payes is a Melbourne-based, multi-media artist, whose work concentrates on photography, sculpture and 3D animation. Payes's work has been exhibited in group and solo shows across Australia, as well as internationally in New Zealand, Shanghai, the USA, UK and more recently in 2022 in Barcelona, Spain.  Payes has been nominated for numerous awards, including an honourable mention at Monash Gallery of Art, Bowness Photography Prize 2022, and won Shoalhaven Regional Gallery's Now Contemporary Art Prize.  The McClelland Gallery Achievement Prize for sculpture resulted in her ground-breaking solo exhibition of both photography and sculpture, Parallel Futures, a four-month solo at a public gallery in 2016.
Sonia Payes is represented by Scott Livesey Galleries in Melbourne, and her work is owned by private and public collections globally.  An exciting year for Payes as she sees her work included in Barcelona's 17th & 18th Pollux awards.  Starting off the year with Payes's exhibition THERE_is: 'Alchemy', was on display at the Fringe Festival in Perth, Western Australia. [Official Website]