Kolkata or Calcutta is the capital of West Bengal and sits in the bank of Hoogly River. It is the financial and cultural hub of eastern India and boast a mix of different culture and colours all together. As the city stands on the bank of river Ganges, it has a very unique set of weather.
Kolkata has a typical wet and dry climate, with summer monsoons. The annual mean temperature is 26.8 °C (80 °F); and maximum temperatures can often exceed 40 °C (104 °F) during May–June. The highest recorded temperature is 43 °C (111 °F) but this heat wave doesn't last long as the torrents of rain gushes down on the city to cool the scorching sun during this time.
Monsoon in Kolkata starts from middle of June with maximum rainfall occurring during the month of August and often in September and July. Rains and Kolkata have a long love affair , a nostalgia that served to the peoples of this city since time immemorial. Poets like Rabindranath Tagore , Joy Goswami memorelized this love affair of the city and monsson in their various poems and writing. But there is also a dark side to this love story.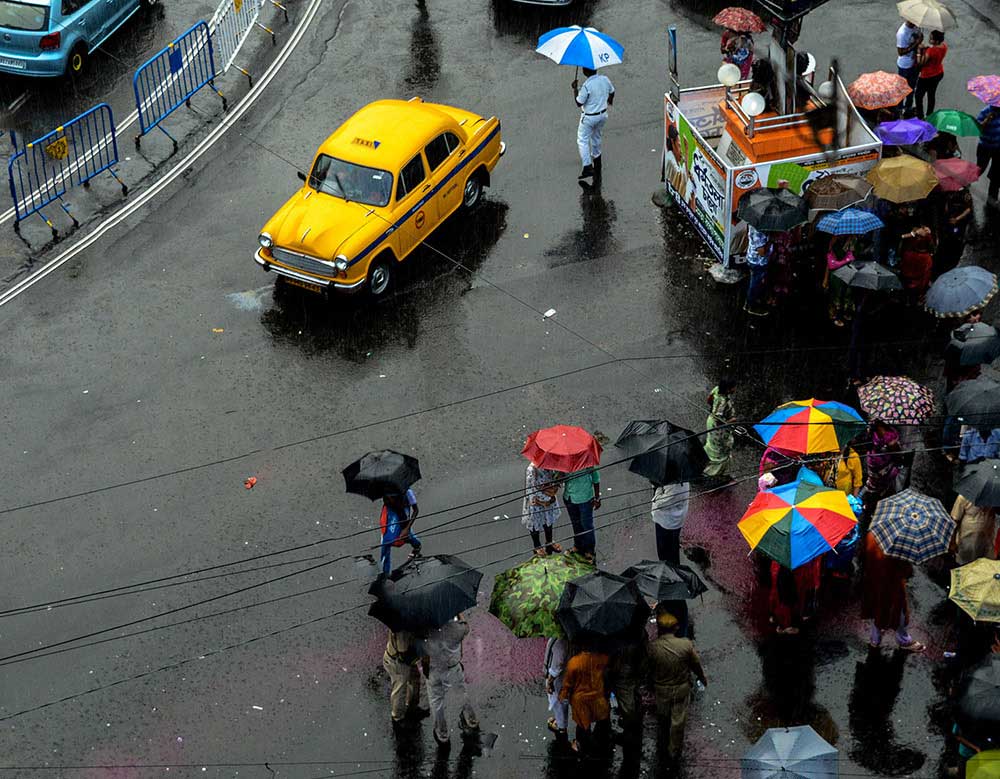 As the torrential rains pours down on the city to cool the scorching summer sun, with that it brings mass waterlogging around the city and the streets become a raging and gushing river in which people of this city keeps on going by their daily schedule.Kolkata is 20 feet above mean sea level. Which makes the draining difficult, even when rain is modest the task becomes monstrously difficult whenever intense precipitation and the high tide in the Hooghly coincide, as they do often during the monsoon months.
Calcutta during 16th Century was a mere cluster of three villages. Gradually the British started to develop the villages into a planned urban settlement to stronghold their trading outpost. Later development of tram tracks through Circular Road (AJC Bose Road) and Cornwalis Street (Bidhan Sarani) resulted in an upward elevation towards both the pathway from Amherst Street resulting to the street getting waterlogged after a slight torrential downpour along with vast areas of Central Avenue, Rabindra Sarani, Girish Park. Towards South of Kolkata- Behala , Golf Green , Tollygunge also gets flooded during this season.
Calcutta's old ' khal' or canal system, which acted as an effective drainage system for some three centuries is in disrepair. Many wastewater conduits out of the city such as storm-water drains, sewers and canals are silted. Besides, gully pits are blocked and there is a time lag for water to reach the pumping stations. This leads to flooding on the surface. Poor solid waste management, along with an overburden of plastic is the culprit. In the metropolitan part of the city, the demise of small water bodies, has created problems in holding capacity of surface runoff and groundwater recharge. The filling up of ponds and marshlands to obtain real estate is linked to increased problems of drainage and flooding.
Sometime average rainfall of the city exceeds that of 200mm per hour whereas the drainage system can cope upto 150mm an hour. The northern part of the network which started functioning during 1876 has been designed with a rainfall of 1/4th inch per hour (150 mm per day) with 100% run off and the southern part (Suburban System) established in 1890 or so has been designed to a 1/6th inches rainfall per hour (100 mm per day). In the seventies, attempts were made to augment the capacity of the system to ½ inch rainfall per hour, but the target could not be achieved due to various technical and financial constraints. On an average, the city experiences about 4 to 6 water logging in a year.
According to KMC's planning and development department , Kolkata receives an average annual rainfall of more than 1,800 millimeters, mostly during the monsoon. As a result, the system of underground sewers that was subsequently constructed was sized to convey storm water as well as wastewater, and the network of brick sewers remains a combined system to this day.Hence, it is a huge task to keep this combined network clean. As a photojournalist ,it was a task at hand to cover the after effect of rain when the city roads turns into a gushing river of flash flood. The documentation was done over span of two years ( 2017 / 2018 ). [Official Website]