This series emerged from frustration and desperation. It took birth on its own as if the existence was there but denied consciously. Since we never care for our blind spot and pretend to be smart in every move, it rests there. The blind spot acts as the womb and one day it just delivers. So be it!
It all started during my first visit to Europe in February, 2011. It was a month long trip. There were sunny days and I was overjoyed. I did not mind when a few clouds showered in between. I just took shelter in a nearby coffee shop and sipped a cup of coffee thinking about my next storyline. Then came those days when it was raining all day long. Snowfall worsened the situation. Probably I was not adequately prepared with my winter wear. It also made me mentally hesitant to go out, explore and experiment in such extreme situations. I was new to this climatic changes.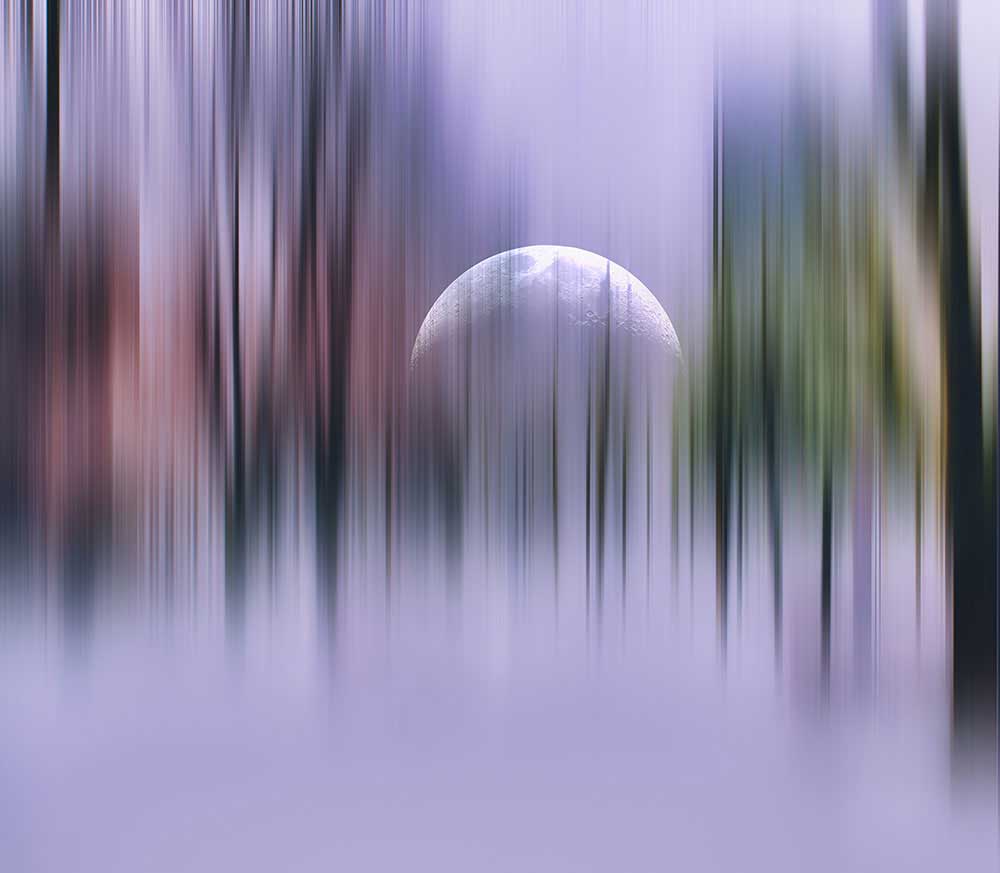 The first day of meeting the bad weather is still vivid in my memory. I strolled in my room for how long I did not know. I looked at the window and there was incessant rain. Water droplets were hitting the window panes with a tik-tok sound. When it continued beyond the lunch time, I felt like crying.
Out of despair I stationed myself in front of the window of my room. I drew a chair and started staring at the window hoping the rain will stop and there would be an indication of a faint smile of the sun.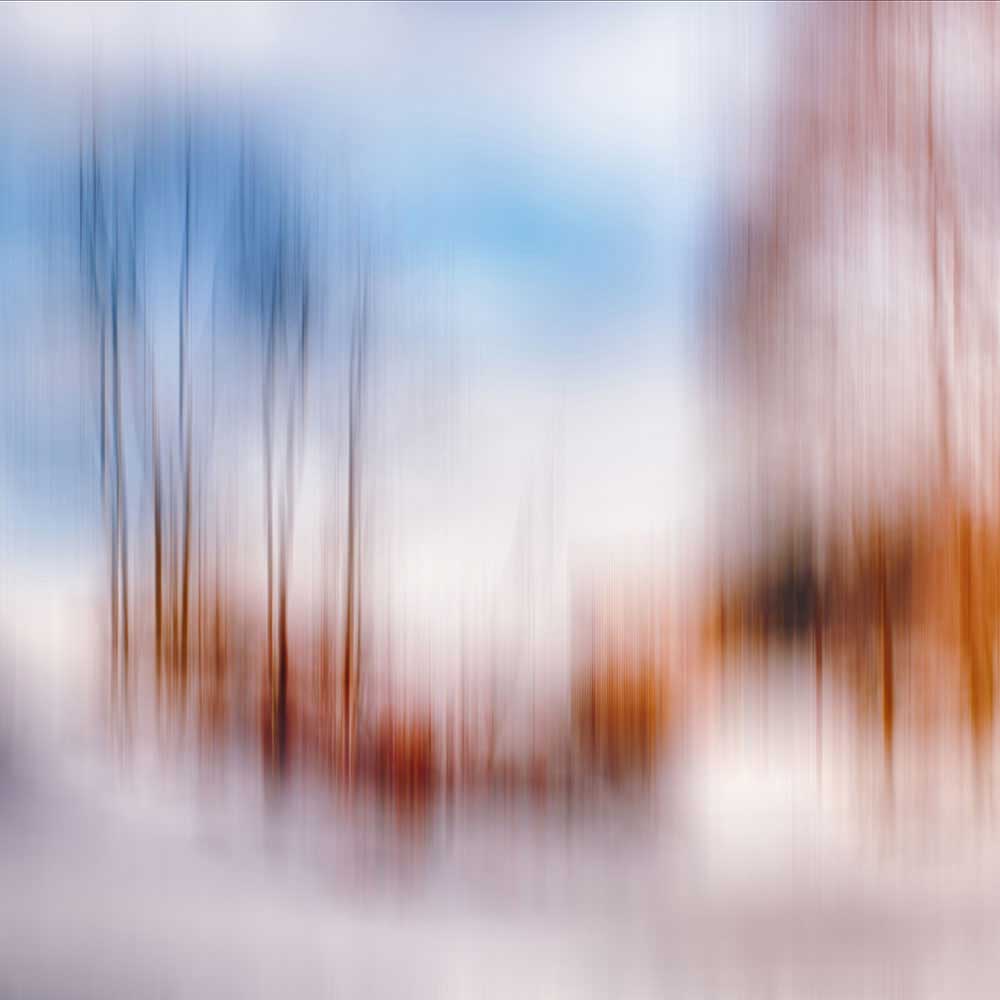 I continued my gaze through the window where the rain drops were swirling away leaving a sound for me to heave a heavy sigh! I went close to the window. I put my nose on it, squeezed my eyes through the cold glass and then I could see the magic- the trees, people, the snow laden paths, all of them. But they took their own shape and they changed their shapes in the course of time as the rain continued. Like a movie I was watching the drama being unfolded with light and sound. And for a moment the tik-tok sound of rain drops stopped to create a silence too!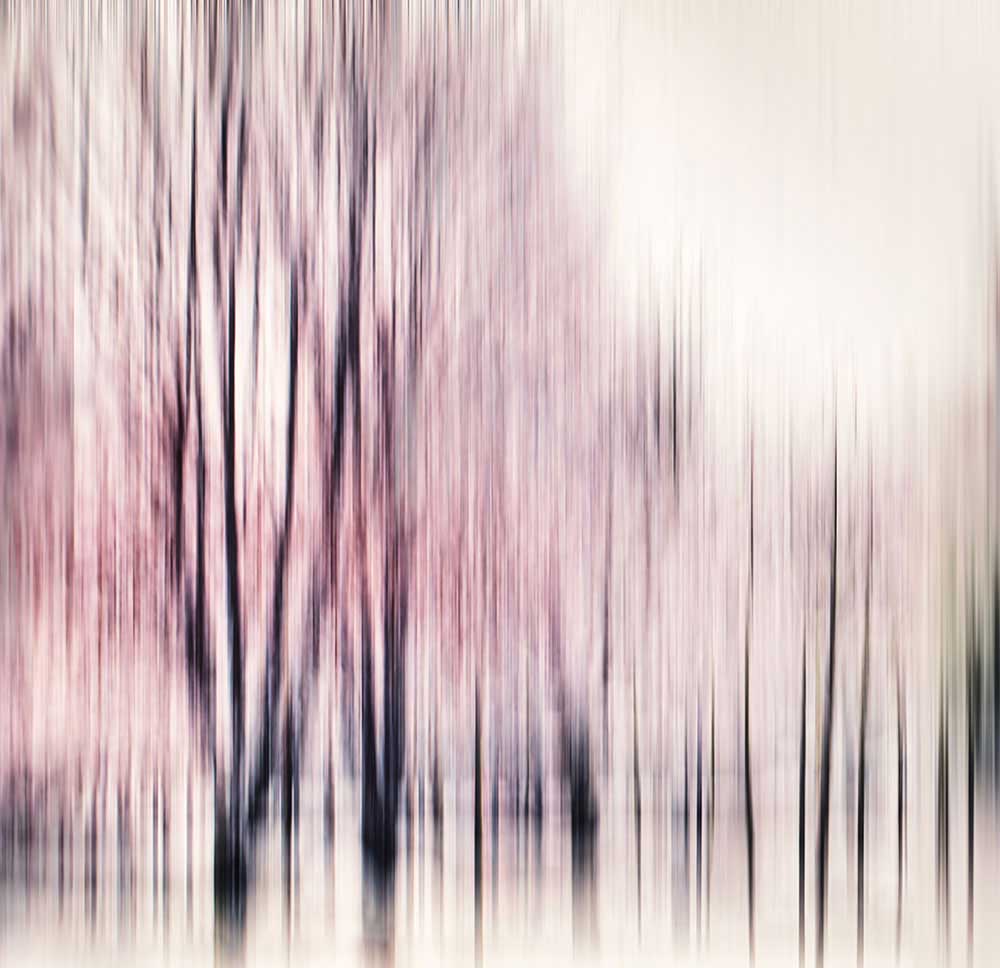 The mental block was gone forever. I welcomed rain and snow for the rest of my journey and the magic world sucked me in! Sometimes they were in almost black and white. The trees were shaking in fear of losing their leaves and birds were afraid! Standing at the gate of a new world I imagined the moon to be there as I want and told the birds to fly as they wish! 
This series is a story of realism dipped in surrealism. I believe every creation holds a certain degree of reality and then it asks for a balance from the surreal existence on the same canvas. There were deliberate shakes, blurs and I poured myself on the pallet to mix them. That's how the series is worked upon and for each work I had to wait for the nature to play the music. I just wrote the notation.
About Abhijit Bose
Abhijit is an artist, photographer and an educator. His major interest is in Fine Arts, landscape and travel photography. He firmly believes that camera is a medium for expression and he loves to experiment different forms of art with it.
In the last three decades he extensively travelled in Europe, Asia and Africa. It helped him to understand the places, the flora and fauna, the people and their culture closely.  
He holds the Excellence FIAP Honors (Federation de l'Art Photographique, France), and Crown 2 Honors (Global Photographic Union, Greece). His works got widely awarded and exhibited in more than fifty countries in international salons. He is four times finalist in HIPA, UAE, and also a Silver Medal winner in Moscow International Foto Awards (2017). His works were also awarded in most prestigious professional competitions like IPA 2017 and Paris Photo Prize (PX3) (2017 & 2018) to name a few. Dodho magazine of Barcelona carried more than a dozen photo stories so far. His works also got published in Nat Geo and The Statesman Tabloid (London) and many other publications. Many of his works are with private collectors across the globe.