The project was commissioned by Vedema, a Luxury Collection Resort, one of Santorini's most unique and prestigious hotels, built around a 400 year old winery made of dark volcanic stones.
The hotel is located in the southern part of the island, in the scenic village of Megalochori, next to a wonderful large area of vineyards. The name comes from its history and connection to the surrounding nature, as in Santorinian idiom ventema (βεντέμα) means harvest.
I cooperated with interior designer Stamos Hondrodimos from Interior Design Laboratorium, in order to create a series of photographs that would decorate all the rooms and the exclusive suites of this exceptional resort. For that reason, a total of about 100 prints in several dimensions were created from the images of this series and today they can be seen around the Vedema hotel's elegant spaces. The concept of this project was to bring into surface and reveal a different face of Santorini, its hidden aspects and less known parts. The idea was to turn our eyes away from the famous caldera of the island, one of the most breathtaking and photographed parts of the world, and investigate the peculiarities, the secrets and the mysteries of the landscape that spreads towards the eastern part of the island. The project was realized in the April of 2014.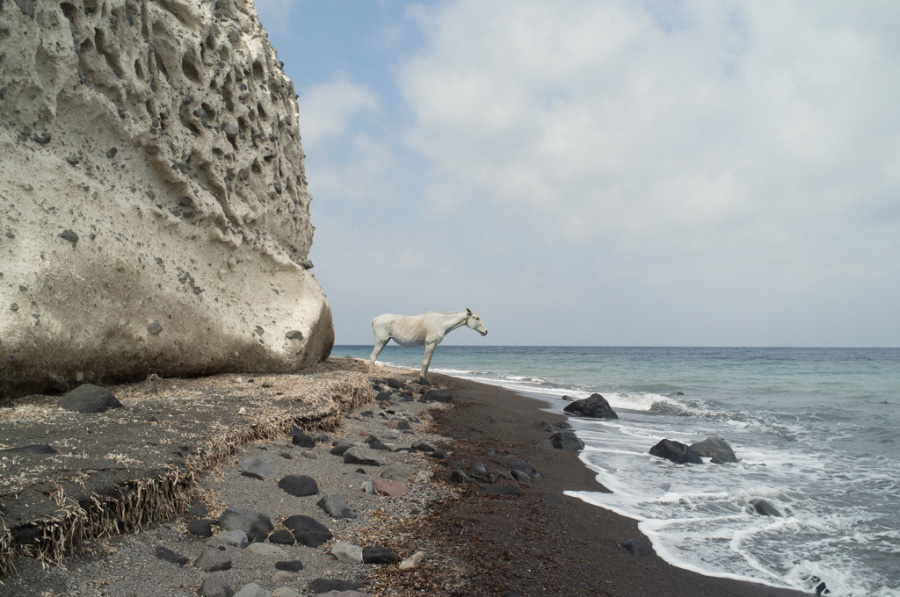 The island of Santorini rises like an enchanting secret, both hidden and revealed, both real and mythical, wrapped in the captivating drama of its prehistoric volcanic creation. The Spirit of fire still wanders among the black rocks of the island, reciting an ancient, hypnotic poem, vigorously narrating the story of its origin through the hieroglyphics that the lava ecstatically engraved in the untamed land. A strange, murmured voice that enchants like a Siren's song echoes from the steep cliffs of the Caldera; this song is the sound of the muddled, common memory of our very own origin. It is the sound of a whispering that escapes the crater, the deep blue sea, the irregular cracks in the scattered stones, the dark lunar soil, the carved caves, the breathing of the grazing horses as they dream of their mythological ancestors; Eos, Aethon, Pyrois and Phlegon, the horses that carried the chariot of god Helios, the ancient personification of the Sun.
For in this island everything is somehow linked to a dream; like that of Euphemus, who dreamt one night that he made love to a nymph, the daughter of Triton. In his dream, the nymph who got pregnant and feared the wrath of her father, asked Euphemus to get a clod of earth from Anaphe, the island they were at, and throw it to the sea, so she could hide there and safely give birth to their child; even if it was a dream, he followed the nymph's request and the new island appeared. Dreams are a part of a subconscious that the island itself seems to project on our thoughts, this primitive seduction that connects us with a forgotten Hysiodic theogony, ritually offering to our senses the sacred philosophy of imagination. [Official Website]