The Other poses questions of identity and invites us to consider the limited possibilities of expressing one's true self. Limitations that we can feel due to society, our domestic situation, or even us. The modern world is still a difficult place for women, alas.
Taking inspiration from the famous quote of French author Jean-Paul Sartre "Hell is other people", these staged photos explore our self-limiting beliefs and our desire to fit in, and the gap between our true selves and what we are expected to be. I invite us to imagine what it might feel like if we were able to express freely without fear of judgment or condemnation, to look beyond the boundaries we've set for ourselves and have the courage to become who we really are. What if hell isn't actually other people – but the things we do to ourselves?
This body of work is organised into different series or chapters where I explore various aspects of the feminine psyche through my female perspective. My work is both engaged and feminist, intended to prompt the viewer to reflect on how our patriarchal society has deeply influenced and restricted women's roles in modern society. I believe that photographs taken by women of women can serve as a tool to challenge perceptions and contribute to a broader understanding of our society and our psychology.
Alarm Call
"As with many days, Betty begins her day by cleaning the house. She takes a cigarette break and gets lost in her thoughts."
Alarm Call started with the book by Betty Friedan "The feminine mystique" written in 1963, describing the assumptions that women would be fulfilled by their housework, marriage, sexual lives, and children. But as we know now, there is no "one size fits all" destiny for women, and Friedan wanted to prove that women were unsatisfied and could not voice their feelings.
The busy phone line represents Betty's inability to be heard by anyone. This is an alarm call. In this society built by men, she feels helpless and frustrated. The ending (the photograph called alarm call) could also be seen as a Mary Poppins-like escape, a flight away from reality where nothing else can be done. The despair of not being aligned with who she is and who she wants to be forces her to escape reality in order to bear it.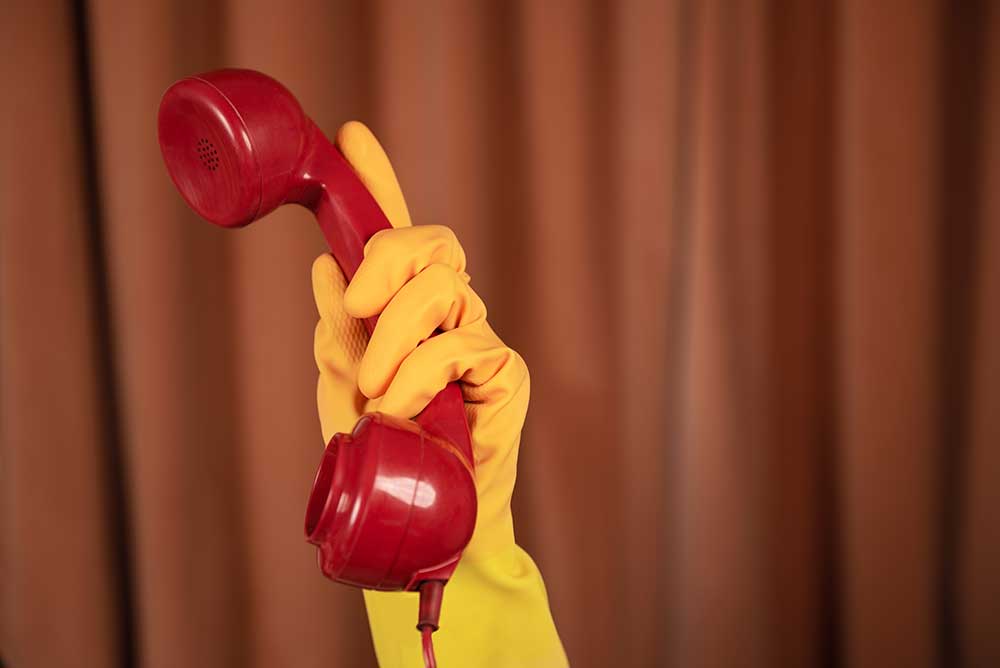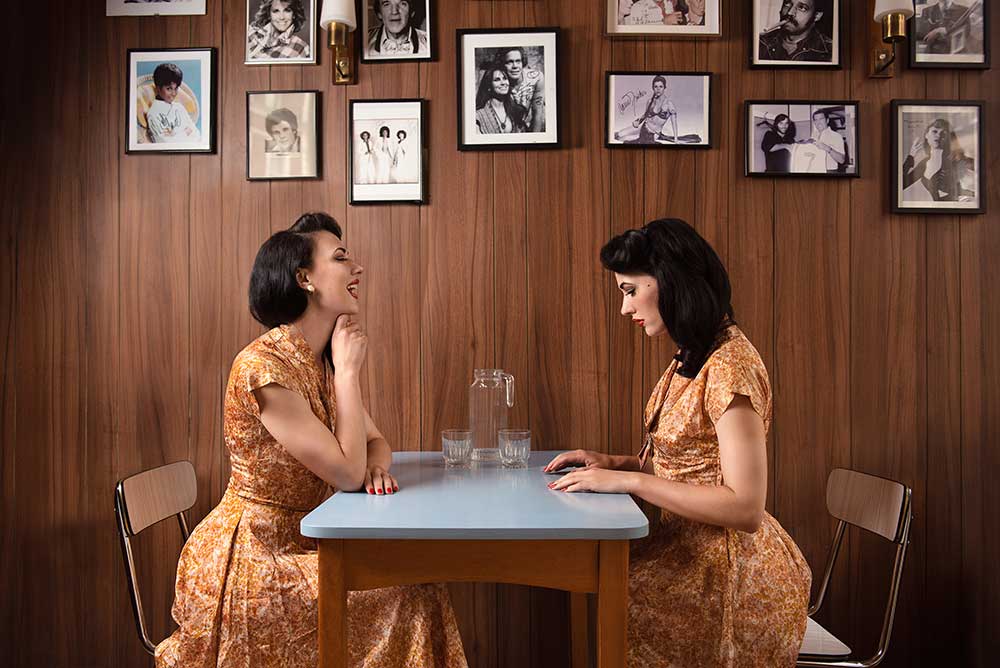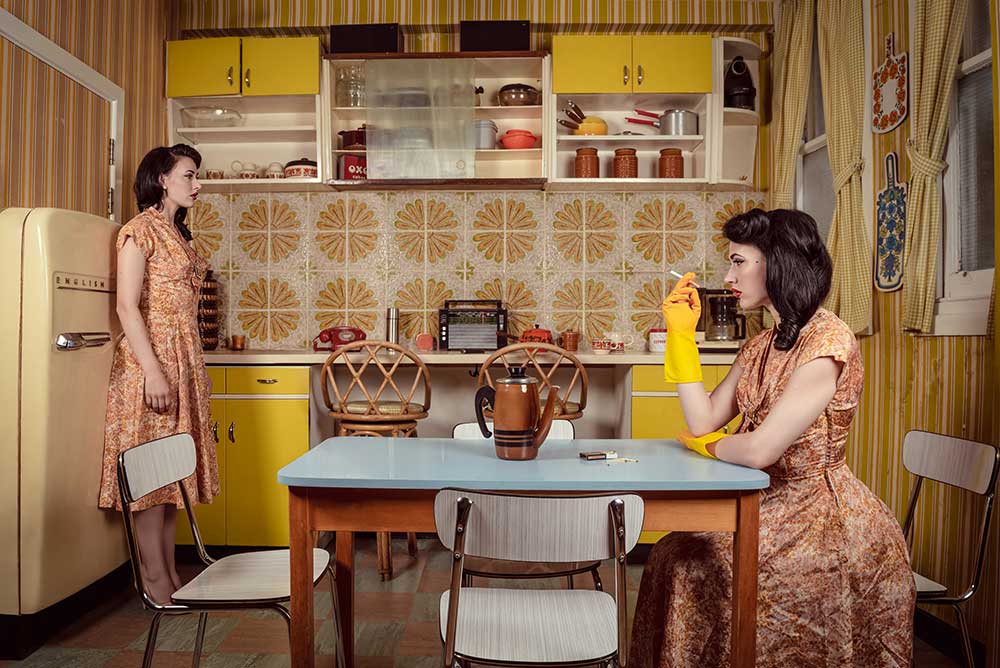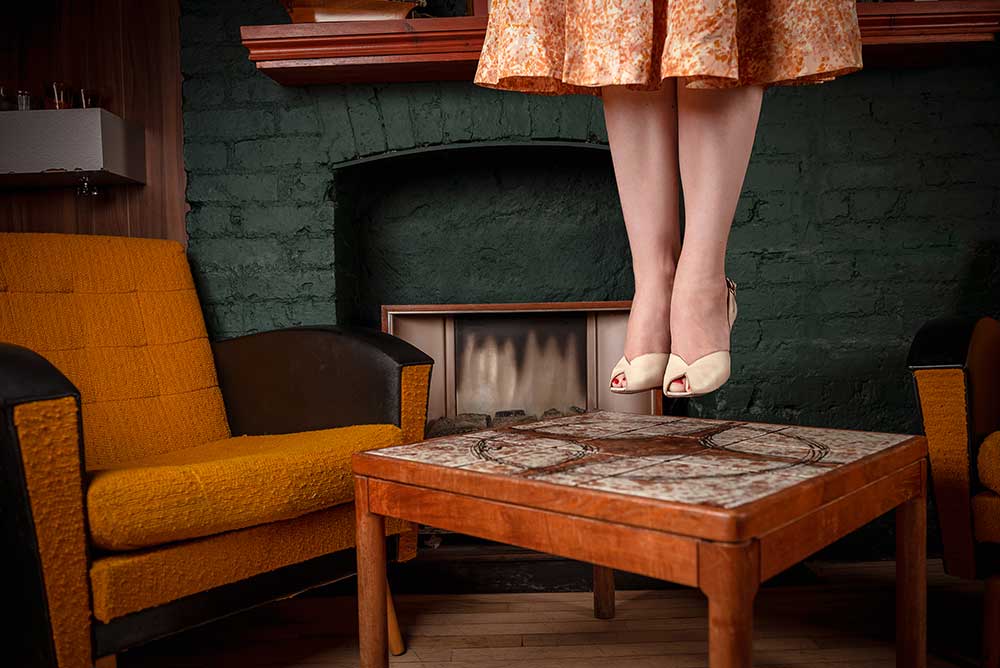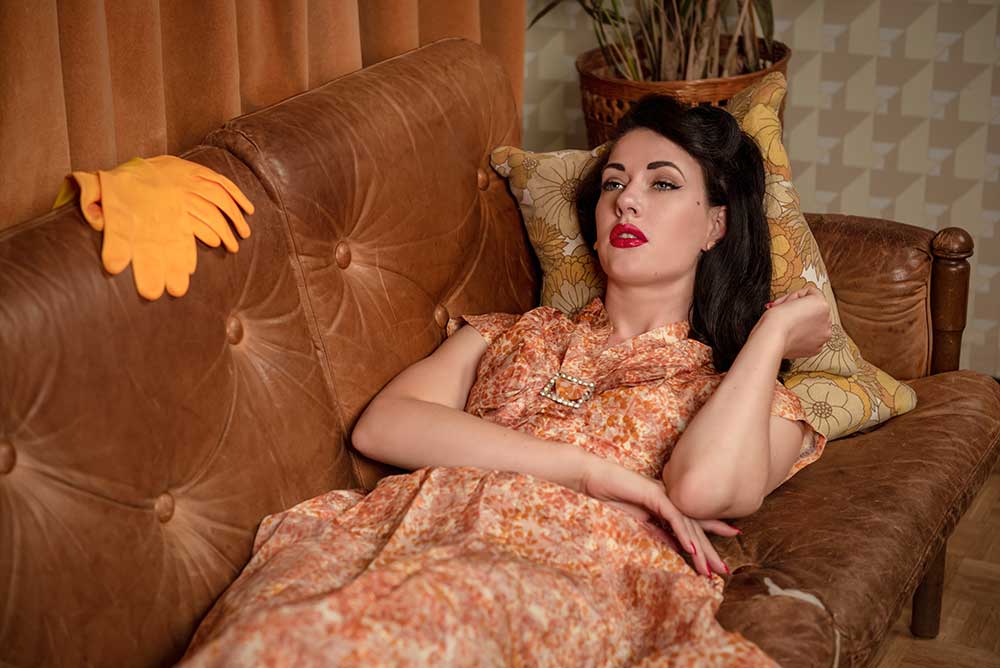 Dolly's Diner
The idea came with Amy Winehouse: she dreamt of owning a 1950s diner called Dolly's Diner as a teenager. My character, Irene, has a somewhat inverted story. She came to Hollywood with dreams of success but ended up working as a waitress in a local diner. She soon realises that her past, demons, self-imposed limitations, and pain all come along for the ride. Before long, she finds herself trapped in a life she doesn't want. The grass isn't always greener on the other side.
This is a reflection on the patterns that shape our lives. Like a letter to her younger self, she attempts to reclaim her shadow and overcome the patterns. Dolly's Diner also speaks out against the prevalence of sexual abuse, which is widely known in the film industry and many other spheres.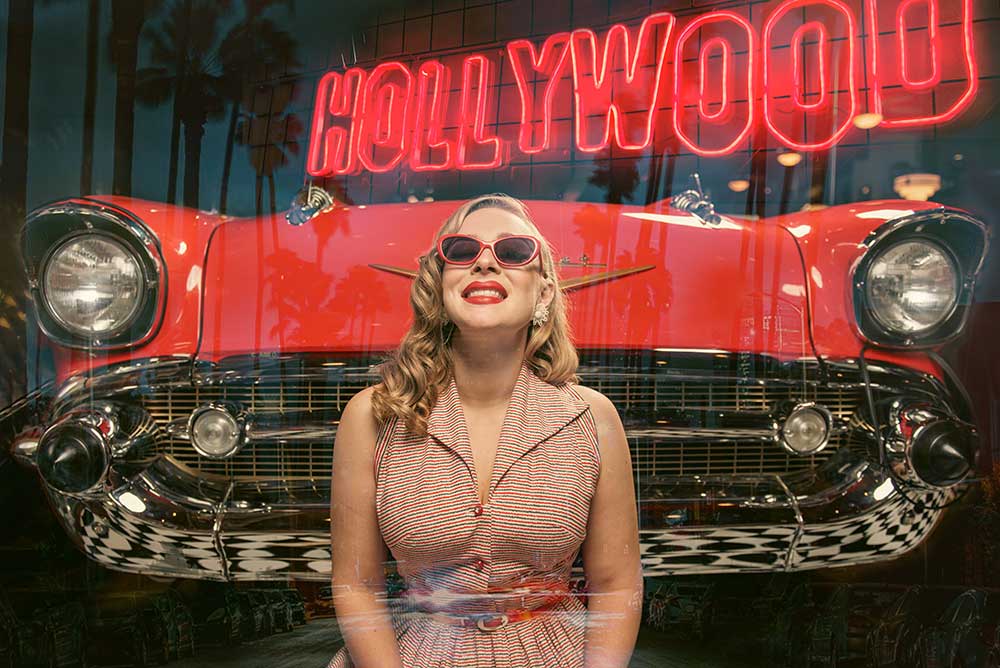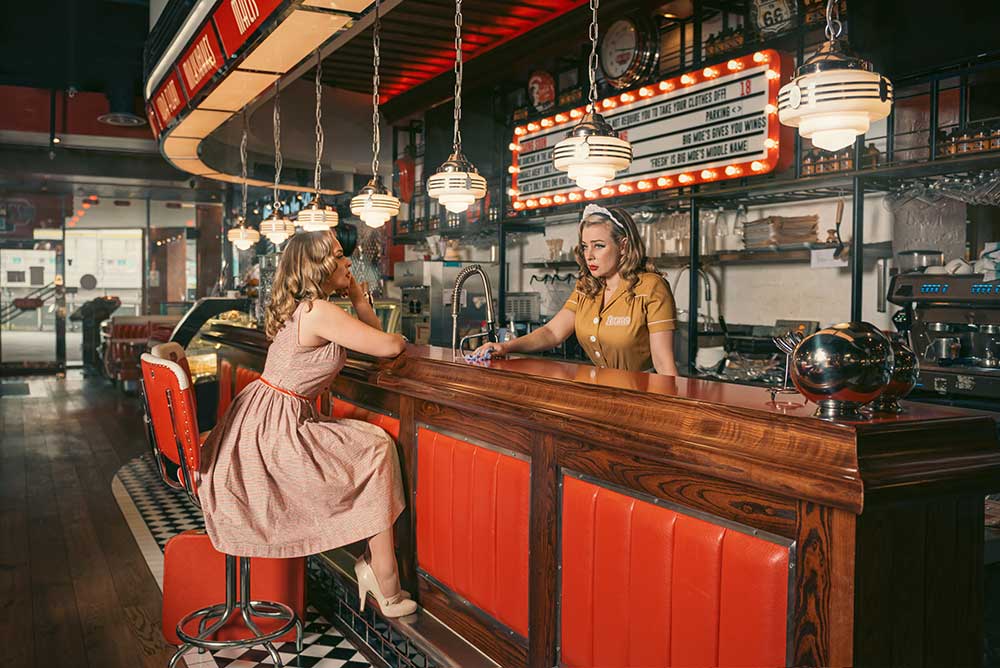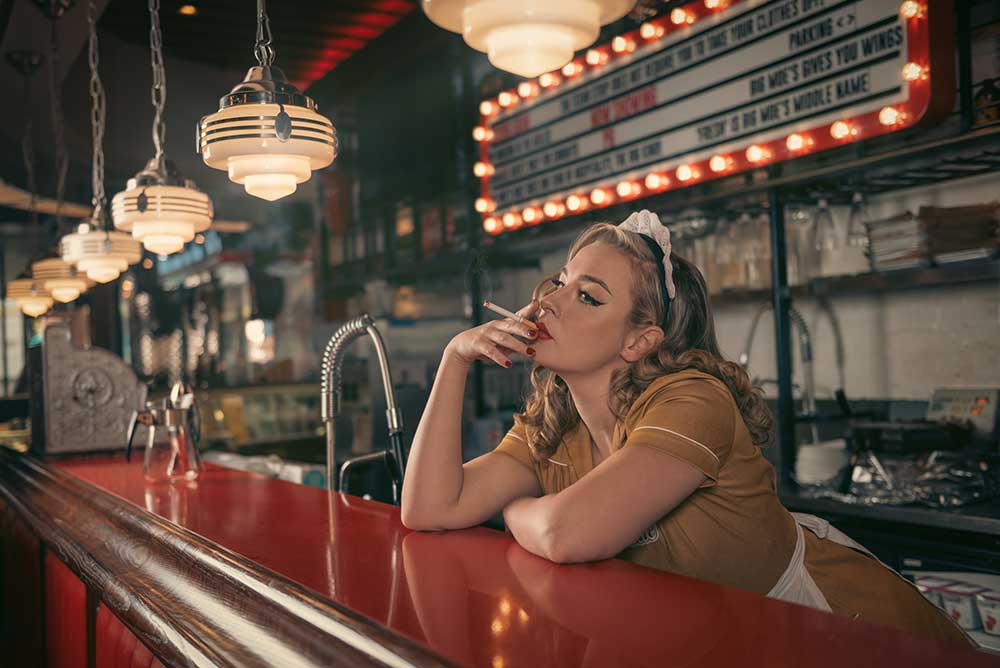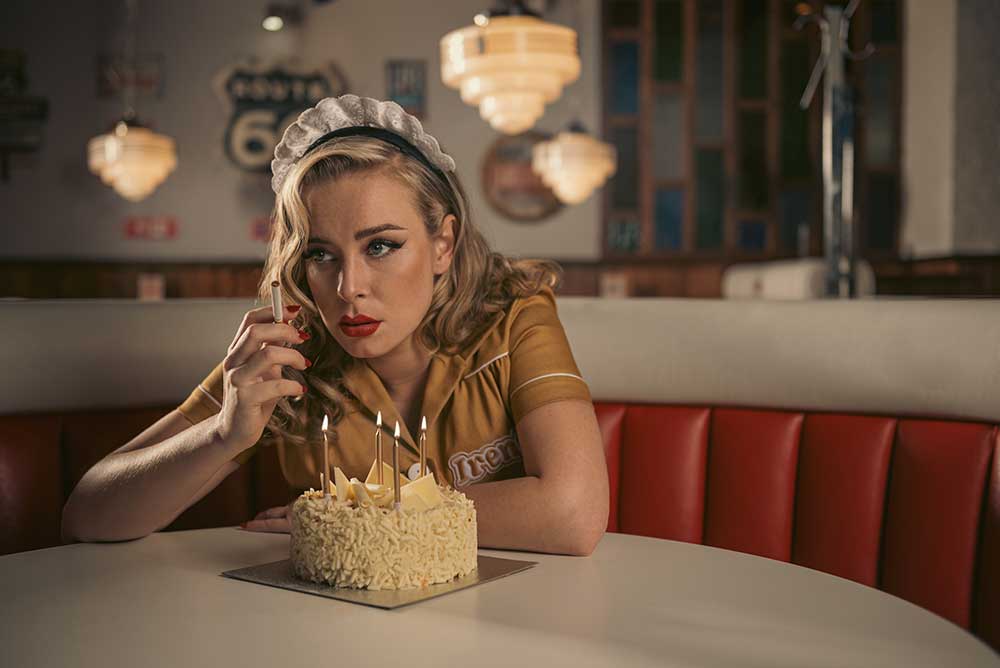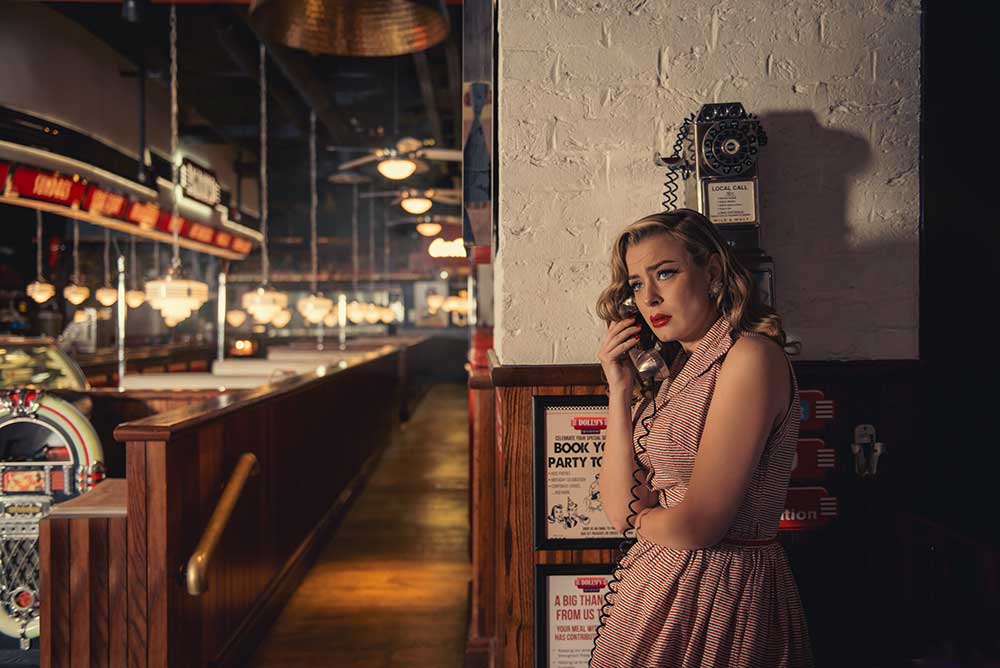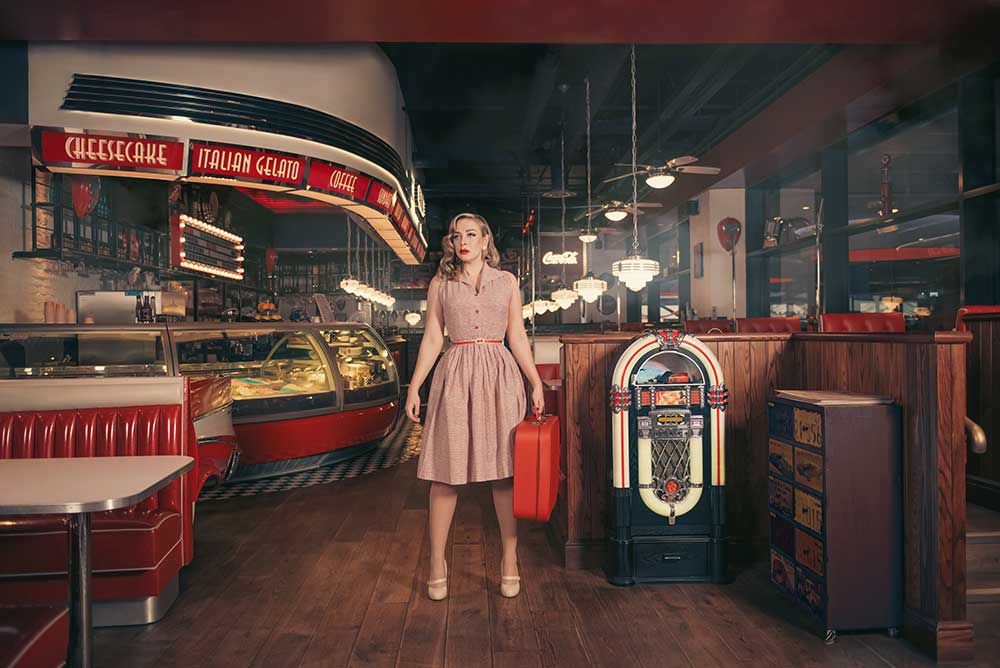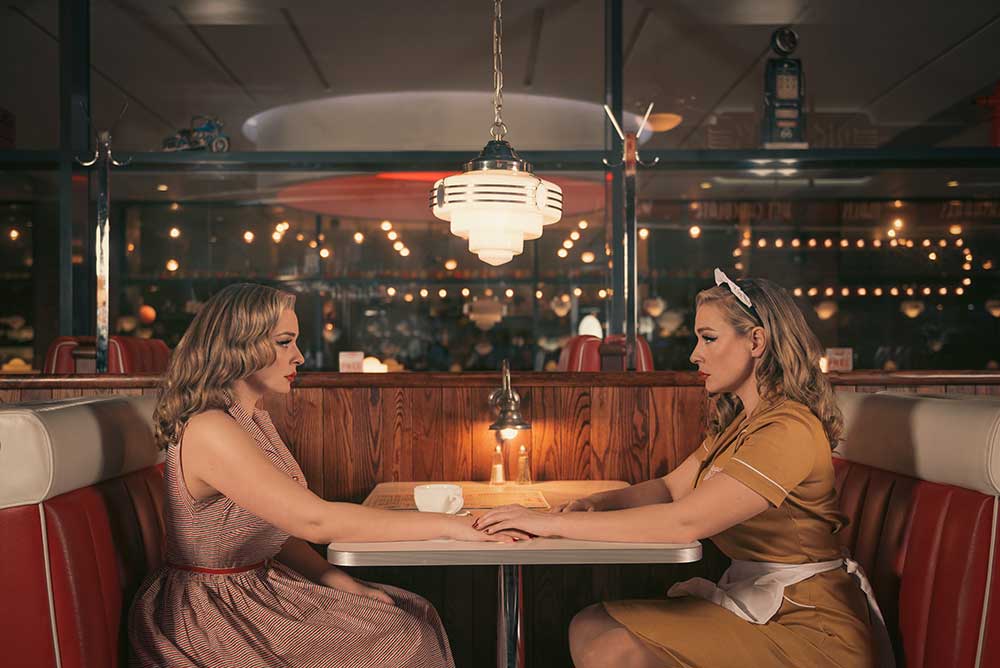 Murder, My Sweet
Taking inspiration from the film noir of the 1940s, "Murder, My Sweet" explores the complex emotions of jealousy and insecurity. These emotions stem from deep-seated fears and negative self-perceptions.
Jealousy is an emotion that is linked with a lack of self-esteem. It is often driven by a feeling of inadequacy and fear of losing something in our lives, whether it be attention, affection, or love. Jealousy can be one of the ultimate forms of self-sabotage, as we see reality through our own distorted lens.
In my story, my character Diana becomes her own worst enemy, pitted against an imaginary, more seductive, confident, and attractive woman: the one wearing an anklet.
The films noir of the 1940s reflected the disillusionment felt in the country, particularly by soldiers returning home and women losing their jobs at the end of the war. In parallel, this story also deals with the fear of losing something that is very precious to us.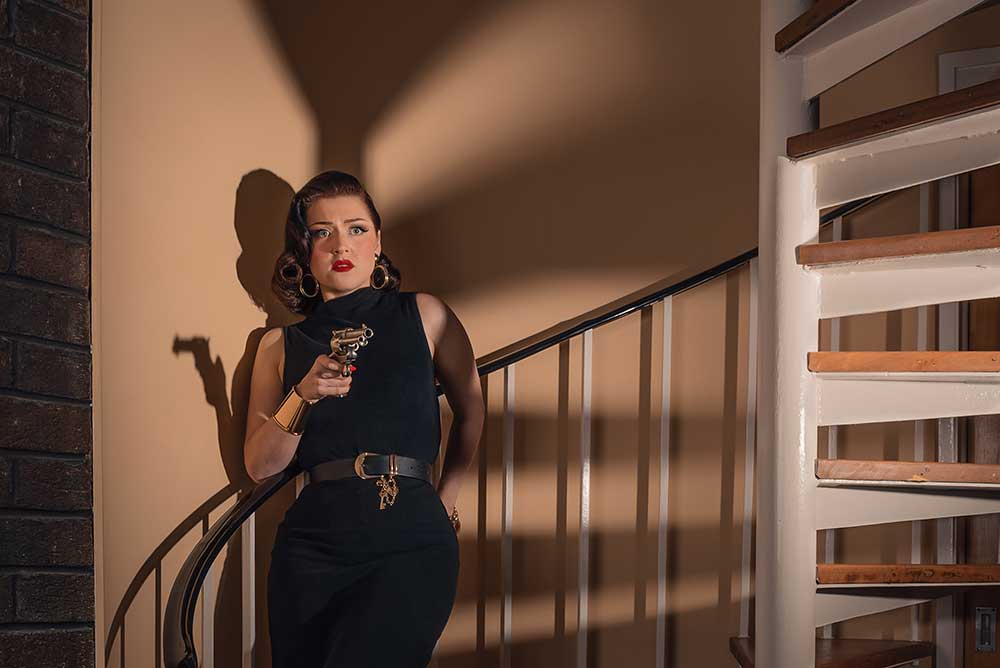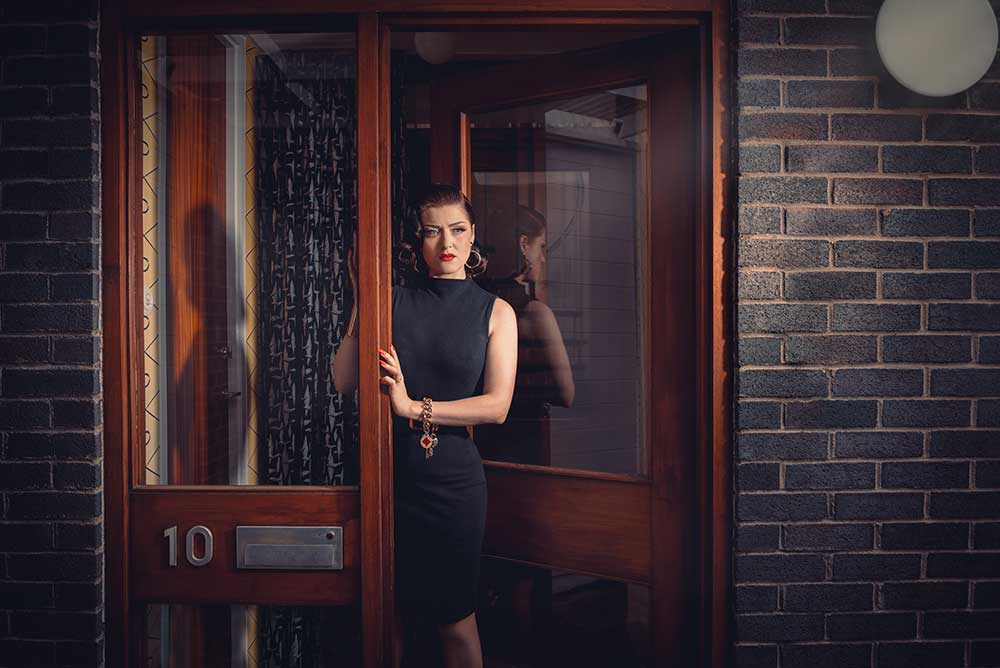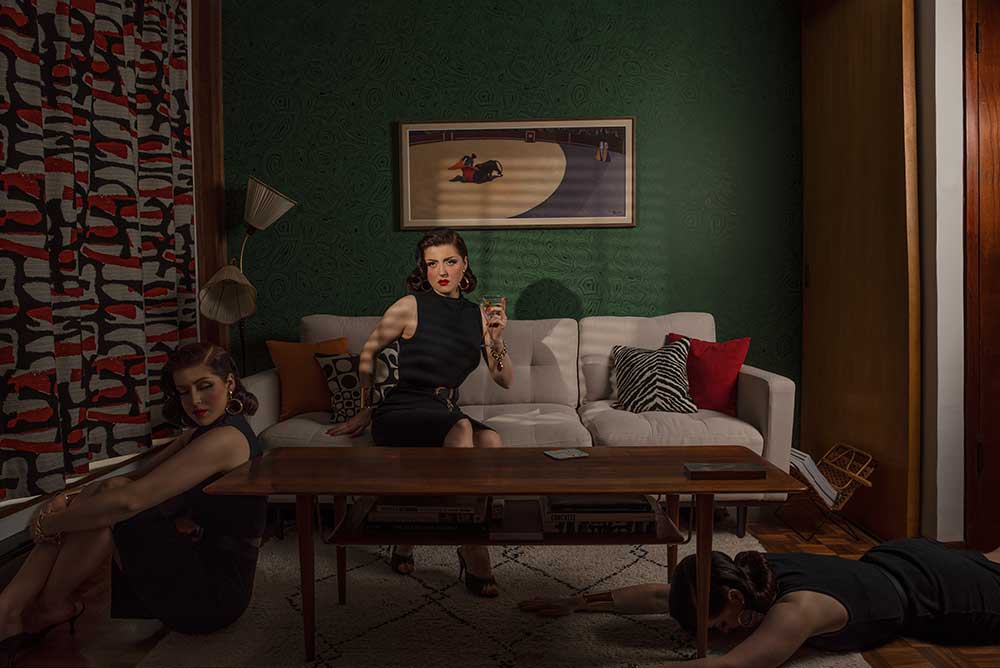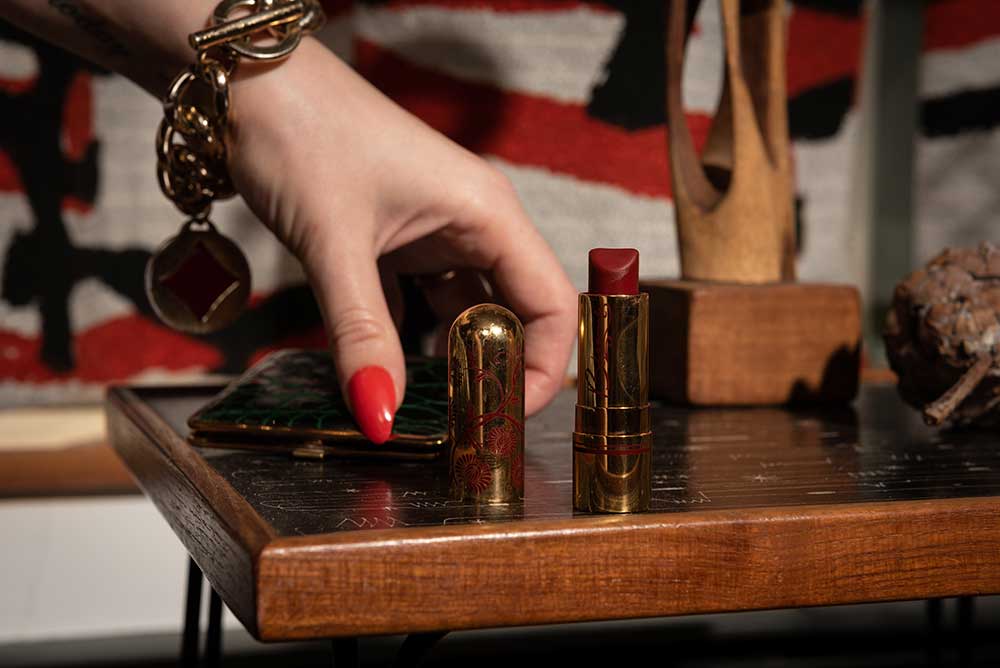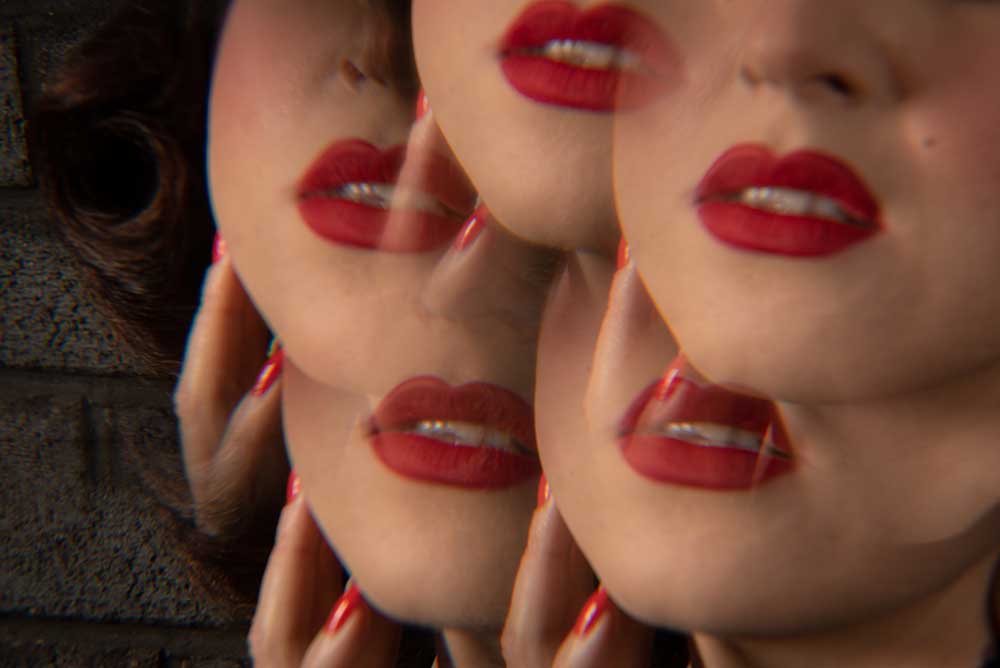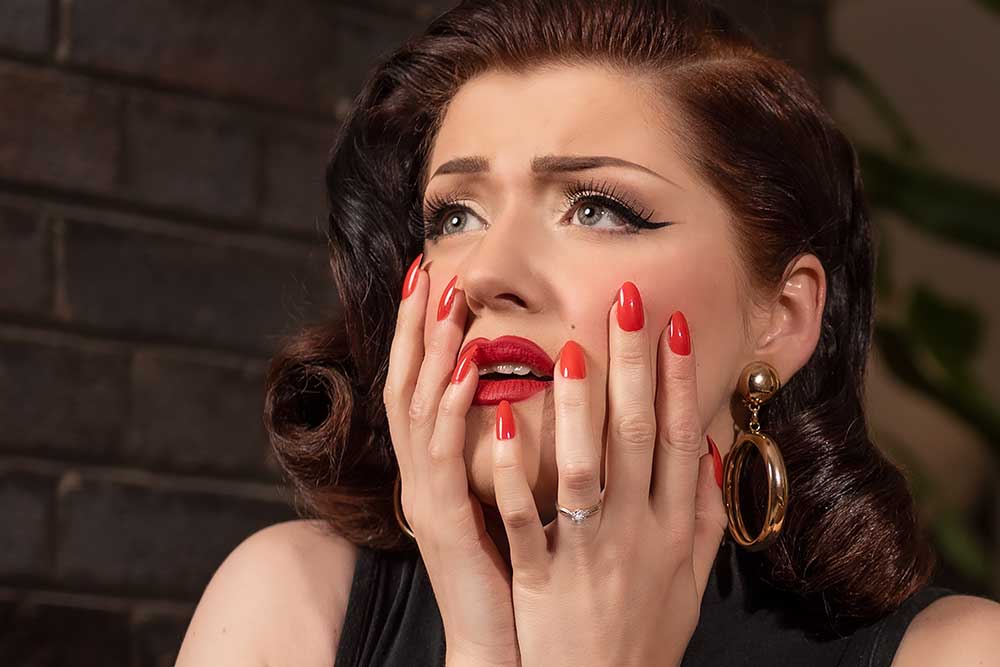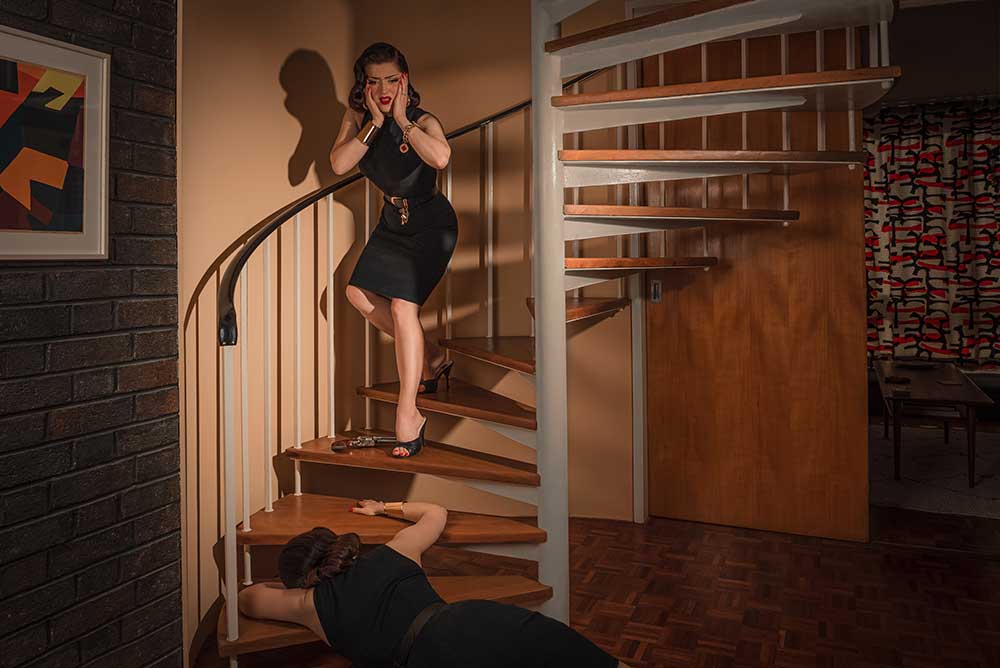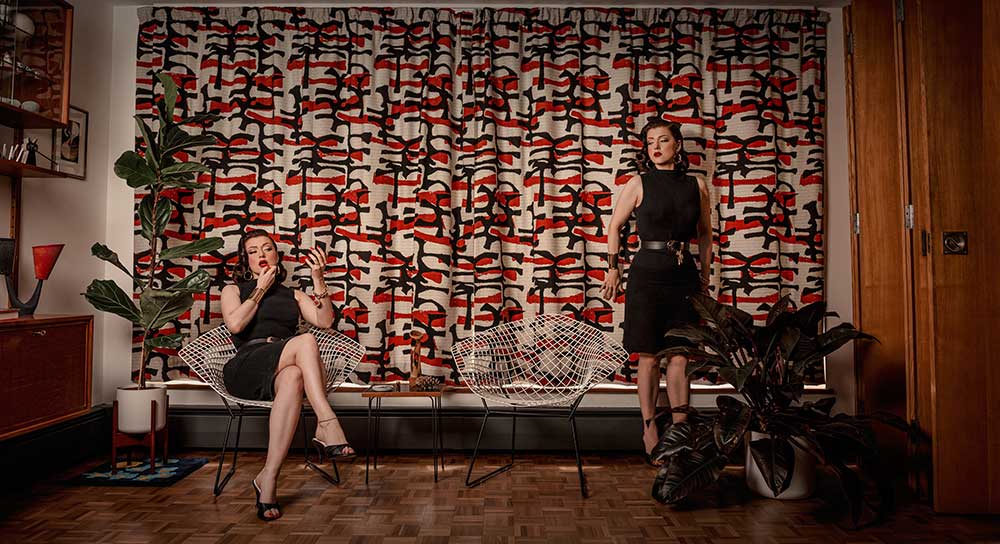 About Elisa Miller
Elisa Miller is an award-winning French photographer who is based in London. She tells visual stories using a vintage and colorful aesthetic to explore questions of identity, self-perception, and the representation of women. Self-taught, Miller began experimenting with photography after moving to London in 2017. Her work delves into the impact of societal pressure on women and the images that lie beneath the surface, using light, color, and elaborate settings to explore the female psyche through a cinematic lens.
Awarded "Fine art photographer of the year" at the Px3 in 2022 and "People Photographer of the Year" at the prestigious International Photography Awards in 2021, she also received several other international recognitions in the past three years. Her work has been published in magazines in the USA, UK, France and Australia, and shown at collective exhibitions in London, Paris, Budapest and Tawaian. [Official Website]