In 'The Act', acclaimed fine-art photographer Julia Fullerton-Batten portrays the lives and skills of women who voluntarily engage in the UK sex industry as their career.
All of them chose a markedly different path in life to the usual one, wittingly challenging social stigma. Julia investigated why this is with imagery and videoed interviews.
Following a year of castings, Julia narrowed her choice of models down to fifteen, some of which were well educated with university degrees. Among them are aerial artistes, a ping-pong girl, a dominatrix, an escort, and webcam and porn stars. She photographed her nude models provocatively posed against a backdrop of specially designed stage sets, highlighting 'their act'.
Julia's book contains powerful imagery in her unique style and in exquisite colour. Forewords are by Alessia Glaviano, Senior Photo Editor of Vogue Italia, and Helen Tootsi.
Generously sized, beautifully printed, sumptuously bound in a soft material flesh-like to the touch, and bound with a lace garter, the book is a dream for collectors of fine-art photography, especially for enthusiasts of Julia's style of photography. A DVD containing videoed interviews and behind the scenes glimpses accompanies the book.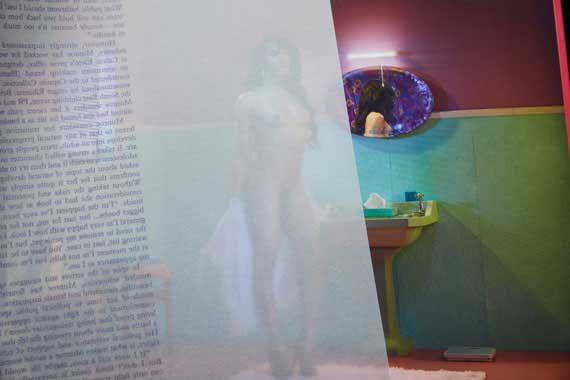 'THE ACT': Book Availability
All copies are signed and numbered by Julia Fullerton-Batten
Standard Limited edition: £ 140 plus shipping
Collector's Limited edition: £ 770 plus shipping
Delivery charges
UK – £ 15
Europe – £ 15
US / World – £ 25
Canada – £ 60