Siem Reap, Cambodia, is the place, where Angkor wat, the largest temple in the world situated. Mondo Bai is a poor village in this area. Around 800 families are living here under the poverty line.
There, the youngest 'karaoke girls' work for $40 USD a month. The girls, who are above 17 or 25 years of age, come from all over from the country, and their stories are almost same. Poverty is the main cause behind their work here. Their main clients are Khemer people and some time some foreigners.  They pay $1 for a beer and $ 2 for 'karaoke girls' to sing romantic local songs. Alcohol is the only income for the karaoke business that employs the girls.  The 'pleasure ladies' make ends meet by singing popular tracks, enticing customers to stay. Despite the inherent violence that inevitably follows excessive drinking, the girls feel they have no choice but to engage the men in order to earn a living.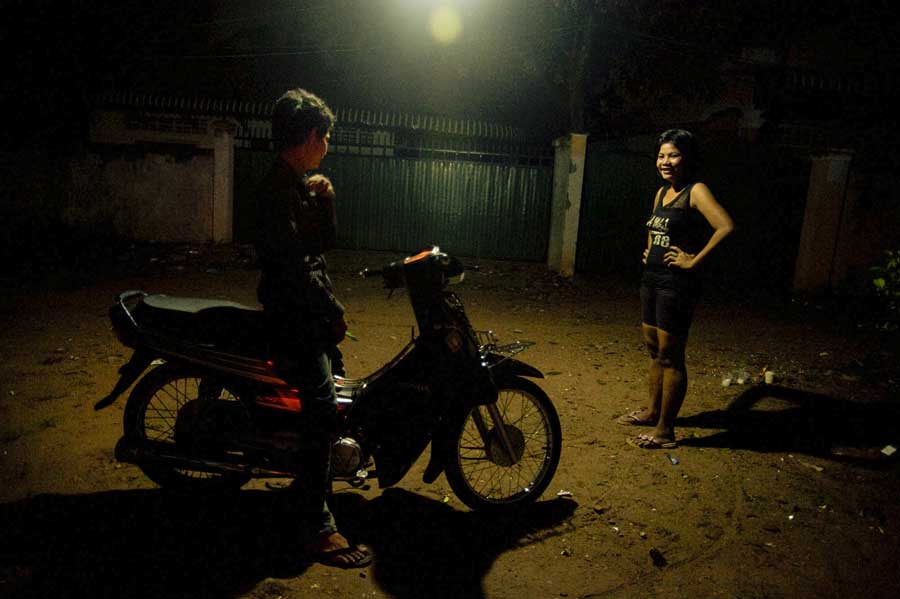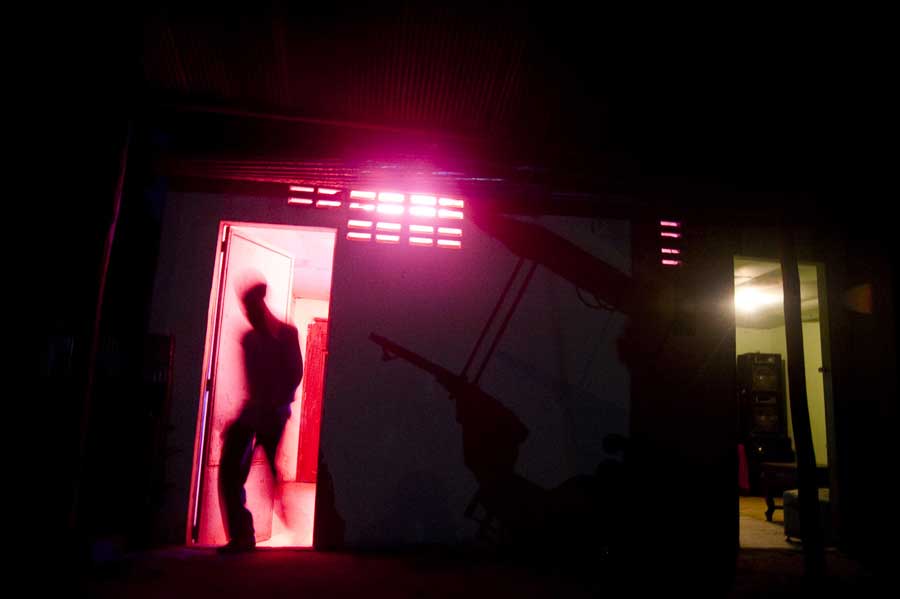 Girls working in karaoke as singer and dancer but for more money they are ready to go for sex with clients for which they get about $15. Maximum karaoke girls' families think that their girls are working with honor in city, who send money home every month.
About Saikat Mojumder
Saikat Mojumder (b. 1984 in Netrokona, Bangladesh) is a Bangladeshi based documentary photographer with a special interest in human rights. He graduated in photography from Pathshala, The South Asian Media Institute. In his major works Geneva Camp: Where Dreams Are Restrained, Jeopardized Forest, Animal Sacrifice on Durga Puja, and Life: Born in a Slum he explores broader regional environmental, cultural and social issues.
In 2013, Mojumdar's project Lajjar Noy -Bhalobasha-r (Love Not Shame) a series dedicated to raising awareness on autism, was the first photographic exhibition in Bangladesh to be inaugurated by the honorable Prime Minister.
His photographs have been exhibited in the United Kingdom, the United States, Europe, Japan and China. His work have appeared in various national and international publications including the The Daily Star, Daily Samakal, Canvas Fashion and Lifestyle Magazine, New Nation, Soudi Aramko World, The Sunday Times, British Journal of Photography, X magazine, John Hopkins Magazine, Photography News, Humanistic Report and The New York Times.
The founder of Into Positive, a consulting firm dedicated to producing high quality photography, and documentary film, Mojumdar is also the ambassador of the children's organization "INCLUDED". He had previously held positions as a photographer at Drik Picture Library Ltd, staff photographer at Canvas Fashion and Lifestyle Magazine and as a photographic contributor at the The Daily Star, the largest English daily in Bangladesh. He is the recipient of the Ian Parry Scholarship as Commended, awarded second prize in the "Days Japan International Photojournalism Award" Excellence Award from China International Press Photo Contest, first prize in the Ummid Photo Contest, the Golden Prize from IOPF and is the holder of the Nikon Small World Award. He is expecting to publish a photo based magazine next year for a global audience to illuminate and inspire positivity in Bangladesh. [Official Website]