Ceremony of the funeral of god's son Jesus. With the arrival of spring comes Easter week. It has centuries of history behind it and is one of Spain's most authentic and emotive celebrations.
The streets of the vast majority of Spain's cities, towns and villages become the stage for religious fervour and devotion, combining grief and meditation in memory of Christ's death. The Holy Week in the historical and University City in Tenerife, La Laguna, is especially famous in the Canary Islands. The most important days are Easter Thursday and Friday (Viernes Santo). The Semana Santa already belongs to the cultural world heritage by UNESCO.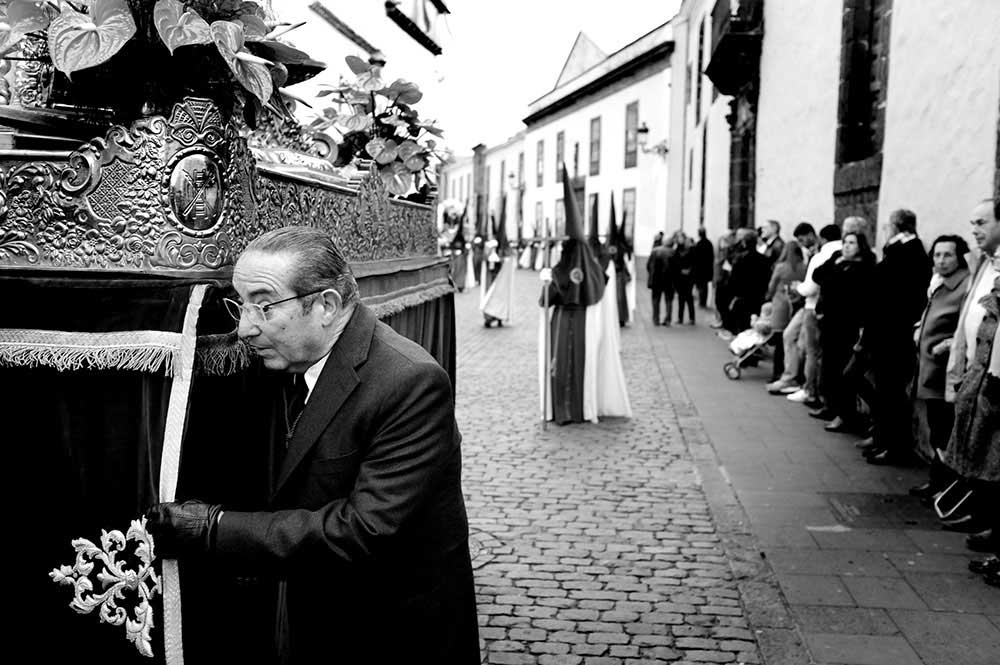 About Oliver Weber
Oliver (born September 7, 1970 in Munich, Germany) is a German Photographer, Physician and Professor of Visual Arts. Currently he lives and works on the Canary Island of La Gomera. His specialty areas are Reportage, Portrait and what has come to be recognized as Street – Photography.
He has become more widely known through numerous features with Reputable Magazines and Publishing Houses e.g.: BBC, ARD, Bertelsmann, Die Zeit, Random House, Merian Magazine and Stern Magazine. 2009 an interview with Oliver Weber has been added to the TWO WAY LENS – project. The list of photographers already included is like a "who's who" of the contemporary fine art photography scene, like Magnum Photosphotographer Martin Parr or Alec Soth and Amy Stein. Oliver Weber is the first German Photographer who is included in Two Way Lens. 2011 Oliver published his second book ANALOGUE, which was featured by The Camera Club of New York during its photo book fair July 2011.
Weber took part on several "solo" and "group" exhibitions including his work, like the DOCUMENTA (13) in Kassel, Germany (one of the world's most important exhibitions for contemporary art), the PHOTOKINA in Cologne, Germany (the world's largest trade fair for the photographic and imaging industries) and LA BIENNALE DI VENEZIA, Italy (2017). 2015 Oliver received his Professor of Visual Arts at California University. [Official Website]