Back in the middle/late 90s, I made an attempt to get into fashion photography. To that end I started working for new fashion and music magazines which were popping up in London at the time in order to get a fashion portfolio together.
The intern of a fashion PR woman contacted me after seeing my men's fashion (which I have already written about here) and asked me to work on a project, essentially for free. I accepted. There is a debate in professional photography whether or not you should ever work for free but we will get to that later.
Basically, all I had to do was to turn up on the day with some ideas. The models (two females and a male), hair and make-up and location were all arranged for me. They wanted an image for each of their clients. I was told who the clients were and came up with some ideas. I always like to see the location I will be shooting in if possible but did not get the chance. It turned out to be the home of the PR woman.
As soon as I arrived with my assistant, my task was to immediately decide where in the house, I was going to shoot each picture, most of which I had already devised. One of the clients was Jonathan Aston tights. Flicking through my sketch books, I came across an idea for twisted legs that I had been waiting to do. I had originally envisaged the idea with bare legs but I thought the variation would work just as well. This was the picture I most wanted to take.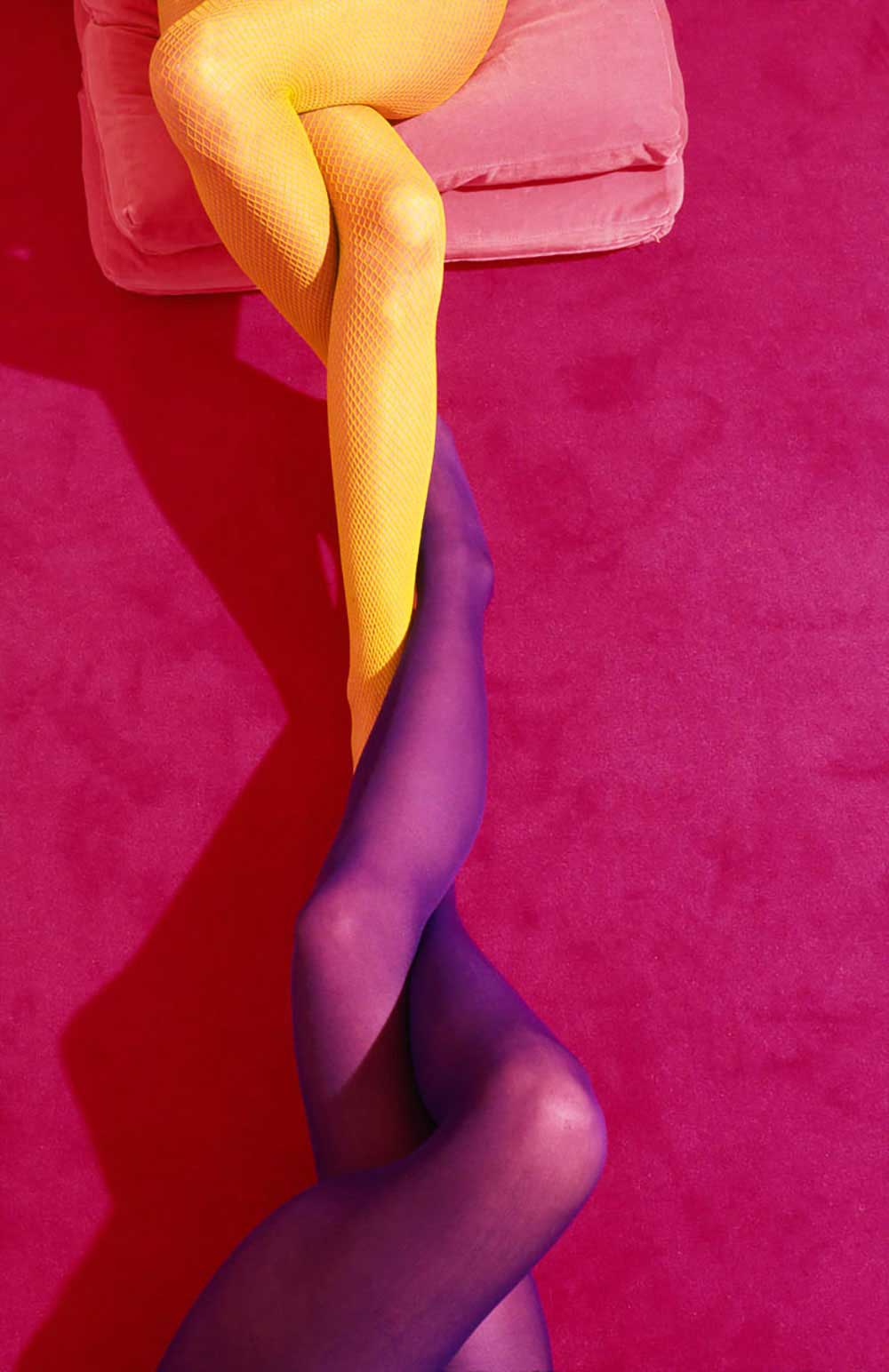 When I went to the basement and saw the colour of the carpet in the au pair's room, I knew this was the place to shoot it. We had to take the bed out of the room and vacuum the carpet and were ready to shoot. I chose the colours of the tights from the ones shown to me, to go with the carpet. I then stood on a chair and had to work out what to do with the legs, which was more difficult than I had first imagined. I finally intertwined them to my satisfaction.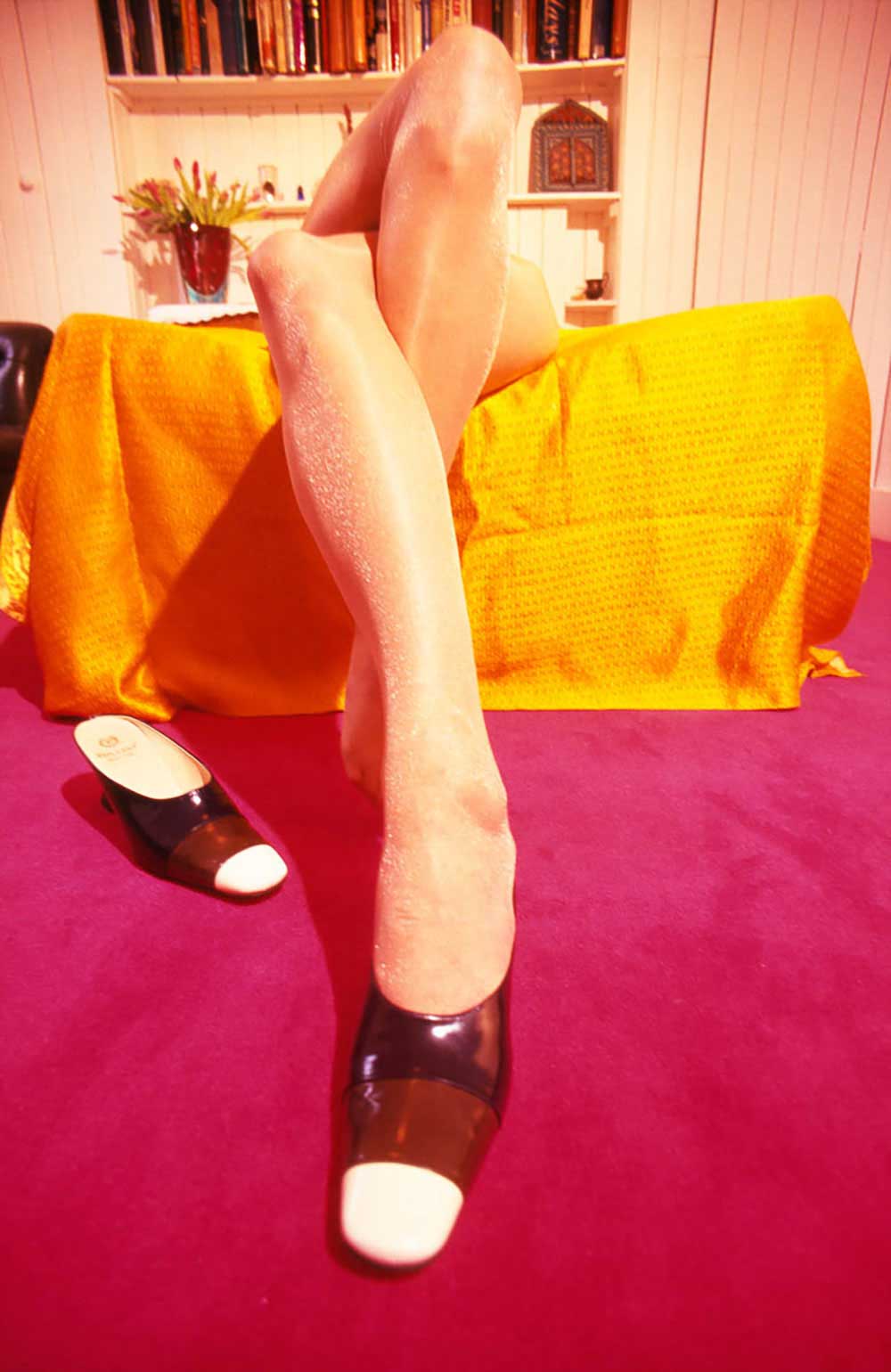 They represented a shoe company and I shot this one next. I covered the bed with gold curtain material I had bought in a second hand store. I shot this lying on the carpet.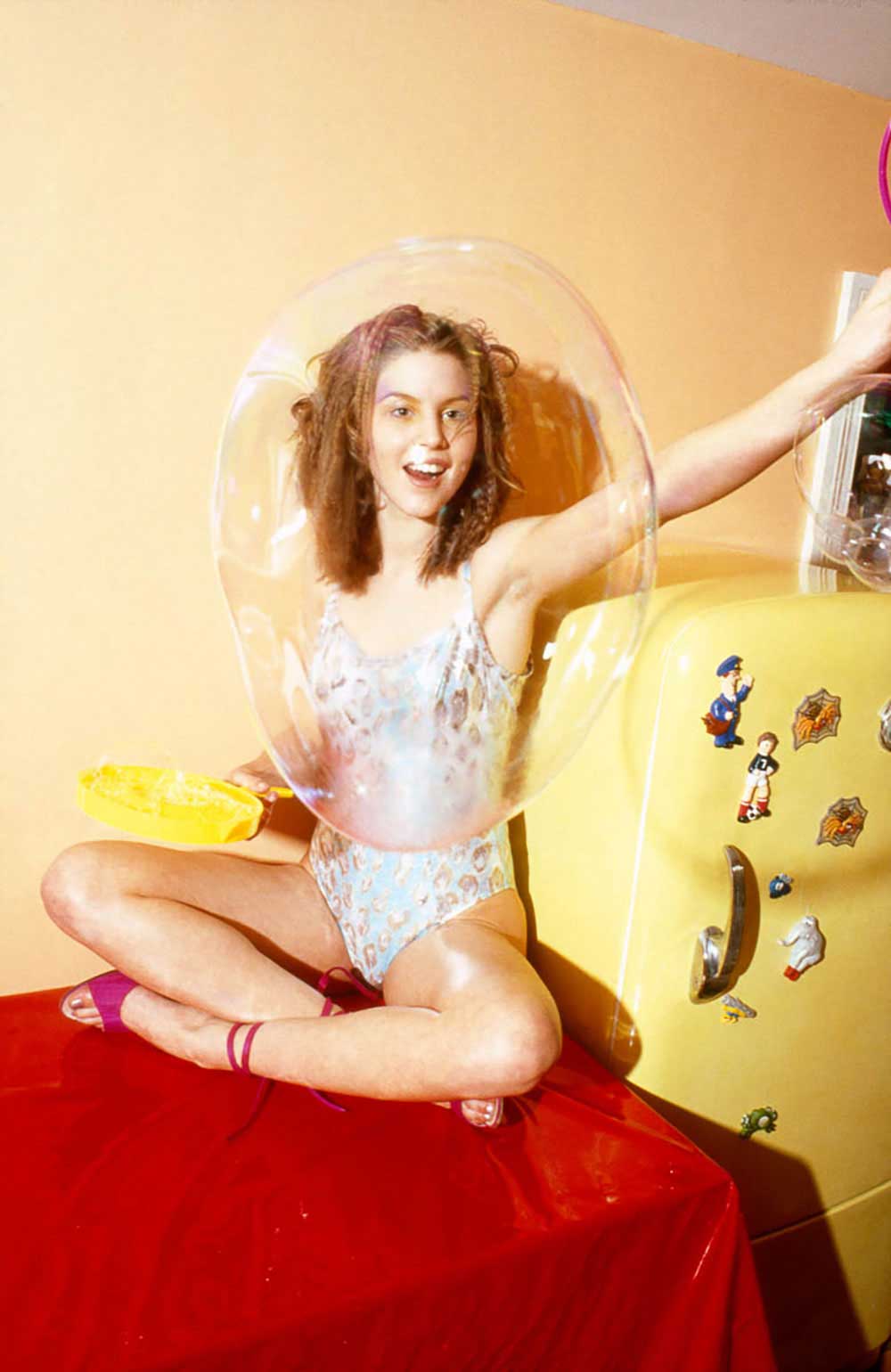 I was going through my toy phase at the time. I had bought lots of plastic toys to decorate my bathroom and among them a bubble toy. It then occurred to me it might be interesting to get one that produced big bubbles. In the kitchen, I pushed the table next to the yellow fridge with it's interesting magnets and covered it with the red plastic table cloth I had bought along just in case. I chose this particular frame because it caught her directly in the middle of the bubble.
I did not arrive with an idea for these two. I had little idea of what the clothes were like Make-up hair and stylist did their thing and I shot it with a macro ring flash.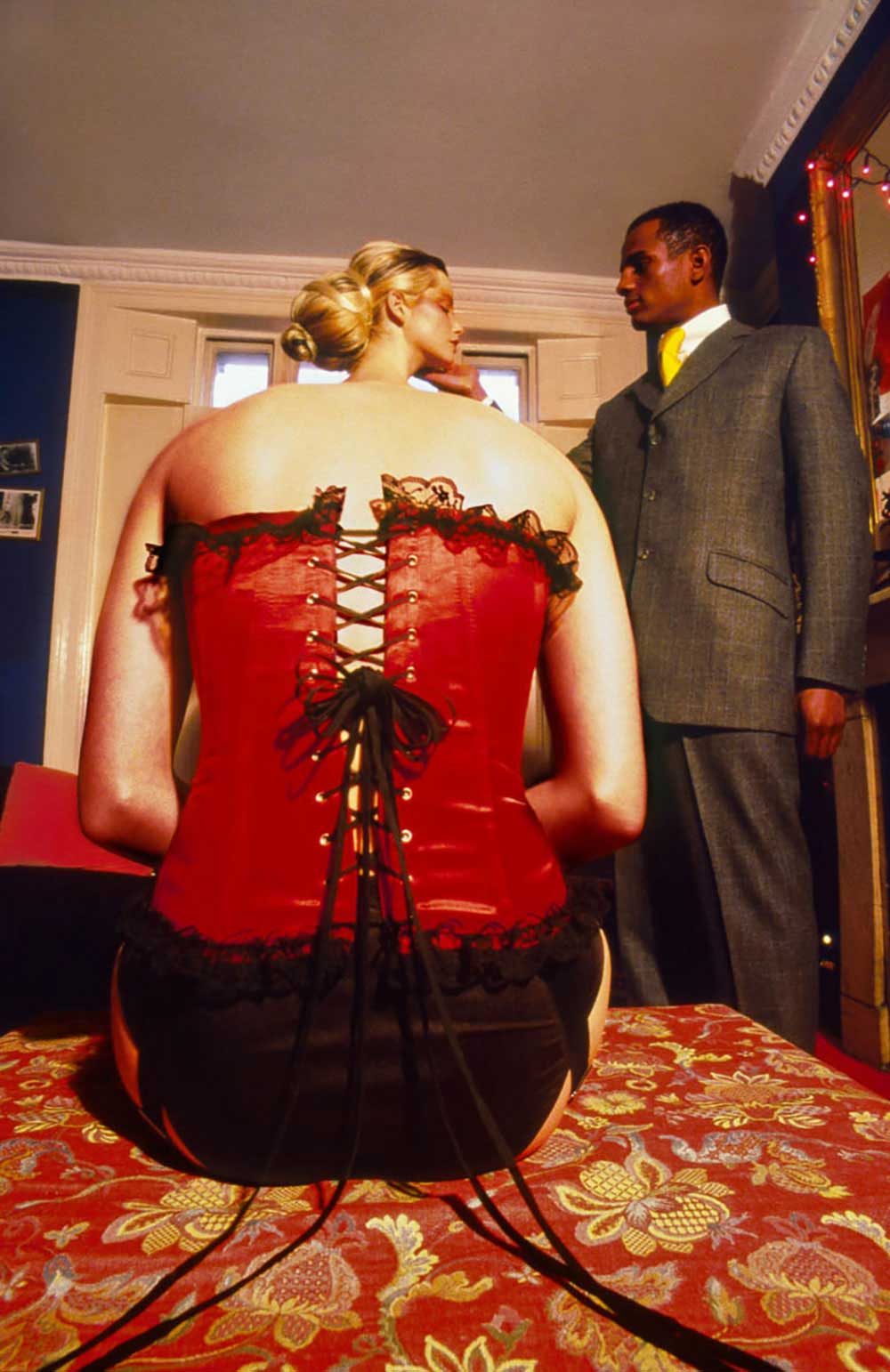 I had taken the first iteration of this concept about three years before, here (Perspective nude) , using a wide-angle lens. I put one woman standing a little in front of the other to create a woman with a small head. At the time it occurred to me that I could possibly have a man relating to this created woman in some way. I had three models at my disposal and this was my chance. I sat the model down on the coffee table and set up the tripod. There was so much extra lace, I had to try to make it as neat as I could. I had lit most of the previous shots with flash but this was shot with two tungsten lights.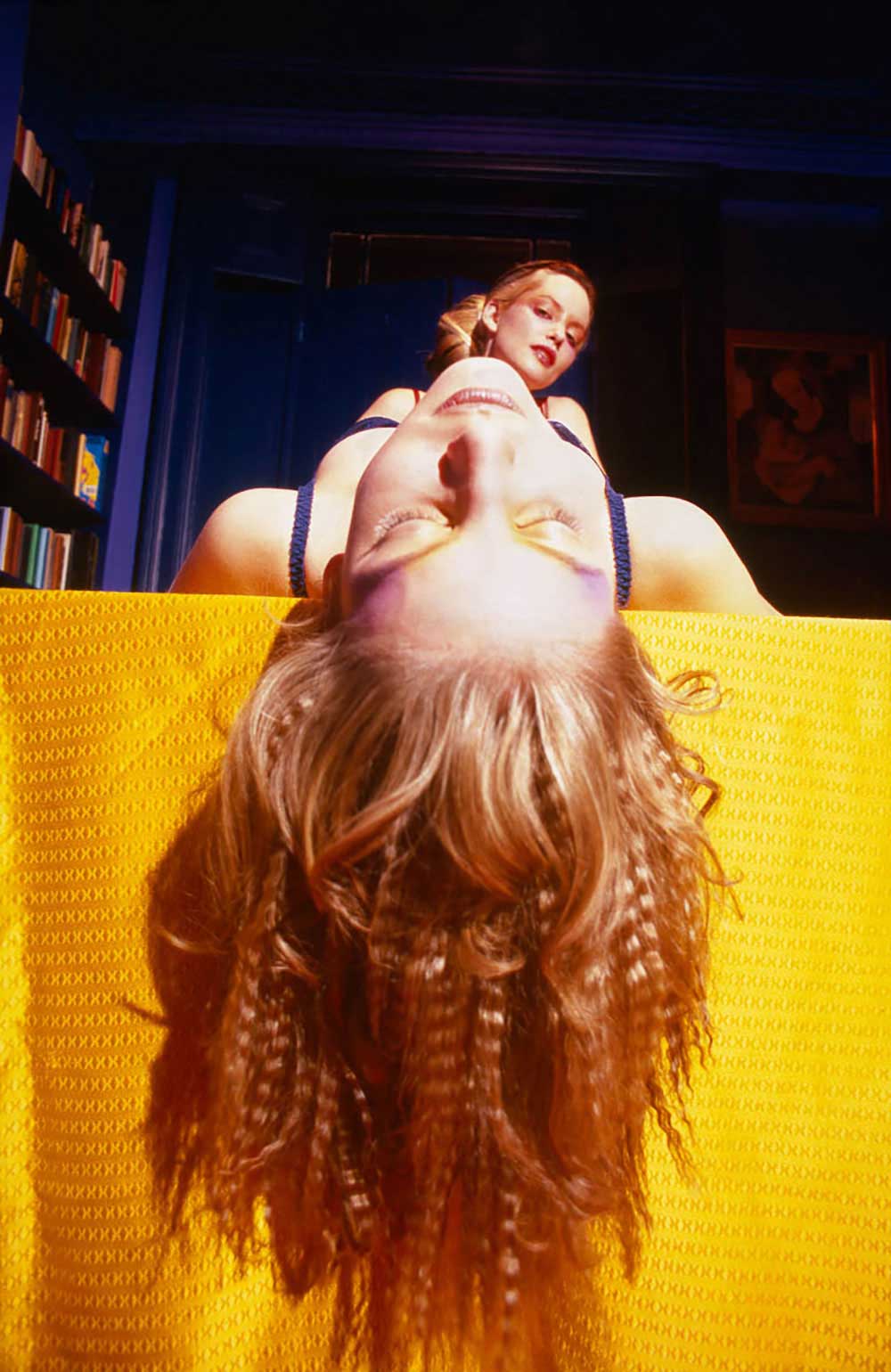 One of the first times I saw this Man Ray photograph, Woman with Long Hair (Link), I thought I could recreate it putting another woman in the background and have them almost touching chins from the point of view of the camera. Years later, I thought finally the time had come to try it out. Shot with tungsten, the depth of field between the two faces was on the limit. It was the last setup of the day. I did another image which I did not like, so am not showing that one.
Do I regret shooting these for free? The answer is no. When I started as a photographer, I found that people were reluctant to hire you if nobody had hired you before and that included different genres of photography as well. To prove your viability, you had to show published work. The bad thing about working free for these magazines was, I have rarely been treated as badly. If they did not like your work, they could just cut it and replace it with some other free work, as it was costing them nothing.
The picture of the twisted legs proved to be one of the most popular images I have ever taken. I had first envisaged it with bare legs and had given no thought to the colours. It was only force of circumstance that these colours were used. In fact, if I had not shot this for free, in all likelihood I would not have taken any of these pictures at all. I have lots of ideas in my sketch books that I have never done. I have even sold prints from this shoot years later. I could have sat at home doing nothing and these pictures would not exist.
My advice about whether or not to shoot for cheap or free is, only do it if it will be good for your portfolio. If you cut your rates and do a job for £500, when a £5,000 job comes along, they will probably use a £5,000 photographer and forget about you. Only do this sort of thing if it will advance your creativity and allow you to make contacts.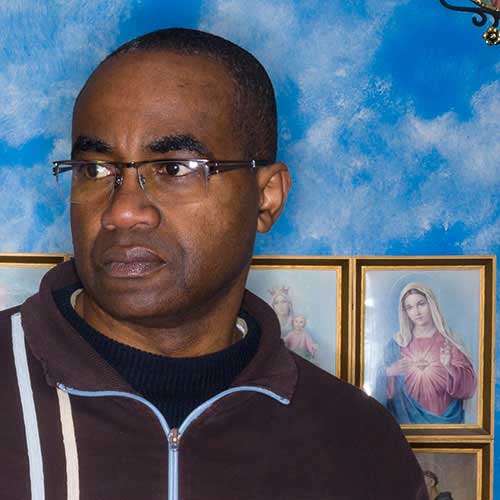 Alva Bernadine makes photographs and films. By using themes such as surrealism, sexuality and violence, Bernadine touches various overlapping topics and strategies. Several reoccurring subject matters can be recognised, such as mirrors, shadows, optical effects and representations of the female form. The work is filled with invented surreal scenarios, witty events, troubling scenes from movies that were never made and almost hallucinatory images that invoke narrative, prompting you to imagine what came before or what is about to happen. They are not only about desire but the problems that go with it. Bernadine was born in Grenada, West Indies and grew up on the outskirts of London. He won the Vogue/Sotheby's Cecil Beaton Award as a young photographer and has since worked for many prestigious magazines and became Erotic Photographer of the Year for his first book, Bernadinism: How to Dominate Men and Subjugate Women.