How to shoot at home and stay creative under bad conditions
I hope this article can serve as inspiration (not only) for all budget nude photographers who are lacking good quality equipment, a studio, lighting or any other 'necessary' things photographers can't work without. 
A little about me
I used to live in an apartment that was great for shooting. It had almost no furniture, there were lovely wooden floors, white walls and a lot of space. Shortly said – an awesome place for an improvisational studio. Therefore it was a big shame to move out to my current place which is, in terms of photo shooting, pretty bad. 
I now live in a 45 square meter apartment, with a lot of furniture and not much space. This place is certainly good enough for living but is it also good for shooting? Yes and no. It depends only on how much you can make out of what you've got, even though sometimes it's really not much. 
Another thing to mention is that my apartment where I live now is in Sweden. Today it's the 11th of February, there's a storm raging outside, a lot of snow everywhere! A perfect day for sitting on a sofa, drinking coffee and reading a book! But.. I want to shoot! What can I do instead of waiting several months for summer? Or trying to go outside and perhaps freeze my face off? Well, the answer is that all I can do is accept the fact that my small flat is the only possible place to shoot and simply figure out how to shoot there! By looking at what props I have that could be used and finding out how to cover up the mess I don't want in my photos. 
Props and tools
I started combining usual household items such as decorations, flowers, mirrors and furniture with a naked body. I also learned to cast shadows with my 10€ torch (actually have 2 of them!) on a wall in my tiny bedroom. The best way how to break through your limits is looking what you have at home that could go well with your photography ideas. So first you need to know what you want to accomplish. 
Methods
Perhaps you already know what makes a good nude photo is not nudity of the subject itself but the way you present it. Concentrate on shapes and lines of the body, then lights and shadows, body details, etc. Look at the beauty of the body and imagine what you could capture. Then search around for props – it can be normal everyday objects. Look for similarities between the objects and some particular human body parts (in order to combine them in the photo). Also imagine what shadows these objects can cast and how they will look on the body. Find some lamps/torches you can cast the shadows with. Use mirrors and their reflection. Be creative and get carried away even with silly ideas! 
Background, tips and tricks
Excellent, you've got your props. Now it would be great to figure out where to shoot. It depends on how much you are limited. If you have an empty wall, you are a lucky person. Walls are an awesome background! If you don't, take some pictures down, move furniture if you can. Don't be 'lazy' and do something that will certainly help you to have better photo results! 
If this is not an option for you look around again, try finding some space that could compliment your ideas. Do you have some pretty furniture that could be used? Can you cover up the 'messy' parts of your flat with white sheets? Can you actually even come up with a way to make the 'mess' look like it belongs in the photo? Play around with your options! 
Try new angles. You might have a nice floor that could be used for shooting from plongée perspective (the bird's eye view). Or try shooting from the floor – you will avoid getting furniture in your photos and might end up having just walls and ceiling in what you capture, plus the perspective can be very cool if you figure out how to use it with a combination of a human body. 
If you can't do any of these, simply shoot body details. All you need for that is good lighting and a model.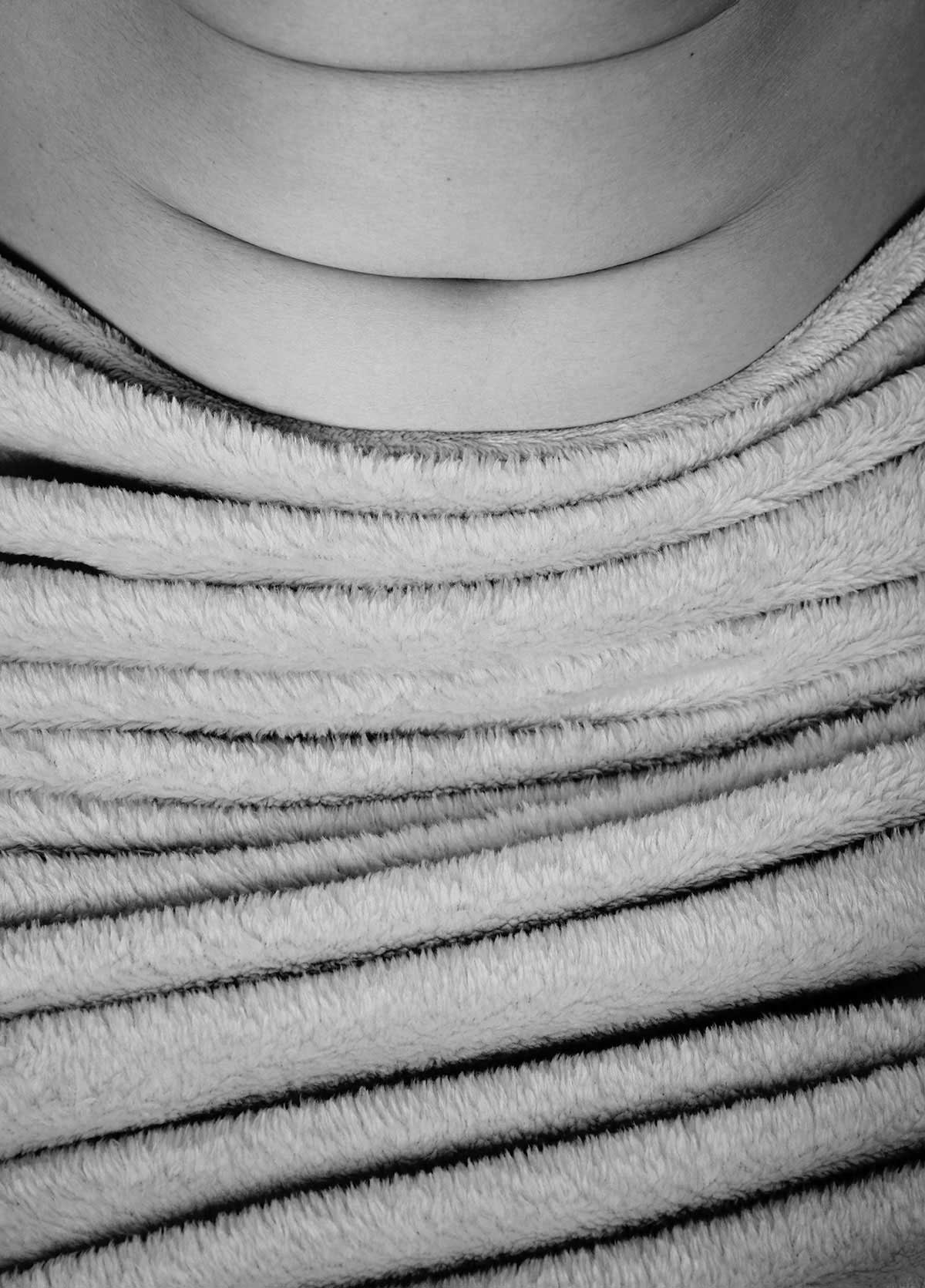 If you don't have a model
When you don't have a model, ask a friend or shoot yourself on a timer – simple. Yes, even if you think you are not adept at modelling, trust me you are! It is an awesome advantage not having to explain to the models how to pose – you just do it yourself. When connecting your camera (must have Wifi) with an app in your phone, you can even see yourself and control the camera from your phone – like with a remote control. I'm using an app called Camera connect for Canon. 
Last few words
Don't get me wrong, of course it would be bloody awesome to have a studio or an extra room. But I'm trying to give you a message that you should never give up or look for excuses! Because I believe that good photographers don't (necessarily) need a studio, expensive lights and stuff as long as they are creative and able to make the most of what they've got. Which sometimes is more than you think! Photography is about your brain, not about your equipment. If you can learn how to work in a bad environment nothing can catch you off guard ever after! What results do you think you will have then once you get a studio?! 
And last but not least – keep educating yourself. Read books about photography, study other photographers work, go to galleries to see paintings. And observe the colours, shapes, lighting, different styles. Get inspired. Be more observant about ordinary things around yourself and keep imagining how you could use them for shooting. Study behaviour of lighting during the day and the way how the shadows get cast at different times. 
Ideas and solutions will come towards you if you don't wait for a miracle with folded arms!
About Lucie Nechanicka
Lucie is a nude photographer. She's been admiring the human body as far as she can remember but she started photographing nude in 2015.  She uses mostly herself as a subject because of the convenience. Her photographs are mainly monochromatic and rather artistic than erotic.