Japanese Aquariums is a journey into some of my oldest, most treasured childhood memories. Whenever I visited my grandparents in the small, northern Japanese city of Otaru, my grandfather, a high school teacher and an enormous influence in my life, would take me to the aquarium.
We would observe the slow "flight" of the sea turtles, the cruising sharks and the alien-like appearance of jellyfish. Particularly memorable were the dynamic dolphin and sea lion shows set to the popular rock music of the time. I was blissfully unaware of the moral dilemmas of keeping mammals in captivity.
These days, the question of the animals' well-being is very much on my mind; nonetheless, I see myself reflected in the joy of the young boys and girls like a looking glass through time, and I recall the pure and happy times I spent with my beloved grandfather. Remarkably, of the 400-or so admission-charging aquariums in the world, 150 are located in Japan. Given the country's aging demographics, this does not seem to be a sustainable number, even as aquariums attempt to shift their existential purpose toward conservation, animal rescue and education. Perhaps aquariums will go the way of the circus one day, logged in our history books as an outdated, insensitive form of entertainment. For now, pandemic aside, aquariums remain popular and their variety stretches far beyond the paid institutions.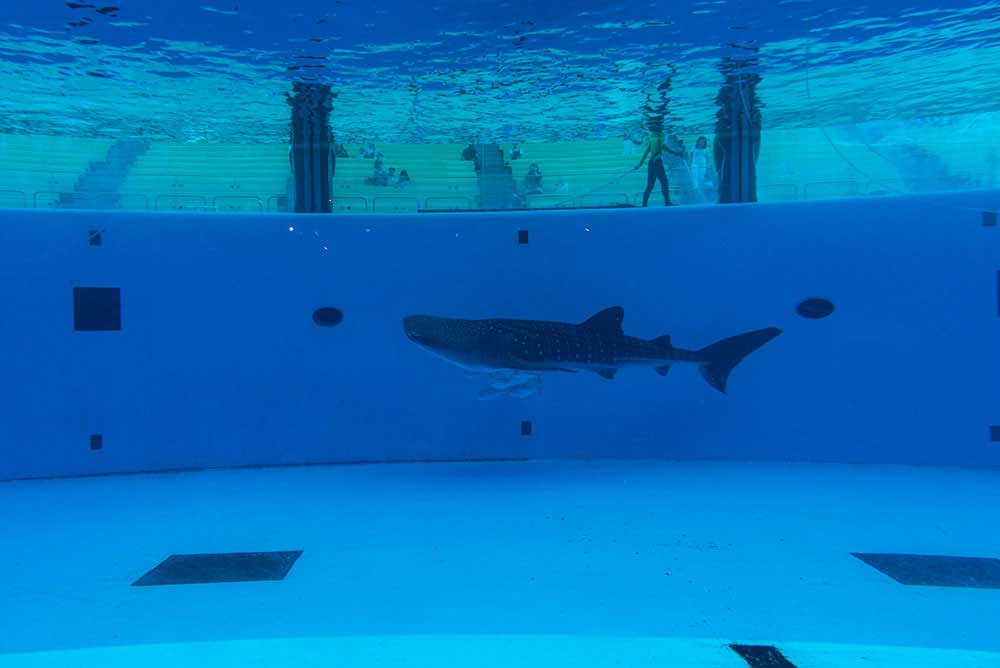 From roadside fish tanks to restaurants to modern apartment buildings with Amazonian giant fishes, aquariums are everywhere, and when incorporated into the distinctly Japanese aesthetic, they become surreal. As Winogrand explored the interactions between people and beasts in his seminal book The Animals, I am interested in the human element that seeks to exploit our curiosities for the unfamiliar by putting these undersea creatures on display, and also in the way that life can transcend the divide, leaving us to wonder at times "who is looking at whom?"
About George Nobechi
George Nobechi is a photographer whose work focuses on disconnection, duality and longing. As a bicultural Japanese/Canadian he is simultaneously an insider and outsider in Eastern and Western cultures and it is this "intimate distance" and space in between two cultures that is the unifying thread of his work. In 2014 George began what became a 990-day journey studying the craft of photography while journeying across the Southwest United States before eventually settling in his homeland of Japan.
He is also the host of the charity online seminar series connecting photographers from around the world, "Evenings with the Masters," which has raised some $70,000 to-date for charity over the past year.
George is represented by Patricia Conde Galeria (Mexico) and A Gallery for Fine Photography (New Orleans). Select solo exhibitions include: "Here. Still." : Photoville 2020 New York, Gastfeld Gallery, Bremen, Germany (2020), and Another Fair, Buenos Aires, Argentina (2020), Workspace Gallery, Lincoln, Nebraska (2018-2019), Jackson Dinsdale Art Center, Hastings College, Nebraska (2018), and "Moments of Serenity" at Walls of the World Gallery, Penne, Italy, 2018.
His works in public collections include the Center for Creative Photography, Tucson, Detroit Center for Contemporary Photography and the Australian Museum of Contemporary Photography.
George's work has also been published in international magazines such as: Huffington Post, PDN, Lenscratch, Fraction & Vostok: "Here. Still.", Newsweek and Edge of Humanity: "Granite and Glass", Asahi Camera: "To Bloom in the North Country."
Among numerous international awards for "Here. Still." are: Critical Mass, Rfotofolio, Review Santa Fe, Paris Photo Prize Silver for monograph and fine art categories, PDN's The Curator Award, Phoenix Art Museum's Sidney Zuber Award Honorable Mention, SilverEye Center for Photography's Commendation Award, and PRC Boston's Exposure Award. He was also a PDN 30 Nominee and World Press Photo 6×6 Asia Nominee in 2020.
Awards for Japanese Aquariums include: PX3 State of the World Curator Selection Winner 2020, Rfotofolio Merit Award 2020, Kolga-Tbilisi Photo Festival Best Single Shot 2020 Finalist. [Official Website]