Since my father loved taking pictures, I was very influenced by him. After graduating from an art university, I got a job at an advertising agency as a graphic designer.
Working there for years, I changed to a job at an optical equipment manufacturer as a manager of an advertising division and I restarted to take pictures.[Official Website] [Print Version] [Digital Version]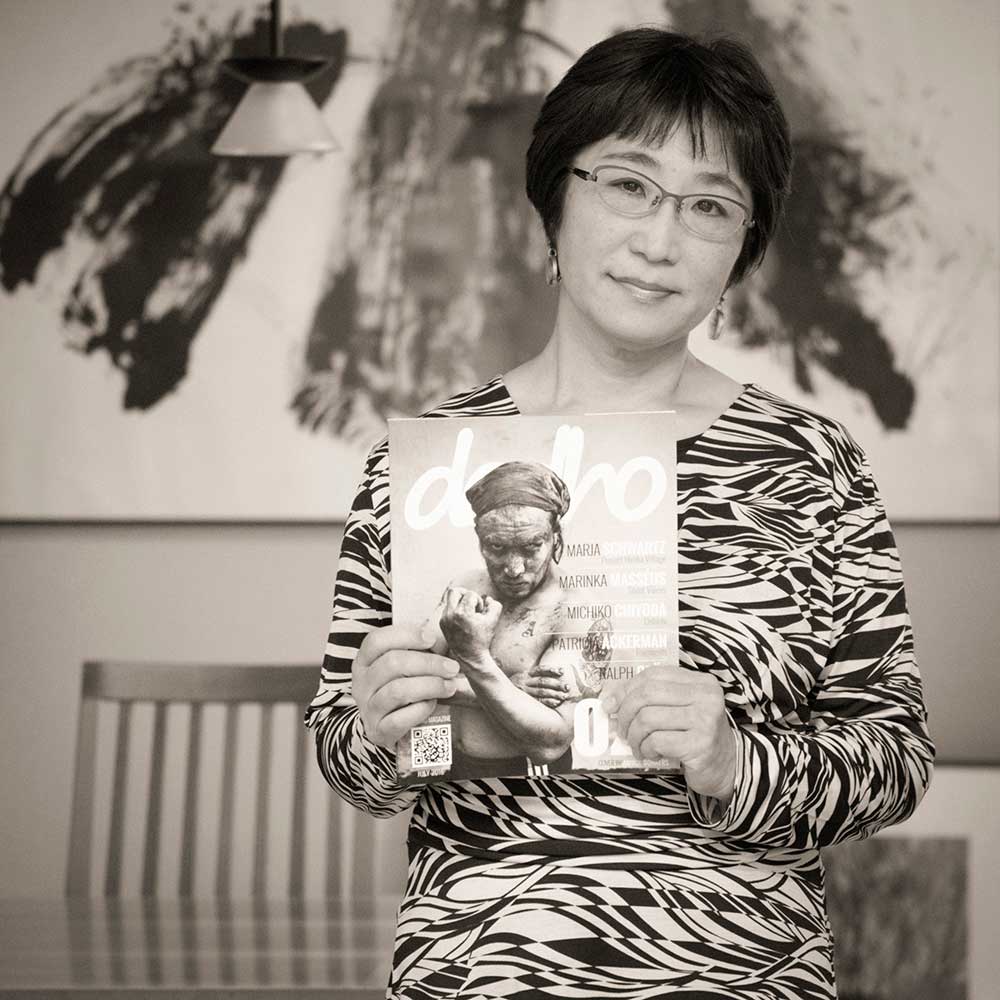 Can you tell a little about yourself?
After graduating from a college of art, I started my career as a graphic designer of an advertising agency, and now are in the position of director of the marketing communications department of one of large optical equipment manufacturers in Japan.
I have been quite active for creating my own photo works. Since 2001, I have held 4 personal photo exhibitions and taken part in groups' more than 10 times.
I have expanded such my activity even overseas starting from the opportunity of participating in Photo Reviews in Arles(France) and FotoFest(USA), provided worldwide web/print magazines and photo contests with my works.
How did you get interested in photography?
My father inspired me to get interested in photograph. He used to want to be a photographer, and taught me how to make pictures in a youth. My grand mother and mother were a calligrapher, and my uncle was, still is a painter, which naturally affected me a lot on my way to chose a college of art and to learn photography.
What inspired you to take your Oshichi Series?
Originally being interested in the Japanese traditional performing arts, I have taken 'Kagra (Shinto music and dance )' as one of my themes of shooting. This series of pictures started in a casual way that I happened to do the shooting of the doll that was displayed in the corner of a doll museum I visited one day, and I found later that it was used to act 'Oshichi' in a story of 'Ningyou Joruri.'
The doll is in the first one of the series of pictures, and since I photographed it, I have been fascinated more and more as if I was invited to the story in which doll played .
Three words that describe your works?
Narrative, Empathy, Karma (Fate)
How would you define your general style of photography?
The Great East Japan Earthquake in 2011.3 has changed the whole world around me. Images up in the air about my country, especially the vague belief of so-called the myth of safety, have became disrupted inside me.
The change including its consequences let me strongly feel necessity of knowing a lot more about Japan, the cultures and minds the people there have kept.
I had been seeking for themes closely existing around me like in my family or my neighbors. Now, however, what I am interested in most are the interpretation of the world, the way of emotional thinking, and the sense of beauty that the Japanese people have inherited regardless of whether intentional or instinctive. They are already the objects in my project this time.
I prefer simple and straight ways of expression when it comes to photograph. Of course, it depends on a theme , but I want to maximize or regain the objectivity in photography because being fascinated by and choosing it as the object means in that moment nothing but a metaphor of exactly what I want express.
Printing is the last-but-not-least technique I have been focus on learning and sophisticating. I chose so called 'Washi,' Japanese papers for the 'Oshichi' project, and since then I have been tackling to realize an output that perfectly matches my image.
In your opinion, what makes a good fine art photograph?
I believe that art can move people to think about the world, or inspire them to change it.
And it's going to be achieved only If artists could have the attitude and power to convey their messages against the world through photographs.
What do you think makes a memorable project or photograph?
I think, and I prefer, that pictures to touch primordial emotion are more unforgettable than those with rational messages. Explosive pictures, ones have an initial look at, and revolutionary ways of expression, too.
How do you know you got the shot you wanted?
To keep feeling in what I get interested and why. To keep breathing fresh air for learning things that could deepen my themes. And to keep myself free when doing the shooting in the structure I want to create. When mixture and repetition of those things are set deep inside of me, I could by necessity come across right objects, and create right pictures.
Your idea of the perfect composition?
I want to be open, free in mind, and in high sense of feeling whenever I do the shooting.
And I want to accord myself to the object and capture the moment of it.
I will get satisfied if there is at least one picture that reflects the moment more than my expectation, and then I can call the shooting perfect.
What would I find in your camera bag?
Main Camera : Nikon D800, Lenses : Tamron SP24-70mmF/2.8 VC USD , SP70-300mm F/5-6.3 VC USD, SP 35mm F/1.8 VC USD, SP45mmF/1.8 VC USD, SP90mm F/2.8 VC USD Macro
What future plans do you have?
I am going to take part in a photo exhibition next February in Japan whose theme is 'Japan.'
In the first place I am composing the pictures under the theme of 'Oshichi' into a book, and as the next thing to do in near future, I would like to hold an exhibitin with them. Speaking of the next project, what in my mind as objects are various other dolls, rocks, stones, and fire that have been somehow worshiped from ancient times in Japan.
And, lately by recording and distributing photographs of the cultural activities in Japanese tradition in my local areas, I am trying to revive their recognition in public. Likewise, I would like to aspiringly expand my contribution through pictures to others in the nationwide.
Finally, one last question. What opinion do you have of our print edition?
I am impressed favorably by the way of the magazine to value artists and their works.
Because I have hardly come across one who run at once such a volume of pictures of an artist.