The Omo Valley, located in the south west of Ethiopia, is home to a number of fascinating tribes, which have kept their traditions and a spectacular appearance. This photographic project  is built around two tribes, the Mursi and the Karo.  All photos have been taken in natural conditions, with the consent of the villagers.
The Mursi are a small Nilotic pastoralist group, gathering a bit more than 7000 persons. They are animists and believe in a force called Tumwi. Rituals are implemented by a group of priests (the Komoru), chosen for most of them from within a dedicated clan. Mursi women are famous for their lip plates. Their lip is cut by their mother when they reach the age of 15 and is kept open by a wooden plug until it heals (which takes usually a bit more than three months) Their lip is then progressively stretched by introducing plugs of increasing size over a number of months. Women wear it during the day, but take it out for eating, drinking or sleeping.  Mursi men traditionally practice duelling with long wooden poles. Both men and women use scarifications. Women wear amazing hats, mixing horns, fruits with branches.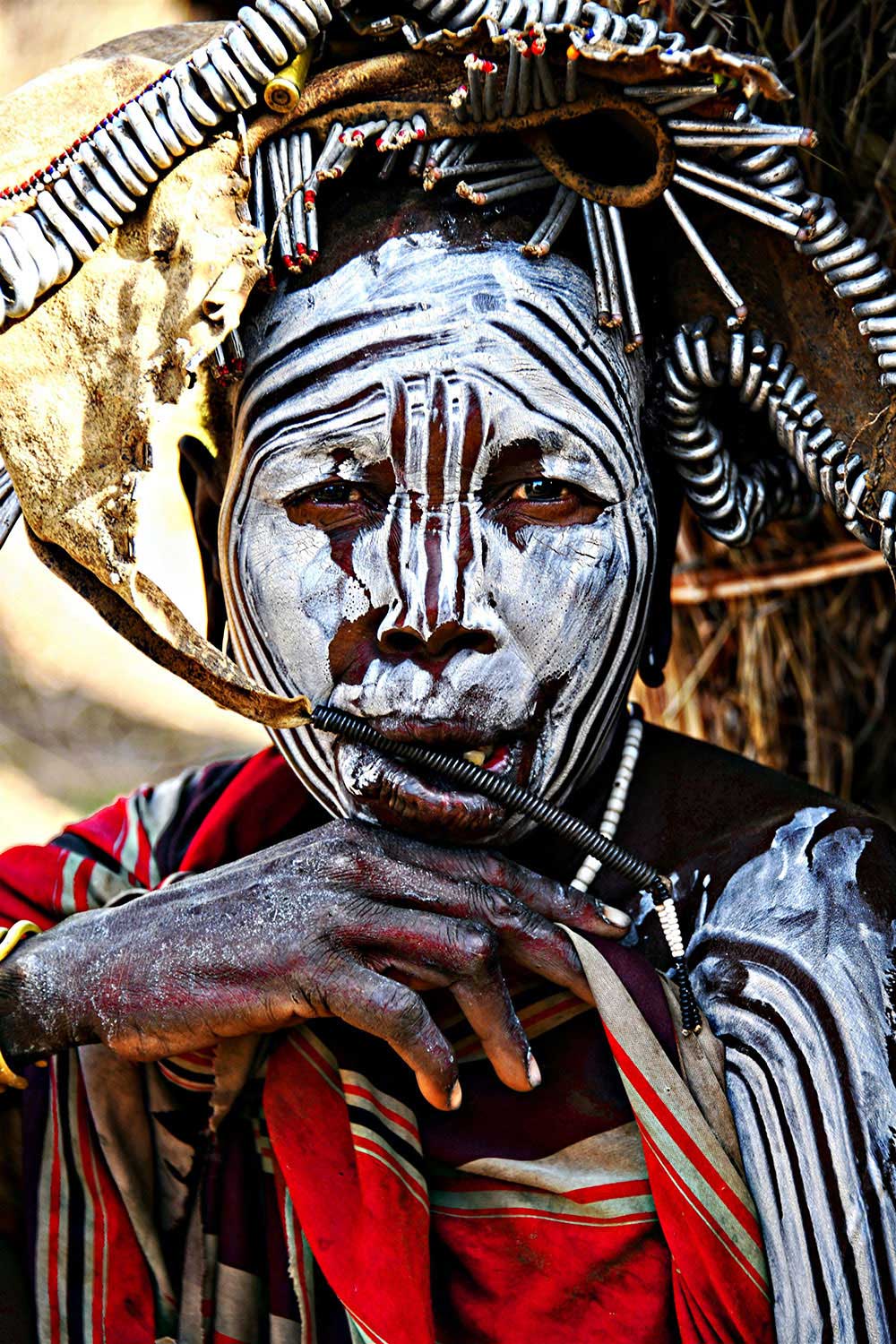 The Karo are also a Nilotic group, with a small population estimated around 3000 persons and living close to the Omo river. The Karo predominantly practice flood retreat cultivation, growing sorghum, maize, and beans. They also fish and breed cattle and goats. Their appearance is stunning. They decorate their bodies with yellow mineral rock, white chalk, iron ore and charcoal. The ornaments can be sophisticated (animal motives, colourful dots….) and are complemented with rows of necklaces. Scarifications are common. A Karo man with scars across his chest has either killed enemies from rival tribes or a deadly animal. Each scar represents a kill. Men also wear clay hair buns for the same reason.
Both tribes are polygamists. While they overall stay far from the amenities of modern life, they have unfortunately adopted its weapons: most men have Kalashnikovs and are not afraid of using them when fighting other tribes (for land, cattle, or simple family revenge…). There is no civil record in this part of Ethiopia, making it very difficult for the authorities to even identify crimes.
About Benjamin Angel
Benjamin Angel is a French photographer, living in Brussels. His work is centred around portraits, primarily in black and white. His first photo book, 'People of Jerusalem', will be published in Belgium in April 2019 by Husson Editions. [Official Website]