In My Skin is a photographic project about young people 18 and under in the UK who are challenging their body image. 
Sank looks at those who have had or are considering having cosmetic surgery in order to become more acceptable to themselves and achieve their ideal of being 'beautiful'. Intertwined with this she also documents body dysmorphia amongst young people who have struggled to conform to this social expectation resulting in eating disorders, body transformation and transgenderism.
Social consensus in Western society today is particularly focussed on physical beauty and achieving and maintaining the "perfect" face and body. This constant pressure fed through the media has led to a growing number of young people becoming dissatisfied with themselves and trying different ways to achieve the 'beautiful'. This desire for perfection has been largely disseminated through photographic imagery in magazines, adverts, television etc. In My Skin makes use of this image dissemination but turns it on its head showing a different side – the human stories behind the decisions of these young people to undergo the physical changes. In those transitioning it is about them achieving an inner beauty by finally freeing themselves from society's expectations and becoming comfortable in their own skin.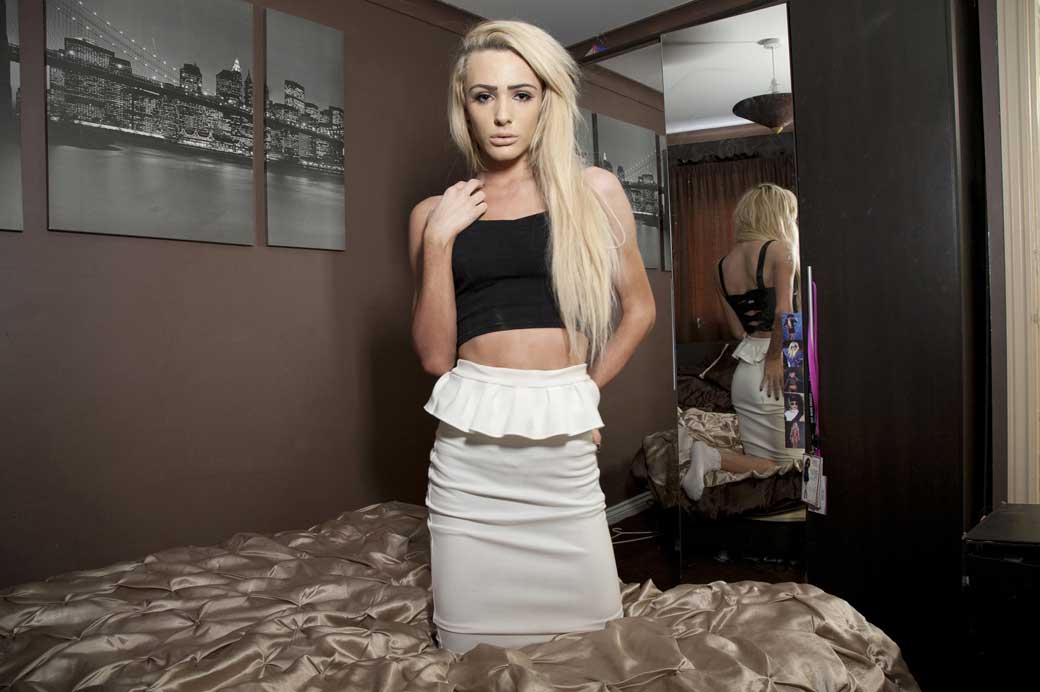 About Michelle Sank
Michelle Sank was born in South Africa and has been living in the UK since 1987. Her photographs have been exhibited and published extensively in England, Europe, Australia and Mexico, South Africa and the U.S.A and are held in collections in the UK and the USA.
She has undertaken numerous commissions for prominent galleries and magazines in Europe and the USA. Her practice is concerned with the notion of encountering, collecting, and re-telling. She is interested in creating sociological landscapes, interplays of human form and location that are significant in their visual, sociological and psychological nuances. She has three published books to date: Becoming (Published by Belfast Exposed Photography and Ffotogallery,). The Water's Edge: Women on the Waterfront (Published by Liverpool University Press,). The Submerged (Published by Schilt) [Official Website]