Ijtema is the annual three days Islamic congregation of Tablighi Jamaat by Islamic organization in association with the millions of Muslims. 
Participation in Ijtema increases religious authority, status and empowerment, and contributes on the Muslim identity through the idea of brotherhood and Ummah.
The immediate concern of TJ is the moral reform of individuals and purification of the self, often described, as 'making Muslims true Muslims' and Muslims should go back to the basic principles of their faith to follow strictly the commandments of Islam in their personal lives and in their dealings with others.
Its annual three days congregational gathering that is Ijtema, with millions of people. Ijtema has become a symbol of Tablighi Jamaat movement. Due to the growth of the numbers of pilgrims rush in Dhaka for the prayer, the local authority has made the congregation in 2 parts over 2 weekends. The first weekends of 3 days congregation is for the foreign Muslims from all over the world and the Bangladeshi prayers from different provinces, the following weekend is open for the local Bangladeshi.
On the last day of the congregation after the final prayer, pilgrims are rushing into the train stations to get home by train. The train station is packed by millions of pilgrims and the trains are filled with peoples like sardines, even on the roof top. Therefore, dramatic scenes of daring passengers jumping between train cabins on the roof top for searching for space to sit on.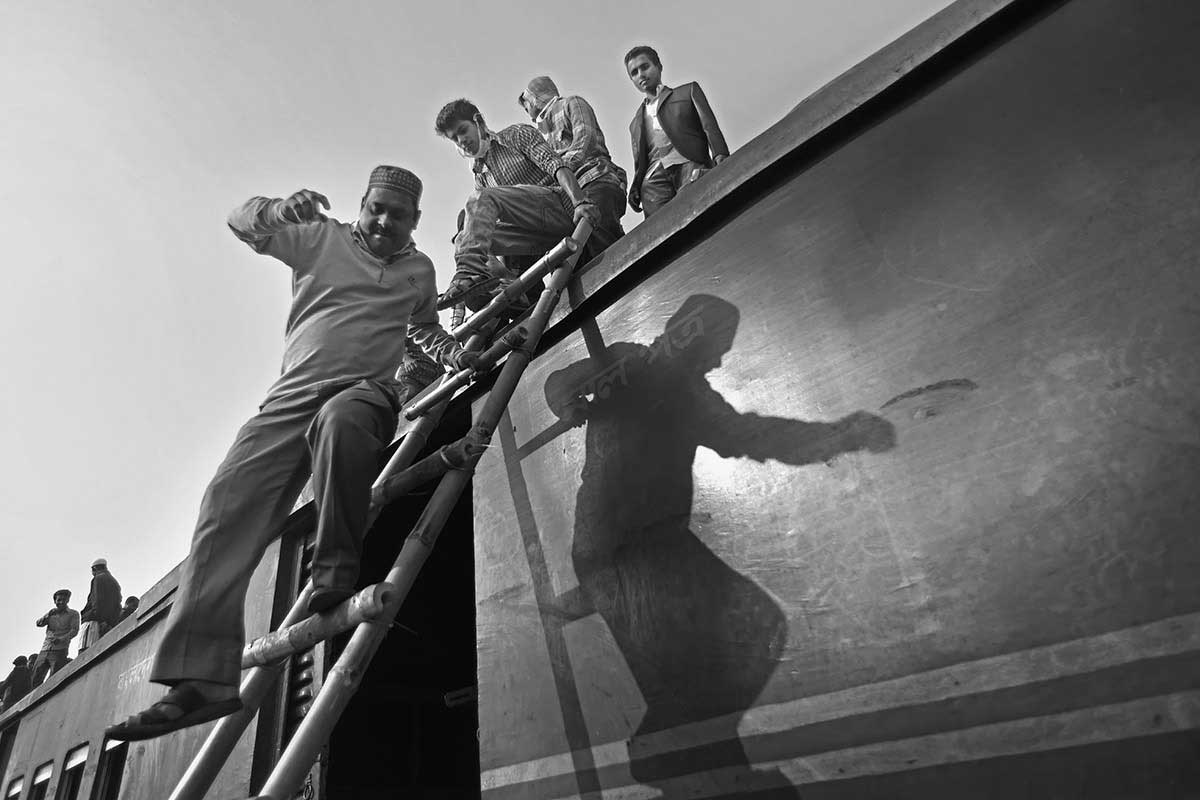 About Danny Yen Sin Wong
Taking good photographs from a scenic spot sometimes won't be easy, but to create great photographs from a dump site would definitely a challenge. Danny Wong from Malaysia, an international photographer has done it magically. A series of outstanding pictures that captured at the dump site situated outskirt of Cambodia has brought him to the fame of hall in international salon of photography, and begged him numerous of gold medals and international awards from various country inclusive a gorgeous gold medal of the world largest photographic completion – Trierenberg Super Mega Circuits 2014 and 2016. These photographs captured at the dump site where full of smoky and dusty air at all times. Patient and great observation needed to document the true lifestyle of the peoples who leave within the landfill with artistic skill of photography. An image tells a thousand words, a story and the emotion of the scavengers are brought out and presented to the world through his eyes of photography. A series of photographs taken in Bangladesh during Ijtema, had made him on the top in many photographic competition and exhibition worldwide and begged more than 20 gold medals. Photographs captured in Vietnam also put him on the stage of Siena International Photo Award as the Winner in Open category and also as the Winner of Trofeo Gipuzkoa in Spain as well as the Winner of Nikonians Photography Awards 2017, Commended Photographer in Sony World Photography Award 2017. To date, he has awarded 22 times The Best Author in international exhibition worldwide and has won more than 600 international awards and has conferred numerous photographic distinctions.
Danny uses to take up international assignment and frequently organize international photography trip and to lead photographers to explore exotic places such as Kenya, Tanzania, Ethiopia, Vietnam, China, Nepal, Cambodia, Malaysia and many more around the world. His multi talent of photography has made him awarded many photographic distinction and Star Rated photographer such as Master of PSA (Photographic Society of America), Galaxy 4 in Projected Image Color Division (PID-C), Galaxy 1 in Photo Travel Division (PTD), Galaxy 1 in Projected Image Monochrome, 5 Star in Photojournalism Division (PJD) and 5 Star in Nature Division (ND). Many of his works had been exhibited worldwide and as invited guest speaker, judge for many photographic clubs in the nation and various country. His great passion in photography has always made him "Never Stop Explore the World".