FRAGMENTS is a project within a project. Since 2020, I have been working on an installation project entitled DRIFTS DRIFTING PHASE II which will be presented at Espace PRODUIT RIEN in Montréal in April 2023.
The installation proposes a questioning of human and artistic drift, theme that I have been exploring since 2014. Adopting a critical and mocking approach on the relevance of the very essence of the art object, I also question the relevance of being an artist, and particularly, the relevance of being a woman artist.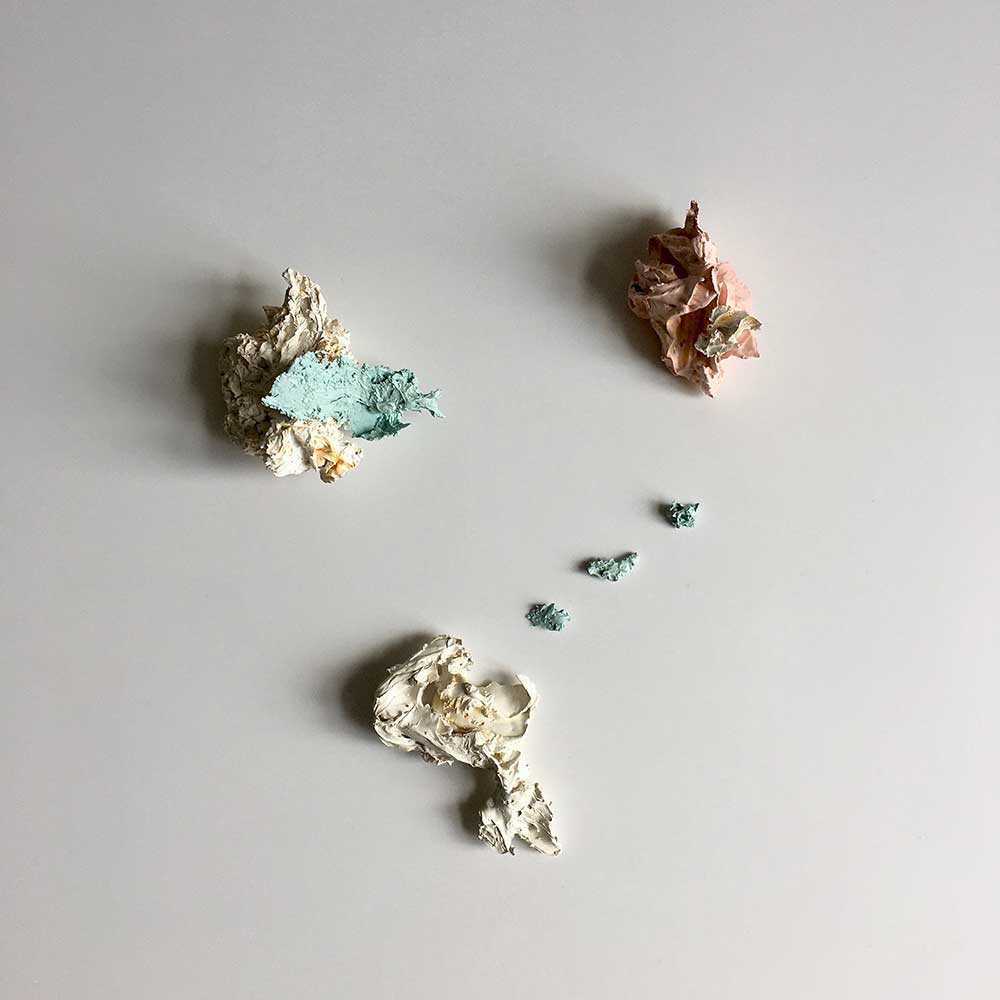 Composed of works elaborated with traditional mediums as well as found and recycled materials, the installation will be presented as a still life, three-dimensional, echoing a fragmented memory of multiple "self-portraits" of the artist and her art, adrift. The FRAGMENTS project is a series of digital photographic studies revealing "fragments" capture with my IPhone 6 Plus in the natural light of my studio and which are an integral part of the installation project DRIFTS DRIFTING PHASE II. One of the particularities of the project comes from a process where I work with oil in a three-dimensional way, like a raw material proper to sculpture. The ensemble proposes a poetry of colors, forms and combinations that manifest themselves through the particular relationship that I seek to establish between the practices of painting, sculpture and installation.
About Anne-Marie Giroux
Anne-Marie Giroux is an emerging visual artist living and working in Montréal, Québec, Canada. She received her BFA from Concordia University and is a provincial and national award-winning artist (Canada Council for the arts, Conseil des arts et des lettres du Québec, National Film Board of Canada, PRIM centre d'artistes). Her practice focuses on the visual arts, although previously she has worked primarily at the intersection of contemporary dance, performance-sculpture, film and art video. Giroux is interested in poetic expression which, beyond the specificities of pictorial or sculptural work, allows her to lay the foundations for formal explorations and then to transform materials into true visual poetry. At the heart of her artistic research, she is committed to establishing a correlation between – body, material, object, state of being and movement – what she calls the "body-matter". Her work is in private and public collections, including MONA, Museum of New Art in Detroit. In 2019, she was one of 52 finalists, selected from across Canada, for the biennial SALT SPRING NATIONAL ART PRIZE competition in British Columbia. Since 2013, she has participated in exhibitions in the cities of New York, Detroit, Miami, (USA), Montréal, Toronto, Salt Spring Island, (Canada), Zurich (Switzerland) and Gimpo, (South Korea). In 2021, she was selected "Artist to Watch" by the Berlin-based magazine ARTCONNECT. In July 2022, she was presenting FRAGMENTS, her first international solo exhibition at CICA Museum in South Korea. [Official Website]