Born in 1968 in Hà Tiên, a Vietnamese town near the Cambodian border, Dinh Q. Lê immigrated with his family to the U.S. at the age of ten to escape the Khmer Rouge. After studying photography and media art, Lê attracted attention with his tapestries made by weaving together strips of photographs, a process inspired by traditional Vietnamese grass mat weaving. Woven into this series of works are images chosen from among a variety of motifs including the Vietnam War, Cambodian ruins and Hollywood movies, with different images coming to the fore, depending on the angle from which they are viewed.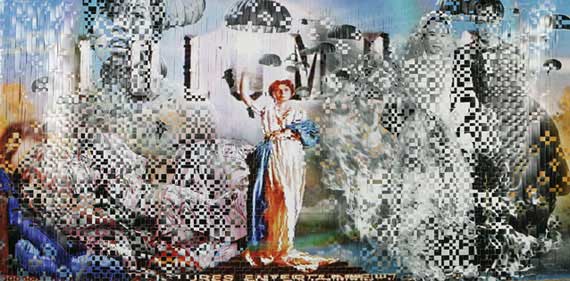 Based on thorough research and interviews, Lê throws light on history as it is told through actual personal experiences. In The Farmers and the Helicopters (2006), the video installation that made Lê' s name known to the world, Lê cleverly depicts the complex relationship between the Vietnamese people and war by focusing on a Vietnamese man who attempts to develop his own helicopter. Light and Belief: Sketches of Life from the Vietnam War (2012), presented at the previous documenta in Kassel, comprises 100 drawings and watercolors by former war artists together with a video that vividly recalls the youth these artists spent in wartime.
In today' s world where globalization is continuing and values diversifying, looking again at history from the stories of individuals who have undergone events whose facts have been overshadowed by "official" national and social histories is an extremely important issue. Through the unique artwork of Dinh Q. Lê, one of the most successful artists in Asia today, this exhibition explores new, more intimate ways of looking at the world and history.