In my first year as a photographer, I took impressionistic photographs of London using Cokin filters and various techniques to try to achieve that.
One lunch time while at my job as a temporary telephonist, I came across a book of the work of Rene Magritte. I found it intriguing and thought I would like to try something like that one day. That autumn, I signed up for an adult education class in photography and tried to emulate some of the more surreal advertising photography I had seen. Apart from darkroom facilities, there was a studio with six Photax 500w lamps and a 5 x 4 technical camera. The lighting was nothing like the large diffused flash I had read about, but I had to make do with these hard lights and some tracing paper to shoot my still lifes. I would sit and draw sketches of compositions and spend time trying to complete my photographs within the session of the lesson. I then began looking through many magazines and books as I could find. When it came to portraits, I found I could tell how it was lit by looking at the catchlights in the eyes and the strength of the shadows. I could make out the shape of an umbrella or softbox and the reflectors. I used type 55 Polaroid film and would shoot two sheets of transparency film as finals and take it to the lab. I would have one developed, then have the other pushed or pulled, depending on the exposure of the first.
I also signed up for an evening course at the London College of Printing (later known as London College of Communication). It was in the library there that I came across the book, Foxy Lady, by Cheyco Leidmann. A lot of girls in Lycra, saturated colour and surreal things happening. Very eighties. I only truly liked about five pictures but I admired the colour and the fact that there was something strange or odd in each picture. I studied why his pictures were so colourful and came to the conclusion, it was because he used colourful clothes and objects and set his scenes with a blue sky as backdrop and he always used flash. That use of colour I would, carry with me.
I was searching through books of illustration and advertising, looking for ideas. I came across a yearly annual called Modern Publicity. It was there that I came across four or five pictures by Guy Bourdin for a Charles Jourdan shoe campaign. I remember the shape of a man in a bowler hat cut out of mirror. It was very Magritte.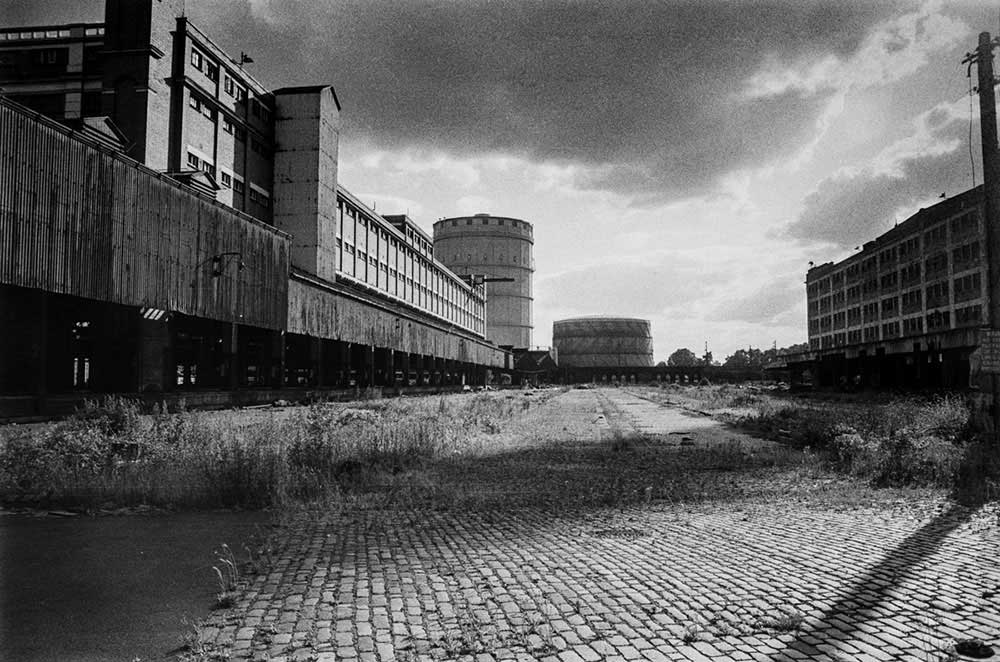 At Easter, I found myself on the banks of the Thames at Vauxhall. Instead of going down river towards the Houses of Parliament as I would normally have done, I turned up river. It was then that I discovered the disused goods yard and the three derelict buildings next to Battersea Power Station. I climbed over the broken-down fence and decided it would be a good place to take some pictures but not yet. I first went away and came up with some ideas.
Here some pictures from my first two years: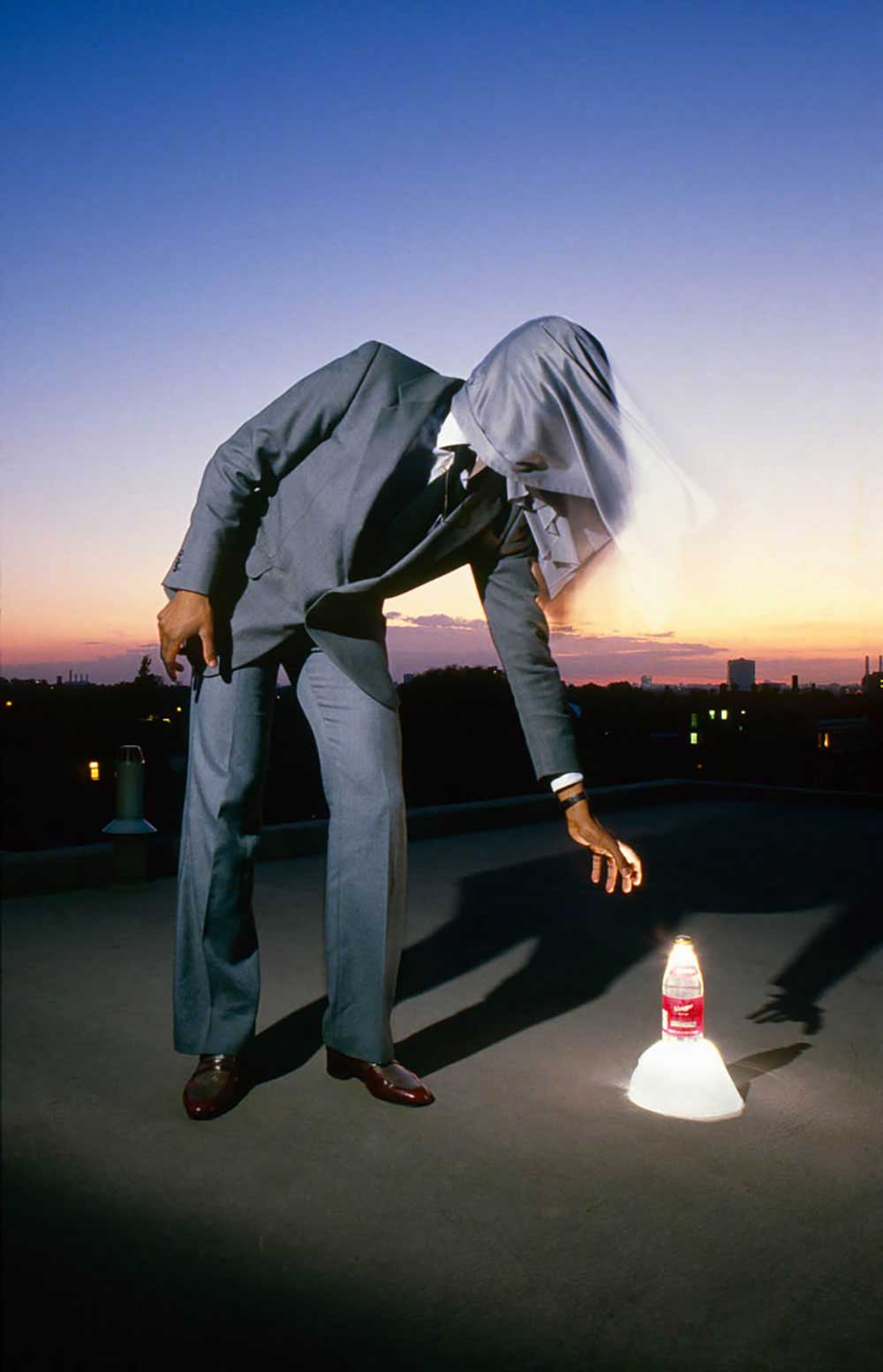 In June, just before I turned 23, I started taking the first shots. They were on the rooftop across from where I lived. Without anything as sophisticated as a flashmeter, I had to learn the technicalities of shooting outdoors with flash and often using myself as a model. I think I had seen a picture of a girl on a beach picking up an internally lit shell, so for my first shot I thought I would do something similar. I lined a glass bowl with tracing paper and put a small flashgun under the upturned bowl and a bottle on top. For the exposure of the main flash, I had to go by the guide numbers on the back of the flash. For the sky I probably took a reading through the camera and double the length of the exposure. I then donned my Magritte veil, set the self-timer and got in position. This type of shooting was all new to me and I could only know if I was in the right ball park after the film was developed.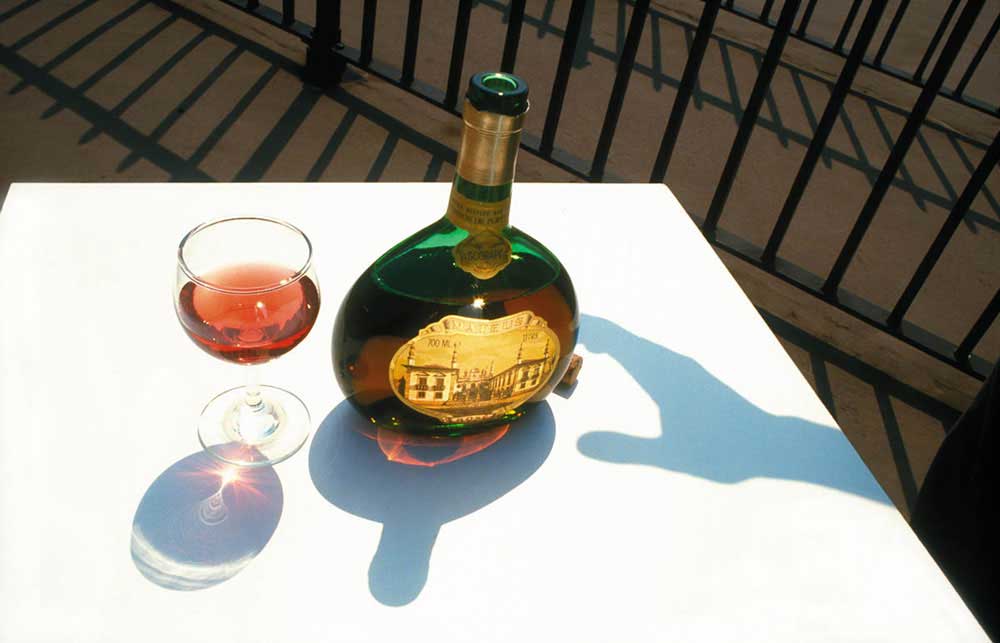 I wanted to produce a commercial looking portfolio, and to that end I decided to include some product shots as well, hence the bottle of wine. I liked the shape of the bottle. I shot it about six feet away from the first picture. It was the first time I had used shadows deliberately in my photographs, and it is a theme I have used on and off throughout the years ever since. I went on to do a series with the bottle and the shadow of a hand reaching for it. 
The third picture I took, was a ground level image of me standing on one leg reaching for a Pollack pattern shoe. I turned that into a series as well. It later won me a Vogue award for young photographers. I took all three pictures on the same roll of film and they set the style for all the pictures that came after.
At the time I was pretty poor and although I was not starving, I had to eat less to afford film. To cut cost I decided to buy bulk film and develop it myself. My local camera shop sold a transparency film called Barfen. They told me it was made by Fuji. I assumed it was just rebranded Fuji film. It was a couple of years later when I shot Fuji Provia that I realised the difference was vast. Still, I got good colours from the Barfen and art directors would frequently remark on the saturation of my shots and marvel that this was London. I would fill my kitchen sink with warm water and develop it in that. It was four different baths and the water temperature would drop, it took so long. When I pulled them out in nervous anticipation, they would appear all milky at first and clear as they dried.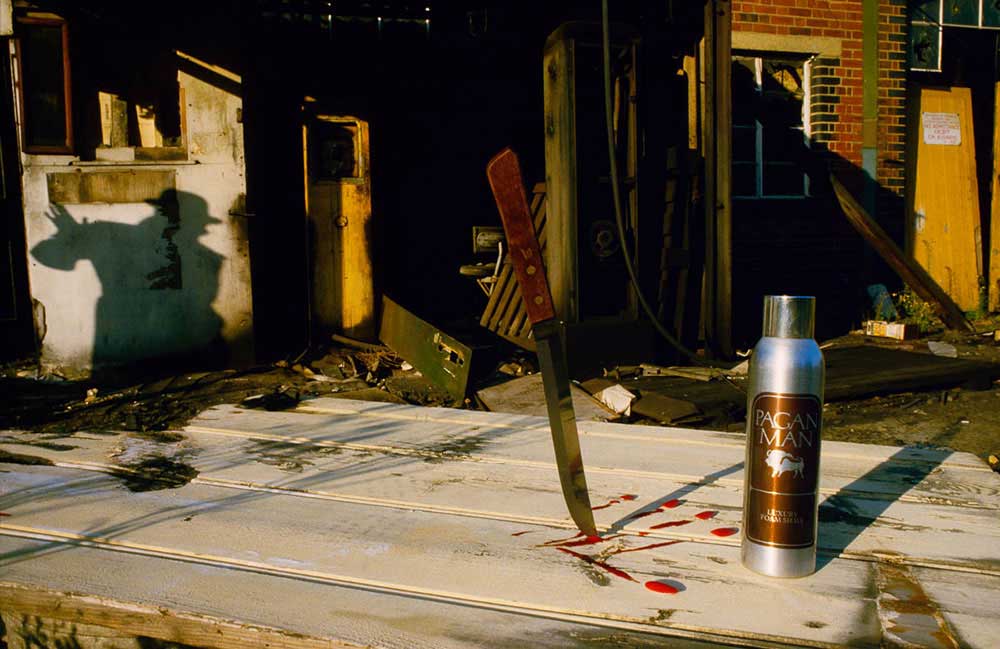 When my parents left the country and went back to Grenada, my dad left me a half empty bottle of shaving foam. Looking for an object to photograph, I chose it because probably the name appealed to me. I shot it on the waste ground next to Battersea Power station. If it was a sunny day, I would take off for the location in the early evening. The low sun would produce long shadows and I decided to make use of that. I bought some fake nails and fake blood, set up an old door on some drums and snapped this stabbed hand reaching for the bottle. I used a 28mm lens for this and took the majority of my pictures on 28mm for many years after until I discovered the zoom lens in 2009.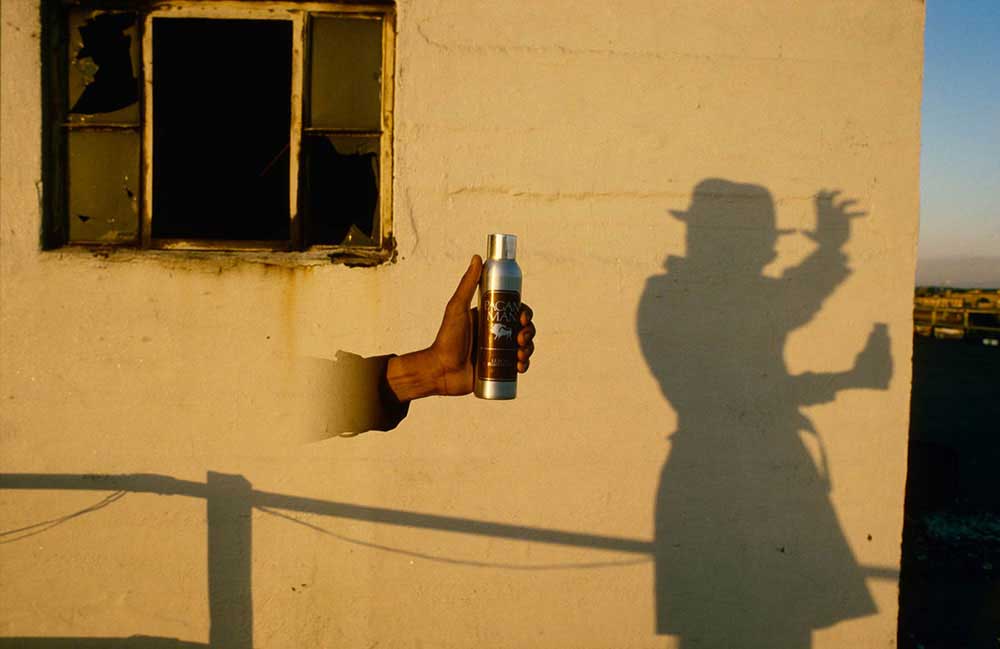 It took me three weeks to take this picture. Although it might be sunny, the sun would be veiled by thin misty atmospheric conditions when it became low enough to cast the shadow. The shadow was not strong enough, so I had to wait it out. Meanwhile I was taking other shots as well.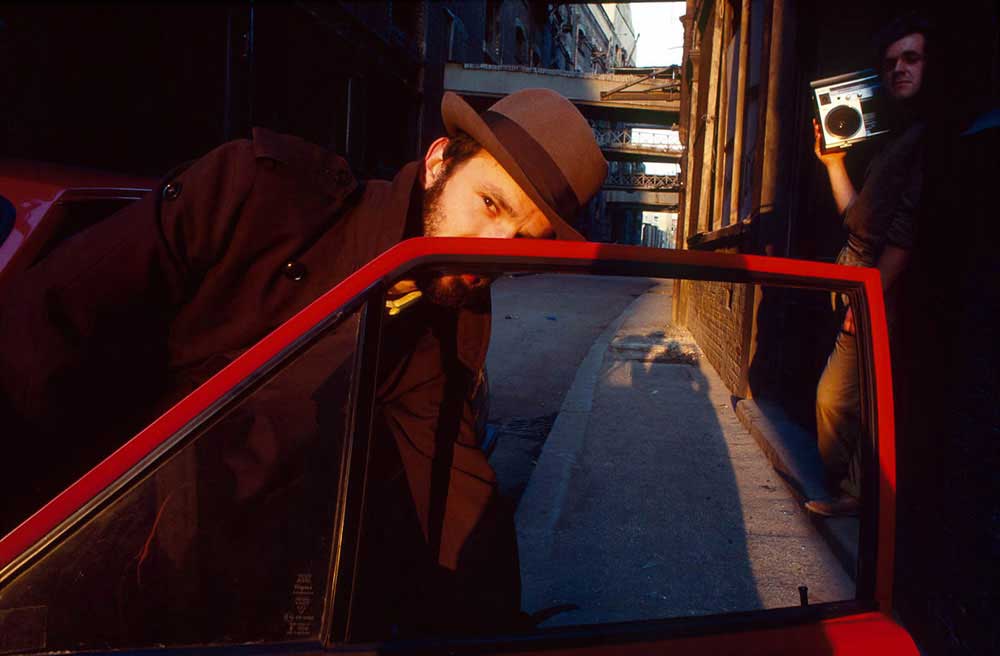 I shot this at Shad Thames next to Tower Bridge. It was a narrow road with boarded up derelict warehouses both sides. Nowadays the warehouses have been turned into shops and businesses and it is busy all the time. The models were students from my London College of Printing evening class. During my early years I would crop out faces or totally or partially obscure them. And this is what I did in this picture. I was always aiming for a certain kind of tension.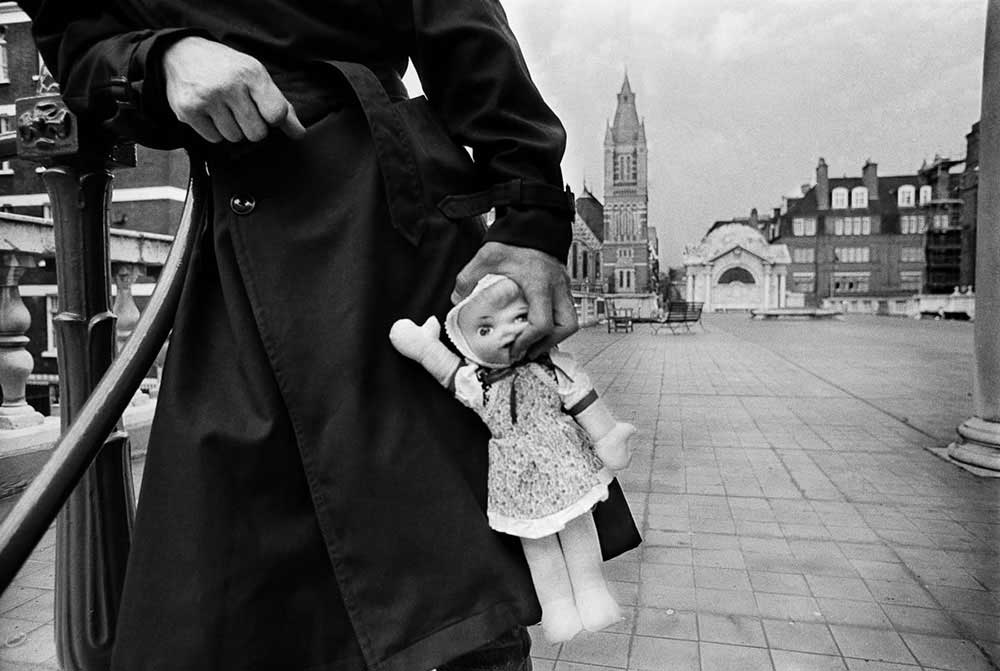 This one is called The Molestation. I like visiting shops that sell cheap nick-nacks to find props and it was there that I came across this cheap doll. I was not sure what I would use it for but brought it home. Messing about with it, I found that squeezing the face made it look unsettling. It was like an act of violence. I found this raised square in central London and took several pictures there that day, this being one of them. I did not notice it at the time but the church steeple in the background seems rather phallic in the context of the image.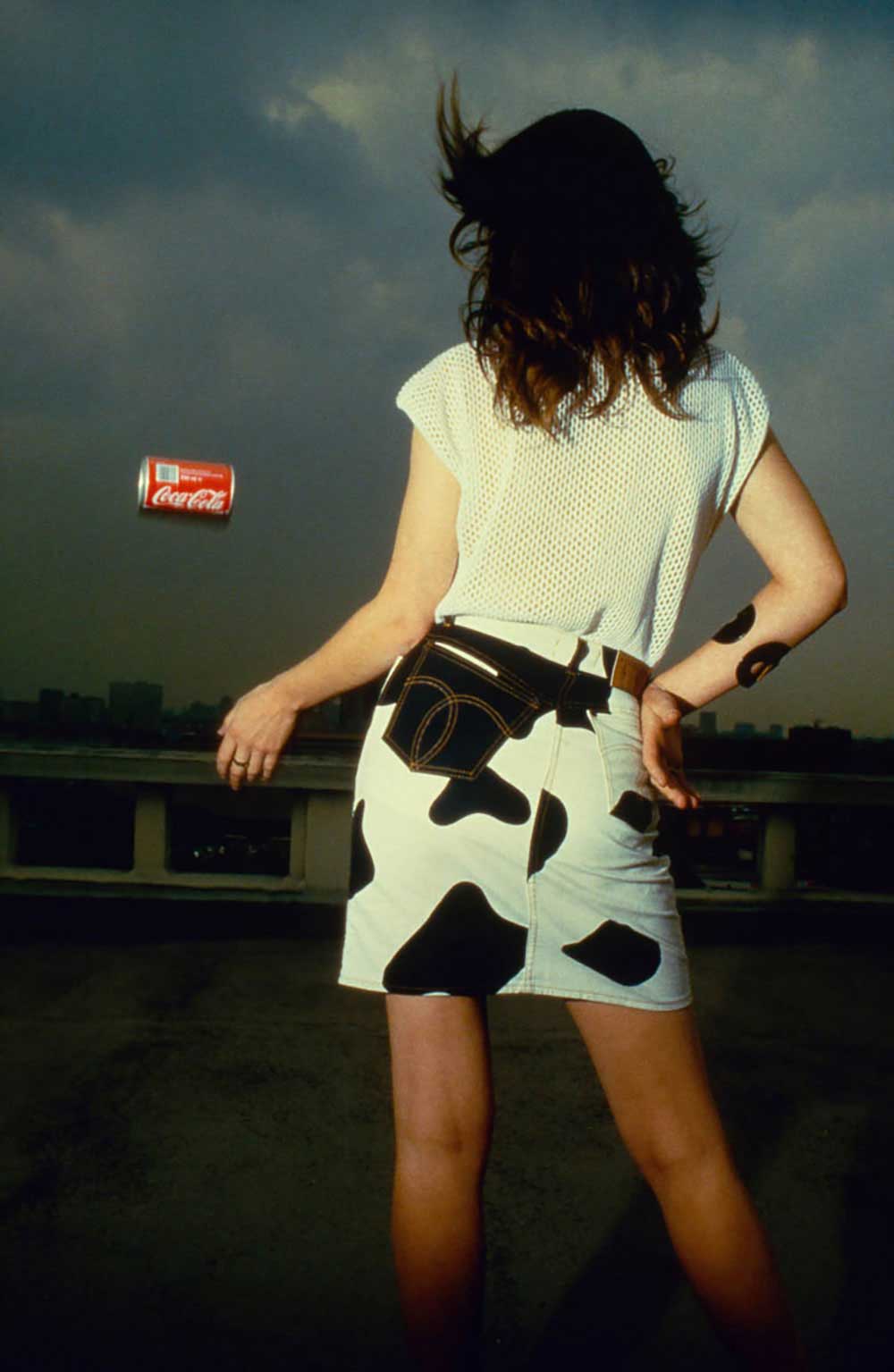 I started borrowing clothes from Fiorucci, a popular international chain of shops in the 70s and 80s. The day became overcast and I got the model to throw up this Coke can in the air. It was the first time I shot flash in daylight.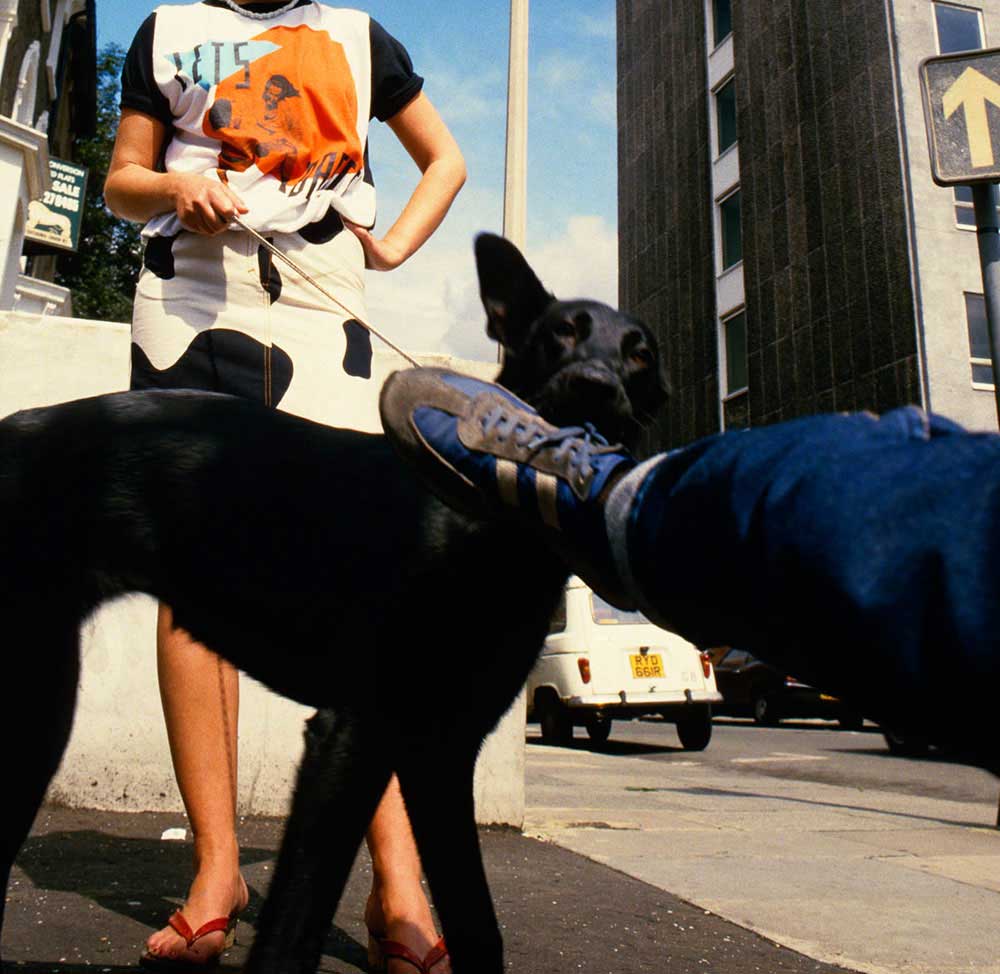 Yet another model from a photography course. I wanted to shoot her and she was looking after her friend's dog. I wanted to photograph it from a low angle but it was distracted, so I offered it my shoe.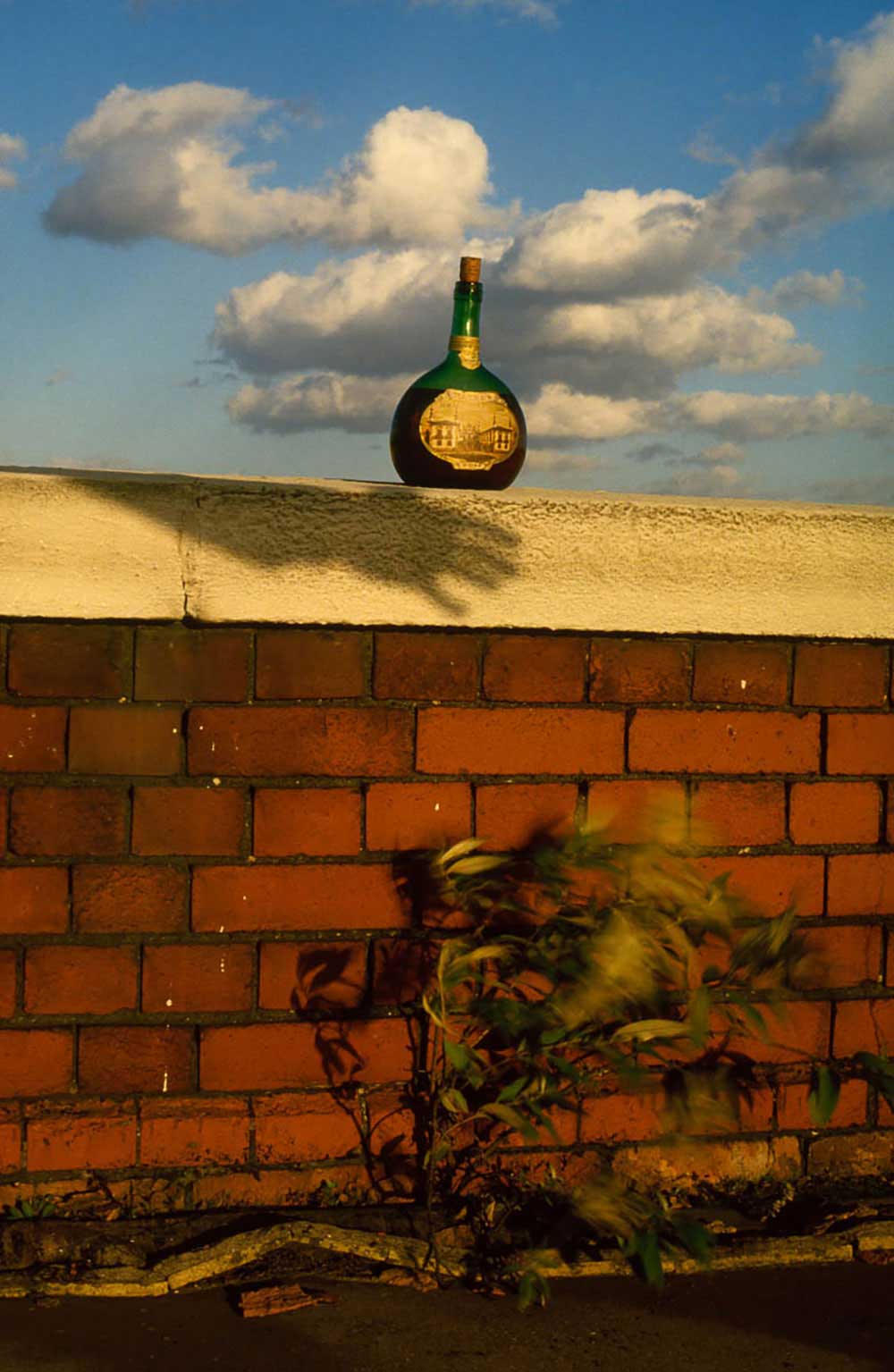 This was the last in the series I did of this bottle. It was early November, fresh and bright. I saw the little bush and placed the bottle above it. I used a polariser and a neutral density filter to blur the leaves and as I was setting up, I could see the cloud coming. I waited for it and quickly took three frames. The clouds reminded me of Magritte. It was in my first portfolio and I went around to see some advertising agencies. A few months later while taking the tube, I saw a large poster across the tracks of a shadow of a hand reaching for a pint of Guiness on a low wall. It was evidently shot in a studio though. I had seen several art directors at the agency that held the Guiness account. I was not pleased.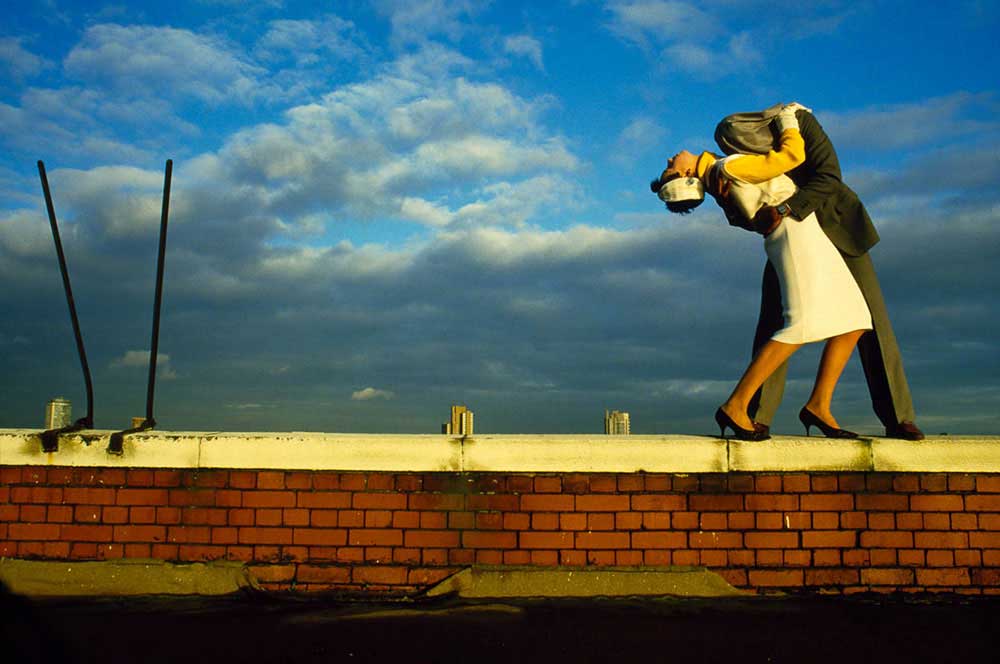 A student on one of the courses I was attending had a 15 year old daughter and I wanted to photograph her. Her mum came along. We climbed over the fence of my outdoor studio next to Battersea Power Station and up the rickety stairs to the rooftop. I had the idea for the pose but did not know where I was going to take it. I shot two setups before this and during the process came to the conclusion it should be on the wall. The sky was clearing up after a heavy downpour. I setup the camera and posed on the wall with her and got her mum to press the shutter at the correct moment. It was not as dangerous as it appears to be because the rooftop was at two levels and there was only a 13-foot drop to the lower level.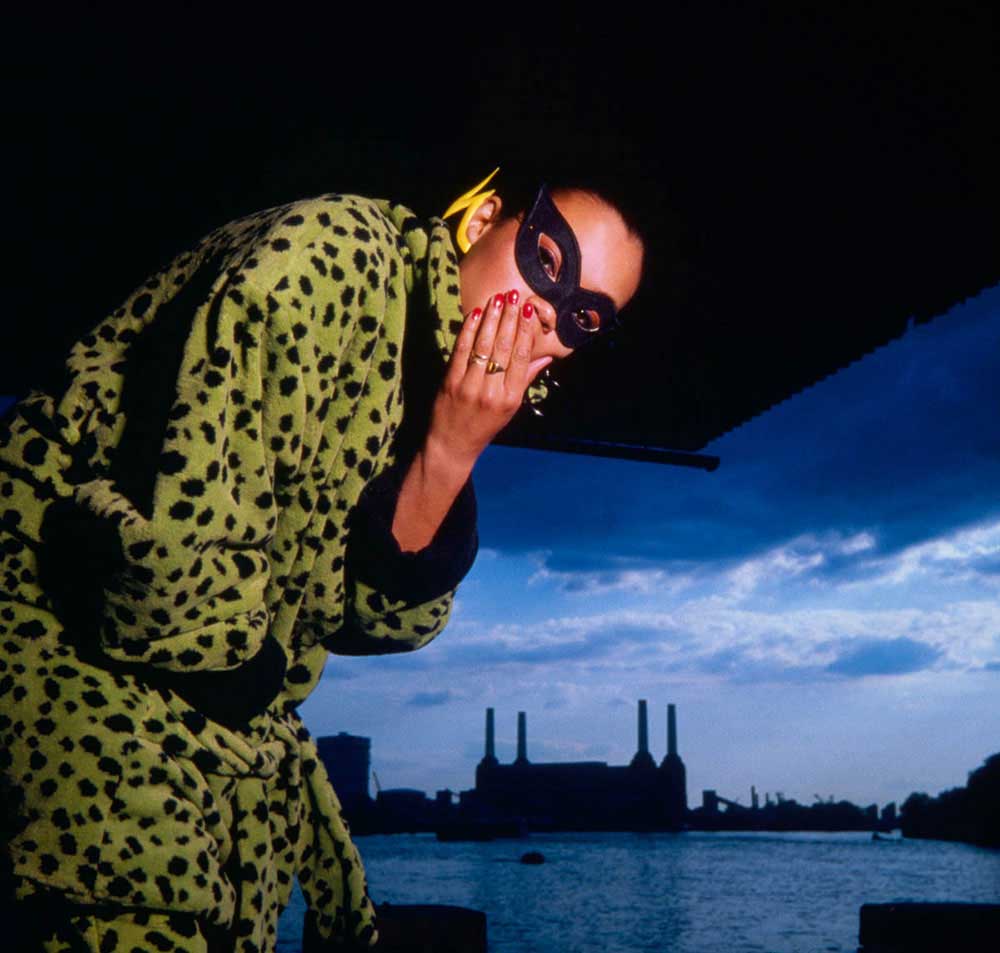 The next year I borrowed some of Fiorucci's new collection and contacted a couple of model agencies to do test shots. One of them specialised in glamour ≠ that was the body type I preferred. The first time I attempted this shot, on a jetty with Battersea Power Station in the background, my second-hand Hanimex hammerhead flashgun blew up with a bang. I had received a tax rebate and went out and bought a more powerful Metz CT-60 for just over £200. I also bought a brand new Russian Lubitel medium format camera for £13. This was the first time I shot tungsten film and filtered the flash with a complimentary 85B filter. For exposure, I was still going by the guide number on the back of the flash. The only trouble was I wasn't a good judge of distance. I would ask the models how far from them they thought the flash was and they did not know either. In all that time it never occurred to me to bring a tape measure. Another thing I learned on this occasion, was not to place dark hair against dark backgrounds without backlighting.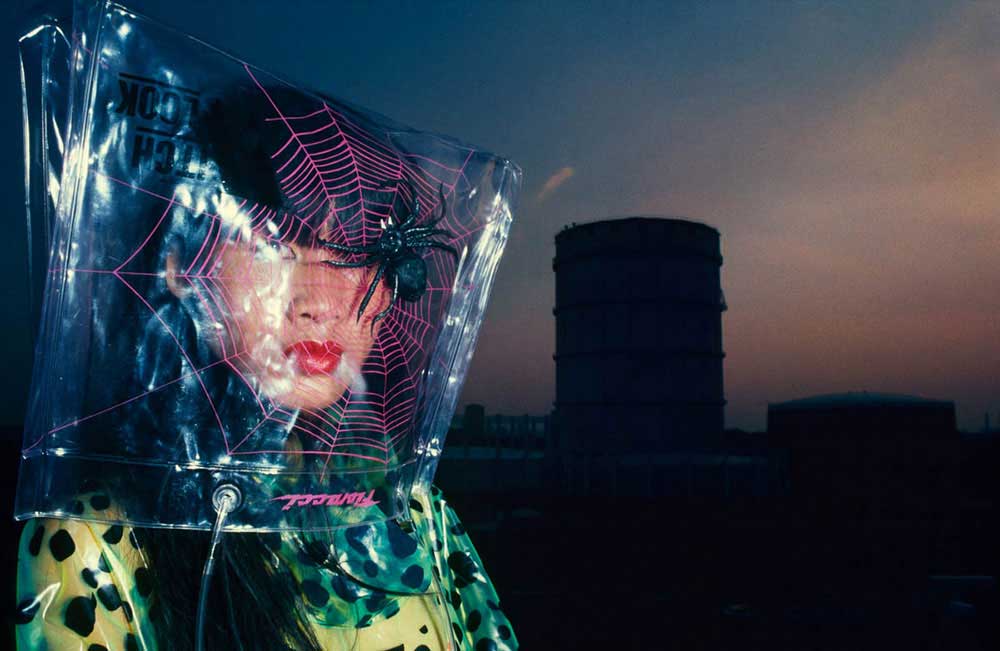 When I came across this unusual bag at Fiorucci, I started to wonder how I could incorporate it in a photo. What could I put in it to make it an interesting part of a composition. I took it home and started handling it, which I do with a lot of my props, as it helps me to concentrate. I at last stuck my head in it in front of the mirror and for me, that was the picture. All I needed was a backdrop.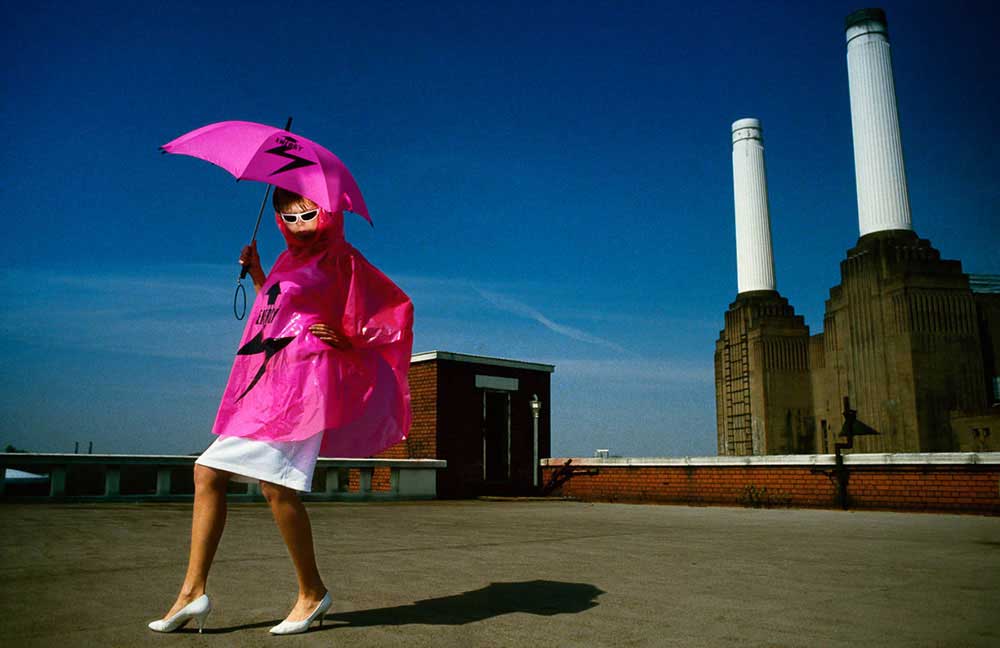 I had a selection of three rooftops next to the power station, all of which I used. This was the closest one to it. I had bought a mirror as a prop and found I was able to throw light with it also. A policeman came along and threw us out. Apparently, people would steal lead from the roofs and sometimes commit suicide off them. We moved to a new location. It was a red-letter day for me because it became the first time I shot a topless picture.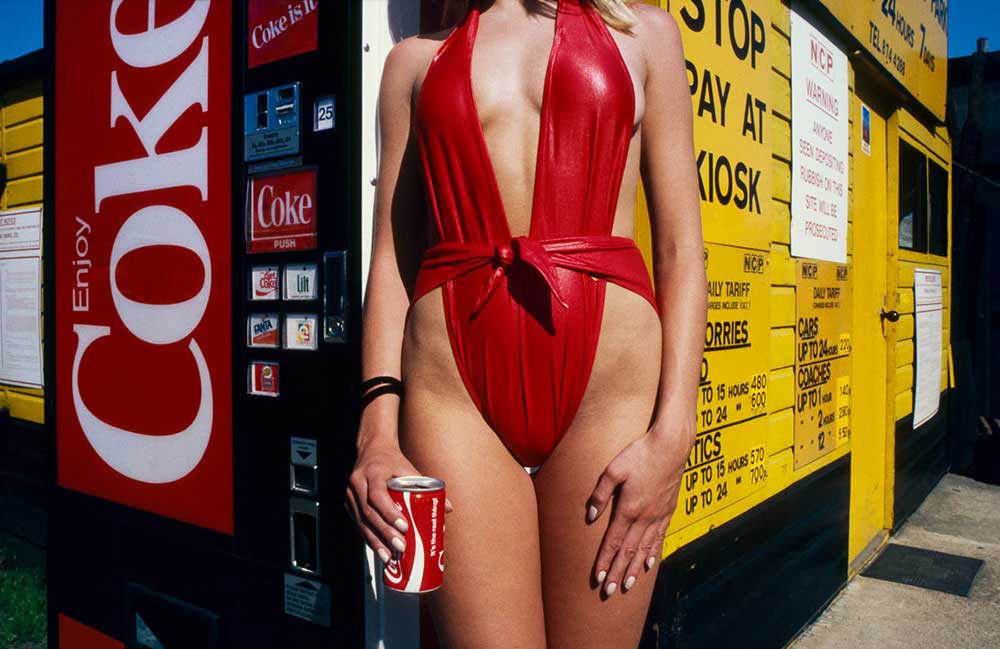 On clear land next to Vauxhall Bridge was a carpark. I like the red and yellow colour combination and got the model to stand in front of it. I shot some pics with her face for her portfolio but this is what I wanted. A headless body almost standing to attention.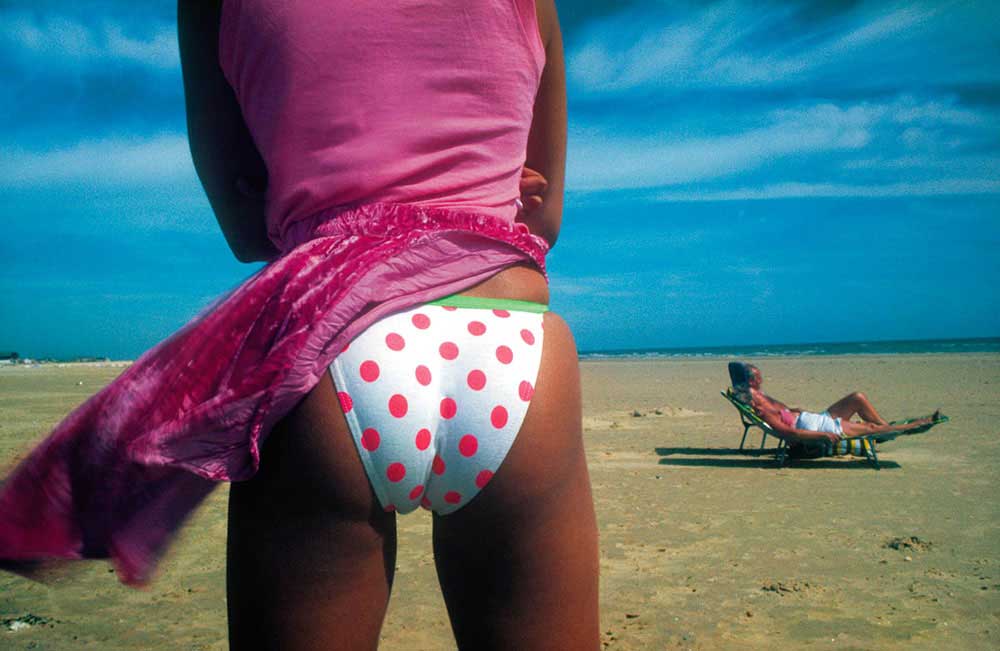 I contacted this model through an agency and she lived near the sea on the south coast. I thought a trip to the seaside would make a change and caught the train down to Camber Sands. It was windy and there was a lot of sand blowing about. In fact, there is still sand in the rotating mechanism of my flash to this day. I saw the retired couple sunbathing and thought it would make a nice shot. Just had to slow the shutter speed enough.
It ended up as the cover of a photographic magazine. My first ever cover. The reporter came to interview me and did a portrait of me with my very distinctive portfolio case. It was clear Perspex and had pictures of Jesus on the front and the Virgin Mary on the back and my name underneath. When it was published, I walked into a tube carriage carrying the case and there was a woman reading the magazine. She eyed me and I became very self-conscious. People used to stop me to admire the case. Especially the Irish – they love their Catholic kitsch. In the end, I bought a tartan bag with a shoulder strap in which to carry it.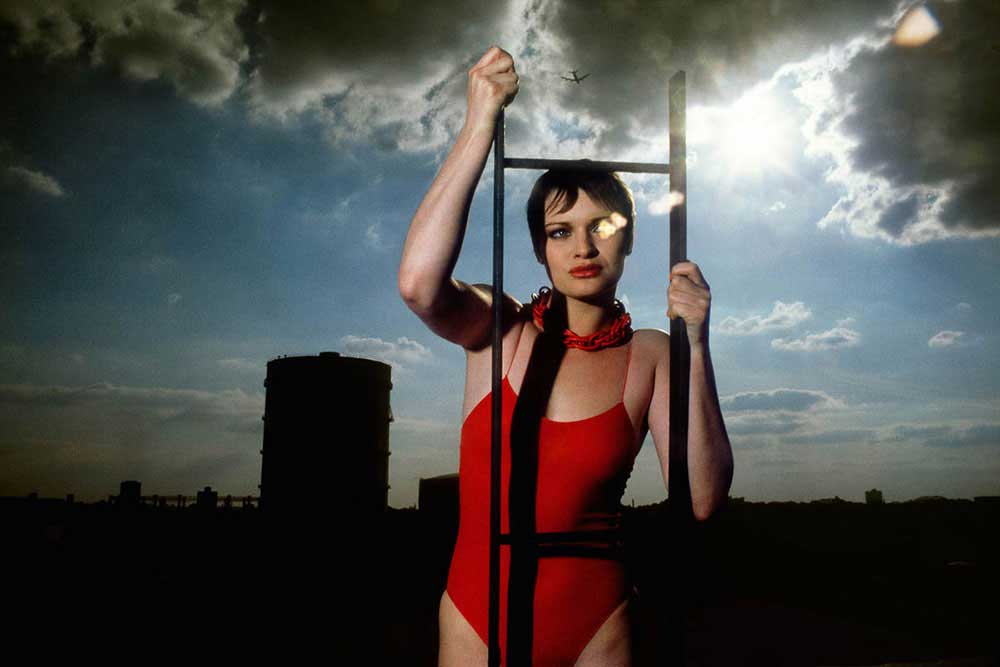 The thing about shooting outdoors is you can get some unplanned happy accidents. It could be an interesting cloud formation, a bird flying through the frame or whatever. In this case it was the lens flair over one eye. The location was under the Heathrow flight path and I waited for the plane but never saw the flair. I would have done if I had used aperture preview but I did not. When it came out of the developing tank and I saw it, I was delighted as it fit into my then style of wholly or partially obscuring faces. Later that afternoon, I shot a nude of her in a doorway, which was the first nude I ever shot.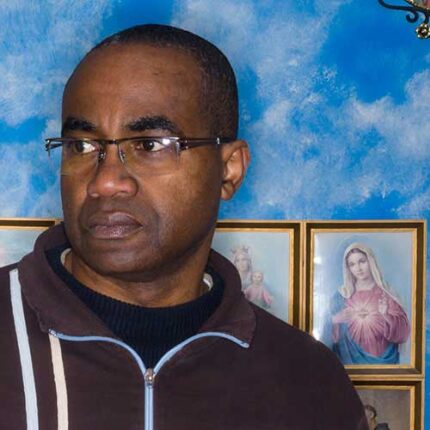 Alva Bernadine makes photographs and films. By using themes such as surrealism, sexuality and violence, Bernadine touches various overlapping topics and strategies. Several reoccurring subject matters can be recognised, such as mirrors, shadows, optical effects and representations of the female form. The work is filled with invented surreal scenarios, witty events, troubling scenes from movies that were never made and almost hallucinatory images that invoke narrative, prompting you to imagine what came before or what is about to happen. They are not only about desire but the problems that go with it. Bernadine was born in Grenada, West Indies and grew up on the outskirts of London. He won the Vogue/Sotheby's Cecil Beaton Award as a young photographer and has since worked for many prestigious magazines and became Erotic Photographer of the Year for his first book, Bernadinism: How to Dominate Men and Subjugate Women.