Food provides nourishment, supports social ritual, and expresses environment. A shared meal reveals tradition and offers opportunity for discourse.
Personal electronic devices have modified our communal experiences by assimilating onto familiar surfaces. As a direct tap into the evolving world, they help expand our knowledge and facilitate daily life—their universal form and function has become ubiquitous.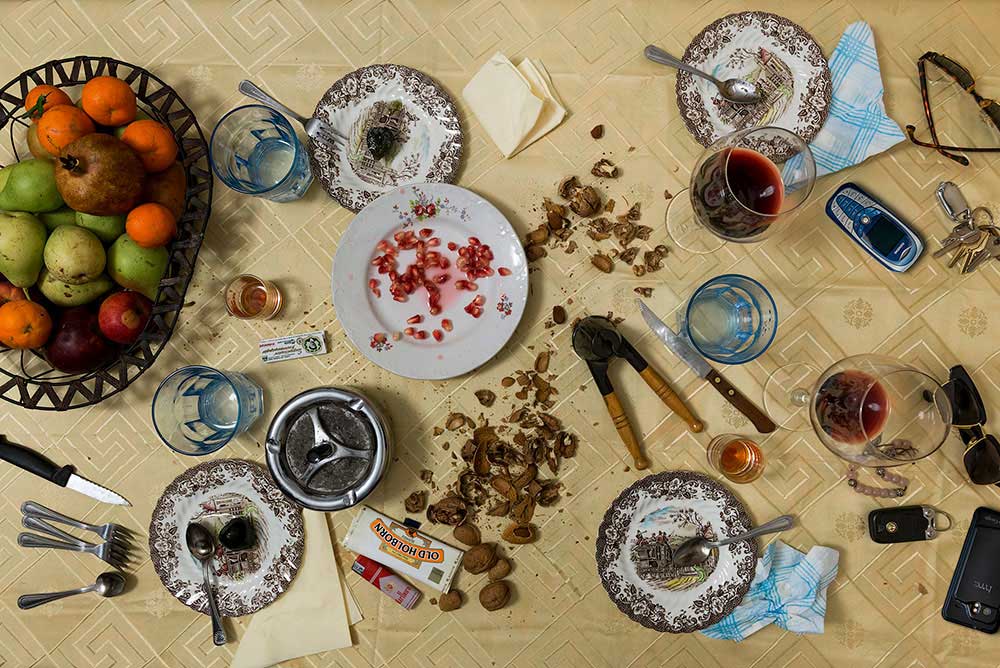 Raised in a Greek household, my mother fervently emphasized family bonding during meals. Regardless of occasion, her homemade dishes and ritual dressing of the dinner table reflected dedication around moments of togetherness and reflection. Since that time, a new etiquette of exchange has emerged via smartphones, one of intermittent conversation comprising momentary disengagement into self-imposed bubbles of distraction.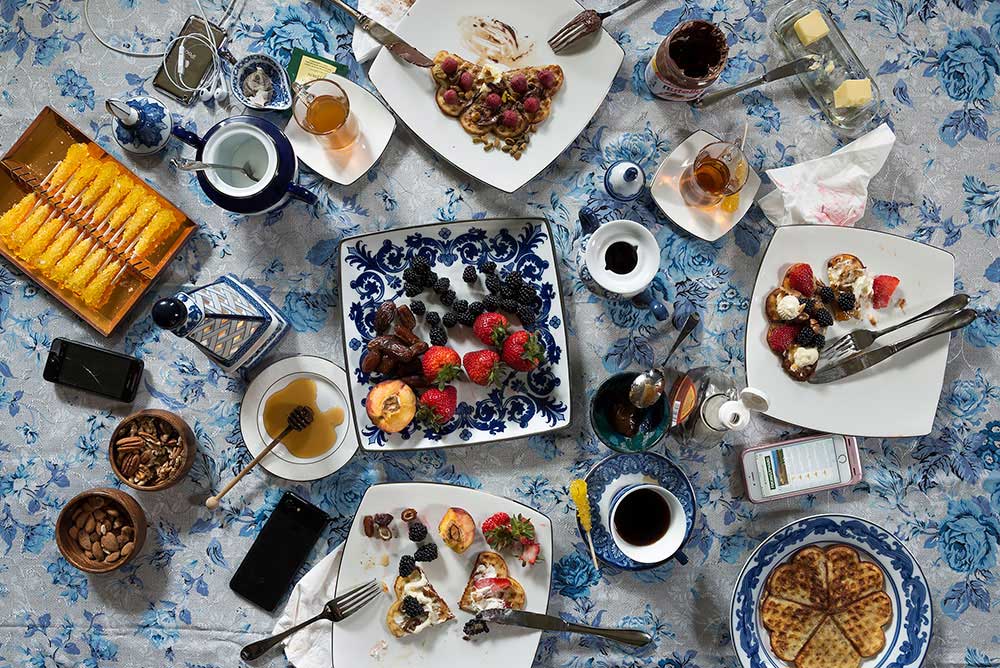 This modern paradigm has become customary and is particularly observed on time-honored surfaces where we traditionally break bread. Evoking Dutch Golden Age still-life as inspiration, Conversations contemplates the eternal vs. the fleeting through technology's implications on human interaction and its impact upon memory. As contemporary counterparts, these shared meals with friends and family throughout Europe and America celebrate intimacy and culture discovered at the table, while representing today's frenetic, always-connected epoch of instant gratification. While we may relate to these tables as both hosts and participants, I'm intrigued by how our perceptions of networking impact our presence in social spaces.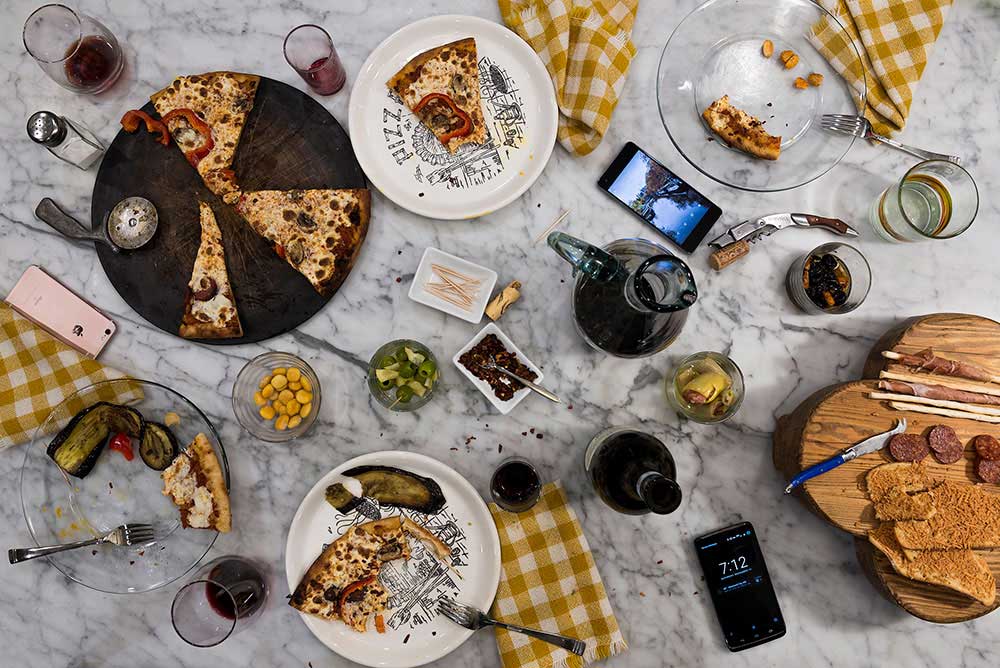 About Christos J.Palios
Christos was raised as a first-generation Greek-American, a son of immigrants. These two distinct cultures forged his personal and creative evolution. Socioeconomics, culture, history, and architecture fuel his intellectual and emotional intrigue, while the artist's photographic work probes themes of identity, connection, nostalgia, and isolation. He says about his practice:
The nexus between an evolving sensibility and a dynamic world is the will to perpetually explore new terrain. We live in hurried and frenetic societies broadcasting endless stimuli, inundating our waking lives and shaping our beliefs—an exponentially-hijacked 21st-century mindset. This endless tangle of information obligates us to discern truth from fiction, tasteful vs. boilerplate. Photography's remarkable capacity to communicate ideas and narratives inspire me to embody insight and intent within the frame. My ambition is to make relevant and stimulating photographs reflecting evolving perspectives, while expressing ingrained, palpable awareness.
The artist's springboard originates in the visual arts, consummated by a BFA from the University of Maryland. Since 2006 he has pursued fine-art professionally, having collaborated with a diverse array of professionals, including designers, consultants, advisors, dealers, and galleries in residential and corporate arenas nationwide. Christos is represented by and works with galleries throughout the US. He is a Sondheim Prize and Critical Mass finalist and was shortlisted for the Athens Photo Festival. His photographs have been exhibited at venues such as Baltimore Museum of Art, Grimaldis Gallery, Candela Gallery, Tew Galleries, Isabella Garrucho Fine Art, Blue Sky Gallery, Houston Center for Photography, Center for Photographic Art in Carmel, Colorado Photographic Arts Center, among others. Christos' work resides in private and corporate collections throughout the country and abroad. He has also been published in Musée Magazine, Prix de la Photographie de Paris, Lenscratch, F-Stop Magazine, International Photography Awards, BmoreArt, and the Baltimore Sun. [Official Website]