Chicago is, famously, America's "Second City", a reference to the inescapable hegemony of New York in our national imagination: the greatest urban achievement of the 20th century. But that same mythos embraces Chicago as someplace more "real" than the rest, somehow; it's the place where the genuine work of America is done, by its stoutest-hearted and sturdiest citizens. (As if make- believe stories of bravery and love, or the advertising images that sell all that to the world, were not the products of our essential genius, and LA and New York were not the purveyors of those).
The great observers of the last mid-century—Mencken, Algren, Mailer, Mamet, among them—all agreed that stoutness and sturdiness, that physicality, that bruised-forearm, muscle-flexing quality, was the essence of Chicago's character, and was made manifest in its rough-and tumble neighborhoods, its corrupt politics, its murderous gangsterdom, its steel-ribbed skyscraper trade, built by determined men of great will. Chicagoans even changed the course of a great river, to suit their civic need.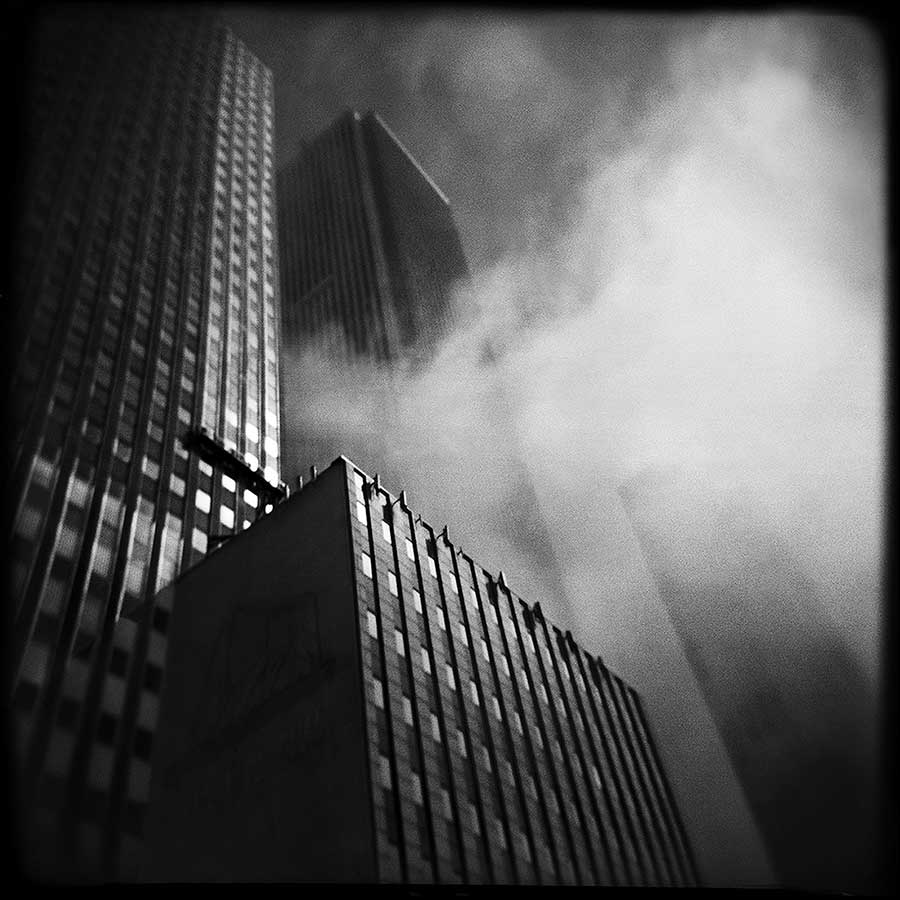 In an age long before outsourcing and internet and service economies, Carl Sandburg recited Chicago's workaday preoccupations, acquitted in every case by hard men touching, grabbing and lifting great weights of iron or flesh, cutting and shaping, pounding and breaking, in mists of blood and spark and roiling water:
Hog butcher for the world,

Tool maker, stacker of wheat,

Player with railroads and the nation's freight handler;

Stormy, husky, brawling,

City of big shoulders.
As a photographer of urban landscapes, my purview is the topography of those artifacts Sandburg swooned about: the bridges and rail stations, the mercantile exchanges, the blocks of buildings and the contested little spaces between them, down at street level, where taxicabs and graffiti artists and pedestrians make their darting moves. I am not alone in wanting to picture layers of information, receding from the camera lens or stacked one atop the other in my frame—it's a tenet of the photo trade, this complexity of stuff and incident jamming our images—and, at that, Chicago is a street photographer's dream. Downtown, the trains are always in motion above, and their elevated tracks plunge down into every other picture, bisecting and dominating the composition.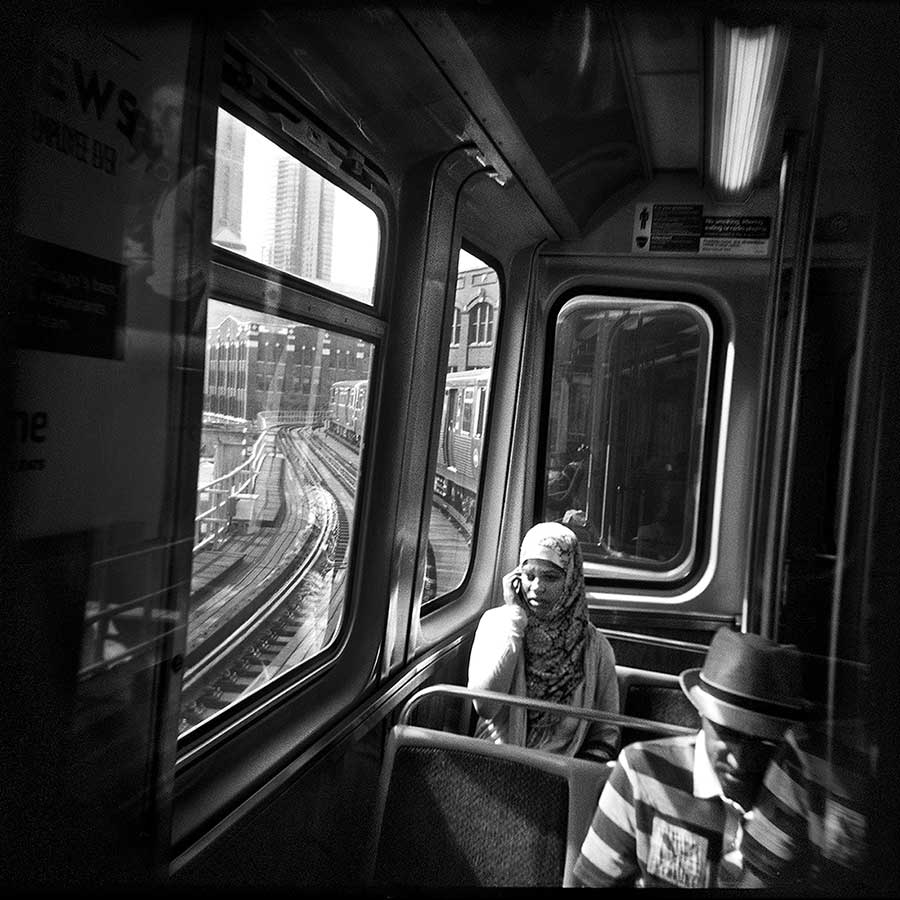 Looking toward any horizon, one's view includes tall, distant buildings beyond smaller, closer ones, and neon signage and moving traffic nearer still. And, at arm's length—looming in the foreground of the shot—are all the jutting nuts and bolts of the city's infrastructure: phone poles, street signs, wastebaskets, wrought iron, fire escapes, fences and pillars and wires and chain. Layers beyond layers! [Official Website]

I made these photographs in the neighborhoods of Chicago in 2012 and 2013, using plastic Holga cameras and medium-format black-and-white film.