Winner dodho awards – Traveling with art 2013
The first time I smelled developer was in 1985 when I was memeber of National Sport Center (Parachuting) in Lučenec. With the tiny Smena 8M camera, I was trying to capture my parachuting colleagues when descending, jumping out of a plane, or even during the free fall. Burning glass and red light became my loyal friends. Later, with the switch to colour film, I, in turn, became a friend of photo labs.
In 2001, I switched to digital and after numerous changes of hardware I remained loyal to Nikon DSLRs and Olympus mirrorless. Paradoxically, this change led to a gradual return to black and white photography and a classic photo film. It started with 'ordinary' black and white street photos, and then along came karate, landscapes, and infrared photography. Genres that I specialise in are simultaneously my hobbies – karate, skiing, backcountry skiing, scuba diving, mountain hiking, and travelling.
In the 2012 I founded Imavision Gallery (http://www.imavision.sk) – the very first gallery in Slovakia focused on photography art only. Imavision Gallery specialises in the producing and selling of photos that are designed for interior decoration. We represent Slovak photographers who specialise in interior photography. Our gallery doesn't features thousands of works, but quality is what matters to us most.
The photographs of authors, whom we represent, can be found in our gallery in Bratislava. Moreover, we organise several exhibitions a year in order to introduce their work to a wider audience. We cooperate with architects and interior designers as well as other professionals working in the field of interior design and design for various clients. Moreover, we organise several exhibition openings a year, where we present new works of art by our 'resident' photographers or the works of new photographers.
In February 2012 I had the exhibition "B&W 16:9"  in PRO.Laika Gallery. I have written into my CV for this exhibition : "Today, I work almost exclusively in black and white. When taking a black and white photo, I don't need to care too much about balancing the white or about colour profiles in printing and I can enjoy the actual process of taking photographs much more. Black and white photography is in fact quite liberating" My son, Michal, has evaluated it in another  way: "You could have simply written that you are lazy."
Already in this exhibition, there were many photographs taken  using Infrared camera. Because B&W IR not only sets me free. B&W IR also provides another point of view on the world. It discovers structures and shapes, which are hidden in classic B&W photography. And, what's more, IR is even more tolerant to lazy photographers than B&W. I have started with usual Infrared genres and compositions – landscape sceneries, in which cloudy sky, water and solitaire trees couldn't be missing. I became a hunter of "IR weather." Step by step I was bringing in other elements – vehicles, buildings and especially – people. [Official Website]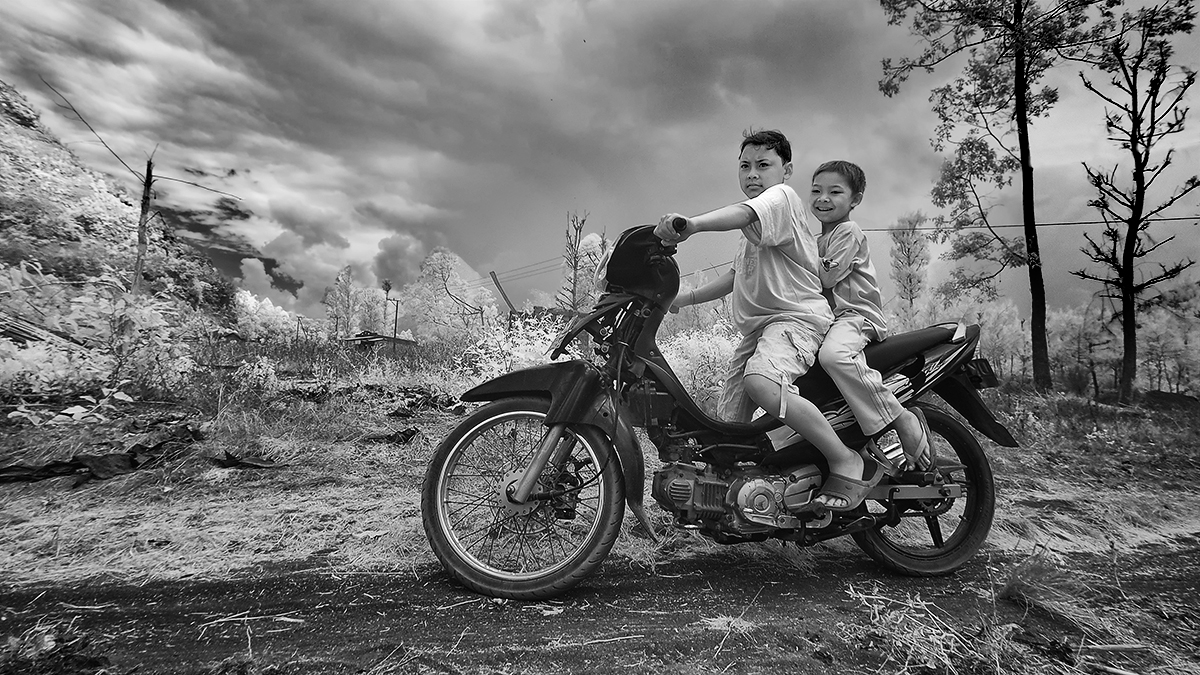 With increasing occurrence of people in my photographs I started to change the landscape focal lengths with journalistic and ended up with wide-angle lenses. I began to shoot "close-quarter infrared documentary". Firstly only occasionally, but afterwards deliberately.
"BALI – Infrared" is my first integrate project of this category. I have used beautiful nature of this Indonesian island and naturalness of people living there. I have tried to capture usual moments from their ordinary life. Farmers, fishermen, woodcutters, children – people as they live, work, enjoy their lives…