My mission with my work is to create awareness for the importance of a concerned observation of the world around us. 
The ultimate observation brings other levels of understanding the world we live in. I believe we need to develop our perception and understand what inspires to go beyond a story, a place, a photograph, and act in concern of this cause. The fundamental principle of my work is that the person who delivers a news story in picture form is primarily a witness to an event, who neither passes judgment, nor diverts any attention to it self. It simply is.  The photographer is a companion; my presence should never be oppressive or demanding. I believe in stories that are told based on real experiences and as a visual storyteller openness and patience are required to achieve such experiences and therefore tell true stories.
Since an early age I had the fortune to travel the world, especially Asia when photography has always accompanied me as an essential tool, helping to closely observe and understand a place, a person, a moment. I believe traveling makes us believe in our intuitions, opens our minds to experience the unknown and helps us to better understand human kind. And these turns out to became the three pillars that sustain my work.
I graduated in Social Communication and Cinema in São Paulo at Pontificia Universidade Católica (PUC) and worked as an Assistant Director for commercial films for five years in major film production companies. In 2012 I moved to New York to attend the Documentary Photography and Photojournalism at the Internacional Center of Photography. After that I worked for the great Donna Ferrato and as an intern at Magnum Foundation and continued my personal projects and travels.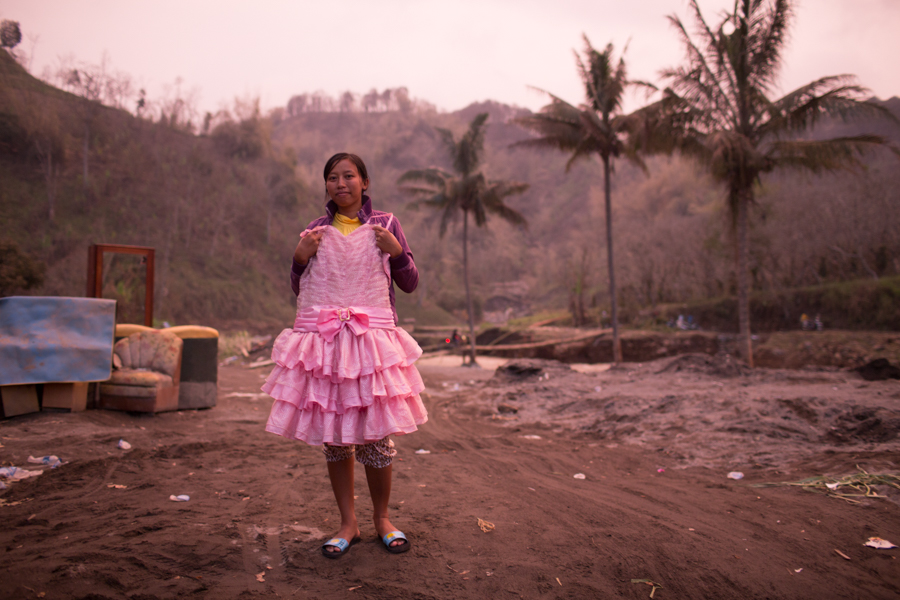 About the project: "Ashes for Life"
On February 13th a powerful volcanic eruption took place in Indonesia's most populous island, Java. Ash and debris were blasted up as far as 12 miles into the air. More than 100,000 people were evacuated and seven airports were shut down. The eruption of Mount Kelud could be heard 125 miles away, as ash and grit fell back to earth covering towns and cities across the region.
I happened to be in Central Java with my family at the world's largest Buddhist temple, Borobudur, located almost 200 miles away from the volcano. The site was covered by a thick layer of ash and closed for visitors. Amazed by the sheer span of destruction, I quickly became curious about this powerful beast. I decided that I had to travel to the East of the island to explore the most affected villages.
What I found there was a community filled of perseverance.  10 days after the eruption in the village of Desa Pansansari, families were still recovering their home from the ash blankets and attempting to recover anything salvageable without any external aid. No time for sadness, no time for fallen faith. Together they advanced calmly, day in and day out.
"Ashes for Life" is a testimony of a time of renewal. It is the beginning and the end of a cycle. The burial of what used to be and the birth of new roots. It's now a new time when the soil will become even more fertile and people will become even stronger. [Official Website]