Franco Sortini's art is that of a landscape that is the result of a subtle alchemy that combines his vision of the natural environment with his culture, his emotions and his inner feelings.
As many students of my photography courses can confirm, I never sit at the teacher's table lecturing. I sit amongst the student's desks. Because these courses are an opportunity for coming together and are a photographic adventure where we are all, teacher and students alike, protagonists.
Together we take part in a life lesson, where photography is just an excuse to bring out a student's sensitivity, culture, in other words, his or her identity, because she/he has to photograph what is thought, not what is seen. Among the many students I have had, I must reserve a special place for Franco Sortini, who started out as a graphic designer and a painter, and later became one of the most creative photographers who, more than others, better than most, "makes the invisible visible", through his photographs of the urban landscape. Quoting from Italo Calvino's "Invisible Cities", "the cities are motionless. Sometimes beautiful, but unchanging as the stone of which they are made". Franco Sortini's city is, "devoid of people and things", and we can think of it as a "neutral place" (in the opening words to "A Neutral Place," we can read: "How to conjure up a picture, for instance, of a town without pigeons, without any trees or gardens, where you never hear the beat of wings or the rustle of leaves, a thoroughly neutral place, in short?"). A neutral place with "multi popular" buildings (reminiscent of the architectural structures of the former Soviet Union), where we can behold buildings and metaphysical spaces, dominated by silence and complete solitude, where even the few cars give us the idea of immobility, of absolute stillness and solitude. If we consider Ambrogio Lorenzetti's famous "Effects of Good Government in the Country" as being a historical landscape, where we can observe a sublime messy piling up of vine terraces, villas, houses and mansions, pastures, maple groves and woods, then Franco Sortini's urban landscapes, thanks to his use of dazzling Mediterranean light, and soft and delicate colours – pink, light blue, straw yellow, ochre – "tend to resemble one another and globalization penetrates the urban fabric, making different places evermore similar". But nonetheless they remain exquisitely poetic, highly creative and artistic. [ Written by Franco Fontana ]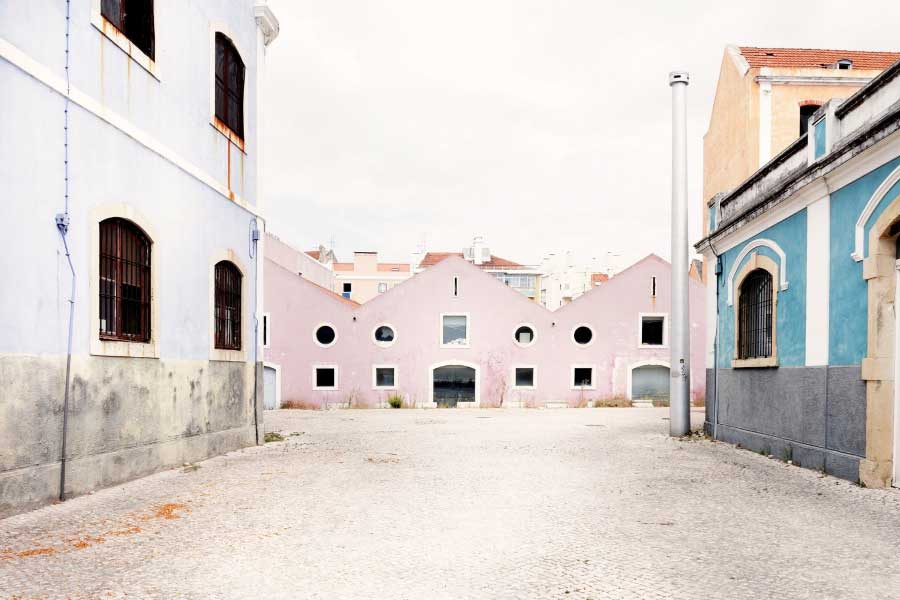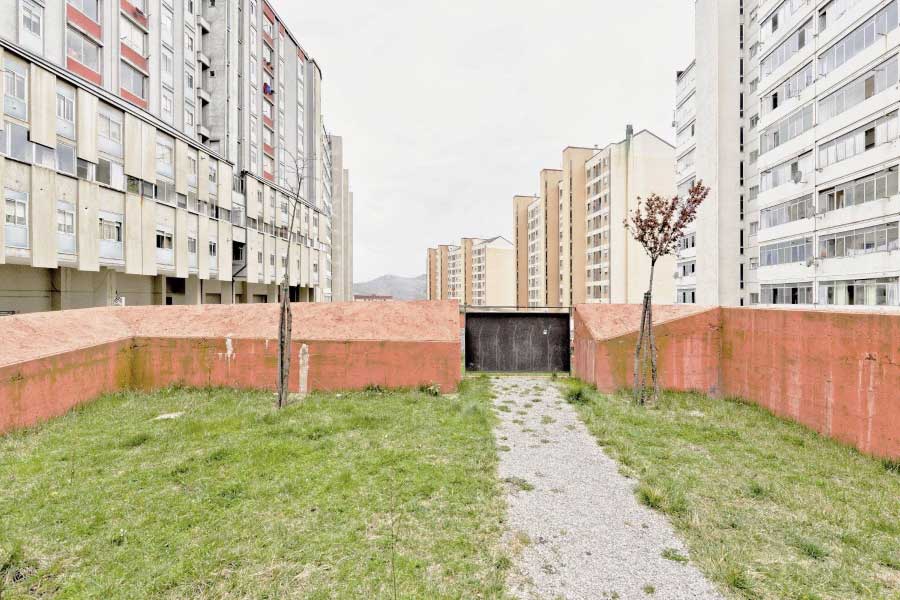 About Franco Sortini
 (1958) is an Italian photographer. Early is interested in painting and graphic art. Beginning in the 1980s, under the supervision of Franco Fontana, has produced color photographs of landscape and architecture. Sortini's photographs are presented with a deadpan wit and always considering the tenuous balance between people and their surroundings. He works in series, photographing urban scenes of his native Italy and Europe. His use of color has been lauded for its capacity to express reality and the mediterranean light. His interest focuses primarily on the empty city, chasing his idea of the "ideal city", a place where to find order in the chaos. "Franco Sortini's work comes up from the spaces; it is written with a wide size, so to solve the rules of perspective and the visual system each picture is provided with. classical structure, with a central, prevalent, perspective to outline the profile of a factory building, although more broadly then in architecture. his work is, in fact, focuses on this very strong urban genre, where the rigor and the constructive order is resolved with a desaturated color. a color that, then, reappears with some connotations, which are almost citations, to justify the photographer's philosophy" (Luigi Erba).
At the same time develops commercial photography, and in 1986 he opened a studio of industrial photography, working with advertising and communication agencies, and offering its services to corporate customers
Franco Sortini has exhibited extensively his works during last years. His work has featured in many galleries in Europe and his photographs are in the collections of Bibliotheque Nationale de France in Paris, the AFOCO Archive in Cordoba, the Galleria Civica of Modena, the Department of Modern Art of University of Siena and in many private collections.
He has published several photography book and some artist's book in limited editions. His photographs also have been published in many magazines and web magazines. Professional photographer since 1986, he is a member of the Italian Association of Professional Photographers.  Actually he lives in Salerno (Italy). [Official Website]