When I mentioned to a fellow photographer that I had booked my accommodation at Blackpool's Grand Metropole Hotel, he casually replied, "La grande dame from St. Petersburg is visiting Blackpool for an afternoon chat with the seagulls."
Setting aside the fact that I do not usually regard myself as a grand dame and do not come from St. Petersburg (what he did not know at the time), this curious statement had a certain poetic ring to it and offered precisely the dose of magic I needed as I was about to embark on my impromptu trip. I do not really believe in magic, not the abracadabra kind. But I do believe in the magic that happens when the unexpected occurs, or when spontaneity takes its course. Acting on a whim takes some courage and at least a degree of abandon. I would like to think that I possess a bit of both. And while I do not remember anyone ever telling me that following my impulse is the way to live, nobody ever told me that it was not, at least not explicitly. Regardless, I always had my way of doing things. So when the opportunity to visit Blackpool presented itself, I knew it was the thing to do.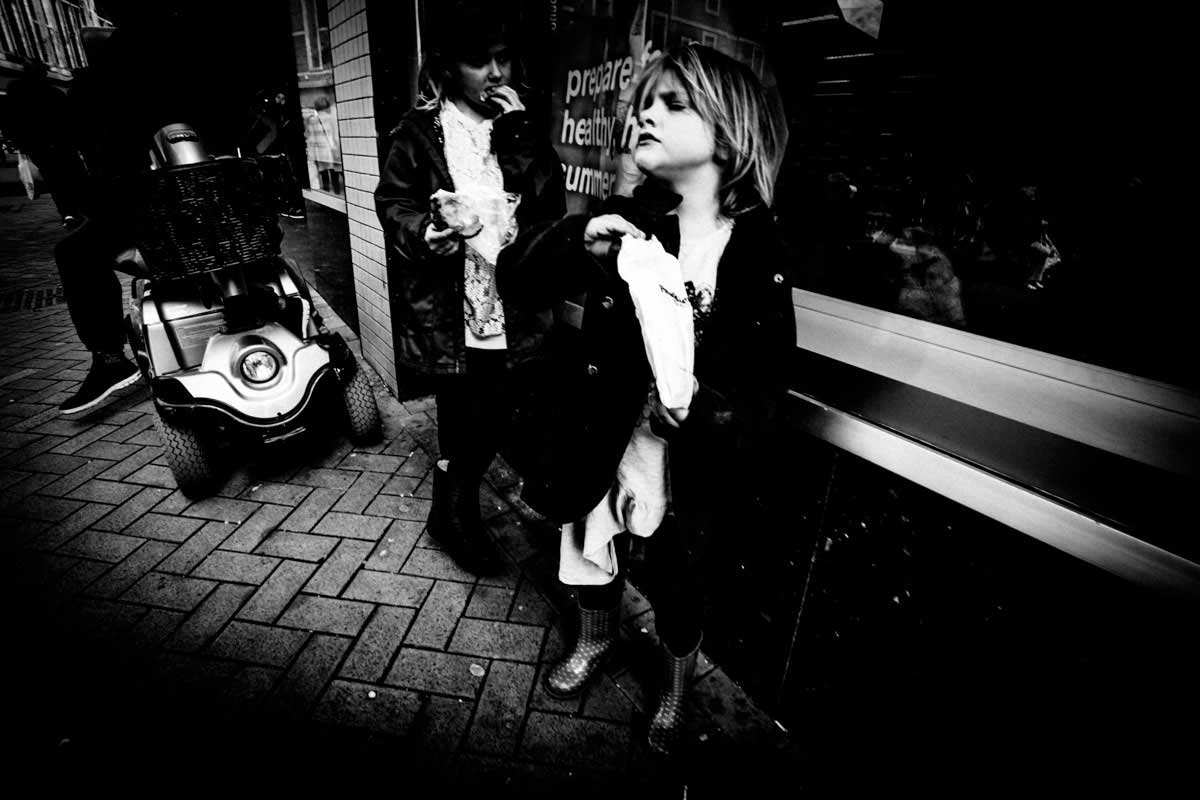 I take the plane to Manchester, the train to Blackpool.  Rain is predicted, so I decide that photographing the storm at sea will be my consolation; little do I know that the sea will only seldom appear in my pictures. I had seen "The Last Resort" by Martin Parr but the work does not cross my mind as I set off on my journey to this whimsical hybrid of Coney Island and Las Vegas, where Elvis Presley is still alive and a miniature version of the Eiffel Tower soars above the Irish Sea. I have no expectations of Blackpool and no preconceptions. It is a place as anonymous to me as I am to it; a makeshift wonderland where the insatiable craving for wonder far exceeds the wonder itself. On this terra incognita, I sketch a path of meridians and parallels through wandering flocks of young and old caught in consumption frenzy, eager to fit as many thrills as possible into the smallest window of time. Blackpool is after all a weekend getaway; a traditional destination for no-holds-barred stag and hen parties and wacky characters. It is also a playground for kids with painted faces wearing candy-colored tops, gangsta hoodies, and fake tattoos, fervidly dragging their moms and pops (and vice versa) in and out, to and fro amusement parks, bingo halls, arcades, and restaurants. "Kids eat free!" A sense of self-perpetuating urgency and appetite pervades the air, accompanied by the frantic cry of seagulls. In this vortex of bread and circuses, mouths and hands are always busy with fish & chips, Blackpool rock candy, and cell phones. Mini dramas and the occasional contemplative moment pop up when least expected. I hold them forever still by the click of the shutter. And between moments, as I pause to squint at the blinding light bouncing off the trams and horse-drawn carriages competing with the human traffic, I catch a whiff of the sea and a cool shiver. It begins to drizzle again but soon the clouds clear, the crowds reappear, and the big wheel resumes its spinning.  From sunrise to sunset I scour the back alleys and the promenade, watching life unfold before my eyes, untiring and resolute; rowing against the current, diving into the hard shadows, a quasi-tourist with a camera and a backpack of surplus equipment I never use. On the second day, I leave my weight at the hotel and I am free; free to roam, dissolve myself, and "sniff, sniff, sniff" for coincidence, as Henri Cartier-Bresson so tellingly put it. 
"Through this spontaneous and intuitive way of taking photographs, the people, indeed society as a whole, depicts itself, in a sense – Suchodrev only provides the mirror. And yet, with the Blackpool series, she broadens our view and takes us on a journey of discovery. Her observations are both intense and exploratory, visualized encounters with strangers that happen fast, virtually unfiltered… Her pictures – half situational, half portrait – are at the same time individual and typological; every represented subject is a representative of another Blackpool visitor. Seen in its entirety, "48 Hours Blackpool" is a visual metaphor for the British working class, and although it can sometimes be quite dark and pitiless, is portrayed here with benevolence." (excerpt from "Rough Beauty" by Dr. Matthias Harder)
I am not interested in pure documentation or sensation. In this resort town, where crime and poverty rates make it a point of convergence for the cheerful and the destitute, I am not looking for emptiness, distress, or alienation. But to my surprise I seem to find it almost everywhere, in almost everyone I see. And I see this intensity of human gesture and expression more in the day than I do at night, when children are still up and about and their parents are still more or less sober. I discover that the dark side of Blackpool is better revealed in the light of day. I do not shy from confrontation. But building intimacy is not what I am after. I do not regard the streets as a space for intimacy but for immediacy. I meet my subjects head on. I spot them fast and photograph them even faster. Depending on their size and my proximity, I sometimes frame and shoot at waist level, which results in drastic and occasionally unforgiving angles. Life is unforgiving and the street has its own pace, which I intuitively follow. It is not a soft-hearted method but it isn't callous either.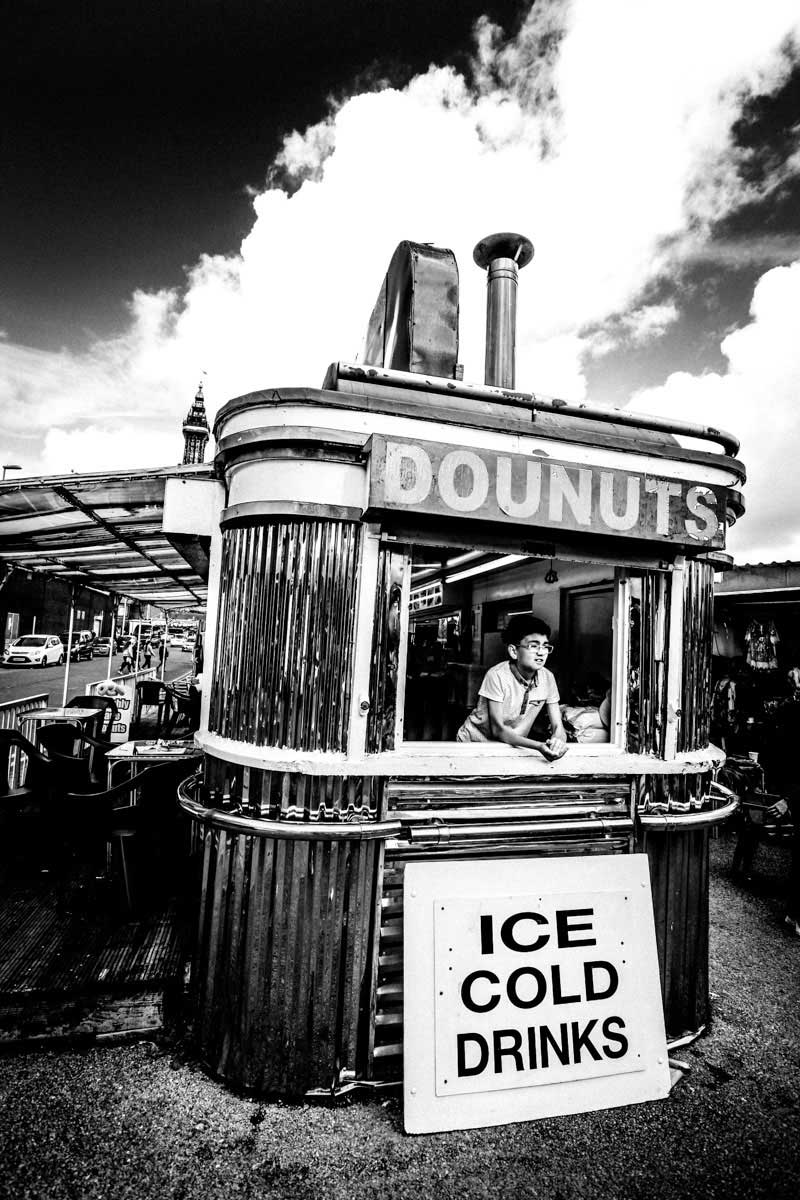 One challenge for a street photographer is to strike a balance between the blatant and subtle. Turning the street into a stage is not the same as turning it into a zoo, into a spectacle of the carnivalesque where human subjects are robbed of the slightest shred of dignity, turned into caricatures so visually and ideologically distorted that their sole purpose in the image is to arouse sensation. Like all sensation, this kind is bound to satiate then leave empty, only to return, but it is short lived.  A touch of subtlety cannot hurt even the most blatant photograph and it is found more often in questions than in exclamations. Why does the chubby girl at the side of the road look at me the way she does? Is the woman sitting alone on the pier only tired or bitterly disillusioned? What happened to the teenager with the smudged makeup staring into nowhere while biting on her cell phone? Subtlety resides in the infinite space between viewer and content, the intangible space between subject and environment. It allows action and reaction to unfold thematically and aesthetically and should not be sacrificed for the sake of mere effect. 
48 hours are just a scratch on the surface of any town. But a scratch can run deep. I hope that, despite their 'rough' visual language, the images in this book offer a balanced dose of blatancy and subtlety and just enough depth and beauty to transport them into the realm of the poetic where one does not encounter faceless masses but individuals singled out of the crowd. Not lastly because of their 'imperfect' exterior, some of these individuals may be perceived as visual representations of an 'inferior' way of life or as representatives of a less attractive layer of society. In its entirety, as Matthias Harder noted, this book may be seen as "a visual metaphor for the British working class." But finally, not unlike the photographs in this book, we are all fragments of some larger metaphor.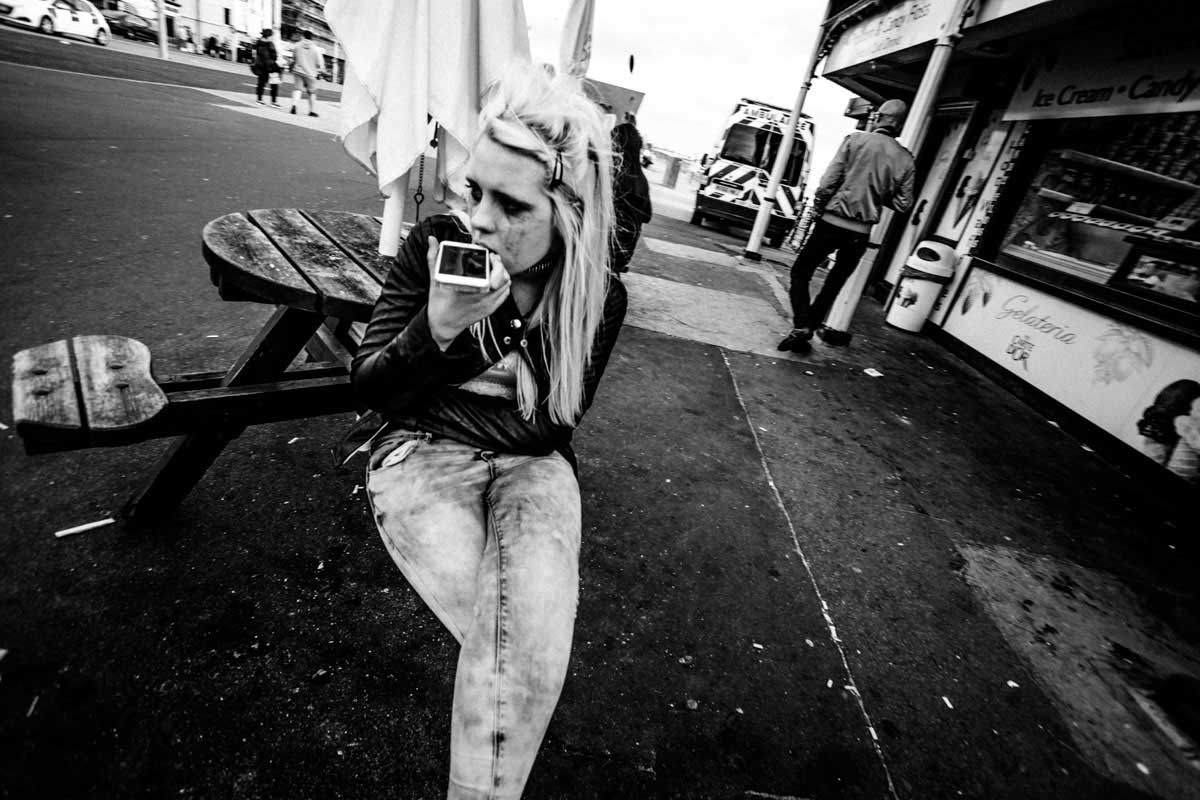 About Benita Suchodrev
Benita Suchodrev was born in the former Soviet Union and immigrated to the United States where she received her Bachelor's degree in Liberal Arts with a focus on Art History from SUNY Purchase, New York, continuing to a Master of Arts in English Literature, graduating with high honors.
In 2008 Benita relocated to Berlin and began an extensive documentation of the cosmopolitan city's multifaceted art scene while working on diverse photographic projects. Her portrait and documentary work has been exhibited in solo and group shows nationally and internationally and is part of the Rafael Tous Foundation for Contemporary Art in Barcelona as well as private collections in Moscow, Berlin and New York.
She has published with KEHRER Verlag and her photographs have appeared in NACHTLEBEN BERLIN 1974 – BIS HEUTE (Metrolit Verlag, 2013), BERLIN NOW (teNeues Verlag, 2009) and have been featured in numerous newspapers and magazines including FAZ (Frankfurter Allgemeine Zeitung), BZ (Berliner Zeitung), STERN.DE, DNCHT, AMICA Italy, ART, TAZ (Die Tageszeitung), Tagesspiegel, SCHWARZWEISS, MIND China, The Moscow Times, NOOVO Editions Barcelona, Brennpunkt, Germany, Российский Фото Союз (Russian Photographers Union), Photo & Video Russia, Искусство – The Art Magazine Russia, among others. Benita currently lives and works in Berlin. [Official Website]
"I am attracted to the poetic and the bizarre, the bold and the vulnerable. But of all things I am interested in the transitional moment between states, between blinks; that elusive split of a second between what was and what will be and the traces it leaves behind. The drama and ambiguity of human expression and gesture during that transitional moment is what fascinates me the most."