The premise for this article were the challenging questions: Which is your fave photograph you have taken? and why? I have invited ten amazing guests to talk about their favorite image and the story behind it.
As photographers choosing the series we like the most is already a big thing, but picking our best-loved individual photo is almost impossible. My brave protagonists will open their hearts to their most beloved creations. Get on the bus for a creative trip and enjoy the views. The selection of these artists will for sure inspire you.
The first stop is Olivia Oliver, this photographic producer originally from London shoots predominately on medium format film and her photographic work is inspired by nuanced romanticism, minimalism, and authentic beauty. Her works are warm, elegant, and quite classic. She moves around the frontiers of artistic fashion photography and fine art. Looking at her Instagram feed, you can tell the importance she delegates to the image selection process. That's one of the pieces of advice she would give to young visual artists according to one of her latest interviews with Vents Magazine. For this feature, she selected: "Sands of Time is one of my favorite images. The angled nature of the arm in the foreground acts as a framing device through and around which the main subject is glimpsed, and the line of said arm guides the viewer's eyes around the margin of the composition. This approach allowed me to juxtapose near and far elements in a successful fashion. The somewhat shallow depth of field also renders a strident surface quality to the foreground figure – as if it is resting upon the surface of the photograph. It is all these elements combined with the subtle element of Fashion which I believe makes this image timeless and one of my favorites".
The protagonist of our second viewpoint is Anna Grevenitis. Her approach to photography is social, human, and especially personal. Her works become a lesson to learn and a call to wake up for all of us. This Brooklyn-based artist is interested in photography as an act of establishing visual memory and engaging in social visibility, over time. Her photographs have been exhibited both in the United States and internationally. Anna Grevenitis's work has been featured in The New Yorker in "A Mother's Steely Portrait of her Daughter's Life with Down Syndrome." In 2020, for her series Regard, she was the recipient of the 17th Joyce Elaine Grant Award, the 2nd Annual Foto Awards, and became a Critical Mass Top 50 Winner and a finalist of Lensculture Black and White Photography Awards 2020. About her favorite work, she told me: "The photograph entitled "March 4, 2019" is one of my favorites as it exemplifies the evolving collaboration between my daughter and me, which has been growing out of the series REGARD. I originally composed the shot with my daughter in the foreground, resting on the bed eating macarons, and I was ironing in the background. After a few shots and review, the image did not impress me in any way. I showed it to Lulu, and she said that maybe we should do the reverse: she irons and I eat. And she was right, there was the image". This is a sweet anecdote to know and I'm glad she chose this photo to showcase her photography.
Ready for our third stop? Welcome to Skott Chandler's ground! Or should I say science fiction settings? Skott's universe is full of eerie narratives, weird tales that show a wide range of imagination. He is also capable of matching images from different places into a series and he does it through clever links based on ideas, color, and compositions. His photographs are most of the time a real find! Skott Chandler is a photographic artist, and educator at Black Hills State University in Spearfish, South Dakota. Skott has exhibited throughout the United States, as well as internationally in Bordeaux, France, Hong Kong, and Geneva, Switzerland. About his favorite image, he told me: "It is a challenge to choose one of my own photos as a favorite. I view my images as parts of a whole, with each single image working to support the greater concept. To find a photograph, I had to think about what images would best reflect my photographic ideologies. Images from my series "Dead Time Experiments" seem to best Illustrate my creative intentions. On the surface the images in the series appear as sporadic light paintings; however, they are far from it. I'm interested in human interactions with space, our perception of time, and how photography can accumulate time into a surreal instance. This image is created during a one-hour exposure on 8×10 film at night in a dark room that is significant to the person being photographed. The subject leaves all their electronics outside of the room, and they are left alone in the space with a small handheld flashlight that they can not turn off or set down. The flashlight is critical to the image as it acts as a mark-making device and it is the way their time in the space is visualized on the film. The handheld flashlight makes the act of looking visual, as the subject has to point the light to where they want to see.  My favorite thing about all the images in the Dead Time Experiments is the amount of visual information provided to the viewer. The more time spent viewing the image the more small details and moments from the subject's time and actions during the exposure are discovered". Skott shows he is a conscious creator. Don't miss his series, check them out!
Here we go again! The next artist to explore is the enthusiast and energetic Steven Laurie. This Toronto-based contemporary photographer documents day-to-day observations that involve simple interactions between people, objects, and spaces, showing delicious lines, forms, curious finds with warm colors, and unpredictable results. His education includes an Honours Diploma from the Ontario College of Art and Design and a Masters of Fine Arts from Western University with a focus on sculpture, performance, and installation. He told me with great motivation: "One of my favorite photos: Curves (2020) is an image that I captured last summer while walking through a large commercial warehouse complex. Amongst the links of prefab architecture, loading dock corridors, and spans of asphalt were these curvy gestural burnout marks that spoke less about work and more about the play. The austere black line and looping curves against the backdrop of hard-edged precast concrete buildings provided a contrast that was both aesthetically interesting and meaningful. Ultimately a trace of the car's movement, the rubber ladened line showed graceful transitions from thin to thick as if produced by a calligraphy pen. While considered by some people as subversive or counter to the utilitarian ideal, these burnout marks provide a sense of humanity within these harsh alienating spaces". Check his Instagram to see more original and creative compositions, and entertaining feed not to miss!
Halfway there! Let's enjoy the pop and cheerful universe of Fershow Escarcega. His works are human and vivid, full of colors and emotions. In his portraits, people look like pop or rock stars! It seems he can't help to create this iconic atmosphere. For 15 years he has produced his work where he lives in City Nezahualcóyotl. The main themes in his photography are identity, the sense of belonging and community, as well as sexual diversity. He says he regards the photo as an agent of change, beyond its quality documentary film. He is a photographer that provokes us to move our consciousness about different social issues. I must confess I personally love his style. He told me about his image: "Free love (2012) is my favorite photo as it represents love, affection, and passion that I have for the photography, the color, and life. Free love is undoubtedly the most important photo I have taken since it is a hug of love and rebellion, creating this photo session was incredible that day they recorded me for a documentary and some television notes. We were almost 60 people working and it was one of the most magical days of my life". He also told me this photograph changed his life completely because thanks to the money he got for this image he could get his equipment and dedicate himself professionally to photography. I'm glad you had this life-changing moment!
The sixth stop in this beautiful journey brings me home, to Tenerife island. A lush guest Dámaso Ávila is here. He graduated in Mathematical Sciences and Economic Sciences, and he also possesses a Master in Banking and Finance. His master of the photographic format is impeccable and undeniable. The list of his international photo awards is neverending. Since 2004, he has dedicated his life to photography, focusing on architecture, portraits, and landscapes. He has also participated in several publications and solo/group exhibitions, showing mostly his travel photography and portraits. I have the privilege to know Dámaso and I can tell you he has the manners of what we would traditionally call "Señor" in Spanish, that means Sir. He is a kind and polite person. So I'm glad to have him among these photographers. He told me about his image: "The most profound concepts in Photography come to light when the author tries to go further in shooting or editing. Although this photo I do not know if it is my best photo, at least it is one of my favorites. Imogen Cunnigham said, "Which of my photos is my favorite photograph? One that I am going to do tomorrow.". I have to admit that it has given me many satisfactions, for its execution and for the transformation applied to convert a part of the Hungerburg funicular station (Innsbruck, Austria), the work of the brilliant architect Zaha Hadid, who died 5 years ago, into an indecipherable abstract element while beautiful". Thanks, Dámaso for your participation. Check his Instagram feed to get more clues about his success.
Dina Goldstein shows us the seventh town in this journey. The most interesting feature in her work I would say is the ironic twists she shows in her narrative to deal with social issues in a critical, iconic, direct, and original way. These provocative statements have brought her international recognition. Her Instagram feed is a delight. Dina Goldstein began her career 30 years ago as a photojournalist, evolving from a documentary and editorial photographer into an independent artist focusing on large-scale productions of nuanced Narrative Photography tableaux. She told me: "I truly feel connected to every one of my works, each one expressing my views, my voice through social commentary and critical thinking. However, if I have to mention a seminal piece I would have to select Rapunzel (2007) from the Fallen Princesses series. Inspired by personal events this was the first piece photographed for the series of ten images; offering a critical stance on Disney's portrayal of girls and women, and the 'Happily Ever After' trope. My mother was diagnosed with Breast Cancer as my daughter Jordan came home from daycare with an obsession for Disney Princesses. I began to think of the collective unconscious messaging being fed to young minds while in real life is complex and sometimes disappointing. I wanted to give the Princesses actual challenges to bring this all into perspective". Check her webpage to know about her visual journey. It's breathtaking!
The eighth stop in this ride takes us to the world of Laura Pannack. In her webpage in the about section, we can read this nice presentation: "I learn most when I walk with a camera; about myself and the company, I share. I engage. I stop mentally. I listen". This statement reveals a lot about the nature of this London-based photographer who is interested in social documentary and portraiture. She seeks to explore the relationship between subject and photographer. Her work has been extensively exhibited and published worldwide, including at The National Portrait Gallery, The Houses of Parliament, Somerset House, and the Royal Festival Hall in London. Her artwork has received much acclaim and won numerous awards, among which are the John Kobal Award, Vic Odden prize, World Photo Press Awards, and the HSBC Prix de la Photographie prize. About her mysterious choice, which was taken in Texas in 2016, she told me: "This image reminds me of how precious experimenting with analog can be. Combine this with a chance encounter and I love the fact that the moment is unpredictable as are the results". Check her work to discover her honest, truthful, and natural portraits, sincere and amazing works.
Enjoying the ride? We are almost there, welcome to the universe of Iris Haverkamp Begemann! In her documentary and portrait work, Iris focuses on the emotions, and cravings of the human being. The photographer wants to question the self-evidence of prevailing structures and norms in society. At the same time, she reminds people of their vulnerable part of the megalomaniac universe. Her photo and the story behind really got me, this is what she told me: "Back in 2008, Omaka started to cut her own hair which made her feel closer to her – at that time – recently deceased husband (Opaka, naturally). Intrigued by this nonconformist ritual, I started following her with my camera. She continued to inspire me over the subsequent 13 years, up until her passing away last week. Riding solo, she managed to make a party of her life after all.  She had a kind of spiritual gift to always be content and never complain. As a result, she didn't prejudge anyone, which made me feel very welcome and loved at all times. No one else could dictate her thoughts. She made up her own theories about anything. And so she contemplated death: "every person is a form of energy. When you die, a certain amount of energy disappears, and this amount of energy returns to a new form of life. A birth. A circular process. Which continues for centuries." May her powerful energy multiply over and over again for endless years." Thanks, Iris for sharing such human and magic work! The image is definitely a strong statement.
And the final stop is presented by Jota Barros. He is a talented and hardworking photographer who also teaches others to take photographs, especially in the streets. He is the founder of El Club de Fotografía Callejera. Jota has run a photography blog since 2011, and he presents the incredibly interesting podcast Calle Oscura. If you have the chance, get to listen to some of his interviews. Despite being a busy creator Jota Barros was willing to be part of this group, thanks mate. About his fascinating and complex image, he told me: "I always find it difficult to choose my favorite photographs, especially now that I am trying to enjoy the process above the result. But there are some images that I like more than the rest, this one, taken in Tangier during one of my workshops, is definitely one of them. I love images where it is not easy to know what you are seeing; using reflections can be a good way to build them. In this picture, we see the street reflected in the window of a barbershop and also its interior, with a mirror on the wall reflecting the city in front of the door. Many layers in one surface, the image itself, the magic of photography".
I hope you have enjoyed the journey through this challenging question, so now it's your turn to think: what's your fave own image? and what's the story behind it?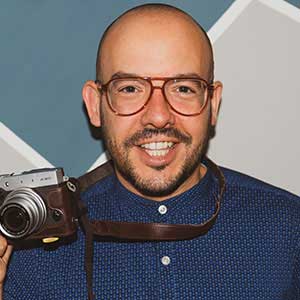 Seigar is a passionate travel, street, social-documentary, conceptual, and pop visual artist based in Tenerife, Spain. He feels obsessed with the pop culture that he shows in his works. He has explored photography, video art, writing, and collage. He writes for some media. His main inspirations are traveling and people. His aim as an artist is to tell tales with his camera, creating a continuous storyline from his trips and encounters. He is a philologist and works as a secondary school teacher. He is a self-taught visual artist, though he has done a two years course in advanced photography and one in cinema and television. His most ambitious projects so far are his Plastic People and Tales of a City. He has participated in several international exhibitions, festivals, and cultural events. His works have been featured in numerous publications worldwide. His last interests are documenting identity and spreading the message of the Latin phrase: Carpe Diem. Recently, he received the Rafael Ramos García International Photography Award. He shares art and culture in his blog: Pop Sonality.