Below is the information you´ll need to prepare your work. At any time should you have any questions please contact us to submission@dodho.com.
Between 10/20 photos (900px on the long edge with 72dpi) and text about your photography or project (Minimum 600 words).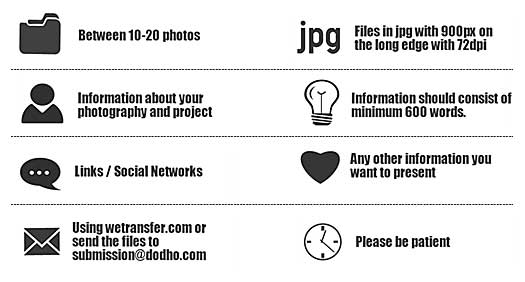 Dodho accepts files submitted online using wetransfer.com (a free service for files up to 2GB). Please use submission@dodho.com as the recipient address, and include your name in all files. Prepare your files per the specifications and send them in a single compressed file (zip or rar). File size is likely to be somewhat large, so a high-speed internet connection is recommended. (Note: Dodho does not review work on websites)
Upon reviewing submissions, Dodho Magazine reserves the rights to Accept or Deny any submission we receive. Submissions are reviewed based on its content, quality and relevance.
Dodho Magazine is well respected by the Photography Agencies and Agents around the world. Photographers that have been published in Dodho Magazine has gained more interest in their work & landed jobs from the exposure we have afforded them.
Being published exposes your work in around the world through our website and online magazine.We look forward to publishing your work.
Please be patient. We receive a lot of submissions that we try to review and respond in a timely manner. On occasion, we do get overloaded and it may take up to a week or more. Please keep this in mind when submitting, especially if you intend to submit your work to more than one publication.