My name is Thomas Bichler. I am a black & white photographer, based in southern Germany in my forties. My professional focus is on livestyle and travel/(photo)journalism. But my real passion is b&w-photography.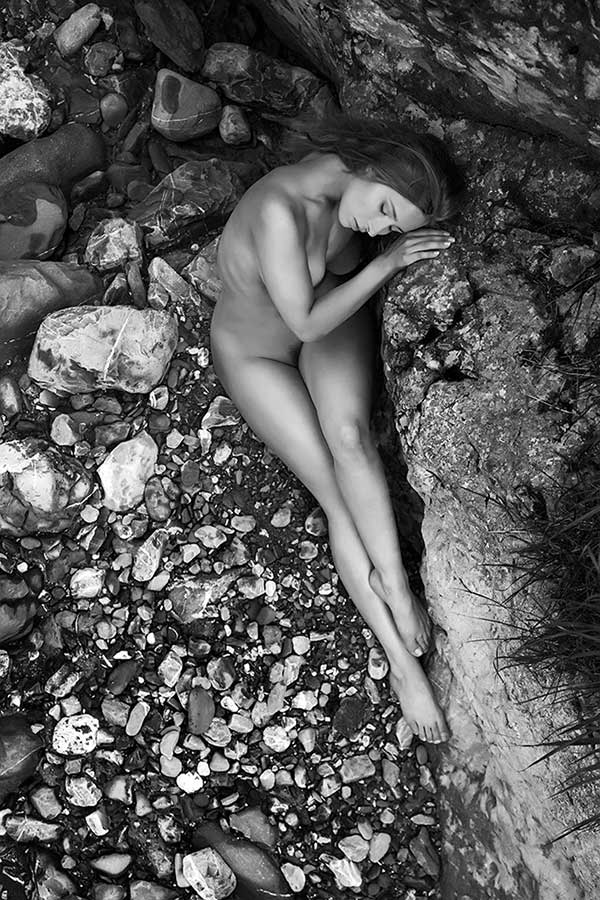 "simbiosa" … women, rocks, water is my current main project, which gets all my photographic and creative attention and free time.
In these works I try to combine my love to nature with nude art. Living at the lakeside of the Bodensee, I am able to work in some oft he most beautyful landscapes southern Germany and the alpine regions ve to offer. My idea of nude art in nature is to integrate carefully selected models from all over the world into their surrounding. I like working with the elements, mixing up the power of nature with the beauty of women. There are in my opinion no better backgrounds than the different shapes of rocks, sometimes rough, sometimes smooth or covered with patterns of moss. I can use fallen trees as a stages, cascades and glaciers as infinity coves, water surfaces as natural sunbouncers and lighteners. At least there is also the weather, what I have to pay attention on each shooting. You never have total control over weather conditions or light conditions. As beeing an experienced mountain climber, I can estimate the weather development leastwise a bit. In the end its still nature. You never know. But I'm able to assess potential danger, like slippery rocks beneath waterfalls, crevasses in glaciers, cliff edges. Otherwise I need to know a lot about my model, too. Is she able to climb up hills? Is she free from giddiness? Is she sure-footed? I can remember a session in the Swiss Alps where we had to climb about 1800 metres in height uphill and back down to reach the location, what took as two days.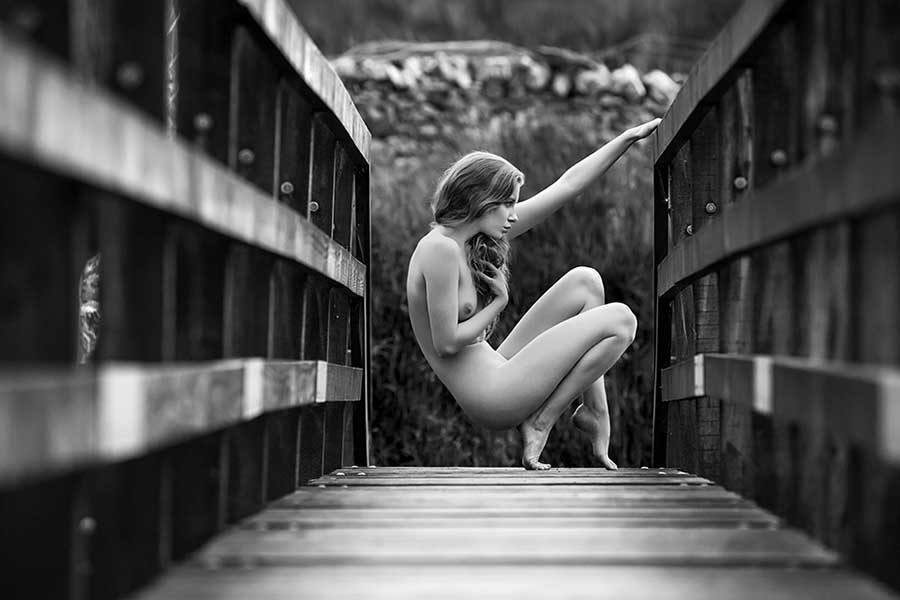 There're just a few models, willing and being able to do so and I'm glad to know them. I often place my models to edges of rocks, which can be dangerous if one is uneasy. But I learned, that my models are a lot cooler than I expected. I've been to the Elbe Sandstone Mountains lately with the fabulous art model Rebecca Tun. We'd seen a rather spectacular place, right at the end of a small crest over a vertical drop of about 70 meters. Because of my already heavy rucksack, I left the climbing gear in the car. So it took her some powers of persuasion, until  I agreed to let her go. She clambered quite easily, while I was awfully concerned about her. A few weeks later, I hiked with Romi Muse through the majestic Swiss Alps. We worked beneath roaring waterfalls of meltwaters and crawled underneath glacierst to find some one of the most surreal locations I've ever seen. The results where gorgeous photos, maybe my best. Sometimes you just need to trust your model.
… I think I would be bored to death with working indoors.
I am often asked, why I work in black and white, instead of showing the bright colors of nature in my pictures. I always answer that question with a short answer: Black and white photography is my antithesis to my usual work as a freelancing editor, jounalist and photographer in tourism business. So I work with colorful pictures every day and need something to calm down, kind of meditation. On the other hand black and white gives me a lot more possiblities to work with struktures, lines and contrast, than colored pictures.
My photographs have been published in various calendars, magazines and several exhibtions. The actual calendars "BodenseeAkt / Lake Constance Nude Art"  and "simbiosa … women, rocks, water" are available at bookstores and online stores. [Official Website]