This series takes its name from the first image I shot. The female back is a much visited area in fine art photography. The ones I know best are by Man Ray and Bill Brandt. i thought how can I impose myself in this area and create a new classic.
Looking at Bill Brandt's nude on the beach with her head bowed and hidden, a new approach revealed itself. i thought what would happen if i had another model standing a few feet in front of the seated woman.
Mine is mostly a wide angle view of the world and a I generally use a 28mm lens to achieve it. When for some reason I have to use a 50mm, it is like a telephoto to me. One thing you can do with a wide angle lens is forced perspective, changing the scale of objects from the front to the back of a picture. That is how I approached this series. For the Perspective Nude itself I used large windows on the right to light it as well as 150w and 200w household bulbs on the ceiling. I published a black and white version of the picture in a photographer's directory. One morning I was heading up the escalator on the London tube half asleep, when I looked up and saw what looked very much like my image, repeated multiple times as I went up. Some advertising agency had ripped it off. The photographer must have had my picture in front of him when he shot it. They even tried to replicate the lighting effect on the ceiling. I tracked them down and they had to pay me money.
For most of the rest of these shots I was lying on the floor using a 28, 24 or 20 mm lens, balanced on my elbows.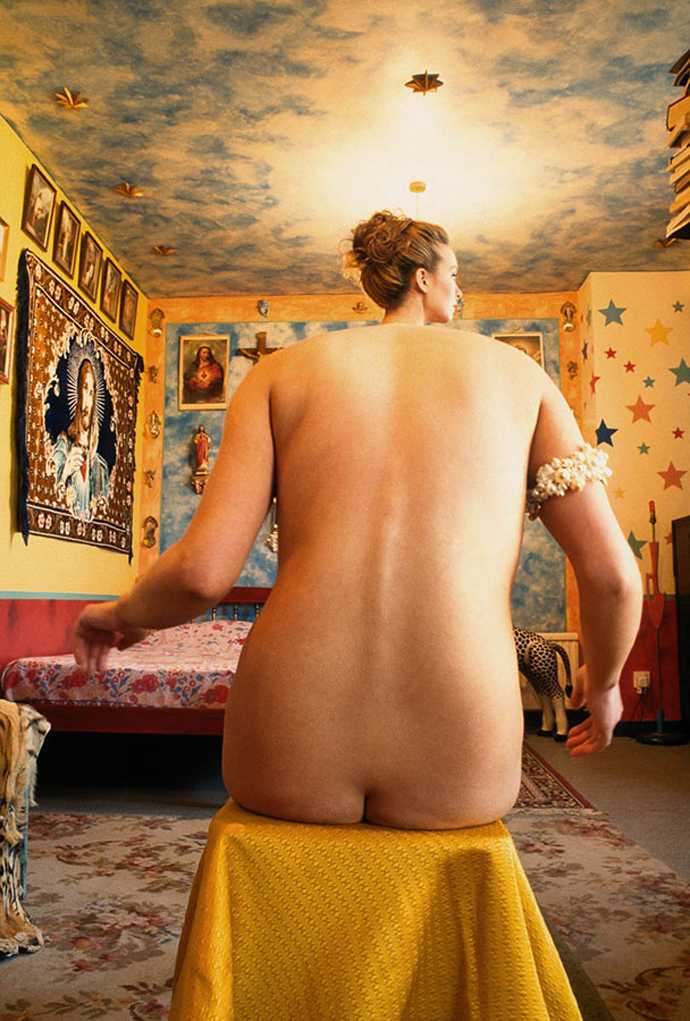 About Alva Bernadine
Everyday people see hundreds of images on their way to and from work, in magazines, billboards or on television. i am a visual exhibitionist and from the beginning wanted people to pay attention to my work even if it was for just a few seconds longer. To do that I used a lot of colour and invented surreal scenarios, witty events, troubling scenes from movies that were never made and almost hallucinatory images that invoke narrative, prompting you to imagine what came before or what is about to happen. In scenarios in dark woods, eerie bedrooms, enigmatic streets and mesmerising reflections, suspense and danger dwells. The pictures are not only about desire but the problems that go with it. My universe is deeply personal and often intensely claustrophobic, sometimes involving stylised violence and death.
When I became interested in photography, even before I had taken my first descent picture, I thought decided to take a less trodden path. i would look at magazines and adverts and think, "I can do that,"  even though I  had no experience of lighting or ever seen the inside of a photographers studio. I just knew that the mechanics of photography would not be hard for me to master. I was correct because within 18 months I taught myself what i needed to know and went from taking pictures of London tourist spots to my present style. Style usually takes years to find but I immersed myself in the subject and gathered what I liked and rejected what was of no use to me.
When I began, independent magazines were few and far between, I had to ease my way into mainstream publications. I have also influenced younger photographers. I remember after the publication of of my first book, Bernadinism: How to Dominate Men and Subjugate Women, a young woman emailed me saying, having seen my work, she was so taken with it that she was dropping her degree in psychology and changing to photography instead.
When i showed my images of violence, A woman from the USA sent me an email saying how her sister had been left for dead by a serial killer and how another had killed two of her friends in a notorious multiple killing at a university many years ago. I had always imagined that it was mostly men that liked my work but I see from my Facebook stats that 48% 0f my followers are women and the largest group by age are women 25-34 at 18% of the total. [Official Website]
For French and German readers, the opening of my Paris exhibition, Les bernadinism d'Alva Bernadine  at the Nue Galerie, is shown on the art and culture tv channel, ARTE, in the programme, Tracks, Sat 20th Dec.