Merely a portraying of nudity not in its simplistic undressed over-arousing form, more like its intimate, exposed gift of closure in a woman's own space. More delicate or abrupt, in a rather organic relation to her personal background.
Been around my thoughts on how nudity affects one's perception of a woman, but not from a photographer's point of view, rather a man's.  Rooting among the publications and pictures that were typically categorized as nudes, that point of view was generally attuned to anything but the personality of the women involved. Empty shallow portraits of mannequins more in league with their plastic counterparts than with their inner conundrum. Standards for a fashion that only tends to attract physical responses and bestow mannerism against a more complex personal expression. However dull this might have seemed though it felt intermediary as to what could have been explored more vividly as a mindset for what a nude is. First and foremost it is absent. Absent from a day to day encounter. With the exception of nudist beaches and personal spaces. Their homes. The latter felt even more intense to me, mainly because it meant an indwelling connection with the person I wanted to photograph.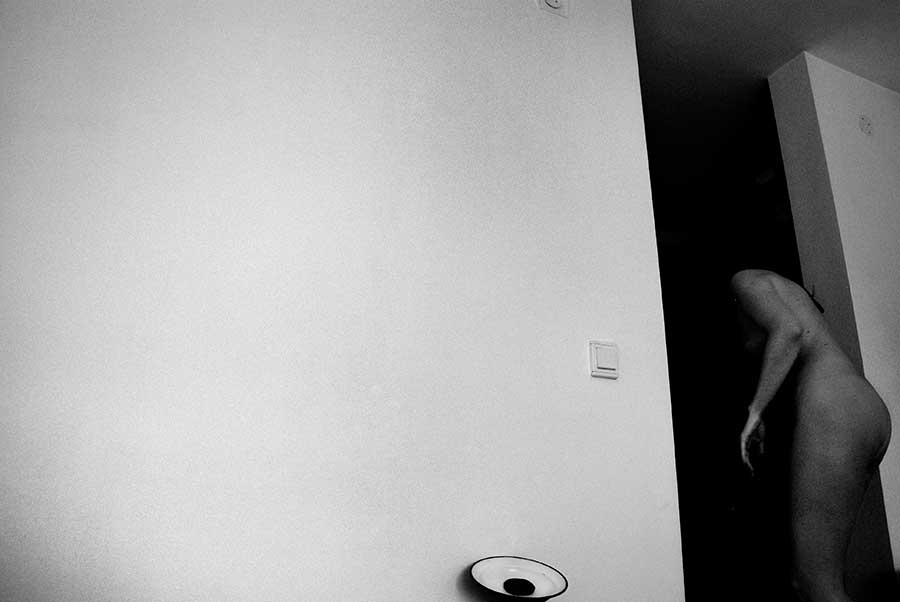 A woman's interior environment is a step further after her "deshabille". The word "deshabille" or undressing hardly gives any glimpse within the moment. It is not something for me, don't extend to that conclusion, it is something more for her, her ability to offer herself to her possible fear, shame or doubt, her ability to open to an almost complete stranger and in the end an intruder, of personal acceptance, of a trust freely given. I was fascinated by this, but as an episodically implemented man with a camera, so to say, I wanted to suggest a relation between that gift of opening and the background. A background that stirs from that person's interior, that dynamic that should come forth and reform in a familiar way in a framing where the fringes of her flesh apparently dissolve or are overcome.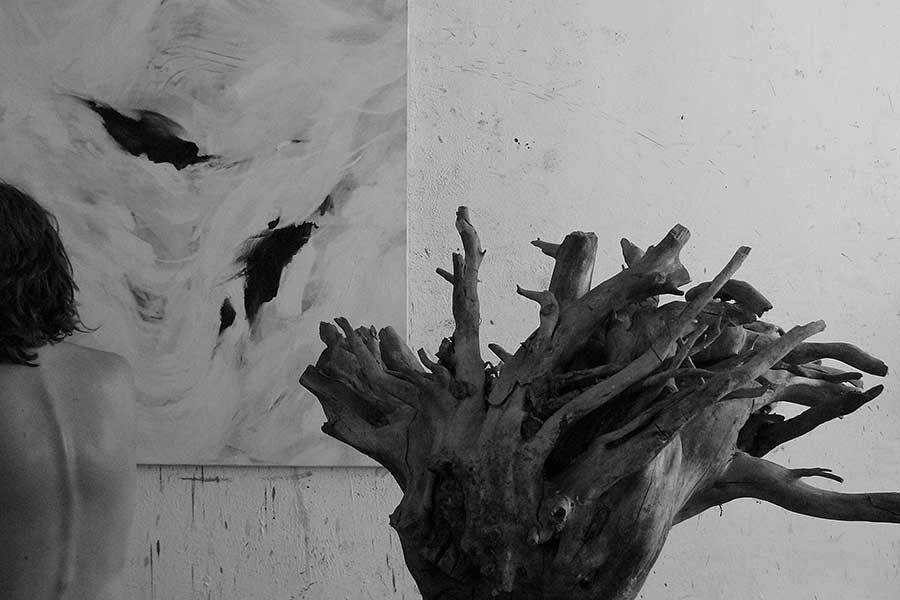 To such intensity of visual language, facial expression seemed too imposing. A figure that stole all the other ornaments either from her or her surroundings. It is the slow, dilated discovery that may give profundity, not the exterior spectacle. It is something dormant.
One of the more uncanny experiences were the times when I lowered my camera and we began talking about this or that. There was a naked body next to me, gracefully moving to accommodate for a casual conversation. There, in the back of my mind, a tingling sensation of an identity growing coherently began to expose itself. Her identity. I recognized her intimacy, but even more than this, I felt no defensive, no wall being raised, nothing that could have ignited as aloofness between two people. I came to realize a state of being that was so natural I could hardly convey in a photograph. Trying to capture what is essential is not a domain stereotypically hooked to photography. You think of what is important to you, how can you perceive it as opposed to others and probably asking yourself what important means in the end. Coming back to taking a picture, I usually try to work with what's been given to me and lessen my need to take responsibility for all that should happen. You only need to be aware, not necessarily of the moment, but of the moments that you might want to encounter. The direction I want to head on to can be my only predetermination. [Official Website]

Pacing this project gave me a sort of addiction, an addiction of presence.  It's an increasingly intriguing phenomenon to be part of, giving that predominant sentiment of reciprocity under the skin.