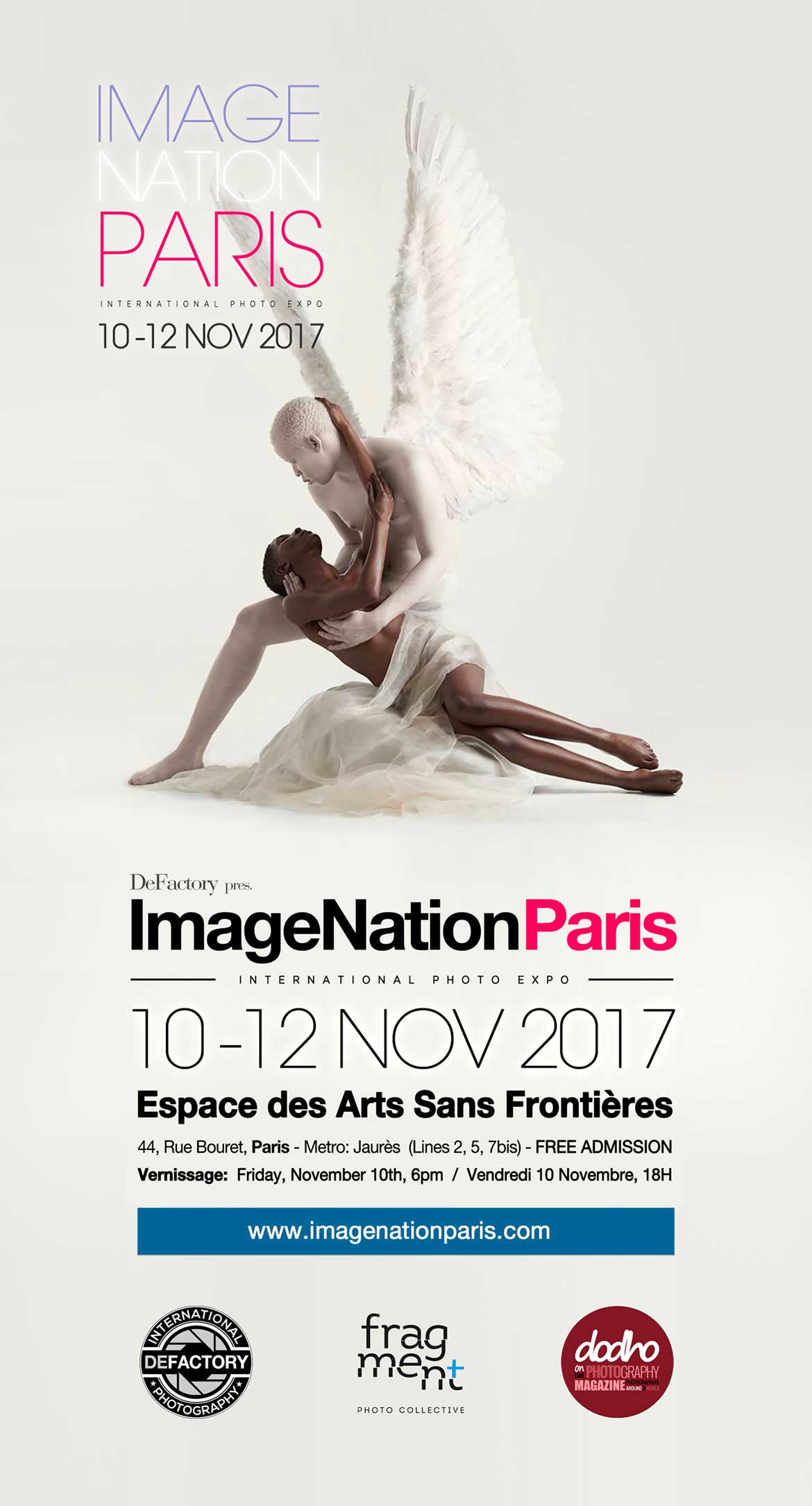 From November 10th to 12th 2017, ImageNation meets Paris, the city that saw the birth of photography almost two centuries ago.
Thanks to the many festivals and fairs which are frequently held in the French capital, Paris is, more than ever, the crossroads of the new trends.
Over all, the Mois de la Photo and Paris Photo have seen attracting to themselves important private and institutional collectors, art enthusiasts and some of the most famous art gallery owners from all over the world. Along with this, during Paris Photo days, the city becomes an ideal stage for the photographic works of the most interesting international artists in dialogue with the audience.
The exhibition, curated by Martin Vegas and conceived for Paris, will be attended by authors from around the world who will present works of great visual impact, some already showcased in the previous ImageNation exhibitions and others, unedited, thought to enrich the artistic proposal of DeFactory collective. All the artworks are on sale. As for the affordable art fairs, the works are offered for sale at more affordable prices than other contemporary art fairs. This also reflects the desire to help the audience to grow and develop together with the artist.
Artists on show
Martin Stranka / Hengki Koentjoro / Brooke Shaden / Alexander Vinogradov / Mohammadreza Rezania / Gemmy Woud-Binnendijk / Simone Betz / Zuzu Valla / Michele Durazzo / Roza Frei / Mira Nedyalkova / Fang Tong / Anna Ajtner / Kazuma Ogaeri / Mirna Pavlovic / Luigi Quarta / Maciej Jasik / Jonathan Higbee / Maryna Khomenko / Mohammad Rahman / Stefania Sammarro /Artiom Kireev / Gerald Arzt / Katia Zolli / Samuka Marinho / Anna Monroe / Alec Mediei / Aneta Ivanova / André Gonçalves / Michele Maglio / Joana Rikalo / Patricia Delmée / Tina Signesdottir / Dario Martinenghi / Frantisek Rerucha / Pygmalion Karatzas / Biancamaria Monticelli
A wide choice of photographic art will occupy the area of the Espace des Arts Sans Frontieres, a multifunctional space that this year also hosted our exhibit Street Sans Frontières. An informal atmosphere will make contemporary art affordable and accessible, bringing a new and more diverse audience to the art market, showing that art can belong to anyone more easily than expected.
ImageNation Paris
November 10th to 12th 2017
Espace des Arts Sans Frontierès,  44 Rue Bouret, Paris.