I have had the privilege to interview Henriëtte HJIMvanGasteren, formerly known as Lilith, for Dodho Magazine. In this honest and sincere conversation, she shows us why she is so interesting as a creator, and also as an artist persona.
She reveals her priority that is "to express herself and tell her story", and she confesses some curiosities about her background and process of work. She is not afraid to confront people who can not understand her art, and from this dialogue between two opposing and distant points of views, she even manage to make something beautiful. Keep on reading, and know all about Henriëtte.[Offical Website]
It may be said that there are two types of artists: those who create art and those who create art but also a persona. Artists have made up characters or alter egos to show their souls. This dichotomy I think could be also applied to you as Henriëtte and your artistic creature Lilith. How was Lilith born? And how do you manage her flexibility to portray all the issues that concern you as a creator? Which challenges have you found to make Lilith represent your ideas? Would you say that Lilith enriched Henriëtte's personal life? I read in your Instagram profile: "formerly known by pseudonym Lilith", does it mean there is a disconnection now with her?
In 2004, I thought it was time for a new name. Intuitively, I chose Lilith. This was before I started photographing, I just needed a new name and identity in my life. Lilith represented my strong side for a long time. In 2020, I decided to let her die for two reasons:
Henriëtte (HJIMvanGasteren) was now just as strong as Lilith.
Because my then 95-year-old father said that artists often have success after they die.
I have to make a living from my free work and being a mother of three children, I could use more success to make people/museums/companies buy more of my art. Actually, Lilith and Henriëtte are just one person.
Your storytelling has been fulfilled with words, but it seems image has become a better channel for you to express yourself. How is your relationship with the empowerment you have achieved with your self-portraits and the connection found with your interest in dancing?
I was born in 1964 in Sevenum, The Netherlands. As a child, I wanted to be a dancer, because I liked to move, and also because dancers tell stories with their bodies. My father and mother raised me in a very strict and religious (Catholic) way. They wouldn't let me go to ballet, because in their view I would end up in a dangerous world. Later, I realized that this was out of love. But… too much love isn't always good either, I felt caged. In 2005, someone gave me a second-hand webcam. At that time, I wrote culinary-erotic stories. With the webcam I was able to make images to put on the internet as illustrations. Then, I discovered that I could tell stories with my face too. I didn't know that beforehand. I had an old small Kodak camera which I started using to make self-portraits in front of the mirror. In 2006, I bought my first Nikon camera D70s. Someone gave me a remote control. I didn't know those existed for cameras! From that moment on, I was completely free to photograph myself in any which way I wanted. The sky is the limit. Because I use my body intensively in my self-portraits, – I consider it 'my clay' so to speak, think of a potter and his material -, photography feels like dancing to me. I became that dancer I originally wanted to become after all. Did I mention I had been a management secretary for the board of directors of a machine factory about seventeen years? Therefore I was already used to work without looking, think of the typewriter. Nowadays I combine photography with words, see my latest publication 'HJIM-Greatest Hits' for example.
In a previous interview for Dodho Magazine, you recognized some of your influences this way: "I do admire Anton Corbijn, Guy Bourdin, Ellen von Unwerth, Helmut Newton". Looking at your photographs I could see some connections with these photographers, especially in the mysterious and sharp irreverence manner to lead the viewers towards ideas and get reactions. Do you consider the act of provoking as a way to transmit your messages? How do you get this effect in some of your images? Is it intentional or does it come naturally?
 Art often rubs, because art does not give us what we want, but what we need. All my self-portraits together form my diary. What you see in my photos takes place in my head. The pictures show how I see the world. Often my portraits have an element of humor and are surreal and also realistic at the same time. With my work I want to reach out to others, as if to say: 'I have experienced this too, you are not alone'. I want to create awareness by making the beholder think about what seems to be the obvious, but often isn't.  At my very core, I am a social being, and this is reflected in my art. In my self-portraits, I am responsible for everything: photography, backdrop, make-up, setting, props, hair, light, model, styling, story, photo editing. Because artists are forced to be entrepreneurs, I am also responsible for promoting and selling my work and doing the bookkeeping.
That gives me freedom as an artist. Nobody dictates what I should do or harasses me in any way. I determine; I am in control and I press the button,  usually without anyone else there. The exception to this rule are the self-portraits in which I portray others as well as myself, for instance in the series 'Bit player'. However, even then I am in control and press the button of the remote control, without standing behind the camera, but, as always, in front of the lens. In this way I tell about my life, freedom, equality, female stereotypes, feminism, identity and so much more. My style, my statements and my manner of work make me one of a kind. Portraits are my form of self-staged theater.  In one scene, I can tell a story, leaving the viewer to fill in the details of the life that led to that point, and the years to come.
It is often said that I stage my photos carefully. This is not completely true. I do have a basic idea more or less, but embrace coincidence. Sometimes a photo gets better because I almost fall over at the moment supreme or because a bird happens to fly by. If something like that happens I am very grateful.
You have worked indoors and outdoors, both ways beautifully, and always looking for a complex narrative with social focuses. What comes first? Is it the location or the idea you would like to represent in your work? How has it been finding new sets and places for your series? Are places as powerful to inspire you as a storyteller?
In 2012, the time had come for a change. Over seven years, I shared my home and garden with the audience. Every corner of the room appears in my photography. I started experimenting with changing locations for a series of self-portraits called 'A house is not a home'. After placing an ad in the local newspapers, dozens of home owners, most of whom were unknown to me, offered up their homes as sets for my self-portraits. I then visited the houses for the shoots, with the owners giving me their house keys and carte blanche to use their house as I wished, usually without the presence of the owner.
In both my life and in my work, I actively engage with my environment.  I search for the new and the strange to unearth its artistic possibilities, sometimes with surprising results.  These encounters have changed my photography but it still remains unmistakably 'Lilith/HJIM'.
In your series, there are some common ironic twists to communicate social concerns with parody and satire. It's a delight to find in your self-portraits not just the absolute beauty of the subject, but also the powerful and rebellious statements. I can tell from your images that you certainly believe that society can change and open its mind. Where do you think this willingness to defend freedom and equality comes from?
My work often invites controversy, and out of this controversy, new directions for my creativity appear.  In 2013, for example, a catholic priest reviewed the poster of one of my exhibitions and wrote in the parochial papers:
'To consider Lilith's work as art, one has to lack something in the brain and  be visually impaired.'
I then invited this Priest to view my work together and to start a dialogue about the stories I was trying to tell.  He accepted, and after some time I asked him to participate in a self-portrait to show that dialogue can lead two very different worlds to come together and create something beautiful.  After hesitating for months he agreed.
This self-portrait (taken in his Church) was the start of the new series called 'Bit player' in which I am portraying my relatives, friends and acquaintances. In these self-portraits, others play the leading role while I assume a supporting role. These self-portraits are about them, their jobs, their hobbies, their environment and the life they lead.
Just as a house can tell who we are, so can a circle of friends. And in the series, 'Bit player', it is the circle of friends who adds an additional dimension to the stories that I bring to life.  It's all about identity. Are we born with it or are we a product of our environment, of society, of our family, or of our friends and enemies? The series also raises questions about freedom. Are we ever truly free or do we naturally adapt to the identity we are assigned? Our family and our circle of friends has an enormous influence of what we understand that we are expected to do and to represent.
 As said before I felt caged during my youth and I also got bullied in high school. I was shy, I didn't speak dialect, I was also wearing the "wrong" clothes. All excuses to bully me. At home, however, I have been given a strong sense of justice. Add these two factors together and you have the reason why I am standing on the barricades for myself as well for others  through my art. Interesting details: I am still shy, meanwhile I speak several languages (body language included) and I no longer wear the 'wrong' clothes as you can see in my work.
 What are your priorities when shooting? In terms of your creative decisions in your process of work, are the composition, light, and color first? is it the narrative orientation instead? What would you say are your focuses when you set the camera to shoot?
Priority in my work is to express myself, to tell my story. A camera happens to be the tool I use for that. It could also have been another medium, but this happened because that second-hand webcam came along (thanks John!). Since I'm self-taught I am not hindered by rules, I just see what happens for example when I place a certain lamp somewhere. I often work with natural light though. The environment is more important for me to express myself than I knew. I found out when I moved – because of love – from the Dutch southern province  Limburg to the North of Holland after having lived in Limburg for more than fifty years. In this other house, which already belongs to my love for about thirty years,  I don't work so easily. After all, a house is the most personal of a person after the body. The new environment doesn't feel like mine yet.
I also experienced this when I worked in strangers' houses. The absent residents still had an influence on my work. I found that very confronting. I wonder: am I never completely free even though I consider myself a free spirit in a free body?
Congratulations on your free soul to create, it's been totally inspiring to review your work and your persona as a creator. Just one last question, what topics would you like to explore in the future?
Thank you! At the moment I am working on various series of self-portraits, including for example 'Lonesome hotel' shot in hotel rooms worldwide. This title is chosen to emphasize that the solitude of the confined space forces me to regenerate or to reinvent myself.
I do hope that the new house soon will feel like my own so I will be able to express myself on a daily basis like I used to. At the other hand this house has been the inspiration for my series of self-portraits called 'Headless way' about moving and feeling uprooted. Through photography I am looking for inventive ways to put down my roots in this new environment.
I never invent concepts, because they present themselves automatically if you are open to them.
At the same time, I have been – and still am – preparing a project about sexual abuse, rape,  called 'Silent Scream' for more than a year and a half. I intend to portray and interview perpetrators  as well as victims. Not many people know that I also love documentary photography. For example, in the past, I have done a project about a young woman with Lyme disease to create awareness and raise money for better and more research. (Title: 'Risja, a story by Lilith'). Also some of my documentary photos made at the well-known Jewish sandwichshop Sal Meyer, Amsterdam The Netherlands, were purchased by the Jewish Museum in Amsterdam.
Thank you for this interview and the sincere interest and compliments for my work and me.
Preview of my latest and most personal publication (until now):
HJIM-Greatest Hits
172 pages (dim. 230 x 275 mm) images/self-portraits, texts, full color, hard cover, partially hand-written.
Bilingual (Dutch/English)
ISBN 9789081971430
Available through: info@hjimvangasteren.eu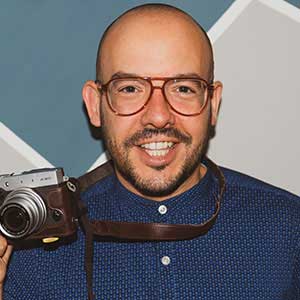 Seigar is a passionate travel, street, social-documentary, conceptual, and pop visual artist based in Tenerife, Spain. He feels obsessed with the pop culture that he shows in his works. He has explored photography, video art, writing, and collage. He writes for some media. His main inspirations are traveling and people. His aim as an artist is to tell tales with his camera, creating a continuous storyline from his trips and encounters. He is a philologist and works as a secondary school teacher. He is a self-taught visual artist, though he has done a two years course in advanced photography and one in cinema and television. His most ambitious projects so far are his Plastic People and Tales of a City. He has participated in several international exhibitions, festivals, and cultural events. His works have been featured in numerous publications worldwide. His last interests are documenting identity and spreading the message of the Latin phrase: Carpe Diem. Recently, he received the Rafael Ramos García International Photography Award. He shares art and culture in his blog: Pop Sonality.