Water & Photography. This exhibit is about having those two dear friends close to me. Water and time, roots of my genes.
Water contributes to my fulfillment. Being pleasant, useful, essential, my senses delight in it. Immersed or barely splashed, I feel well, better. Surrounded, wrapped, nearly diluted within this tactile presence. Diving brings me additional awareness of my surroundings, the world all around me. Learning to melt, blend, abide by its rules. Even light complies. Photons are absorbed and produced, light is diffracted, diffused by those moving and living fluids. Sight seems reduced but one could experience astonishing spectacles, revealed light rays and halos prompt the imagination. Bodies, figures are also transformed. Liberated from gravity, they are simultaneously relieved, twisted but observable from any direction. Anything diving conforms, to better exist.
Photography – the passion teaches me how to let time take its course, from this instant to a touch of eternity. The passion that slowly consumes me, while inciting me to enjoy every remaining moment.
Being nude in water is an evidence. Photographing, a need.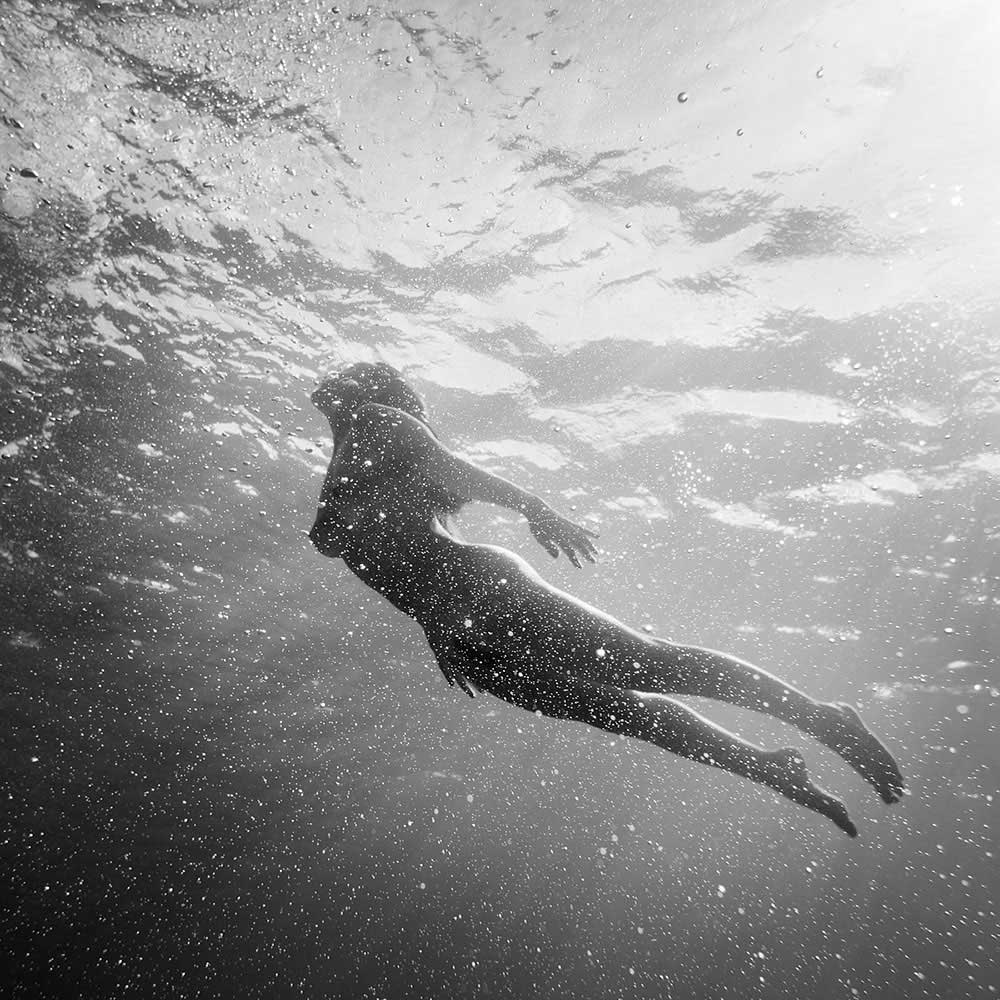 About Christophe Vermare
Grandson and son in a Nudist family, nudity surrounds me from a young age. My attraction for female bodies and their permanent presence have encircled me with delighted sights, more or less precise but always formidable. My encounter with Anne, today spouse and muse, inspires my photography. This passion will never leave me.
I'm a self-taught photographer. Relieved from the technical aspects thanks to my university education in sciences and technology, I can concentrate on shooting, enlarging / printing photographs and producing beautiful books. These are the essence of photography for me.
The support of many publications in magazines and the sale of limited series of prints to collectors and Art enthusiasts, allows me to focus more freely on my personal preferences and objectives.
Swimmers, divers, sailors, naturists, model and photographer, Anne and myself are the creators of the O'genes photographs. During several weeks, we sail, anchor in areas adapted to our preferences, our exploration. As for any photography work, exploration, deep observation and understanding are key. Mostly alone, soothed by the wind and swell, those moments are preparatory to immersion, it has even already started. Underwater, in alignment with our vision, Anne is Nude, free diving, ultimately free.